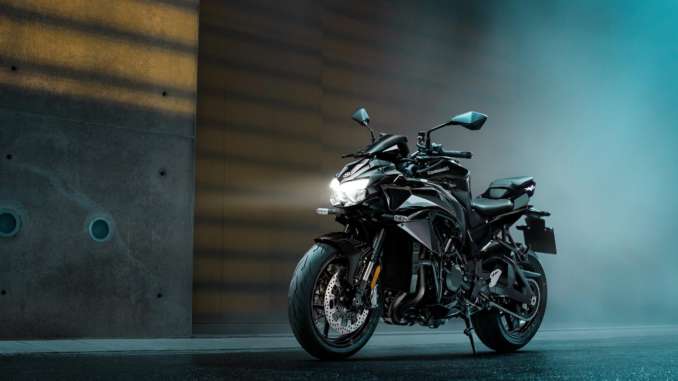 2021 Kawasaki Z H2 : SUPERCHARGE YOUR RIDE.
Introducing the new 2021 Kawasaki Z H2…
With a Balanced Supercharged Engine that delivers exhilarating power, a highly responsive trellis-framed chassis that harnesses that power, everyday riding comfort and a robust suite of electronic riding aids, the Kawasaki Z H2 is the flagship of Kawasaki's Z branded lineup.
Kawasaki's legacy of creating motorcycles that have unrivaled performance, excitement, and Sugomi™ styling continues with a flagship model of the Kawasaki Z line of naked motorcycles, the 2021 Z H2 supercharged hypernaked. With the arrival of the hypernaked Z H2 and its powerful, balanced supercharged engine, the second chapter of Z history is about to begin and marks the beginning of a new era. The 2021 Z H2 features a 998cc liquid-cooled, in-line four-cylinder balanced supercharged engine, effortless dog-ring transmission, specifically designed lightweight trellis frame, IMU electronics package, high-performance Showa suspension components, Brembo® Monobloc brake calipers, Kawasaki Quick Shifter (KQS), Kawasaki Launch Control Mode (KLCM), Kawasaki Cornering Management Function (KCMF), Electronic Cruise Control, Integrated Riding Modes, Assist & Slipper Clutch, all digital TFT Color instrumentation, Smartphone Connectivity via RIDEOLOGY THE APP, and all LED Lighting. For 2021, the Z H2 comes in Metallic Diablo Black / Metallic Flat Spark Black, with an MSRP of $17,500.
• BALANCED SUPERCHARGED ENGINE
• ADVANCED SUITE OF ELECTRONIC RIDING AIDS
• ELECTRONIC THROTTLE VALVE WITH CRUISE CONTROL
• TRELLIS FRAME
• TFT INSTRUMENTATION WITH RIDEOLOGY THE APP SMARTPHONE CONNECTIVITY
• LED LIGHTING
2021 Kawasaki Z H2 Totalmotorcycle.com Features and Benefits
BALANCED SUPERCHARGED ENGINE
Based on the supercharged engine of the Ninja H2™ motorcycle, the Balanced Supercharged Engine achieves a balance of power for exhilarating acceleration while providing better fuel efficiency and more street-oriented performance.
Supercharged Intake
Kawasaki designed and built centrifugal type supercharger has a high pumping capacity.
Planetary gear gets driving force from the crankshaft and spins a 69mm impeller that was specially designed using Kawasaki Gas Turbine and Aerospace technology.
Since the supercharger design is highly efficient, compressed intake air is minimally heated so no intercooler is necessary.
Ram air intake duct feeds the supercharger fresh air in as straight a line as possible to help provide high output.
Aluminum intake chamber between supercharger and throttle bodies helps radiate heat to keep intake air cool.
The frontal area of the left-side intake is designed to match the airflow requirements of the Balanced Supercharged Engine. The intake duct feeds the supercharger fresh air in as straight a line as possible to contribute to the supercharger's efficiency.
The 69mm supercharger impeller was designed to optimize blade shape and angle for the Balanced Supercharger Engine broad power characteristics. Settings for rpm and airflow volume for maximum efficiency were also optimized.
Formed from a forged aluminum block using a five-axis CNC machining center to ensure high precision and durability, the impeller has six blades at the tip expanding to 12 blades at the base. Grooves etched into the blade surfaces help direct airflow.
Planetary gear train, specially designed using Kawasaki Gas Turbine and Aerospace technology, is driven by the crankshaft and increases the impeller speed to 9.2 times that of the crankshaft.
Aluminum intake chamber between supercharger and throttle bodies has optimized volume, die-cast construction and diffuser at the mouth of the chamber that contribute to overall supercharger efficiency, engine performance and fuel efficiency. A stainless steel net at the end of the diffuser helps smooth airflow.
Optimized and irregular intake funnel lengths help boost low- and mid-range performance. The funnels for the outer cylinders are shorter than those in the middle.
ECU-controlled blow-off valve regulates pressure gain in intake chamber when throttle is closed to prevent impeller surging and help prevent vibration. Quick valve operation response maintains optimum boost pressure to contribute to power feeling and throttle response.
A sound hole in the intake duct allows the rider to enjoy the supercharger's characteristic chirping.
Engine
Using race technology developed for the multi-time World Superbike Championship winning Ninja® ZX™-10R, a two-stage machining process for the cylinder head forms the throat of the intake ports. The valve seat area is bored twice: once along the same path as the throat; then again for the valve seats. The result is smoother intake airflow, which helps reduce intake loss and increases performance.
Cam profiles match the airflow requirements of everyday street riding, contributing to the low-mid range focused performance as well as fuel efficiency.
Intake and exhaust ports match the airflow to boost low-mid range performance and fuel efficiency.
One-piece cylinder/upper crankcase utilizes dummy cylinder head during honing process for more precise cylinder dimensions, which allows use of low-tension piston rings to reduce mechanical loss and boost engine response.
High compression ratio increases thermal efficiency and greatly contributes to fuel efficiency.
Efficient combustion produces less heat so that the pistons can be cooled by a single oil jet, allowing the oil pump to turn at a slower rate to minimize friction loss. This also allows the engine's oil volume to be optimized which contributes to weight savings.
Large, deep-sump oil pan helps cool oil. Oil pan design ensures the oil pump is always surrounded by oil to prevent cavitation. Additionally, the unique angled shape and position of the oil strainer also helps prevent cavitation during strong acceleration and deceleration.
Dual secondary balancers virtually eliminate engine vibration.
Engine Sound Tuning
Acoustic analysis used to shape the intake duct, tune the operating sound of the supercharger and the intake sound to produce an engine sound that is unique to the Z H2.
Exhaust System
Chamberless exhaust system with long header pipes helps boost low and mid-range power.
Minimal muffler size helps reduce weight.
Kawaskai DFI®(KP) with Electronic Throttle Valves (ETV)(KP)
40mm Electronic Throttle Valves enable the ECU to control the volume of both the fuel (via fuel injectors) and the air (via throttle valves) delivered to the engine. Ideal fuel injection and throttle valve position results in smooth, natural engine response and the ideal engine output. The system also enhances input to the traction control system and accommodates the Kawasaki Launch Control and Kawasaki Engine Brake Control features.
ETV allows cruise control system to be implemented so that a desired speed can be maintained with a push of a button for added touring comfort.
The throttle pulley operates an Acceleration Position Sensor (APS) that uses the ECU to send a signal to a small motor that operates the throttle valves. This makes throttle pull very light for reduced rider fatigue.
Cruise Control
Electronic cruise control has single-button activation to maintain selected speed, which can also be adjusted with adjacent up/down toggle.
Transmission
Dog-ring transmission uses MotoGP technology in which the gears are fixed to the input transmission shafts and rings move to engage the gears on the output shaft. The result is lighter shifting, improved feel and quicker shifts.
Transmission oil jets aimed at every gear mesh and shift fork position provide direct cooling and exceptional lubrication for high durability.
Primary gear ratio designed to contribute to fuel efficiency, while helping to reduce the torque load on the transmission gears. First and second gear ratios also contribute to engine manageability in most everyday riding situations.
Kawasaki Quick Shifter (KQS)
Contact-less potentiometer-type quick shifter for quick upshifts that enable seamless acceleration without backing off the throttle.
During deceleration when the throttle is completely closed and engine speed is not near redline, KQS automatically controls engine speed to allow downshifting without operating the clutch lever.
Assist & Slipper Clutch
Using the rotational forces of the clutch hub and pressure plate, the clutch is forced together during acceleration (Assist function) so that fewer and lighter clutch springs can be used for a lighter feel at the lever. During high back-torque, such as when too low of a gear is selected during downshifting, the Slipper function allows some clutch slippage to help prevent engine lock-up, stalling and rear wheel hop.
ELECTRONIC CONTROLS
KAWASAKI NEXT LEVEL ELECTRONICS
Kawasaki's cutting-edge electronics have always excelled on the track due to the highly sophisticated programming that gives the ECU an accurate, real-time picture of what the chassis is doing using minimal software. With a Bosch IMU and the latest evolution of Kawasaki's proprietary dynamic modeling software, the Z H2 motorcyle's electronic management technology is next level, changing from setting-type and reaction-type systems to feedback-type systems.
Inertial Measurement Unit (IMU)(KP)
The IMU measures inertia along 5 axes: acceleration along longitudinal, transverse and vertical axes, roll rate, and pitch rate. The yaw rate is calculated by the ECU using Kawasaki's patented software to provide six-axis chassis attitude input of lean angle and acceleration/deceleration force for more precise management of the electronic riding aids.
The IMU allows KTRC to incorporate more feedback to help maximize acceleration when exiting corners on the track.
Unlike competitors' systems that have pre-set limits, Kawasaki's proprietary race-developed software enables the Z H2 to have a dynamic system that has a higher level of chassis awareness and adapts to changing conditions such as rider inputs, vehicle attitude, and pavement conditions.
Kawasaki Cornering Management Function
Corner Management Function uses both KIBS and KTRC to assist riders in tracing their intended line through a corner by suppressing the tendency for the bike to stand up while braking in a turn. The IMU helps the system maintain optimum hydraulic pressure based on the bike's lean and pitch angles.
Kawasaki Launch Control Mode (KLCM)
Designed to assist the rider by optimizing acceleration from a stop, KLCM electronically controls engine output to help prevent wheelspin and thereby minimize front end lift when launching from a standstill.
Kawasaki Traction Control (KTRC)
Mode 1 prioritizes forward acceleration, while Mode 2 offers a balance between acceleration performance and rider reassurance. Mode 3 provides rider reassurance by facilitating smooth riding on slippery surfaces.
The system confirms conditions every 5 milliseconds and uses ignition cut and airflow control (via the electronic throttle valves), enabling extremely quick reaction.
Using complex analysis, the system monitors traction conditions. By acting before slippage exceeds the range for optimum traction, drops in power can be minimized, resulting in ultra-smooth operation.
Power Modes
There are three modes to allow riders to select power delivery to suit preference and conditions.
Full: Full power operation
Middle: Limited operation, about 75% of full
Low: Limited operation, about 50% of full
Integrated Riding Modes:
Sport, Road, Rain, Rider (manual)
All-inclusive modes that link KTRC, and Power Mode allow riders to efficiently set traction control, and power delivery to suit a given riding situation.
Riders can choose from Sport, Road, Rain or a manual setting (Rider). In the manual Rider mode, each of the systems can be set independently.
– Sport: enables riders to enjoy sporty riding on winding roads.
– Road: offers comfortable riding over a wide range of situations, from city riding to highway cruising and rural roads.
– Rain: offers rider reassurance when riding on a wet road surface.
| | | |
| --- | --- | --- |
| RIDING MODE | KTRC | POWER MODE |
| Sport | 1 | F |
| Road | 2 | F |
| Rain | 3 | L |
| Rider (manual) | 1, 2, 3 or Off | F or L |
2021 Kawasaki Z H2 – Totalmotorcycle.com USA Specifications/Technical Details
US MSRP Price: $17500 USD
Canada MSRP Price: $19699 CDN
Europe/UK MSRP Price: £ See Dealer GBP (On The Road inc 20% Vat)
Engine Type 4-Stroke, 4-Cylinder, Liquid-Cooled, DOHC, 4 Valve Cylinder Head, Supercharged
Displacement 998 cc
Bore & Stroke 76.0 x 55.0 mm
Maximum Torque 101 lb.-ft @ 9,500 rpm
Compression Ratio 11.2:1
Fuel System DFI® with 40mm Throttle Bodies (4) and Dual Injectors
Ignition TCBI with Digital Advance
Transmission 6-Speed, Dog-Ring
Final Drive Sealed Chain
Rake/Trail 24.9° / 4.1 in.
Front Wheel Travel 4.7 in.
Rear Wheel Travel 5.3 in.
Front Tire Size 120/70-17
Rear Tire Size 190/55-17
Wheelbase 57.3 in.
Front Suspension Showa SFF-BP Fork with Adjustable Compression and
Rebound Damping, Spring Preload Adjustability, and Top-Out Springs
Rear Suspension New Uni-Trak®, Showa Gas-Charged Shock with Adjustable
Compression and Rebound Damping, Remote Hand-Turn Preload Adjustability,
and Top-Out Spring
Front Brake Type Dual Semi-Floating 320mm Discs with
Radial-Mount, Opposed 4-Piston Calipers
Rear Brake Type 260mm Disc with Opposed 2 Pistion Caliper
Fuel Tank Capacity 5.0 gal.
Seat Height 32.7 in.
Curb Weight= 529.2 lb.
Warranty 12 months
Kawasaki Protection Plus™ 12, 24, 36 or 48 months
(Specifications subject to change without notice.)
= Includes all necessary materials and fluids to operate correctly, full tank of fuel (more than 90% of capacity) and tool kit (if supplied).
(KP) = See Kaw-Pedia section for more details.
2021 Kawasaki Z H2 – Totalmotorcycle.com  Canadian Specifications/Technical Details
| | |
| --- | --- |
| Engine | 998cc, liquid-cooled, 4-stroke DOHC 16-valve in-line four |
| Bore x Stroke | 76.0 x 55.0 mm |
| Compression Ratio | 11.2:1 |
| Fuel System | Fuel injection: ø40 mm x 4 |
| Intake System | Kawasaki Supercharger |
| Ignition | Digital |
| Starting | Electric |
| Lubrication | Forced lubrication, wet sump with oil cooler |
| Transmission | 6-speed, return, dog-ring |
| Clutch | Wet multi-disc, manual |
| Final Drive | Chain |
| Frame | Trellis, high-tensile steel, with Swingarm Mounting Plate |
| Front Suspension / Wheel Travel | ø43 mm inverted fork (SFF-BP) with rebound and compression damping and spring preload adjustability / 120 mm (4.7 in) |
| Rear Suspension / Wheel Travel | New Uni Trak, gas-charged shock, compression and rebound damping and spring preload adjustability / 134 mm (5.3 in) |
| Rake / Trail | 24.9° / 104 mm |
| Steering Angle (L/R) | 29° / 29° |
| Front Tire | 120/70ZR17M/C (58W) |
| Rear Tire | 190/55ZR17M/C (75W) |
| Front Brakes | Dual semi-floating ø320 mm discs with radial-mount, Brembo M4.32 monobloc, opposed 4-piston calipers |
| Rear Brake | ø260 mm disc with single-piston caliper |
| Dimensions (L x W x H) | 2,085 x 810 x 1,130 mm (82.1 x 31.9 x 44.5 in) |
| Wheelbase | 1,455 mm (57.3 in) |
| Road Clearance | 140 mm (5.5 in) |
| Seat Height | 830 mm (32.7 in) |
| Curb Mass** | 239 kg (527 lb) |
| Fuel Capacity | 19 litres |
| Instrumentation | Full-colour TFT screen with digital speedometer, gear position indicator, shift indicator, odometer, dual trip meters, fuel gauge, remaining range, current/average fuel consumption, outside temperature, coolant temperature, clock, Economical Riding Indicator, IMU indicator, KIBS indicator, boost pressure and boost temperature |
| Warranty | 12 months |
| Kawasaki Protection Plus | 12 / 24 / 36 / 48 months |
2021 Kawasaki Z H2 – Totalmotorcycle.com European Specifications/Technical Details
TBA
Manufacturer Specifications and appearance are subject to change without prior notice on Total Motorcycle (TMW).