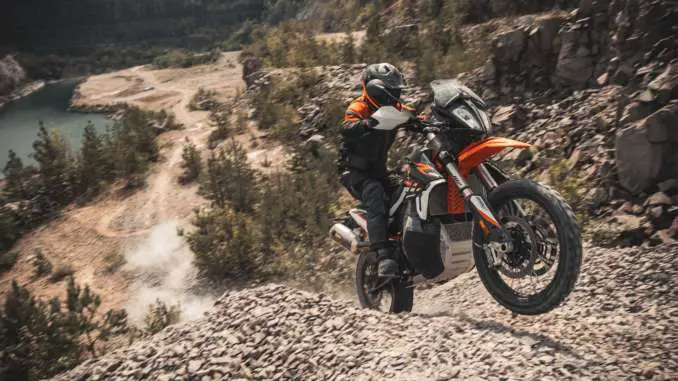 2021 KTM 890 Adventure R : ADVENTURE UNCHARTED.
Introducing the 2021 KTM 890 Adventure R…
If the best places are the toughest to reach, the KTM 890 ADVENTURE R is the right machine to take you there. Boasting a new engine with increased capacity and added performance, this is a serious travel-capable offroad motorcycle ready for extreme escapes off the beaten track. Using its vast race knowledge and experience, KTM delivers a real-world package aimed at the rider who wants to explore the outer limits of every adventure.
Featuring an updated engine, the KTM 890 ADVENTURE R will entice those that want to accumulate as many kilometers on the trail as they do on the asphalt. Producing 10 hp more power that its predecessor and 12Nm added torque, the new engine also features an impressive 20% more rotating masses, making it easier and smoother to ride in low rpm. The bike slants more towards the rigors of offroad thanks to the use of WP XPLOR suspension with greater options for personalization.
New 889cc engine with an added 90cc of displacement
Engine featuring 20% more rotating masses (Euro5)
More power with 105 hp @ 8,000rpm
Added torque with 100 Nm @ 6,500 rpm
Reinforced clutch
Improved ABS and Traction Control
Reworked shifting for faster gear changes
Updated Quickshifter+ (optional)
New handlebar switch for Cruise Control function
Chassis upgrades with aluminum steering head tube & lighter subframe
Reworked front & rear brakes
New suspension settings
2021 KTM 890 Adventure R Totalmotorcycle.com Features and Benefits
The KTM 620 ADVENTURE in 1997 was the model that started the Travel-Enduro story for KTM. Based on Enduro technology and inspired by Rally, the LC4 singlecylinder engine machine looked a close match for its Dakar Rally stage-winning stablemate. A competition-developed chassis loaded with high-end components provided pure offroad ability mixed with distance capability, thanks to a large fuel tank and reinforced subframe for fixing cases to carry much more than the essentials.
After just a year, a raft of changes saw the model become the KTM 640 ADVENTURE with a capacity rise from 609 cc to 625 cc and with the main visual difference being the removal of the twin, low-slung exhausts now rehomed neatly under the seat for better ground clearance. The model remained in production for 10 years, bowing out in 2007.
The next landmark moment for KTM's ADVENTURE range was once again forged from the world's toughest race. KTM's first twin-cylinder engine – the powerhouse LC8 75-degree V-twin – propelled the KTM 950 RALLY to Dakar Rally success in 2002, with Fabrizio Meoni. The following year and using 75% of the same parts, the KTM 950 ADVENTURE and higher-seated KTM 950 ADVENTURE S were introduced for customers and Travel-Enduro was never the same.
2006 saw the introduction of the KTM 990 ADVENTURE with many revisions, including a capacity rise to 999cc along with fuel injection. Over its seven-year production run, 'S', 'R' and special edition 'Dakar' models were also offered with differing seat heights, components and power levels. The 990 was also the first KTM to feature ABS.
The arrival of the KTM 1190 ADVENTURE and KTM 1190 ADVENTURE R in 2013 heralded a new era of technology and versatility for KTM in the Travel-Enduro segment. Sophisticated electronics married to improved ergonomics and a radically more powerful LC8 engine introduced more riders than ever to KTM's unique approach to adventure riding – on and offroad. Just a year later, included on these bikes was 'Cornering ABS' – the premier of such a system created a major milestone in motorcycle safety. Adventure went 'Super' in 2015 with the addition of the KTM 1290 SUPER ADVENTURE, later becoming the 'T' in 2017. This model boasted an incredible 160 hp from its bigger 1,301cc engine, a huge 30-liter tank and provided the debut of many new electronic rider aids, including cornering lights, cruise control, motor slip regulation (MSR), hill hold control (HHC), automatic indicator turn reset (ATIR) and semi-active suspension.
Joining the same year was the KTM 1050 ADVENTURE, providing 95 hp of pure, undiluted Travel-Enduro fun in a versatile and agile chassis. 2017 saw the introduction of four new models to the range, led by the KTM 1290 SUPER ADVENTURE S and KTM 1290 SUPER ADVENTURE R. These took the very best of KTM's electronic developments, adding a TFT display, Quickshifter+, full LED headlight with integrated cornering function and the option of the KTM MY RIDE system – providing smart phone connectivity for call handling, music playing and turn-by-turn satellite navigation. The same year, offroad adventure riding went to new extremes with the arrival of the KTM 1090 ADVENTURE R – a bike that could carve its own path with the willingness of its rider. Joining them was the KTM 1090 ADVENTURE to satisfy more street-biased riders, offering a power output of 125 hp matched to sophisticated electronics and a capable chassis.
The creation of the compact LC8c 799cc parallel twin-cylinder engine offered KTM engineers a blank canvas to create an all-new chapter in KTM ADVENTURE history with the KTM 790 ADVENTURE in 2019. Now even more diversity has been added with the new KTM 890 ADVENTURE R RALLY and KTM 890 ADVENTURE models.
KTM Adventure History
1997 KTM 620 ADVENTURE
1998 – 2007 KTM 640 ADVENTURE
2003 – 2006 KTM 950 ADVENTURE
2006 – 2012 KTM 990 ADVENTURE
2013 – 2016 KTM 1190 ADVENTURE model family
2015 – 2017 KTM 1290 SUPER ADVENTURE (becoming T in 2017)
2015 – 2016 KTM 1050 ADVENTURE (becoming T in 2017)
2017 – 2018 KTM 1090 ADVENTURE
2017 KTM 1290 ADVENTURE model family
2017 KTM 1090 ADVENTURE R
2019 KTM 790 ADVENTURE model family
2020 KTM 390 ADVENTURE
2021 KTM 890 Adventure R & KTM 890 ADVENTURE R
CONCEPT
In 2019, the KTM 790 ADVENTURE model family repositioned the 'bar' in the midweight motorcycle market. The competition-derived bike was the definition of travel versatility. It offered performance, comfort, durability and exhilaration across a range of surfaces. No road was too long, no hill too
dauting, no trip unachievable.
KTM were satisfied that all the sweat and theory poured into their testing and Rally racing would end up helping develop one of the most adaptable and efficient models in the entire product catalogue. The question then remained: aside from tweaks and modifications to keep the KTM 790 ADVENTURE range as a reference in the market sector how could the factory aim for something better?
The answer came with one word: 'more'. Without compromising the established lithe handling and carefully considered ergonomics, the KTM 890 ADVENTURE line-up represents a significant boost.
The larger powerplant, reworked electronics, augmented suspension set-up and chassis alterations mean the KTM 890 ADVENTURE R RALLY and KTM 890 ADVENTURE R offer extra torque, power and poise. More muscle with less strain.
From the genesis of the KTM 890 ADVENTURE range comes a set of further refinements to suit the acute requirements of specific riders. The KTM 890 ADVENTURE R RALLY and KTM 890 ADVENTURE R are therefore created to meet particular demands.
KTM advocates the spirit of #GoAdventure while the #AdventureHarder is directly associated with the brand's mid-class ADVENTURE models.. With the KTM 890 ADVENTURE R RALLY and KTM 890 ADVENTURE R the brand has the ideal tools to develop and fulfil its philosophy for any motorcyclist that seeks maximum potential and full possibilities from their ride. An appealing and distinctive look for 2021 only increases the desirability of the two new vibrant ADVENTURE models and the travel options now open to customers everywhere.
BIGGER ENGINE
Bigger displacement, bigger output, bigger benefits. Different character. 889cc, and a 90cc increase over the KTM 790 ADVENTURE, brings a surge in torque, power and a sportier feel.
The KTM 890 ADVENTURE R RALLY and KTM 890 ADVENTURE R produce 77 kW or 105 hp at 8,000 rpm (compared to the KTM 790 ADVENTURE's 70 kW and 95 hp) and 100 Nm of torque at 6,500 rpm (a rise of 12 Nm over the sister model). The figures are driven out by 90.7 mm of bore and 68.8 mm of stroke with compression hiked to 13,5.1. Other increases include 1 mm larger intake and exhaust valves and flow optimized ports for higher gas flow. Higher valve spring rates and oval steel springs are part of the unit that delivers 20% more rotating mass than the KTM 790 ADVENTURE but without impacting the overall agility of the bike. There are added advantages of the 4-stroke, twin, DOHC powerplant, such as a more stable engine character at constant speed (or at low and mid-throttle use) and more cornering stability due to the gyroscopic function of the internals. Last but not least the clutch has been adapted to the increased torque and power.
Venturing deeper into the engine other new elements can be found:
– Forged box pistons with three rings and a shorter piston pin. Despite the larger bore, a 10 gr weight reduction has been possible. Two oil jets compared to one per piston helps with optimal cooling of the components.
– Two new balancer shafts to accompany the larger scale of engine performance; one is located towards the front of the crankshaft and the other in the cylinder head.
– A new v-shape conrod contributes to less oscillating mass and the top end bearing contains a bronze conrod instead of one that is DLC coated.
– New horizontally split crankcases are made from a high pressure aluminum cast. The weight has been optimized through detailed attention to wall thickness, and the surfaces of the material in order to fabricate the most efficient design. Open deck cylinders have been fully integrated.
LARGER DISPLACEMENT
Elsewhere the KTM 890 ADVENTUREs also have:
– Two Dell'Orto 46mm throttle bodies fitted with new sensors for effective reading of the manifold pressures. Additionally, any interference between the cylinders at low or partial throttle opening has been eliminated by removal of the connection between the two intake tracts. A knock sensor on the cylinder head improves the robust nature of the engine for the KTM 890 ADVENTURE range. The sensor has been fitted to detect any 'knocking combustions' and is a well-thought addition for the Travel-Enduro segment when dealing with different quality of fuel from country to country. The sensor helps momentarily delay the ignition to combat knocking combustion and preserves engine life.
– A Power Assist Slipper Clutch (PASC) is another key upgrade over the KTM 790 ADVENTURE. The system graces the new models' engine performance by using new friction plates; freshly constructed for better durability and heat resistance. The architecture also guarantees sufficient oil separation, therefore making it easier to select neutral. The slipper clutch function controls rear wheel chatter while also making gear changes
much easier and smoother to coincide with long hours in the saddle.
– Lubrication. The new engine has been given a larger oil cooler as part of the semi-dry sump system. Reduction of friction losses is generated by actively pumping oil out of the crankcase, clutch housing and gearbox.
– Transmission: Light spring actions, shorter shift lever travel and improved settings of the optional Quickshifter+ leads to quicker and easier gear changes. The updated gearbox has also been toughened with glass beading on the 4th, 5th and 6th gear cogs. Important advantages for travel include a low fuel consumption rate of 4.5l / 100km. The KTM 890 ADVENTURE range promises performance but delivers notable economy. Take the KTM 890 ADVENTURE R RALLY or the KTM 890 ADVENTURE R anywhere thanks to Euro 5 compliance for emissions, ensuring an environmentallyconscious 105 g / KM of CO2.
ELECTRONICS
The two new models utilize a new generation of Cornering Motorcycle Traction Control. The main difference is the combination of the independent controllers – one for wheel slip and another for pitch angle – that informs a wider range of traction control settings. Pitch control can be felt in straight line acceleration with a more constant flow as the power reduction is less abrupt and severe. Cornering MTC is one of KTM's finest provisions to the motorcycle market and is a high-end protective asset to select bikes in the KTM portfolio.
The new system for the two KTM 890 ADVENTURE models involves faster reaction to the same basic principle: if the rotational speed of the rear wheel is disproportionate to the situation of the motorcycle. In a matter of milliseconds the MTC software smoothly reduces engine output through intervention at the throttle valves. The amount of rear wheel traction slip then depends on the selected ride mode. Advanced riders can also deactivate traction control.
The KTM 890 ADVENTURE R RALLY comes with RALLY mode. This adjusts the degree of MTC intervention with up to 9 selectable slip levels. The range is designed to assist a spectrum of riders: from eager offroad beginners to accomplished travel explorers. The depth of RALLY mode selectivity means the KTM 890 ADVENTURE R RALLY is equally at home flowing across any rugged pass but can also be tweaked to enable delicate and skilled rider actions like front wheel lift on acceleration and rear wheel drifts. RALLY mode is an optional extra for the KTM 890 ADVENTURE R.
KTM has increased the precision and efficiency of its Cornering ABS software.
While the Offroad ABS has also had the same improvement and overhaul for 2021 and the two KTM 890 ADVENTUREs. The tweaks have enhanced
braking power while minimizing the intrusion of the ABS. Offroad ABS means braking activation on the front wheel is reduced and the lean angle sensor is deactivated. Riders can then use the full locking potential of the rear wheel to steer the back end of the bike.
The KTM 890 ADVENTURE R now follows the KTM 890 ADVENTURE R RALLY with a handlebar menu switch button as standard to active Cruise Control.
For those riders who appreciate the convenience of this aid then the switch represents a benefit in terms of cost and installation.
CHASSIS & SUSPENSION
KTM's chassis engineering produced a 'prize-winner' in the case of the KTM 790 ADVENTURE. The advanced engine and electronics and high-end suspension were slung into a frame that accentuated a compact, balanced and low-centered motorcycle. It instantly conveyed stability and reassurance. It also provided the possibility of an even quicker and flexible dynamic that is sometimes necessary or desired for the dirt or gravel. KTM kept the bike slim and manageable with a low seat height but also with enough ground clearance and usability to allow it to be throttled anywhere and anyhow.
The KTM 890 ADVENTURE R and KTM 890 ADVENTURE R RALLY adopt this same chassis but with some notable differences:
– A Travel-Enduro motorcycle can make a lot of demands of the subframe either because of a passenger or luggage. For the KTM 890 ADVENTUREs weight has been saved while not compromising strength or rigidity. This has been reached through lighter steel profiles of the trellis structure.
– The steering stem of KTM 890 ADVENTURE R and KTM 890 ADVENTURE R RALLY have been re-forged from high-strength aluminum to save more weight. The triple clamps also boast this new material.
– The KTM 890 ADVENTUREs carry improved brakes. A stronger piston spring in the front brake's master cylinder means a better and more sensitive feeling and feedback on the lever and 'slim seal' technology for the piston seal provides more accuracy with the pressure point. For the rear brake
system new isolated pistons in the caliper work with isolation plates between the pads and piston for more heat stability. This is a valuable workaround to ensure reliable and enduring braking performance when on a long descent or when there are more demands on the components. A
stainless-steel rear brake hose fitting is another measure to keep heat in check.
– Wheels. The KTM 890 ADVENTUREs now have anodized wheel hubs instead of powder-coated. The change means a better, more resistant and high-quality appearance.
The WP XPLOR PRO 7548 fork uses cone valve technology; a unique valving system that permits almost limitless damping performance and combines comfort with bottoming resistance. Setting levels that normally can only be achieved by changing the shim stack can now be adjusted from the outside. The cone valve allows unlimited opening, so harshness of the suspension is reduced.
The high quality and fully adjustable WP XPLOR PRO 6746 shock absorber for the KTM 890 ADVENTURE R RALLY has been developed based on KTM's unrivalled experience from top-level rally competition. Due to modern, low-friction components, the shock absorber shows a significant increase in its damping performance and reduces the physical strain for riders. The shock absorber employs a progressive damping system (PDS) and has completely adjustable damping behavior featuring separate high and low-speed compression damping adjusters.
Focusing on maximum offroad performance, the new KTM 890 ADVENTURE R sports the reworked 48 mm WP XPLOR fork, combining top quality materials with a full 240 mm of travel. Originally developed for full-on Enduro racing, it has springs on both sides, but also separates the damping functions of the two fork legs. Both are easily adjusted using twist dials on the top of the forks, and a sealed hydrostop guarantees excellent resistance against bottoming out.
The new KTM 890 ADVENTURE R is fitted with a WP XPLOR shock absorber with 240 mm of travel to match the front fork for performance riding in extreme offroad conditions. It is fully adjustable for preload, separate high and low speed compression and rebound damping. The rear suspension features KTM's proprietary progressive damping system (PDS) as used in the brand's racing Enduro models, which delivers progressive damping, without the need of a linkage system. Bottoming resistance is provided by a second piston, which works together with a closed cup (instead of a needle) towards the end of the stroke and is supported by a progressive shock spring.
DAKAR BIKE DESIGN
Typically KTM, the KTM 890 ADVENTURE R RALLY and KTM 890 ADVENTURE R have an unmistakable aesthetic and identity. The Rally DNA is clearly evident through the slim profile and emphasis on control, feeling and sensitivity to conditions as well as comfort.
Directly showing its hardcore roots and close connection to rally racing, the KTM 890 ADVENTURE R RALLY has a fresh look for 2021.
The KTM 890 ADVENTURE R shows off a new graphic design and two-tone color scheme. The graphics themselves are made from in-mold technology, which is more resistant than decals.
KTM 890 ADVENTURE R and KTM 890 ADVENTURE R RALLY ergonomics are cleverly formulated to match the resourcefulness of the bikes and the roles they are designed for. In particular the form of the fuel tank is a clear case of specialized design-thinking. The narrow shape (that contains 20 liters and can reach a 400 km range) places the bulk of the fuel as low as possible to help with the position of the center of gravity; that centralization assists handling which is keenly felt offroad.
Riders can bring their knees closer to the center of the bike when standing up and the dirtbike profile of the seat facilitates movement. Positioning of the tank in the chassis helps towards the lower seat height while the section towards the bottom even protects riders' feet from spray water and cold air.
Further up the bike and the isolated and minimal front mask was a hit on the KTM 790 ADVENTURE and is adopted for the KTM 890 ADVENTUREs. Again, the final shape came through the considered blend of theory and testing as well as valuable feedback gained from the KTM 450 RALLY bike used in DAKAR competition. The advantages come through a lighter and more agile feel for the rider as well as better visibility. Other details involve a fuel line protector to deflect any potential damage from stones and rocks.
PREPARE FOR NEW EXTREMES
HEAVY DUTY WHEELS
Planning to test your ADVENTURE in the toughest environments? No problem at all with our heavy-duty wheels: Already tested by world travelers, these extremely sturdy rims feature a tube-type design for all popular offroad tires.
– LUGGAGE BAG
Completely waterproof and adaptable in size! The ideal solution for those who go on short and long tours.
– TOURING CASE SET
A set of touring side cases made perfectly to fit. Adding 66 liters of volume for you to carry up to 20 kg of additional luggage on the journey.
– FUEL TANK PROTECTION KIT
High-quality, lightweight carbon fiber guards for added tank protection and a premium, competition look and feel.
– SUPERSPROX STEALTH
REAR SPROCKET
Extremely lightweight sprocket with alloy steel teeth for extra-long life and an aluminum center section that reduces unsprung mass.
– TOURATECH CASES
Robust, yet stylish aluminum cases, which pass all extreme adventure tests with flying colors.
– FOOTPEG SET
Footpegs with enlarged tread surface area, developed and used by our multiple Dakar winners. The result is fatigue-free stand-up riding and greater control and safety.
– AKRAPOVIČ "SLIP-ON LINE"
Lightweight, plug and play slip-on exhaust made from high-grade titanium, saving you around 1 kg of weight and producing that head-turning rally
bike sound.
2021 KTM 890 Adventure R – Totalmotorcycle.com International Specifications/Technical Details
US MSRP Price: $ USD
Canada MSRP Price: $ CDN
Europe/UK MSRP Price: £ (On The Road inc 20% Vat)
ENGINE
TRANSMISSION 6-speed
COOLING Liquid cooled with water/oil heat exchanger
STARTER Electric starter
STROKE 68.8 mm
BORE 90.7 mm
CLUTCH PASC™ antihopping clutch, mechanically operated
DISPLACEMENT 889 cm³
EMS Bosch EMS with RBW
DESIGN 2-cylinder, 4-stroke, parallel twin
LUBRICATION Forced oil lubrication with 2 oil pumps
CHASSIS
ABS Bosch 9.1 MP (incl. Cornering-ABS and offroad mode, disengageable)
FRONT BRAKE DISC DIAMETER 320 mm
REAR BRAKE DISC DIAMETER 260 mm
CHAIN 520 X-Ring
FRAME DESIGN Chromium-Molybdenum-Steel frame using the engine as stressed element, powder coated
FRONT SUSPENSION WP XPLOR-USD, Ø 48 mm
REAR SUSPENSION XACT WP PDS mono shock
STEERING HEAD ANGLE 63.7 °
Manufacturer Specifications and appearance are subject to change without prior notice on Total Motorcycle (TMW).