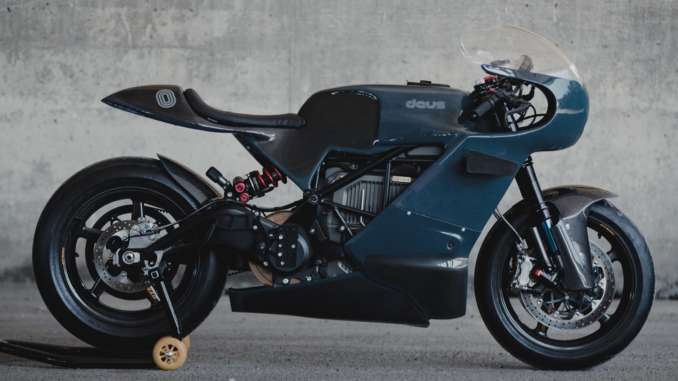 2021 Zero SR/S Deus X : ICONIC CUSTOM FABRICATION.
Introducing the 2021 Zero SR/S Deus X.
Zero Motorcycles and Deus ex Machina have joined forces to create the first fully customized Zero Motorcycles SR/S. The SR/S was introduced in February and immediately garnered accolades for its elevated design and extended range over its naked street bike sibling, the Zero SR/F. This build marks a significant landmark as Deus' first electric motorcycle and last Deus build from the iconic custom fabricator, Michael "Woolie" Woolaway.
Zero Motorcycles and Deus ex Machina have joined forces to create the first fully customized Zero Motorcycles SR/S.
SR/S TECHNOLOGY
Inspired by cutting edge aerospace design, the new look of the SR/S is rooted in its all-new aerodynamic fairing. Like all things Zero Motorcycles, form follows function. When you lean into the cockpit and get behind the fairing you will be rewarded with a 13% improvement in highway efficiency and range with the SR/S versus its award-winning sibling, the SR/F. Sit up and you'll discover a more upright and relaxed riding position that feels as good as it looks.
A CONVERSATION WITH WOOLIE
ZERO: Is this the first electric motorcycle you've built?
WOOLIE: Yeah, so the zero bike build is the first electric motorcycle I've ever been involved with and I'm on any level. And I have always been intrigued. And when I saw them, when I met the guys out at Pike's Peak, and really sorta got a good look at the bike. I thought, you know, man, that bike is the perfect platform to build something with because there's no gas tank really. And there's this trellis frame that's beautiful and everything else comes off and there's nothing there. So in my mind quietly, I was thinking, you know, I'd love to do something with that bike because it's a blank sheet of paper.
ZERO: So when you first rode it, what was it like? How would you explain it to somebody that's never ridden electric? How does it differ from a gas motorcycle experience?
WOOLIE: It's so different riding an electric motorcycle than a gas powered motorcycle because it's obviously silent and the power delivery is instantaneous and I'm a hundred percent, it just delivers pure torque right off the bottom. And it's exhilarating. I mean, honestly, I think that it's shocking to probably anybody that hasn't ridden one the first time they get on it, I would imagine they're somewhat shocked just how powerful it is and how quick and how nimble, but also fairly graceful, you know, it's smooth.
ZERO: Every time I show somebody one of our motorcycles for the first time, they usually come back laughing, like they're audibly, laughing as they pull the motorcycle back in, because it's just so different with no clutch and no gears is just that blows their minds. So. Awesome. Tell me about the general design inspiration you took for the bike.
WOOLIE: I wanted to do something kind of old and new, old shapes that I kind of grew up with and, and new technology and I wanted to build a bike that wasn't really necessarily street legal because I just feel like, that's what I really love doing. And I thought that it might help lend to a better end product. I just reached back into like sort of old shapes and I started out with like kind of a really old shape. And then as I came back through the motorcycle, I kind of transformed it into something, what I consider to be fairly modern. The way I shaped the bike was just by hand, when I started with the gas tank and, and just worked from there forward to the fairing and then from there, back and from there down and it was all very organic. I didn't have any drawings. No computer work, nothing like that. Just, foam plastic, shaping tools and, measuring tools and transfer tools and kind of the old school way. I did it like really the way that it would have been done in the thirties or forties or, you know, early fifties for sure.
ZERO: That's amazing. I thought for sure you would have started with some kind of sketches or CAD. Tell me about, the materials that are used in the body work and you, you described the design process, but, I, when I was there to pick it up, I noticed it was just, it was built in two very simple pieces. It's very simple as far as how it comes together. Do you want to speak to that a little bit?
WOOLIE: It's all carbon fiber core mat honeycomb for strength and for stiffness in certain areas. The whole thing attaches with four bolts and standard bolt positions. We molded three pieces to the bike. And the one, the main body kit, ended up weighing seven pounds before paint, it's a pretty complicated piece to make, very sophisticated carbon fiber layout. We actually had two engineers from Lockheed Martin come down on a weekend, they love to do this kind of thing, but they looked at the shape and at the whole application of it and they kind of spec'ed out the material layout for the project.
ZERO: Let's talk about some of the details. Tell me about the different parts on the bike, like suspension, brakes, and maybe wheels, tell me about what items you picked out, what items you outfitted with this motorcycle
WOOLIE: So, early on, we had a meeting with the Zero team regarding the build and you know, what direction and components and things like that. And, because I really wanted to build a race bike or something that wasn't really, a hundred percent street legal right out of the box I wanted to show it as kind of a competition bike. And they had just come off of Pike's Peak where I met them and it quickly became very clear that we were going to be able to get a custom set of Showa factory spec, world super bike forks and shock, and carbon fiber dynamag wheels, and some things like custom race brake components out of Spain. And, so, right off the bat, it was pretty awesome. And, the devil's in the details with the bike like this. So, just to put it into perspective, Chuck Graves, came over and saw the bike and was drooling at the components on it. So, this bike has some seriously high spec, suspension components, and wheels on it now.
ZERO: Awesome. Let's talk about some of the aesthetic choices. I don't know if I'd say they're purely aesthetic, but, you know, the paint scheme, the seat itself, and maybe even some of the, like I noticed that you moved to the break from the pedal up to the handlebars. If you want to talk about some of those design details.
WOOLIE: Regarding some of the design details, I removed the foot brake and we installed a beautiful custom thumb brake from Spain. And I just wanted to highlight the fact that the bike doesn't have any foot controls. It doesn't have a shifter, it doesn't have a foot brake because it doesn't have a clutch lever because it doesn't have a clutch lever that can now become the brake. Because your thumb is going to be a lot more sensitive than your foot. And I just wanted to highlight the fact that this is not a normal motorcycle or what would be considered a normal motorcycle for me, and for most of the people I grew up with, it's something different and special. Regarding the paint scheme, we wanted to highlight that it was mostly carbon so most of the panels are clear coated. I kind of drew back into like the fifties with scallops and pin striping like how you would have done a hot rod, in like 1962 or something. So again, I wanted to bring sort of some older techniques and details out in this project.
ZERO: Awesome. I don't know if you want to give special attention to the seat, the wind screen. Those are some items I think, that you had custom made with some of your friends.
WOOLIE: The seat was made by Saddlemen who I now work for. They've been making all my seats for years and they do a wonderful job. The lightning bolt on the seat is actually a standard symbol for high voltage throughout the United States. And the detail on the gas tank is also a high voltage symbol, a vintage one that's super rare, and I just fell in love with it when I found it. The windscreen was hand-blown by Glen up at Zero Gravity and I'm super stoked to get his help. He's an artisan in a lot of ways and he made that by hand. Paul Taylor from Taylor Made Racing did all the carbon work. And in fact this bike wasn't finished when the pandemic hit so Paul was graceful enough to offer workspace at his shop so we rolled it up there and I finished the bike there the last several months. So a big thanks to Paul.
ZERO: So compared to the other bikes that you've done, is there something unique about this build? Something that stands out in your mind?
WOOLIE: Oh, absolutely. Well, this is the first bike I've ever done like this. I usually work with aluminum and steel and chro-molly and that sort of thing. So it's the first time I've ever been able to just sit down and organically shape something. While doing that, you're thinking about function and seating position and weight distribution, distance to the pegs, all that kind of stuff. I've never been able to just organically create a shape for a motorcycle like this ever. And it was a great experience and I hope everybody likes it.
ZERO: Well our team is in love with it. I hope that the world loves it as much as we do, because I think that we're enamored by it. Do you want to speak to the fins and, kind of just the performance aspect of those?
WOOLIE: I had the whole bike shaped and it looked really nice, but I thought, you know, it'd be neat to put some wings on it because wings are just cool. And, we had a piece of a winglet from a formula one car that we were able to cut up and I made some end caps. The end caps are basically a visual knockoff from a Porsche race car. I mounted them on there and I thought they looked great. The winglets will tend to stabilize the bike quite a bit more than you'd think, you know, especially at speed and add a little bit of downforce. But mostly I just felt like it added another detail that was cool and different.
About Zero Motorcycles
Zero Motorcycles is the global leader in electric motorcycles and powertrains. Designed and crafted by hand in California, Zero Motorcycles combines Silicon Valley technology with traditional motorcycle soul to elevate the motorcycling experience for intelligent, innovative riders around the world.
2021 Zero SR/S Deus X Totalmotorcycle.com Features and Benefits
Elevated Design. The full-fairing on the new SR/S gives it a premium look that commands attention from the passing lane to the parking lot. Wrapped tight across the bike's trellis frame, it envelops a forward leaning rider in its cockpit for maximum aerodynamic efficiency and increases overall range by 13% over the naked SR/F.
Premium Comfort. Thanks to lower foot position and higher handlebar height, riders will enjoy a more upright and relaxed riding position on the new SR/S. Its ergonomic comfort even extends to two-up riding, giving passengers the ride of their life with matching lower pegs and a larger seating area. The fine-tuned suspension adds another level of luxury to the ride.
Effortless Power. The ZF14.4 lithium-ion battery makes the SR/S capable of a 200-mile maximum range with the optional Power Tank. The battery's industry-leading power and energy density combined with an aluminum heat-sink housing and thermal transfer interface ensure consistent cell cooling and maximum long-term powertrain performance.
The ZF75-10 motor delivers 140 ft-lb of torque and 110 hp, effortlessly propelling the SR/S to a top speed of 124 mph. Pairing Zero's renowned internal permanent magnet brushless architecture and a passively air-cooled compact design creates class-leading performance and efficiency.
Our scalable Rapid Charge System allows the bike to be configured for 3 kW, 6 kW, 9 kW or 12 kW of charging at any standard Level 2 charge station.* The SR/S Rapid Charge System charges at up to 38 miles of range per hour of charging (mphc) on 3 kW, 76 mphc on 6 kW, and 153 mphc on 12 kW, which can recharge the battery pack to 95% capacity in 1 hour.
A proprietary concentric motor and swingarm pivot design provide the optimal architecture to ensure constant drive-belt tension and maximum torque delivery to the rear wheel. A custom designed large-bearing swingarm pivot allows ample space for the high-performance motor while allowing a slim chassis waist to enhance rider ergonomics and bike maneuverability.
Cypher III, Zero's proprietary operating system acts as a hub to integrate all motorcycle systems. It delivers precise performance seamlessly for a consistent and superior riding experience.
Effortless Control. The SR/S offers an arsenal of ride modes which allows the rider to customize the bike's performance through the intuitive next-generation app and dash interface. The SR/S navigates the road no matter the conditions with Street, Sport, Eco, Rain and up to 10 programmable custom modes.
The SR/S integrates Bosch's MSC System, renowned for dynamic acceleration and improved stability regardless of road surface or conditions. When combined with Cypher III, the MSC's full capabilities are unleashed, resulting in best-in-class straight-line ABS cornering brake control, traction control, and drag torque control.
Incredibly light. Unbelievably strong. The steel-trellis frame, custom swingarm and advanced Showa suspension deliver an athletic and intuitive riding experience. The powertrain is perfectly distributed, resulting in a weight-optimized/mass-centralized design, while a dual radial front brake system makes shedding speed as exhilarating as building it.
Effortless Connection. Customize your dash. Choose the bike info you want and see it clearly on the full-color 5" TFT LCD display. Multi-mode navigation enables on-the-fly ride mode switching, cruise-control, heated-grip* control and much more.
The SR/S is connected through cellular networks, transmitting info to the app at all times. Ride information, current bike status and location are always available. This connectivity gives the rider the ability to monitor the bike in four (4) main areas: Bike Status Alerts, Charging, Ride Data Sharing, System Upgrades and Updates.
Zero's next-generation app works with the dash and Cypher III to create a feature-rich ecosystem: • Ride mode selection and creation • Personalized dash options • Scheduled and target-based charging • Charge-station location assistance • Extensive notifications, including bike state of charge (SoC), time to charge and last-ride statistics • Remote query and notification • Ride data available for review and sharing: location, speed, lean angle, power, torque, SoC, energy used/regenerated • Remote diagnostics and Cypher III updates
2021 Zero SR/S Deus X – Totalmotorcycle.com USA Specifications/Technical Details
US MSRP Price: $ USD
Canada MSRP Price: $ CAD
Europe/UK MSRP Price: £ GBP (On The Road inc 20% Vat)
(Zero SR/S specifications below as reference)
Range
City
161 miles (259 km)
Highway
99 miles (159 km)
Motor
Peak torque
140 ft-lb (190 Nm)
Peak power
110 hp (82 kW) @ 5,000 rpm
Top speed (max)
124 mph (200 km/h)
Top speed (sustained)
110 mph (177 km/h)
Type
Z-Force 75-10 enhanced thermal efficiency, passively air-cooled, interior permanent magnet AC motor
Controller
High efficiency and power dense, 900 Amp, 3-phase AC controller with regenerative deceleration
STANDARD/PREMIUM
Power pack
Z-Force® Li-Ion intelligent integrated
Max capacity
14.4 kWh
Nominal capacity
12.6 kWh
Charger type
3.0 kW, integrated / 6.0 kW, integrated
Charge time (standard)
4.5 hours (100% charged) / 4.0 hours (95% charged)
2.5 hours (100% charged) / 2.0 hours (95% charged)
With 6 kW Rapid Charge option
1.8 hours (100% charged) / 1.3 hours (95% charged)
1.5 hours (100% charged) / 1.0 hour (95% charged)
With EVSE cord and standard outlet
8.5 hours (100% charged) / 8.0 hours (95% charged)
8.5 hours (100% charged) / 8.0 hours (95% charged)
Drivetrain
Transmission
Clutchless direct drive
Final drive
90T / 20T, Poly Chain® HTD® Carbon™ belt
Chassis / Suspension / Brakes
Front suspension
Showa 43 mm Big Piston Separate Function forks, with adjustable spring preload, compression and rebound damping
Rear suspension
Showa 40 mm piston, piggy-back reservoir shock with adjustable spring preload, compression and rebound damping
Front suspension travel
4.72 in (120 mm)
Rear suspension travel
5.51 in (140 mm)
Front brakes
Bosch Advanced MSC, dual J-Juan radial 4-piston calipers with radial master cylinder, 320 x 5 mm discs
Rear brakes
Bosch Advanced MSC, J-Juan single piston floating caliper, 240 x 4.5 mm disc
Front tire
Pirelli Diablo Rosso III 120/70-17
Rear tire
Pirelli Diablo Rosso III 180/55-17
Front wheel
3.50 x 17
Rear wheel
5.50 x 17
Dimensions
Wheelbase
57.1 in (1,450 mm)
Seat height
31.0 in (787 mm)
Accessory, low
30.3 in (770 mm)
Accessory, tall
31.9 in (810 mm)
Rake
24.5°
Trail
3.7 in (94 mm)
Weight
STANDARD/PREMIUM
Curb weight
505 lb (229 kg) / 516 lb (234 kg)
Carrying capacity
495 lb (225 kg) / 484 lb (220 kg)
Economy
Equivalent fuel economy (city)
430 MPGe (0.55 l/100 km)
Equivalent fuel economy (highway)
219 MPGe (1.08 l/100 km)
Typical cost to recharge
$1.61
Standard motorcycle warranty
2 years
Power pack warranty
5 years/unlimited miles
Manufacturer Specifications and appearance are subject to change without prior notice on Total Motorcycle (TMW).