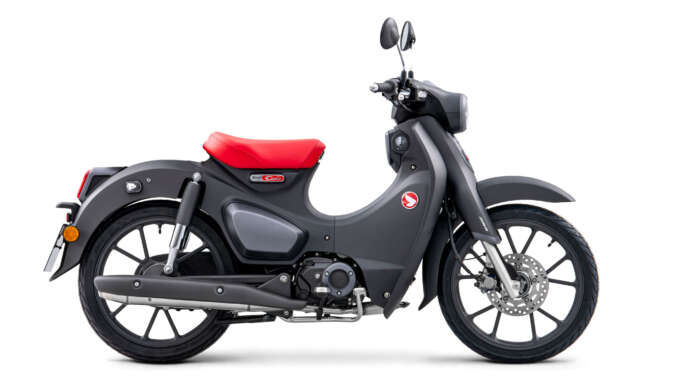 2022 Honda Super Cub C125 ABS: THE LITTLE BIKE THAT CAN.
Introducing the 2022 Honda Super Cub C125 ABS…
The world-famous Honda Super Cub may be small in size, but it's a giant when it comes to how it's mobilized the world. And for good reason: no matter where you ride, the Super Cub combines reliability, simplicity, economy and practicality like nothing else. Plus, it's just incredibly fun, a concept people of any culture or age instantly embrace. Best of all, underneath its classic bodywork, the Super Cub is updated with plenty of modern features, like front-wheel ABS, electric starting, and fuel injection. Lightweight and easy to handle, the step-through chassis goes a big way towards making it user friendly in traffic or around town. And the four-speed semi-automatic transmission means you'll never have to deal with a clutch. Best of all, its excellent fuel economy means you can travel far on a single tank of gas, and refueling is never a hassle. Plus, for 2022, it includes several updates, including a new, more efficient engine, reduced weight and even a new Matte Gray Metallic color scheme. One ride, and you'll discover what the whole world knows—the Honda Super Cub is a great way to get around.
Only one machine can claim to be the highest-selling motor vehicle of all time – Honda's Super Cub 125 ABS, which has sold well over 100 million units worldwide since its 1958 introduction. In addition, it's the motorcycle model that put American Honda on the map with the "You meet the nicest people" advertising campaign of the 1960s. For the 2022 model year, "the little motorcycle that could" gets several updates, including a new, more efficient engine and reduced weight, meeting the demands of the modern miniMOTO rider while retaining the timeless Super Cub look. It's also offered in a new Matte Gray Metallic color.
EASY. SIMPLE. STYLISH.
Super Cub appeal has never gone out of fashion.
For over 60 years the Super Cub has provided straightforward, robust transport for millions around the world. It's never followed fashion, but with the credibility of decades, has always set the bar in terms of usability, economy and downright durability. Oozing retro style, authentic to every nut and bolt yet thoroughly modern in every detail, it's a scooter that's as useful as it ever was. Now with a brand-new, air-cooled engine, giving more power and fuel economy and updated, smooth-riding suspension.
A MACHINE FOR LIFE
Just as it's always been, the Super Cub C125 is built around the rider.
An upright, straight-backed riding position gives excellent all-round visibility, the seat uses high-density urethane foam for comfort and the handlebars are rubber-mounted. A new air-cooled, fuel-injected engine generates extra power with good-natured delivery. It's also even more fuel efficient. And, just like the very first model, an automatic centrifugal clutch makes operating the four-speed gearbox twist-and-go simple. The tubular steel frame, telescopic forks, twin rear shocks (both with uprated springs) and cast aluminium, 17-inch wheels and tubeless tyres ensure dependable handling. Full LED lighting and Honda Smart Key are premium touches and for flexibility, the Super Cub C125 comes with a pillion seat ready mounted.
With over 100 million produced by October 2017, find out what it takes to make the world's most popular powered transport.
TIME MACHINE
The product of one engineer's dream.
It was Soichiro Honda's burning desire to bring the joy of mobility to peoples' lives. His creation, the Super Cub, has stood the test of time and over the last 60 years over 100 million have been made. And its useful genius is why you'll find it on European streets today; the Super Cub C125 is a stylish, contemporary evolution of a revolutionary machine that's worked so hard for so many, for so long.
Standard Features
125cc air-cooled single-cylinder engine
Fuel injection
Four-speed semi-automatic transmission
Step-through chassis design
Anti-lock brakes (ABS)
Low 30.7-inch seat height
Electric starter
2022 Honda Super Cub C125 ABS Totalmotorcycle.com Key Features
HISTORY
The year is 1956, Honda's eighth year in existence. Honda president Soichiro Honda and managing director Takeo Fujisawa have just returned from Europe, where they had traveled in search of inspiration for the next major Honda product. They realize that it should be a commuter bike—a stylish, fun, inexpensive motorcycle that can be ridden by anyone, and designed around just four key features:
A high-powered four-stroke engine that is quiet and fuel efficient but has strong, reliable performance
Chassis and bodywork with a size and shape that enables male and female riders to easily mount, ride and dismount the motorcycle
A gear-shift system that doesn't require operation of a clutch lever
An advanced design that is also friendly, fresh and timeless
Two years later, the first Super Cub C100 is wheeled out of Honda's production plant. With the stated aim "to provide the joy of playing a useful part in people's lives," it's an immediate star in Japan, and Americans will only have to wait one year to get their hands on it, with the first "Honda 50" (as it is called in the U.S.) crossing the Pacific following the June 1959 launch of Honda's first overseas subsidiary, American Honda Motor Company. California students and trendsetters are early adopters of the small, inexpensive motorcycle. Instead of the loud, oversized models that the public had hitherto associated with motorcycling, this unit looks friendly and stylish. It's wildly convenient and fun too, offering not only excellent mobility to and around college campuses, but also enjoyable transportation to offices and local hangouts. The door to an all-new world has been opened, and the Honda 50 is the key to it all.
Following the launch of the 1962 CA100, specifically designed for the U.S. market with tandem seat and no turn signals, Honda launches the award-winning advertising campaign featuring the "You Meet the Nicest People on a Honda" tagline. Combine the CA100's friendly, stylish nature with a feature in the Beach Boys' international hit ("Little Honda") and a Life magazine story examining the ways Americans have fallen in love with the brand, and it's not long before the model becomes a social phenomenon, with U.S. model sales peaking in 1965. There are even seasonal booms, with teenagers often waking up Christmas morning to find a Super Cub parked beside the tree.
Stylish, fun, and inexpensive, the model changes people's understanding of not only motorcycles, but also mobility and the enjoyment available through riding. Discontinued in the U.S. in 1974, 15 years after the Honda 50 was first introduced, the Super Cub continues to be offered in Japan, where it's popular with business users like the postal service, and in Southeast Asia, where it retains an important role in people's lives as private transport. In 2017 the little motorcycle surpasses a production milestone of 100 million units, making it the highest-selling motor vehicle in the world, and in 2018 it returns to American customers as a modern evolution of the legendary name. Today, the Super Cub continues to be offered worldwide, and its simple attributes of unique styling, reliability, frugality and sheer usability have never gone out of fashion, leading it to quietly achieve exactly what Mr. Honda and Mr. Fujisawa wanted: to get people mobile and keep them mobile.
SUPER CUB FACTS
The first Super Cub prototype wasn't drawn out on paper, but using a clay model, into which Mr. Honda himself had strong input, using some ideas from a fact-finding trip to Europe in 1956.
The first 1958 Super Cub C100's low-floor backbone frame (for easy step-through), large leg shields (for protection from dust on unpaved roads), fully enclosed bodywork (to hide the engine and harnesses), seagull-inspired handlebar shape and blue fairing laid down a universal template for decades to come.
The 17-inch wheels (relatively large in order to handle Japan's uneven road surfaces) were designed and made exclusively for the Super Cub.
The Super Cub has always used a four-stroke engine.
Engineers for the original Super Cub had to avoid the need for a clutch lever, so a delivery rider could carry a stack of Soba noodle boxes on the left shoulder.
Honda's Suzuka factory was built in 1960 to help meet the demand for the hit product.
The Super Cub has been produced in 16 factories across 15 different countries, and it has sold in 160 different countries.
The Super Cub went on sale in the USA in 1959, with a sticker price of just $295. It paved the way for much bigger things for American Honda.
The "Honda 50" starred in the "You meet the nicest people on a Honda" ad campaign that changed the American perception of motorcycles to being appropriate for normal citizens.
The Beach Boys made it even more famous in 1964 with their song "Little Honda."
Introduced to South Asia in 1964, the Super Cub became prized family transport that neatly dealt with the overwhelming traffic of the ever-growing major cities.
The Japanese Patent Office awarded the Super Cub a 3D trademark registration in 2014, recognizing its shape and design as an iconic Honda product, and making it the first vehicle to achieve this status.
Original sales were projected to be possibly 30,000 a month, which was amazing at the time as total motorcycle production in Japan was around 40,000 units a month, but that ultimately proved to be something of an underestimate.
In typical, low-key Super Cub fashion, on October 29, 2017, a commemorative ceremony was held at Honda's Kumamoto factory to mark worldwide production of 100 million units.
PERFORMANCE
125cc FUEL-INJECTED ENGINE
Nobody can match the Honda reputation for engines, and even though the Super Cub is relatively compact, it's a giant in terms of performance and reliability.
EASY TO PARK
Because the Super Cub is compact, it's easy to park in the city, and to store when you're not riding. There's always room for a Super Cub!
HYDRAULIC FRONT DISC BRAKE
The Super Cub features a 220mm front single disc brake for excellent stopping power. There's even standard front-wheel ABS.
TECHNOLOGY
FOUR-SPEED SEMI-AUTOMATIC TRANSMISSION
The Super Cub features a four-speed semi-automatic transmission that you shift with your left foot, like a traditional motorcycle. But here's the unique feature: there's no clutch to worry about—you just toe and go.
ELECTRIC SEAT OPENER
Need to release the seat latch for a fill-up? Just press a button—the lock is all electronically controlled on the Super Cub.
LED LIGHTING
Old-school light bulbs may have been great in 1959, but 60 years later the Super Cub comes with a modern LED lighting package.
SMART KEY
Just like our top-of-the-line Gold Wing, the Super Cub uses a convenient smart-key ignition.
STYLE
STEP-THROUGH CHASSIS
This is one of the key design elements which made the original Cub so popular. The Super Cub's step-through design incorporates frontal bodywork to help shield you from the wind and road splash. It's not only super convenient, but makes it easy to get on and off the bike.
LOW SEAT HEIGHT
At just 30.7 inches, the Super Cub's super-low seat makes it easy to flat-foot it in parking lots or at stop lights.
MULTI-FUNCTION DIGITAL INSTRUMENTS
Retro meets modern in the Super Cub's instruments. The faired-in handlebar-mounted features speedometer, odometer, A&B trip meters, fuel gauge, clock, and indicator for low/high beam.
ROUND HEADLIGHT
The Super Cub's round headlight looks retro, but its LED performance is totally up to date and provides superior illumination and visibility.
UNDERSEAT FUEL TANK
With its 1.0-gallon fuel tank and awesome fuel efficiency, the Super Cub is super practical. The tank filler is under the seat so it's easy to access.
HANDLING
STANDARD ABS
Our front-wheel Anti-Lock Braking System (comes standard on the Super Cub) can be a big help in making controlled stops in less-than-ideal conditions, like on wet pavement or other compromised surfaces. It's a great feature whether you're using your new bike as a commuter or just riding it for fun, since it helps you stop with added confidence.
17-INCH CAST WHEELS
Big enough to roll along smoothly, the machine-finished cast construction on these wheels means they're easier to keep clean than the traditional spoke construction.
FRONT SUSPENSION
The Super Cub's telescopic front suspension is partially faired in, blending with the upper bodywork. It looks awesome, and works a lot better than the original leading-link design.
TUBELESS TIRES
Here's another thoroughly modern touch: The Super Cub uses tubeless tires.
TWIN REAR SHOCKS
The original Cub had twin shocks, and so does the 2022 Super Cub. They not only look proper, but they also do a great job of smoothing out the road.
2022 Honda Super Cub C125 ABS Totalmotorcycle.com Features and Benefits
DESIGN / STYLING
As always, Honda's time-tested Super Cub styling – defined by the word "universality" (ease of use for a wide range of people) – provides the cues for the model, the Super Cub C125 ABS featuring an S-letter silhouette that reaches from the steal rear fender to the step-through space. There is significant wind protection, with the rider positioned upright and close to the lower fairing, yet the Super Cub is still easy to mount and dismount.
An upright riding position provides the rider with optimum visibility on crowded city streets, and a pocket on the right side offers storage for essential items. The forged, tapered handlebar is positioned comfortably and is wrapped in curvaceous molded resin incorporating the display and instruments, paying homage to the original machine's wing-shaped handlebar. Aiding comfort, the seat uses thick, high-density urethane foam, and it narrows at the front so it's easier for the rider's feet to touch the ground.
Through the incorporation of LED lights, which require minimum space, the Super Cub C125's headlight shape matches that of the first-generation Super Cub. The instrument display has an outer ring housing an analog speedometer, while an inner ring contains information in understated digital form, including two trip meters and six-segment fuel-level indicator.
A Honda Smart Key needn't be inserted in order to operate the motorcycle, and it also controls the vehicle theft deterrent. The key is equipped with an "answer back" function whereby the turn signals will blink at the push of a button to make finding the Super Cub easy in busy parking lots, and it allows electronic locking of the seat. In a nod to the motorcycle's forebears, a historical three-dimensional Classic Wing logo crowns the key fob.
ENGINE / DRIVETRAIN
Efficient and durable, the Super Cub C125 ABS's new 124 cc air-cooled four-stroke engine combines the bottom end (with redesigned crankcases) from the current Japanese-market C110 with the SOHC, two-valve top end of the new Grom. Offering great power for around-town riding, the 124 cc engine is also fuel-efficient and quiet, and it has a new, easier-to-service oil filter for 2022. Compared to its predecessor, it's more undersquare, with a 50.0 mm bore (down from 52.4 mm) and a 63.1 mm stroke (up from 57.9 mm), and compression ratio is 10.0:1 (up from 9.3:1). Fed by PGM-FI, the engine produces useable, enjoyable power (slightly more than before) all the way through the rev range, and efficiency is improved for even better fuel economy.
The new, smaller airbox is designed to match the new engine. It smooths airflow on the clean side of the filter and – along with the new connecting tube and injector position – improves driveability.
While the outward appearance of the muffler (one of the many elements of the Super Cub's "mythology") stays the same, the internals are revised; with the gain in combustion efficiency, a single, more efficient catalyzer replaces the pair of catalyzers used with the previous exhaust. The ECU has new programming to maximize performance and efficiency, and the alternator output has been increased.
As before, the transmission has four speeds (with neutral at the bottom), and in true Super Cub tradition, it's operated via an automatic centrifugal clutch, eliminating the need for a clutch lever. At standstill, the rider simply selects the gear required with the left foot lever; as the throttle is opened, the clutch operates automatically, and it continues to so through each ratio change, up or down. The front and rear sprockets have 14 and 35 teeth, respectively, and a helical primary gear reduces mechanical noise. For optimum shift feel and reduced shift noise, the engine has a high-quality shift-drum bearing, shift-arm rubber, and optimized clutch-damper rubber material.
CHASSIS / SUSPENSION
Fun, straightforward handling has always been a Super Cub characteristic, and to this end, its tubular steel "backbone" frame has a rigidity balance carefully tuned around the headstock and between the engine-mounting points. There are also new mounting hangers for the redesigned engine. For vibration-damping comfort, the handlebar and seat are rubber-mounted, and the footpegs feature rubber inserts.
The twin shocks are color-matched to the body and suspension travel is 3.3 inches. The 26 mm telescopic fork also has 3.5 inches of suspension stroke.
The elegant, 17-inch die-cast aluminum wheels have machined rims and spokes and are produced using a special cutting process to enable the use of a tubeless tire; front and rear tire sizes are 70/90-17 and 80/90-17, respectively. Stopping power comes courtesy of a 220 mm front disc with ABS and a 110 mm rear drum.
Wheelbase is 48.9 inches, while rake and trail are 26° and 2.8 inches, respectively, for predictable handling. Wet weight is 238 pounds – down 2 pounds – and the seat height is 30.7 inches, making the Super Cub both easy to get on and confidence-inspiring in around-town riding.
2022 Honda Super Cub C125 ABS – Totalmotorcycle.com USA Specifications/Technical Details
US MSRP Price: from $3799 USD
Canada MSRP Price: $ CDN
Europe/UK MSRP Price: £ GBP (On The Road inc 20% Vat)
ENGINE
Engine Type 124cc air-cooled single-cylinder four-stroke
Bore And Stroke 50mm x 63.1mm
Compression Ratio 10.0:1
Induction PGM-FI with automatic enrichment
Ignition Fully transistorized
Valve Train SOHC; two valves per cylinder
DRIVE TRAIN
Transmission Four-speed semi-automatic
Final Drive #420 Chain; 14T/36T
Clutch Automatic centrifugal
CHASSIS SUSPENSION BRAKES
Front Suspension 26mm telescopic fork; 3.5 inches travel
Rear Suspension Twin shock; 3.6 inches travel
Front Brake Single 220mm hydraulic disc; ABS
Rear Brake Mechanical drum
Front Tire 70/90-17
Rear Tire 80/90-17
DIMENSIONS
Rake (Caster Angle) 26°
Trail 2.8 inches
Wheelbase 48.9 inches
Seat Height 30.7 inches
Fuel Capacity 1.0 gallon
Curb Weight
238 pounds (Includes all standard equipment, required fluids and full tank of
fuel—ready to ride)
Miles Per Gallon
TBD MPG – Honda's fuel economy estimates are based on EPA exhaust emission
measurement test procedures and are intended for comparison purposes only. Your
actual mileage will vary depending on how you ride, how you maintain your vehicle,
weather, road conditions, tire pressure, installation of accessories, cargo, rider
weight, and other factors.
OTHER
Model ID C125A
Emissions Meets current EPA standards. Models sold in California meet current CARB
standards and may differ slightly due to emissions equipment.
Available Colors Matte Gray Metallic
FACTORY WARRANTY INFORMATION
One Year Included Unlimited-mileage, limited warranty
Optional Extended Extended coverage available with a HondaCare Protection Plan®
2022 Honda Super Cub C125 ABS – Totalmotorcycle.com Canada Specifications/Technical Details
NA
2022 Honda Super Cub C125 ABS – Totalmotorcycle.com European Specifications/Technical Details
Engine
Bore × Stroke (mm) 50.0 x 63.1 mm
Carburation PGM-FI electronic fuel injection
Compression Ratio 10.0:1
Engine Displacement (cc) 124cc
Engine Type Air-cooled SOHC 4-stroke 2-valve
Max. Power Output 7.2kw / 7,500 rpm
Max. Torque 10.4Nm / 6,250 rpm
Starter Electric
C02 Emissions (g/km) 34 g/km
Oil Capacity (Litres) 1.1L
Wheels
ABS System Single Channel ABS
Brakes Front Single 220mm disk
Brakes Rear Single 110mm drum
Suspension Front Telescopic
Suspension Rear Twin Shock
Tyre Size Front 70/90-17M/C 38P
Tyre Size Rear 80/90-17M/C 50P
Wheels Front Cast aluminium
Wheels Rear Cast aluminium
Dimensions and Weights
Battery Capacity (VAh) 12V-3.5AH
Caster Angle 26.5°
Dimensions (L×W×H) (mm) 1915 x 720 x 1000
Frame type Mono back bone steel pipe
Fuel Tank Capacity (Litres) 3.7 L
Fuel Consumption 1.5L/100km
Ground Clearance (mm) 125mm
Kerb Weight (kg) 110kg
Seat Height (mm) 780mm
Trail (mm) 71mm
Wheelbase (mm) 1245mm
Transmission
Clutch Wet Multiplate and Automatic Centrifugal Clutch
Final Drive Chain
Transmission Type 4 speed rotary
Instruments and Electrics
Headlights LED
Instruments LCD
Tail Light LED
Manufacturer Specifications and appearance are subject to change without prior notice on Total Motorcycle (TMW).