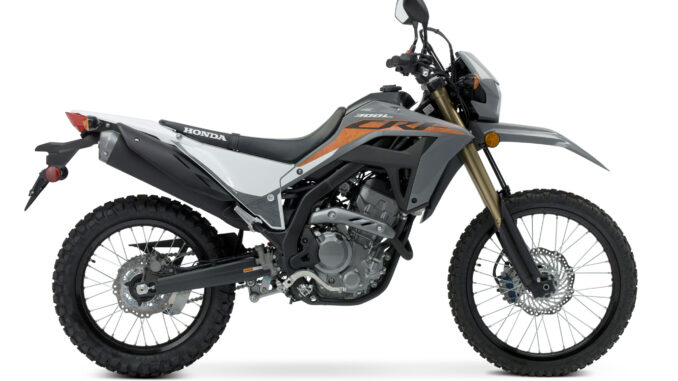 2023 Honda CRF300LS: PUT BOTH YOUR FEET DOWN.
Introducing the 2023 Honda CRF300LS…
Dual-sport bikes have always been a great choice for urban riders—their upright seating position gives you a great vantage point in traffic, and the simple, rugged construction is perfect for shrugging off the bumps of the asphalt jungle. And this year we're happy to introduce a bike that's really a genius idea: our new CRF300LS. We took our standard CRF300L and gave it a lower seat height. Shorter riders will love it on- or off-road, and so will everyone who rides in the city where you need to put your feet down more often in parking lots and stoplights. To top it off, the CRF300LS gets a special paint scheme too. Whether you're commuting, or just looking for a great street-legal trailbike with a lower overall profile, the 2023 CRF300LS is the bike for you!
The CRF300L platform has long been the motorcycle industry's top-selling dual-sport model, and for 2023, it's an option for even more riders, thanks to a new version with a shorter seat height—the CRF300LS. The LS version is equipped with ABS, while the returning normal-seat-height CRF300L is offered in standard and ABS versions; all deliver unparalleled value and reliability, providing low-cost transportation and making the adventure of dual-sport riding amazingly accessible.
SIZED RIGHT: THE NEW CRF300LS
Base Features
Lower seat height
286cc liquid-cooled single-cylinder four-stroke
9.3 inches of front suspension travel
9.0 inches of rear suspension travel
Honda Announces Two Beginner-Friendly 2023 Dual-Sport Motorcycles
All-new XR150L offers value-focused dual-sport versatility
New CRF300L version with shorter seat height introduced
Honda's already-broad range of small-displacement motorcycles expands for 2023, with a pair of approachable dual-sport bikes. As a pioneer in this category, Honda continues to lead the way in fun and efficient two-wheel transportation for a wide variety of customers.
Headlining today's announcement is the XR150L, an all-new model for customers seeking an accessible, versatile and value-focused dual-sport motorcycle, ready for everything from urban transportation to weekend adventures on mixed terrain. In addition, Honda introduced a new, low-seat version of the CRF300L—the CRF300LS—making the industry's most popular dual-sport platform an option for even more riders. Returning dual-sport models included in the announcement are the traditional-seat-height CRF300L and the rally-inspired CRF300L Rally (both available in standard and EBS versions).
Rounding out the announcement is arguably the most approachable street-legal motorcycle, the Navi. In just its second year on the U.S. market, this affordable miniMOTO has garnered a huge following, establishing itself as the industry's top-selling on-road motorcycle.
"At Honda, we're committed to producing motorcycles that suit riders of all experience levels and backgrounds, and the dual-sport category is a great example of that," said Brandon Wilson, American Honda Manager of Sports & Experiential. "The CRF300L is hugely among those looking for an affordable, reliable dual-sport machine, and the new 'LS' version makes the platform an option for those who prefer a shorter seat height. Expanding on that theme, the all-new XR150L is a great dual-sport machine for value-focused customers. We're also happy to bring back the CRF300 Rally entry-level ADV bike, as well as the popular and amazingly affordable Navi miniMOTO. These models make motorcycling more accessible to new and cost-conscious riders while still offering an enjoyable ride experience for long-time enthusiasts."
2023 Honda CRF300LS Totalmotorcycle.com Features and Benefits
PERFORMANCE
SINGLE-CYLINDER ENGINE
A single is the perfect choice for a bike like the CRF300LS. It's light, simple, and is quite fuel efficient.
DOUBLE-OVERHEAD-CAM CONSTRUCTION
Honda engines have always been a hallmark of superior engineering. The engine in the CRF300LS is a perfect example. The double-overhead-cam construction is free-revving, super-efficient, and full of low-maintenance features.
FUEL INJECTION
Fuel injection means your bike automatically compensates for cold weather running or high-altitude operation. Better yet, it's really efficient, and you'll never have to worry about clogged carburetor jets if your bike's been sitting for a while.
STYLING
LOWER SEATING POSITION
The new CRF300LS offers a seating position that's two inches lower than our standard CRF300L model's. That makes it a great choice for both shorter riders, and anyone who's riding in an environment where they need to put their feet down more often, like in parking lots or at stoplights.
CRF450R-INSPIRED BODYWORK
The CRF300LS features bodywork design and styling based on our CRF450R motocross bikes. It's not only good looking, but functional too, with smooth transitions between the bodywork elements, tank, and seat, making it easy to move around on the bike.
MORE FOOTROOM
The relative positions of the engine and footpegs in the chassis give you more footroom, a real bonus when wearing heavy off-road riding boots.
POLISHED BLACK RIMS
The black rims look great and are easy to keep clean, thanks to their polished surface.
ENGINEERING
ENGINE COUNTERBALANCER
Because it features a counterbalancer, the engine is a smooth runner. You get the narrow overall width and power advantages of a single along with the smoothness of a multi-cylinder bike.
INTEGRATED REAR MASTER CYLINDER
We've integrated the rear brake's fluid reservoir right into the master-cylinder construction. The design is clean, compact, and tucks in making it more damage resistant off-road.
LARGE SIDESTAND FOOT
We gave the CRF300LS a large sidestand foot. It seems like a small detail, but you'll appreciate it when riding off-road, or even on-road if you need to park in an asphalt lot on a hot day.
VERSATILITY
COMFORTABLE SEATING POSITION
With a long, motocross-style seat, you can move forward and back, left and right with ease, helping you navigate changing terrain in comfort.
CARGO CONVENIENCE
Special cargo hooks make it easy to secure a light load to the passenger seat with bungee cords. It's just another one of the nice touches that help make these bikes so versatile. It also has a storage box on the left side for small items you need to keep secure.
DIGITAL INSTRUMENTATION
The CRF300LS's digital instrument cluster has large, easy-to-read numbers and indicators. You also get a speedometer, clock, twin tripmeter, a tachometer, and more.
PASSENGER READY
With its long seat and fold-up frame-mounted passenger footpegs, each CRF300LS model is fully equipped to carry a passenger so you can share the fun.
HANDLING
FRONT AND REAR WHEELS
A 21-inch front and 18-inch rear wheel give you a wide selection of tire choices for everything from serious off-road trail riding to smooth on-road adventures.
DISC BRAKES
The CRF300LS features front and rear hydraulic discs for excellent stopping power and brake feel, both for on- and off-road use. It's even available with optional anti-lock brakes (ABS). An added plus: when dirt riding, you can turn off the ABS function for the rear wheel; on the street, it's easy to switch it back on.
INVERTED FORK
An inverted Showa® fork features large 43mm sliders. That makes it strong and helps add to the CRF300LS's excellent handling in on- and off-road conditions.
PRO-LINK REAR SUSPENSION
Thanks to our single-shock Pro-Link rear suspension, the CRF300LS delivers excellent comfort, traction and handling, while also improving rider confidence.
STRONG STEEL FRAME
The sturdy steel frame is strong and designed to survive in the real world of rough pavement or off-road trails. Plus, because we've fine-tuned the frame's rigidity, now you get even better feedback.
STYLING
Through its bodywork and red, white, black and blue graphics, the CRF300L and CRF300L ABS versions are designed to mimic the look of the CRF Performance line, including the Baja-dominating CRF450X. The CRF300LS version has an appealing Swift Gray color.
Riding Position
With all three versions, the riding position enables good rider input and vehicle maneuverability. Handlebar sweep allows a natural elbow position and light steering, and handlebar weights reduce vibration. The rear and middle of the seat are relatively wide for comfort, while the front area is slim, making it easy for the rider to touch the ground when stopped. Making that even easier is the CRF300LS version, which has a 32.7-inch seat height (2 inches lower than the standard CRF300L). Passenger pegs are provided.
Meter
The meter features black characters on a white background, and characters are large for good visibility. In addition to speed, clock and rpm readings, functions include gear position, fuel mileage and fuel consumption.
ENGINE / DRIVETRAIN
The liquid-cooled, single-cylinder, four-stroke power plant, has bore-and-stroke figures of 76.0mm and 63.0mm, respectively, for a 286cc displacement. Power output is particularly strong in the rev range's lower and middle areas, which are used often in both city riding and off-road going.
A large, 38mm throttle body helps to achieve rider-friendly throttle control, especially at low rpm, and the exhaust system delivers low sound output while keeping vibrations to a minimum. The engine features a valve train with a rocker-arm design, enabling a compact cylinder head, while the counterbalancer provides smooth running.
Transmission
The six-speed gearbox features close spacing in the lower gears and wide spacing in the higher gears, enabling optimum gear selection while still allowing comfortable high-speed cruising—a great balance between suitability for city, long-distance and off-road applications.
Clutch
The CRF300L has a very light clutch-lever pull, thanks in part to an assist/slipper clutch that also provides good performance during aggressive downshifting.
CHASSIS / SUSPENSION
Overall vehicle weight is low, thanks to careful selection of components. For example, the lower triple clamp is constructed from aluminum instead of steel, minimizing steering effort and keeping the center of gravity low.
Frame / Swingarm
Through optimization of its main components, the frame's weight is minimized, while optimized lateral rigidity allows maneuverability and good rider feel. Diameter of the cradle tubes is 25.4mm. In addition, ground clearance is a considerable 11.2 inches, reducing the chance of interference during riding in rough off-road conditions. Similarly, the swingarm's lateral and torsional rigidity are optimized, and its overall cross section is designed to deliver a uniform distribution of twist, resulting in good feel and predictable handling. The swingarm's weight is low, minimizing sprung weight for excellent suspension action.
Suspension
A 43mm inverted Showa fork is paired with a Pro-Link® single-shock rear system. The standard and ABS versions of the CRF300L feature 10.2 inches of front and rear suspension travel for excellent performance (particularly during off-road riding), while the CRF300LS has 9.3 and 9.0 inches of front and rear travel, respectively.
Wheels / Brakes
As with high-performance off-road machines, the wheel sizes are 21 inches at the front and 18 inches rear, enabling smooth rolling over rough terrain. The black aluminum rims have been polished, resulting in a glossy appearance and easy cleaning. The rear axle is hollow to minimize unsprung weight.
Hydraulic brakes are used front and rear, with 256 and 220mm rotors, respectively. The CRF300LS is equipped with ABS for smooth, controlled stops in varying conditions, while the standard-seat-height version is available with or without ABS. (Conveniently, ABS can be turned off at the rear, providing a different riding feel in off-road conditions.) The rear-brake master cylinder incorporates the reservoir, similar to the design used on the CRF Performance line, for a simple, clean design.
ACCESSORIES
A number of Honda Accessories are offered, including hand guards, a skid plate, an electrical socket, wider foot pegs, a top box, a rack and more.
Meets current EPA and CARB standards
California version differs slightly due to emissions equipment
2023 Honda CRF300LS – Totalmotorcycle.com USA Specifications/Technical Details
US MSRP Price: $5,699 USD
Canada MSRP Price: $ See Dealer CDN
Europe/UK MSRP Price: £NA GBP (On The Road inc 20% Vat)
ENGINE
Engine Type 286cc liquid-cooled single-cylinder four-stroke
Bore And Stroke 76.0mm x 63.0mm
Compression Ratio 10.7:1
Valve Train DOHC; four-valves per cylinder
Induction Programmed Fuel Injection (PGM-FI); 38mm throttle body
DRIVE TRAIN
Transmission Six-speed
Final Drive #520 chain; 14T/40T
CHASSIS SUSPENSION BRAKES
Front Suspension 43mm inverted fork; 9.3-inch travel
Rear Suspension Pro-Link® single shock with adjustable spring preload; 9.0-inch travel
Front Brake Single 256mm disc with twin-piston caliper
Rear Brake Single 220mm disc
Front Tire 80/100-21
Rear Tire 120/80-18
DIMENSIONS
Rake (Caster Angle) 27.5°
Trail 4.3 inches
Wheelbase 56.7 inches
Seat Height 32.7 inches
Ground Clearance 9.6 inches
Curb Weight 311 pounds (Includes all standard equipment, required fluids and a full tank of fuel)
Fuel Capacity 2.1 gallons, including 0.5-gallon reserve
Miles Per Gallon
TBD MPG – Honda fuel economy estimates are based on EPA exhaust emission
measurement test procedures and are intended for comparison purposes only. Your
actual mileage will vary depending on how you ride, how you maintain your vehicle,
weather, road conditions, tire pressure, installation of accessories, cargo, rider and
passenger weight, and other factors.
OTHER
Available Colors Swift Gray
Model ID CRF300LDA
FACTORY WARRANTY INFORMATION
One Year Included Transferable, unlimited mileage limited warranty
Optional Extended Extended coverage available with a HondaCare® Protection Plan
2023 Honda CRF300LS – Totalmotorcycle.com Canada Specifications/Technical Details
TBA
2023 Honda CRF300LS – Totalmotorcycle.com Europe Specifications/Technical Details
NA
Manufacturer Specifications and appearance are subject to change without prior notice on Total Motorcycle (TMW).