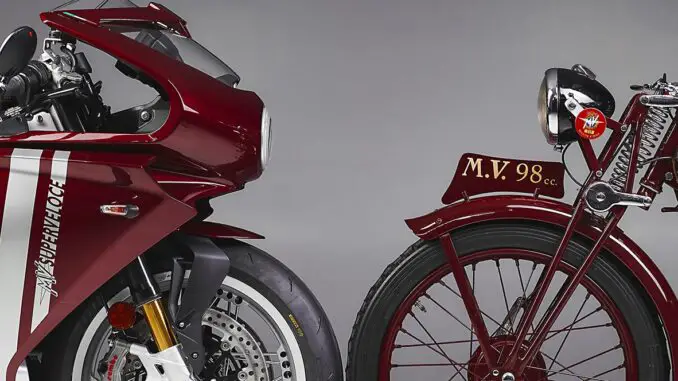 Introducing the new 2024 MV Agusta Motorcycle Guide
New 2024 Bike Reviews, Huge Photos, Full Specifications.
Get it all at Total Motorcycle with the 2024 MV Agusta Motorcycle Guide.
LXP
– 2024 MV Agusta LXP Orioli – New model
Superveloce
– 2024 MV Agusta Superveloce
– 2024 MV Agusta Superveloce S
– 2024 MV Agusta Superveloce 1000 Series Oro
– 2024 MV Agusta Superveloce 98 Edizione Limitata – New model
Superbike
– 2024 MV Agusta F3RR
– 2024 MV Agusta F3R
Brutale
– 2024 MV Agusta Brutale R
– 2024 MV Agusta Brutale RR
– 2024 MV Agusta Brutale 1000RR
– 2024 MV Agusta Brutale 1000RR Assen – New model
– 2024 MV Agusta Brutale 1000RS
– 2024 MV Agusta Brutale Rush
Brutale Dragster
– 2024 MV Agusta Dragster R
– 2024 MV Agusta Dragster RR SCS
– 2023.5 MV Agusta Dragster RR SCS America – New model (Late 2023 model)
Lucky Explorer
– 2024 MV Agusta Lucky Explorer 9.5
– 2024 MV Agusta Lucky Explorer 5.5
Turismo Veloce
– 2024 MV Agusta Turismo Veloce R
– 2024 MV Agusta Turismo Veloce Lusso SCS
Future Models
– 2024 MV Agusta 921S
From the Manufacturer: 2024 MV Agusta Motorcycle Guide
MV AGUSTA SUPERVELOCE 98 EDIZIONE LIMITATA – A TALE TO TELL
Varese, October 13th 2023 – In the early 1940s, the war was making life very hard for everyone in Italy, starting with everyday activities. Getting around, for example, was difficult and costly, given an essential absence of public transport. And this is why Domenico Agusta, having taken over the family business in 1927 following the death of his father Giovanni, turned to motorcycles, believing that this might be a way to simplify mobility and guarantee himself and his employees a future at the Officine Aeronautiche Giovanni Agusta.
The first MV Agusta engine came into being in 1943. A 98 cc single-cylinder, it made use of a lubricated two-speed gearbox. Light and compact, it immediately went into production but occupation of the factory, in September 1943, brought all activity to a halt just a few weeks later. The project was shelved until just after the war when, the hostilities over, assembly of the complete motorcycle could resume. On its debut, the MV 98 was 'dressed' in an elegant shade of burgundy.
It is difficult to imagine the reasons behind such an unusual colour choice – perhaps relating to Giovanni Agusta's aristocratic roots, that his son wanted to honour, or simply a flash of inspiration, a matter of personal taste. The burgundy colour scheme nevertheless added a significant touch of elegance to a motorcycle that was ready to take on the devastated streets of that time.
Today, eighty years after the birth of the first MV Agusta engine, the "98" signature reappears on the fairings of another MV Agusta motorcycle. Produced in just 300 numbered units, the Superveloce 98 Edizione Limitata is immediately recognisable thanks to its "Rosso Verghera" colour scheme. Directly inspired by the original colour palette, Rosso Verghera is a sophisticated and very high-quality product, the formula of which was developed at an experimental level in the CRC research centre and then industrialised exclusively for MV Agusta. Applied by hand in multiple phases, the colour comprises a two-component matte base paired with a polished layer for a finish that magnifies the metallic pigments. A tribute to a tale of success, courage, and initiative that could never have been written without the design of the 98 engine, back in 1943.
The "98 Edizione Limitata" signature is positioned laterally on the tail section as well as on the upper part. It is flanked by the Italian flag, which highlights the quintessential "Made in Italy" origins of every MV Agusta, built without exception in the factory in Schiranna, on the banks of Varese Lake. Reference to the size of the historic engine designed in 1943 and the limited-edition status of the motorcycle is also flaunted on the steering plate, thanks to laser engraving technology, and highlighted on the certificate of authenticity, delivered together with the motorcycle.
The racing vocation of the Superveloce has been important ever since the model's launch and is emphasised on the Superveloce 98 Edizione Limitata by way of a dedicated kit. A burgundy-coloured box contains the tail cover, dedicated motorcycle cover, aforementioned certificate of authenticity and two refined parts, or rather the Arrow triple-exit exhaust, for exclusive track use (in North America not included but available as Technical Accessory), and the dedicated racing ECU, perfect for extracting maximum performance from the Italian three-cylinder engine.
The engine in question is the iconic 798 cc inline three. Powerful (147 hp), compact and extremely lightweight, it contributes to keeping the dry weight of the motorcycle down to just 173 kg, or as little as 165 kg with the racing kit. Many technical characteristics ensure that this engine is an example of efficiency and performance, not least the counter-rotating crankshaft, cams with DLC coating to reduce friction and heighten performance, titanium valves, and bearings and rods developed to reduce mechanical losses.
The technical excellence of the Superveloce 98 Edizione Limitata is guaranteed by its comprehensive equipment, including spoked wheels with a gold finish, an optimised and more lightweight braking system complete with Brembo PR 16/19 radial master cylinder and M4.30 Stylema front callipers, and the support of the recalibrated Continental MK100 ABS. This, in addition to Ride by Wire that is improved thanks to the negative throttle rotation; the 5.5" colour TFT instrument panel, highly customisable and connected to the smartphone; high-performance Pirelli Diablo Rosso IV Corsa tyres, and Mobisat anti-theft satellite positioning system.
Only 300 units of the Superveloce 98 Edizione Limitata will be made available, most of which have already been ordered by the brand's most loyal collectors.
It's a new model year and that means new 2024 bikes are coming! Please stay tuned for more 2024 MV Agusta motorcycle news, new 2024 MV Agusta motorcycles and 2024 MV Agusta information as it is released to us.
With Total Motorcycle's 2023 Motorcycle Model Guides complete with over 700 new bikes, 2665 photos from 22 major manufacturers across the globe it's one of our biggest and most successful years. Our Total Motorcycle's 2024 Motorcycle Model Guides are poised to offer the same incredible and unique information you can't and won't find anywhere else, all for free, all in one spot.
Thank you for choosing Total Motorcycle as your information destination. I look forward to supporting you with the best motorbike information, bike photos and motorcycle reviews in 2023!
Manufacturer Websites: 2024 MV Agusta Motorcycle Guide
MV Agusta