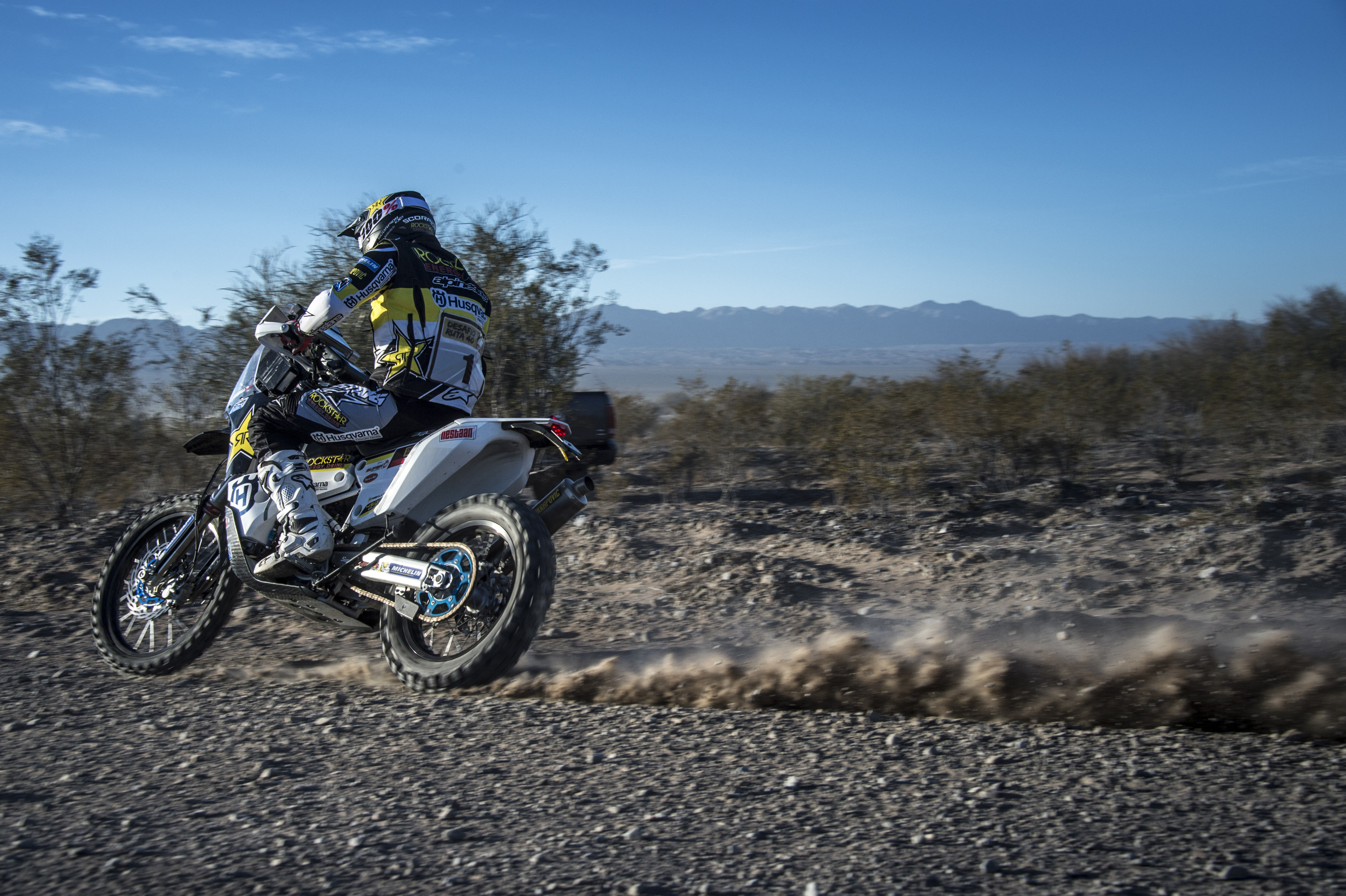 Making the most of his experience Pablo Quintanilla wrapped up a highly demanding stage one at the Desafio Ruta 40 rally securing a fifth-place result. Continuing his strong run of form, the Rockstar Energy Husqvarna Factory Racing rally star is currently fifth in the event's provisional overall standings.
Including a 321km-long timed special with demanding navigation the first full stage of the Desafio Ruta 40 threw competitors in at the deep end of rally racing. Making sure he avoided any costly mistakes, Pablo enjoyed a fast and steady pace throughout the special to wrap up the stage well placed inside the top five.
With four stages still to be contested before the finish of the rally on Thursday, Pablo is less than 12 minutes behind the provisional overall leader.
Stage two of the Desafio Ruta 40 will take riders further north into the Argentinean countryside. Starting early in the morning from Villa Unión competitors will have to complete a total of 437km towards the city of Tinogasta. The day's timed special is 336km-long.
Pablo Quintanilla: "It was a pretty difficult stage today. I was the 10th rider to start the timed special so I had to race through the dust from the riders starting in front of me. I knew I had to avoid taking any risks and this is exactly what I did. The feeling was good on my bike so I put my head down and made some good passes. This rally still has a long way to go and I'm hoping to keep this momentum going into the next few stages."
Download high-res images from the Desafio Ruta 40 here.
2017 Desafio Ruta 40 – Stage 1 Provisional Classification
1. Sam Sunderland (KTM) 3:40:55
2. Paulo Goncalves (Honda) 3:44:17
3. Kevin Benavides (Honda) 3:46:48
4. Michael Metge (Honda) 3:48:00
5. Pablo Quintanilla (Husqvarna) 3:52:26
6. Xavier de Soultrait (Yamaha) 3:57:55
2017 Desafio Ruta 40 – Provisional Overall Classification [After Stage 1]
1. Sam Sunderland (KTM) 3:44:33
2. Paulo Goncalves (Honda) 3:47:56
3. Kevin Benavides (Honda) 3:50:27
4. Michael Metge (Honda) 3:51:40
5. Pablo Quintanilla (Husqvarna) 3:56:11
6. Xavier de Soultrait (Yamaha) 4:01:35