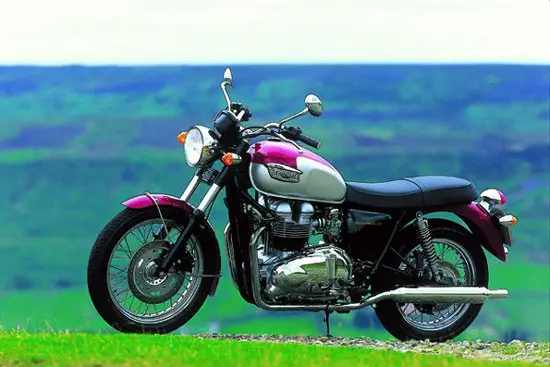 Back to 2001 Triumph Motorcycle Index Page
Click photo to enlarge.
It makes a great desktop image.
– 2001 Triumph Bonneville
The name is the same, and so is the format – a torquey twin-cylinder engine, an easy-handling chassis and lean, classical styling. In bringing back the Bonneville, one of the best loved names in motorcycling, Triumph has recreated the look, the feel and the spirit of our most famous parallel twin, while bringing the concept right up to date.

Few motorcyclists will need reminding that for many years the Triumph Bonneville was one of the stars of the motorcycle industry. The original T120 Bonneville was launched in 1959 as a high-performance, dual-carburettor version of Triumph's existing 650cc twin and named after the record-breaking feats on the Bonneville Salt Flats by Johnny Allen. The T120 was a huge hit for Triumph, especially in the USA and remained successful until production eventually ceased in 1983.

We are confident that the new Bonneville will appeal right across the motorcycling spectrum. Naturally we hope that it's famous name, classic styling and twin-cylinder character will make it attractive to many of those who have ridden – and in many cases still ride – Triumph twins from the past. However the new Bonneville is also very much aimed at riders of all ages, both male and female, who are simply looking for an enjoyable, good looking, practical machine with lively performance, pleasant power characteristics and excellent handling.


TECHNICAL DETAILS

From the outset, Triumph's intention with the Bonneville was to produce a machine that combined the old model's timeless appeal with modern technology. From the old machine, we wanted authentic styling, a parallel twin engine and to replicate as much as practically possible the feel and sound that forged the Bonneville legend. This meant using, for example, a 360-degree crankshaft (pistons rising and falling together) and a twin-shock rear suspension system.

One of our design team's first tasks was to decide which Bonneville from the past should become the inspiration for the new bike. This was not easy, given that the model spanned almost three decades, incorporating countless styling and technical changes – It is rare for two Bonneville enthusiasts to agree about which was best! After much debate it was decided that the T120 Bonneville of the late Sixties could be regarded as representing the peak of the model's development, taking into consideration factors including performance, styling and position in the market. The new bike is very close to its forebear not only in its look, but also in its geometry and physical size.

Engine

The main requirement for the engine was that it should have a broad spread of power, to give effortless acceleration plus strong performance whether solo or carrying a passenger. Traditional capacities of 750cc and even the original 650cc were considered before 790cc was chosen. The 86mm bore size gives good breathing in conjunction with the four-valves-per-cylinder layout, while the 68mm stroke allows a long conrod that helps to minimise secondary vibration. As well as the desired low and midrange performance, the new twin produces a respectable peak power output of 62PS (61bhp) at 7400rpm, making this the most powerful Bonneville yet. Maximum torque is a substantial 60Nm (44ft-lbf), delivered at just 3500rpm. Perhaps the most important statistic is that 90 per cent of the engine's torque output is available from 2750rpm all the way to the rev limit.

The new engine is air-cooled, like the original, but differs in having twin overhead camshafts instead of the old model's pushrod valve operation. A discreet, frame-mounted oil cooler ensures consistent running temperatures for optimum reliability. Camshaft drive is by chain between the cylinders and incorporates an idler gear that allows the cylinder head to be kept very compact.

Our engine design team made the new powerplant as visually similar to the old one as possible. The oil drain tube at the front of the engine is designed to resemble a pushrod tube from the old unit. The five-speed gearbox is reversed, putting the final drive chain on the right instead of the left. This allows the traditional Triumph twin layout of small triangular engine cover on the right and larger clutch case on the left.

The engine's bottom end was made as compact as possible while incorporating features including the twin balancer shafts, which were necessary to reduce high-speed vibration to acceptable levels. The balancers were tuned to ensure that the solidly-mounted Bonneville motor has much of the feel of a traditional 360-degree Triumph twin, and is not over-smooth.

Naturally the new bike follows Bonneville tradition in having twin carburettors. These 36mm units differ from their predecessors by incorporating such modern touches as a throttle position sensor and electric heaters (to prevent icing). As well as crisp throttle response, a feature of the Bonneville engine is its very good fuel economy.

The exhaust system also combines tradition with modernity. "Peashooter" silencers faithfully follow the look of the originals. Yet this Bonneville's exhaust features a secondary air injection system to reduce emissions, and incorporates a catalytic converter for some markets.

Chassis

The key challenge facing the Bonneville's chassis team was to provide modern handling and steering characteristics using a very traditional layout. In particular, the chassis brief called for light, easy steering that would make the bike agile around town, plus a sporty feel and excellent high-speed stability.

Although the basic layout of the tubular steel cradle frame is simple, the design was realised using sophisticated finite element analysis to ensure maximum strength with minimum weight. Similar methods were used in the creation of the box-section steel swing-arm, which pivots through the crankcases.

Our design team achieved excellent results by using very similar geometry to the late-Sixties Bonneville, including a 19-inch front wheel and a 29-degree steering angle. Partly due to the twin's low centre of gravity, the bike is very maneuverable without compromising stability.

Suspension is tuned to give a sporty feel, yet ride comfort has not been overlooked as it was felt that the Bonneville would be used in a wide variety of roles. The Bonneville's seat is well padded yet also notably low, at 775mm (30.5in), enhancing the bike's appeal to riders of all sizes.

The wheels combine wire-spoke design with 19in front, 17in rear diameters. They hold modern tyres, whose grip can be fully exploited thanks to the Bonneville's generous cornering clearance.

Brakes were another area where tradition was not allowed to compromise function. Single discs at front and rear, each with twin-piston caliper, give reliable and powerful stopping.

Style was always a key element of the Bonneville's appeal and that is as true of the new bike as the old. Features such as the classical Triumph tank badge look as striking now as they ever did. The redesigned speedometer and switchgear add elegance and functionality. Paintwork andchrome, applied in-house at our Hinckley factory, are deep and thick. The new Scarlet Red paint option, coupled with Silver, matches almost exactly the popular Hi-Fi Scarlet shade of the late Sixties, with Forest Green and Silver available as an eye-catching alternative. As in the old days, the gold pin-stripes are applied by the steady hands of Triumph workers. In this as in so many other respects, tradition lives on in the new Bonneville.


DEVELOPMENT TIMETABLE

April 1997 Project begins with meetings to discuss viability of a twin-cylinder model.

Summer 1997 Concept agreed; chassis and engine design teams begin work.
August 1998 First styling review of full-scale three-dimensional model. Input from sales and marketing as well as engineering departments.
November 1998 Second major review to assess changes made in response to earlier feedback.
December 1998 Prototype engine runs on test bench for the first time.
March 1999 Engine is run in prototype chassis for the first time; full-scale testing starts.
July 1999 First six development bikes are built; four are mainly used for engine testing, two for chassis work.
September 1999 Final review by sales and marketing teams, to confirm production model's styling and specification.
July 2000 Final testing is completed.
September 2000 Bonneville launched at Intermot, Munich

2001 Triumph Bonneville Specifications:

ENGINE
Type Air-cooled, DOHC, 360º parallel twin
Capacity 790cc
Bore/Stroke 86 x 68mm
Compression Ratio 9.2:1
Fuel System Twin carburettors, with throttle position sensor and electric carburettor heaters
Ignition Digital – inductive type

TRANSMISSION
Primary Drive Gear
Final Drive X ring chain
Clutch Wet, multi-plate
Gearbox 5-speed

CYCLE PARTS
Frame Tubular steel cradle
Swingarm Twin sided, tubular steel
Wheels Front Spoked, 19 x 2.5in

Rear Spoked, 17 x 3.5in
Tyres Front 100/90 19

Rear 130/80 17
Suspension Front 41mm forks

Rear Chromed spring twin shocks with adjustable preload
Brakes Front Single 310mm disc, 2 piston caliper

Rear Single 255mm disc, 2 piston caliper

DIMENSIONS
Length 2250mm (88.6in)
Width 860mm (33.8in)
Height 1105mm (43.5in)
Seat Height 775mm (30.5in)
Wheelbase 1493mm (58.8in)
Rake / Trail 29o /117mm
Weight (Dry) 205kg (451lb)
Fuel Tank Capacity 16 litres (4.3 gal US)

PERFORMANCE (measured to DIN 70020)
Maximum Power 62PS (61bhp) at 7,400 rpm
Maximum Torque 60Nm (44.3 ft-lbf) at 3,500 rpm

COLOURS Scarlet Red / Silver, Forest Green / Silver

Service intervals      4000 miles 

Warranty                2 years unlimited mileage

Riders Association Triumph membership included


Specifications are subject to change without notice, in accordance with national regulation and legislations.