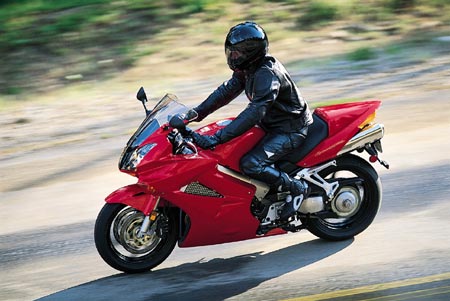 Back to 2002 Honda Motorcycle Index Page
Click on photos to enlarge.
It makes a great desktop image.


2002 Honda VFR800A Interceptor


2002 Honda VFR800A Interceptor


2002 Honda VFR800A Interceptor


2002 Honda VFR800A Interceptor


2002 Honda VFR800A Interceptor


2002 Honda VFR800A Interceptor

 
– 2002 Honda VFR800 Interceptor

Could this be the most advanced motorcycle on the planet? VTEC variable valve timing broadens the VFR800's power band, the high-tech PGM-FI electronic fuel injection ensures crisp throttle response while the catalytic convertor reduces emissions. The all-new 2002 VFR800 may be a sport tourer but it features technology that the competitors' superbikes will envy.

New for 2002
· Revolutionary VTEC(tm) combines the power characteristics of both two- and four-valve cylinder head designs. The engine runs on two valves per cylinder below 7000 rpm for significantly stronger low-end and mid-range torque and then switches to four valves per cylinder to maintain the VFR's impressive high-rpm power delivery.
· The 2002 VFR800 meets the California Air Resources Board (CARB) 2008 emissions standards.
· New silent-type cam-chain drive eliminates mechanical gear noise and reduces engine weight by 3 kg. The system features a set of dual tensioners that maintain optimal pressure and lubrication for the camshaft chains, ensuring quiet operation and even longer life than the previous gear-drive design.
· Programmed fuel injection (PGM-FI) uses four laser-drilled 12-hole injectors, replacing the previous one-hole injector design, for much finer fuel atomization that improves combustion efficiency, reduces emissions and increases power.
· Iridium-tip spark plugs are ignited by new, compact high-energy coil-on-plug spark plug caps that produce a strong, high-voltage spark.
· Redesigned oil cooler provides 33 percent more cooling capacity.
· Redesigned twin side-mounted radiators have 7 percent more capacity for increased cooling efficiency.
· Unique NR(tm)-style center-up exhaust system incorporates two stainless steel mufflers tucked snugly under the VFR's tail section.
· Clutch features an offset outside friction plate for quieter operation when starting from a stop.
· Transmission has closer ratios between first and third gears combined with a one-tooth-smaller drive sprocket for stronger low-end and mid-range acceleration.
· New three-phase coil-spring damper in the transmission smoothes upshifts.
· New Pro Arm(r) single-side cast aluminum swingarm design is 19mm longer than the previous design, contributing to even better handling feel and comfort.
· Honda's proven Linked Braking System(tm) (LBS(tm)) is revised for even better braking power in a wide range of operating conditions.
· Large-diameter, 43mm Honda Multi-Action System(tm) (HMAS(tm)) cartridge front fork provides enhanced handling under all riding conditions.
· Four brilliant multi-reflector headlights employ two centrally positioned H4 low/high beams positioned under two widely spaced H7 high beams for brilliant nighttime illumination.
· Fuel capacity is increased to 22 litres.
· Stunning all-new bodywork features an aggressive headlight display, an aerodynamic upper fairing, sleek rear body panels and faired turn signals that accentuate the center-up dual exhaust.

Engine/Drivetrain
· Compact, 781cc DOHC 90 degree V-4 with an oversquare bore and stroke of 72mm x 48mm.
· Combustion chambers feature an 11.6:1 compression ratio and are fed by programmed fuel injection through short, straight intake ports.
· VTEC features hydraulically actuated lifter sleeves inside the inverted buckets of the valve train's direct-actuation lifters. Below 7,000 rpm only one intake and one exhaust valve are actuated. Above 7000 rpm, an oil spool valve, actuated by an electric solenoid, sends oil pressure to the lifter actuators and positions their spring-loaded engagement pins above the valve stems to initiate actuation of the remaining two valves of each cylinder. Precise, shim-under-bucket valve actuation for the two continuously operating valves contributes to quiet low-speed engine operation and allows 25,600-km valve maintenance intervals. The diagonally opposed VTEC-actuated valves utilize shimless buckets, reducing valve train weight and service complexity.
· The VFR's engine serves as a stressed member of the pivotless frame, which features specially designed engine mounting bolts tuned to work in harmony with the damping characteristics of the frame.
· Horizontally split crankcase incorporates swingarm pivot and Pro-Link(r) bracket mounts at rear.
· Aluminum composite cylinder sleeves are high-pressure-formed from sintered aluminum powder impregnated with ceramic and graphite. The composite sleeves provide better wear resistance and superior heat dissipation compared to conventional sleeves.
· Forged aluminum pistons feature LUB-Coat solid lubricant to minimize friction between piston and cylinder wall.
· PGM-FI injectors feed large, 36mm throttle-body bores for optimal performance over a wide operating range.
· The VFR's electronic control unit (ECU) combines precisely metered fuel delivery and optimal ignition control utilizing 3-D digital mapping for each cylinder.
· Air injection system and three-way exhaust catalyzer utilize an oxygen sensor and advanced digital mapping to reduce emissions of hydrocarbons (HC), carbon monoxide (CO), and oxides of nitrogen (NOx).
· Auto-enriching system is integrated into PGM-FI module, optimizing the air/fuel mixture on cold starts and eliminating the need for a manual choke.
· Solenoid-operated dual-air-intake-duct design keeps one duct closed during low-speed operation to ensure optimal control of air intake velocity.
· Dual side-mounted radiators maximize cooling efficiency using low-air-pressure areas created by side cowls to draw cooling air through the radiators. During low-speed operation, a thermostat-controlled left-side fan pulls cooling air across the radiator into the fairing, keeping hot air away from the rider.
· Side-mounted radiators allow optimal placement of engine for low center of gravity and excellent handling precision. Cooling airflow to front and rear cylinder banks and exhaust system is enhanced and forward cylinder access is simplified for maintenance.
· Oil cooler is mounted under the steering head for maximum cooling efficiency.
· Rugged 125mm-diameter eight-plate clutch offers light weight and high load capacity.
· Exceptionally smooth-shifting six-speed transmission.

Chassis/Suspension
· Triple-box-section twin-spar aluminum frame features a tuned, pivotless design that isolates the engine-mounted swingarm from the frame and contributes to handling comfort.
· The frame's massive triple-box aluminum spars anchor the steering head directly to the engine and provide a solid mount for the top of the rear Pro-Link shock absorber.
· The VFR800's beautiful Pro Arm single-side cast aluminum swingarm, mounted to the engine and the pivotless frame, provides an optimal balance of rigidity and tuned flex for superb handling.
· Rigid, 43mm HMAS cartridge front fork provides precise handling and compliant damping with 109mm (4.3 in.) of travel and stepless preload adjustment.
· Pro-Link rear suspension features a 40mm gas-charged HMAS shock with 120mm (4.7 in.) of travel and adjustable spring preload and rebound damping. The Pro-Link arm is anchored directly to a cast aluminum bracket on the rear of the engine case.
· Linked Braking System (LBS) uses a second master cylinder and a proportional control valve (PCV) to couple the three-piston calipers of the dual-front and single-rear brake discs for even better braking feel, while providing the peace of mind of an LBS system. Using the front brake lever activates the outer two pistons of the left-side front caliper, all three pistons of the right-side caliper and the center piston of the rear caliper. Rear pedal engagement activates the two outer pistons of the rear caliper and the center piston in the left-front caliper.
· The VFR's 296mm floating front brake discs feature a lightweight seven-spoke inner rotor design, further reducing unsprung weight.
· Sintered metal front brake pad material provides superior braking performance.
· U-section cast aluminum wheels are light and reduce unsprung weight.
· The six-spoke, 3.5-inch-wide front wheel carries a 120/70ZR-17 radial tire. The five-spoke, 5.5-inch rear wheel sports a large, low-profile 180/55ZR-17 radial tire.

Additional Features
· The VFR800's sleek, aerodynamic bodywork is functional as well as beautiful.
· Air flowing through a central air vent under the front windshield provides cool air to the rider at low speeds and increases rider comfort at higher speeds.
· The deeply valanced front fender reduces air resistance at high speeds for light, responsive handling.
· Front fender and fairing designs route cool air through the fairing to improve engine cooling and rider comfort.
· Tail section features beautifully styled integral taillight and turn signals.
· High-tech instrument display includes electronic tachometer, LCD readouts for speedometer, air temperature, coolant temperature, odometer, two tripmeters, and clock.
· Large 22 litre fuel tank for extended touring range.
· ACG output of 463 watts.
· Detachable seat offers access to space to carry U-lock and other necessities. (Lock not included.)
· Removable passenger seat cowl.
· Adjustable brake and clutch levers.
· Injection-molded nylon passenger grabrails are comfortable to the touch in cold or hot weather.
· Additional cast or forged aluminum parts include brake pedal, shift lever and footpegs.
· Folding aerodynamic mirrors.
· Convenient ignition switch/fork lock for added security.
· Push-to-cancel turn-signal switch.
· Handlebar switches and controls use internationally approved ISO graphic symbols.
· Transferable one-year, unlimited-mileage limited warranty.
Specifications:
Engine
781cc liquid-cooled 90 degree V-4

Bore and Stroke
72mm x 48mm

Compression Ratio
11.6:1

Valve Train
VTEC DOHC; four valves per cylinder

Carburetion
PGM-FI with automatic enrichener circuit

Transmission
Close-ratio six-speed

Final Drive
#530 O-ring-sealed chain

Front Suspension
43mm HMAS cartridge fork with spring preload adjustability; 109mm (4.3 in.) travel

Rear Suspension
Pro Arm single-side swingarm with Pro-Link single HMAS gas-charged shock with seven-position spring preload and rebound damping adjustability; 120mm (4.7 in.) travel

Front Brakes
Dual full-floating 296mm discs with LBS three-piston calipers

Rear Brake
Single 256mm disc with LBS three-piston caliper

Front Tire
120/70 ZR-17 radial

Rear Tire
180/55ZR-17 radial

Wheelbase
1458mm (57.4 in.)

Seat Height
805mm (31.7 in.

Dry Weight
214 kg (472 pounds)

Fuel Capacity
22 litres (4.7 Imp. gal.)

Specifications are subject to change without notice, in accordance with national regulation and legislations.