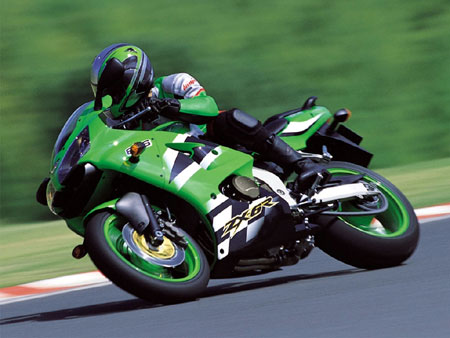 Back to 2002 Kawasaki Motorcycle Index Page
Click photo to enlarge.
It makes a great desktop image.

 
2001 AMA 600cc SUPERSPORT CHAMPION
In the super-competitive realm of mid-sized sportbikes, the Kawasaki NINJA® ZX-6R motorcycle is a stand-out with numerous accolades and magazine comparison victories to attest to its strengths. The NNJA ZX-6R also leads the pack going into the final rounds of the 2001 season's AMA 600 SuperSport Series (with Kawasaki Road Racing's Eric Bostrom at the helm), with two first-place finishes and an amazing six spots on the podium racked up during the first eight races of the season. Furthermore, the ZX-6R has been undefeated in every final of every 600 Supersport race at AMA/Prostar Drag Race events since 1996.
Keeping the ZX-6R in the hunt is a potent yet compact 599cc powerplant with an all-aluminum cylinder block. Electroplated bores decrease weight, resist wear and offer improved heat dissipation. A pentroof combustion chamber, a la World Superbike racing technology, allows for an ultra-high compression ratio of 12.8:1, and requires the use of 90-octane (U.S. standard) gasoline.
The fuel is delivered to the cylinders via a highly efficient intake tract with narrow valve angles for a more direct path to the combustion chamber. A short intake manifold increases top-end power and holds a quartet of 36mm downdraft carburetors equipped with the Kawasaki Throttle Responsive Ignition Control (K-TRIC) throttle position sensor. Linked to the ignition system, K-TRIC adjusts ignition timing for all throttle settings to deliver smooth power and superb throttle response throughout the rev range. A 16-bit microprocessor accurately adjusts timing by reading several sensors at the crankshaft. Ignition is delivered by Formula 1-style stick-type coils that are lighter and more compact than conventional ignition oils.
A four-into-two-into-one exhaust system exits under the curved aluminum radiator and expels the burnt gasses through a lightweight stainless-steel muffler with aluminum cover.
The entire engine acts as a stressed member of the short-wheelbase, all-aluminum perimeter frame, eliminating the need for front frame downtubes and saving more weight. The main frame rails are constructed of pressed sheet aluminum, and are welded to a cast-aluminum steering head and swingarm pivot section.
The hexagonal, extruded-aluminum swingarm has ribbing for reduced weight and a racier appearance. Kawasaki's UNI-TRAK® rear suspension system has linkage ratios designed to provide a linear curve that increases stiffness as the progressive damping and spring rates are applied to the fully adjustable single shock. Damping settings in the adjustable 46mm cartridge front fork match the rear suspension settings.
The ZX-6R features a sleek fairing featuring lightweight, bright dual "cat eye" multi-reflector headlights. The cockpit includes an electronic speedometer and tachometer that are thinner and lighter than their mechanical counterparts, and includes a water temperature gauge, odometer, tripmeter and clock – all digitally displayed.
The NINJA ZX-6R is the recipient of various awards, from being named "Best Middleweight Streetbike" by Cycle World to winning comparisons in Cycle News, motorcycle.com, Motor Cycle News and Rider. No doubt, the Kawasaki NINJA ZX-6R sets performance standards on the street and at the racetrack.
Four-Cylinder, 16-Valve Engine
·Aluminum cylinders are electroplated for quick heat transfer which
allows closer tolerances for more power
·Compact combustion chamber for increased compression ratio without
detonation on today's gasolines
·16-valve design boosts low-end torque and provides maximum valve
area for optimum flow
Gear-Driven Engine Balancer
·Smoothes engine vibration for comfort on the road
Liquid Cooling

·Even-running temperatures mean no "power fade" on hot days and
longer engine life
·Automatic fan keeps things cool even in traffic
36mm Carburetors with Kawasaki Throttle Responsive Ignition Control (K-TRIC)
·A throttle-position sensor tells the ignition-control unit how hard the
engine is working so that its micro-computer can determine the best
ignition timing for more power and better fuel economy
Straight-Shot Intake Ports
·Ultra-short for free-flowing, less turbulent intake
·More horsepower and instant throttle response
Digital Ignition
·Microprocessor controlled timing, never needs adjustment
Large-Capacity Fuel Tank
·5.3-gallon capacity for extended rides without refueling
Bridged Aluminum Swingarm
·Rectangular design is large and stiff
·Eccentric chain adjusters
43mm Cartridge-Type Front Fork
·Exceptional rigidity for precise cornering
·Features threaded preload adjuster and 12-way compression and
rebound damping so the suspension can be tuned to your riding style
and road conditions
Large Rear Wheel
·Rear wheel width allows use of wide rear tire (180/55ZR17)
310mm Dual-Disc Front Brakes
·Feature opposed, six-piston calipers for well-modulated, confidence-
inspiring stopping power
250mm Disc Rear Brake
·With opposed-piston caliper, produces quick, sure stops
Adjustable Clutch and Front Brake Levers
·Enhance rider comfort
2002 KAWASAKI NINJA® SPORTBIKES
For more than a decade, the term "Ninja" has been synonymous with Kawasaki sportbikes. In fact, the association is so widespread that even non-motorcyclists are familiar with the Kawasaki NINJA® motorcycle line-up. Such familiarity should come as no surprise to anyone, considering Kawasaki's formidable history with sportbikes.
New for 2002 is the ultimate open-class sportbike, the new ZX-12R which features more than 130 updates, enhancements and improvements to the engine, chassis, suspension and more. With a more planted feel, lighter steering and more low- to mid-range power, the new ZX-12R is the bike of choice for serious enthusiasts. Also, new for 2002 is the NINJA ZX-9R which bristles with a host of performance and styling changes sure to blast it to the pinnacle of the liter class.
For the sporting adventurer, the new-for-2002 Kawasaki NINJA® ZZ-R1200 sport-touring motorcycle is the ideal vehicle. Designed specifically for motorcyclists interested in a performance-oriented ride, but who also seek the comfort and style of a bona fide grand-touring bike, the ZZ-R1200 can't help but please.
And for all those sportbike riders who seek a more adventurous and winding route, Kawasaki features the ALL-NEW ZZ-R1200. A sportbike with a touring heart. Check out the features and styling of this new model.
On the professional racing level, Kawasaki has won an impressive nine AMA Superbike Road Racing Championships–more than any other manufacturer. Currently, modified NINJA motorcycles are raced by the Kawasaki Road Race team in its quest for championships. This includes the much lauded ZX-7R, upon which Kawasaki Road Racing's Eric Bostrom and Doug Chandler battled for AMA Superbike victory in the 2001 season. Likewise, the ZX-6R provided the base for Bostrom's 600 SuperSport mount in '01 where he won multiple races.
Furthermore, Kawasaki has dominated the AMA/Prostar Motorcycle Drag Racing Series over the last several years. Team rider Rickey Gadson won three consecutive AMA/Prostar 750 Superbike National Championships, and teammate Chip Ellis was named Rookie of the Year in 2000.

In addition to these particular racer replicas, Kawasaki also offers other sporting options. These include the sporty-yet-affordable ZX-6 and some of the best entry-level bikes available in the form of the popular NINJA 500R and 250R models. Whether the goal is track time, canyon carving or NINJA performance at an economical price, all of these Kawasaki motorcycles deliver experience you crave.
Specifications:
Model
ZX600-J3

Engine Type
4-stroke, liquid-cooled oil cooler

Displacement
599 cc.

Bore x Stroke
66 x 43.8 mm.

Compression Ratio
12.8:1

Valve System
DOHC, 16 valves

Carburetion
Mikuni BDSR 36R x 4

Ignition
Digital

Starting
Electric

Transmission
6-speed

Frame type
Perimeter, pressed aluminum

Rake / Trail
23.5

Wheelbase
55.1″

Suspension, Front
46 mm. cartridge fork with adjustable preload

Suspension, Rear
Bottom-Link Uni-Trak, adjustable preload, 20-way compression damping and rebound damping

Tire Front
120/65ZR17

Tire Rear
180/55ZR17

Brakes, Front
Dual 300 semi-floating discs with dual six-piston calipers

Brakes, Rear
Disc with single-piston caliper

Seat Height
32.3″

Fuel Capacity
4.8 gallons

Dry Weight 377 pounds

Color
Passion Red/Black Pearl, Lime Green/Black Pearl, Pearl Chrome Yellow/Black Pearl


Specifications are subject to change without notice, in accordance with national regulation and legislations.