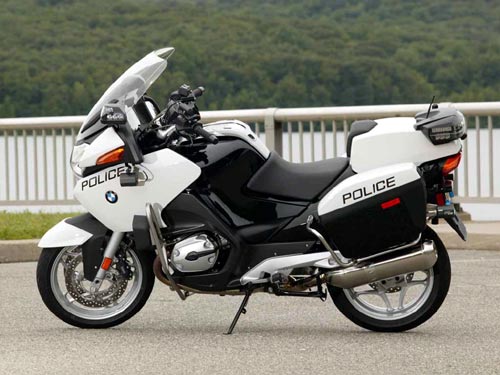 Back to 2007 BMW Motorcycle Index Page
Click photos to enlarge for detail.
They make great desktop images.
– 2007 BMW R1200RT Police

2007 BMW R1200RT Police
Ride with even more authority.
The R 1200 RT-P sets the benchmark for authority motorcycles not only in the United States but around the world. Boasting a generous 110 hp Boxer engine with a low center of gravity, a dynamic Telelever front suspension and full fairing weather protection, the R 1200 RT-P offers amazingly precise handling. BMW EVO brakes with partially Integral ABS II mean quick stops on gravel, concrete, and even wet road surfaces. The new R 1200 RT-P also features completely new LED emergency lighting, with programmable flashing and sirens. Twenty-three liter saddlebags provide ample storage space for officers, and with a sturdy stainless steel front protection bars, the R 1200 RT-P also offers maximum protection. Handlebar and cockpit areas offer mountings for many accessories, such as moving radar, video systems, map lights, notepad holders and electrical outlets. With an electrically- adjustable windshield for weather protection, a maintenance-free gel battery, a 39 months, 60,000 mile limited warranty, and the R 1200 RT-P is the premiere option for law enforcement agencies. Now those bad guys don't stand a chance.

MSRP: $18,006 USA
*Freight, retailer preparation & taxes extra.
Features and Benefits
New Emergency Light Concept
The new R 1200 RT-P features a completely new LED emergency lightingconcept developed by BMW and Code 3 PSE. The new system combinesall currently desired emergency lighting into optimally focused compactLED light modules. These modules accommodate an additional 45 degreefront LED module that blankets the front quadrants in emergency light.

Together with an integrated wiring harness and programmable flash controlmodule, the new system can provide any current flashing sequence /switching combination through settings on the programmable flasher. Example: If the motor will be used in California, program the flasher forsteady-burn left front LED light, with no change in the LED light or the wiring. If the motor is sold or operated in a different venue later, change the program flasher for 49 state operation.

The rear light module combines rear and side facing LED emergency lights, together with rear-facing brake/tail LED and side turn signal LED lights. Additional rear facing LED emergency lights can be installed and powered in conjunction with the rear facing lights, or controlled by photo-eye to disable the lights during the dark to reduce glare at night / low light
situations.
The programmable flasher can provide 12 flash patterns, with wiring splitting the motor between left and right side for alternating flash patterns. Light sequencing begins with rear, programmable rear and front side lights, as well as front and 45 degree front lights. A rear cancel switch allows riders to disable the rear lights while retaining the side and front lights –
usually used for protective service details. The programmable flasher also provides for a primary and secondary flash pattern, so during code 3 operation, the emergency lights will display the primary pattern until the siren is activated, at which time the flasher changes to the alternative pattern for 7 seconds after each siren tone change. This feature known as InterClear provides a visual and audible alert to those nearby.

Note: the lights pictured are prototype units that are not fully optimized for visual or structural quality. Production units will provide precise accurate light location.

New BMW Police Saddlebags
BMW heard the requests of motor officers and developed a completely new saddlebag for police motors. The new 23 liter saddlebags are easily removable for service maintenance or cleaning (removes with two bolts). The lid is hinged at the front with an easy-to-operate rear latch (while seated on the motor) that is glovefriendly and can be locked with the ignition key.

Optional saddlebag liners will also be available along with an optional luggage net in
the lid for small item / rain gear storage. Replaceable color painted side panels can be repaired / replaced without having to replace the entire saddlebag, reducing the cost of accident damage repairs.

Special front protection bars made of stainless steel have integrated BMW / Code 3 siren speaker mounting, providing maximum protection during accidents. Integrated speaker mounting reduces weight, yielding a clean professional appearance.
New Police Speedometer
The new highly accurate easy-to-read police speedometer displays has a large numerical
display in the center of the information display, and through a locking button on the
right handlebar, can display that "locked" speed (33 mls/h), retaining that reading until
the next time a speed is locked in the display.
The new R 1200 RT-P cockpit surrounds the rider with useful information to perform their job with precision. All switch functions at your finger tips, proven handlebar controls and easy-to-ready information displays keep riders informed and in control. All switches and primary electrical connections now are completely waterproof to ensure long, trouble-free life.

BMW provides mountings / adaptations for commonly requested components such as moving
radar, video systems, map lights, notepad holders, electrical outlets, etc. Indicators lights integrated into the back of the right hand front emergency light module place information within the rider's field ofvision.

New electrically-adjustable windshield has been optimized to provide a wider range of coverage & protection for all riders, with particular attention paid to coverage with open-face helmets.

Maintenance has never been easier. Basic engine maintenance intervals are 6,000 miles for oil service and adjustments, gearbox oil changes are at 24,000 mile, rear drive and fork oil are lifetime. Fuel filter is also now lifetime, again reducing maintenance even further.

Batteries are BMW gel maintenance-free 19 Ah batteries that recover well from deep-cycle
discharges. Service has been improved by a new protection bar system that provides full access to the front engine cover, as well as easier seat and fuel tank removal, easier access to batteries as well as protection bar removal.

The R 1200 RT-P is now covered by a 39 months, 60,000 mile limited warranty.
Standard Equipment
3-Tone 100W Electronic Siren with Air Horn

Integral ABS II

Hazard Warning Flashers

Front Engine Protection Bars

Single Key Locks

Closed Loop 3 Way Catalytic Converter

Integral ABS II

Side Stand with Starter Inhibition

Adjustable Handbrake and Clutch Levers

Adjustable Rider's Seat

Electrically Adjustable Windshield

Diagnostic Interface

Electronic Immobilizer

Info Flat Screen

Power Socket

Tool Kit

Seat – Black

Rear Engine Protection Bars

Radio Box with Mounting Base

8-Fused Circuits for Police Equipment

Dunlop Run-Flat Performance Tires

Top-Opening Police Saddlebags

LED Emergency Light Housings

Harness Pre-Wired for Police Accessories

Pace-Lock Speedometer

Calibrated Police Speedometer



Standard Motor Features:
Air/oil cooled 2-cylinder 4-valve head twin motor Emission control: 3-way closed loop catalytic converter Clutch: Single-disc dry clutch
Bore: 101 mm x 73 mm Compression ratio: 12.0 : 1 Clutch actuation: Self-adjusting hydraulic
Displacement: 1170 cc Fuel capacity: 7.1 w/1 gal. Reserve Gearbox: Constant mesh 6-speed
Rated output: 110 bhp @ 7,500 rpm Fuel: 91 AKI w/adaptive control for lower Shift: Toe shift with protective pad
Max. Torque: 115 Nm @ 6,000 rpm grades Drive: no-maintenance shaft drive / ratio 1 : 2.75
Engine Management: Electronic intake pipe Brakes: IABS partial-integral brake system with Alternator: 3-phase 720W w/1.8 : 1 drive ratio
injection / digital engine management BMS-K independent rear wheel brake control – producing 27A at idle. 19Ah maintenance-free
with dual ignition & overrun fuel cut-off. dual front rotors / single rear rotor linked gel batteries (2)
Length: 87.8 inches Total GVWR: 1091 lbs. Wheels: Die-cast aluminum
Height: 56.3 inches Payload: 440 including special equipment Front rim: 3.50 x 17 MTH2 profile
Width: Approximately 36 inches Wet weight: Approximately 650 lbs. Front tire: 120/70 ZR 17
Wheelbase: 58.4 inches Rear wheel guidance: BMW Paralever® Rear rim: 5.50 x 17 MTH2 profile
Castor (in normal position): 4.3 inches Front wheel guidance: BMWTelelever® Rear tire: 180/55 ZR 17
Steering head angle: 63.4 degrees Front suspension travel: 4.7 inches Rear suspension travel: 5.3 inches
special front shock strut for police application special travel-dependent damping system for
greater rider weight capability.
Standard Enforcement Features:
New concept BMW / Code 3 LED emergency 23 Liter capacity top-opening police saddlebags High performance run-flat radial tires meet
lighting system with glove-friendly latches CHP run-flat protocol.
BMW / Code 3 siren system Full interference suppression Optimized front suspension strut
Linked 19Ah auxiliary battery system w/8 fused Pre-wired chassis for all emergency equipment Front and rear 12V power accessory sockets with
police-only circuits waterproof DIN plug receptacle
Auxiliary engine oil cooling fan Dash mounted radio & radar speakers License plate ID lights
Rear emergency flasher system Front/rear emergency flasher system Motor lights "off" switch
Digital speedometer w/pace speed lock display Front and rear rust-free polished stainless steel Adjustable solo seat w/large-capacity
accurate to ±2 mph protection bar system locking integrated radio box
Dual horn system Electrically-adjustable windshield Adjustable solo seat 800 / 820 mm
Enforcement Options:
Radar / Lidar gun locking mountings LED emergency light modules Heated grips (two heat ranges)
Moving radar mounting set w/Doppler speaker Rear LED emergency lights w/photo-eye control Low adjustable solo seat (760/780 mm)
Flashlight & baton holder LED side turn signals / LED brake-tail Heated solo seat (two heat ranges)
Flashlight holder Locking side stand 12V lighter / waterproof power sockets
Notepad holder Adjustable Map light
Low band antenna mount Shotgun mounting Power timer for radio / accessories
800 MHz antenna base plate Various PTT switch holders PA microphone
Exterior illumination lights (saddlebags) Red LED license plate ID lights (rather than blue)
Visit the police motors website at www.bmwmc.net for more information, download bid specs, etc.
Pre-release information is preliminary and subject to change prior to production start of April/2006 – availability late May 2006.
Specifications USA

Engine Type: Air/oil-cooled 2-cylinder 4-valve head twin motor
Displacement: 1170cc
Bore X Stroke: 101 mm x 73 mm
Horsepower: 110 hp at 7,500 rpm
Torque: 85 lb/ft @ 6000 rpm
Valve Gear: HC, chain-driven
No of cylinders: 2
Compression Ratio: 12.0:1
Engine Management: Electronic intake pipe injection / digital engine management BMS-K with dual ignition & overrun fuel cut-off
Valves per Cylinder: Four
Valves: 2 x 36.0 mm intake / 2 x 31.0 mm exhaust
Fuel Tank: HDPE, internal pump and internal filter
Alternator W: 720 Watts @ 14 Volts
Battery V/AH: 12 Volts / 19 Amps/hour
Engine Summary: The two cylinder flat twin Boxer engine is BMW's famous, time-tested, signature design. First designed in 1923, its two horizontally mounted cylinders are like a boxer's gloves punching each other as he enters the ring. The result is a supremely reliable, flexible engine with a low center of gravity and like all twins, excellent torque characteristics. The exposed cylinders offer excellent air cooling and if it's durability, performance, and bulletproof all-around handling you want, this is your powerplant.

Clutch: Single-disc dry clutch
Gear Box: Toe shift with protective pad
Primary Transmission: 1:1.882
Gear Ratios:
I: 2.28:1

II: 1.58:1

III: 1.26:1

IV: 1.03:1

V: 0.90:1

VI: 0.81:1


Final Drive System: Enclosed driveshaft with two universal joints
Final Drive Ratio: 1:2.75

Frame: Three-part, engine/cast aluminum/tubular steel
Front wheel suspension: BMW Telelever
Rear wheel suspension: BMW Paralever
Spring Travel front/rear: 4.7 inches
Ground Clearance: 6.1 inches
Handlebar center point angle: 63.4 degrees

Brake System: BMW EVO with partial integral ABS II
Front Brakes: Two, four-piston fixed calipers
Front Rotor: Dual Front Rotors
Rear Brakes: 10.4 inch single, fixed rotor
Rear Rotor: Single Rear Rotor
Actuation: Hydraulic, DOT 4 fluid type
Front Wheel: 3.50 x 17 cast aluminum MTH2 profile
Rear Wheel: 5.50 x 17 cast aluminum MTH2 profile
Front Tire: 120/70 ZR 17
Rear Tire: 180/55 ZR 17

Specifications Canada:
BMW R1200RT Police

Not available in Canada

Specifications and features are subject to change