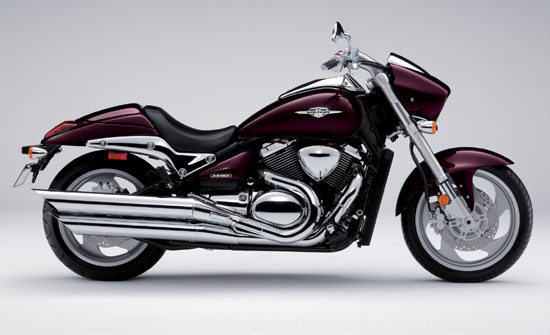 Back to 2010 Suzuki Motorcycle Index Page
Click photos to enlarge.
They make great desktop images.
– 2010 Suzuki Boulevard M90

2010 Suzuki Boulevard M90
Pure muscle from head to tail light
Introducing the Suzuki Boulevard M90.
It's a stylish, streamlined power cruiser that takes its styling cues from the incredible M109R. The new liquid-cooled engine is strong and smooth. And the 200mm rear tire provides a wide footprint without compromising its amazingly nimble handling.
Packed with the unique combination of cruiser attitude, technology and value synonymous with Suzuki's popular Boulevard range, the Boulevard M90 cruiser is hard to look past.
The Boulevard M90 is the perfect fusion of distinctive muscular street-tough styling and modern technology, adopting styling language from its bigger brother, the M109R, while offering uncompromising power and rider-friendly manoeuvrability.
Powered by a 1,462cc, long-stroke, four-valves-per-cylinder, V-Twin engine, the Boulevard M90 possesses class-leading torque-to-weight and power-to-weight ratios.
Dual spark plugs in each cylinder help enhance fuel economy and power delivery, and reduce emissions, while each aluminium-alloy cylinder is coated in a nickel-phosphorus-silicon coating to increase heat transfer.
Suzuki's race-bred Dual Throttle Valve (SDTV) digital fuel injection and advanced engine management system enhances fuel economy and throttle response across its broad powerband, while meeting the latest emission standards.
As used on the famous Hayabusa, a cable-operated back-torque-limiting clutch with Suzuki's Clutch Assist System (SCAS) provides efficient clutch operation and smooth downshifts, requiring less force to pull the lever whilst moving through the five-speed transmission.
With a low centre of gravity for easy manoeuvrability, the Boulevard M90 features a high-tensile steel frame and classic hard-tail cruiser look set to stand out in any crowd.
Developed using technology from Suzuki's sportsbike range, dual floating 290mm front disc brakes with dual-piston calipers and a 275mm rear disc produce impressive braking performance.
The Boulevard M90 features drag-style, flat-bend handlebars, a long and well-padded seat, and an 18-litre fuel tank to help riders enjoy long rides in comfort.
Available in Dark Cherry Red and Pearl Black liveries and backed by a two-year, unlimited kilometre warranty the Boulevard M90 is pure muscle from head to tail light.
*Please note: Boulevard M90 may be shown with seat tail, which is an optional extra accessory.

Key Features
An optional colour matched seat cowl can be added which converts the dual seat to a single. A range of other accessories is also available.

1462cm3 (90 cubic-inch) long-stroke, 4-valve-per-cylinder V-Twin engine, built to deliver massive torque while maintaining efficient operation.

Dual spark plugs for each cylinder increase combustion and fuel efficiency.

Hard, smooth chrome-nitride physical Vapor Deposition (PVD)-coated upper-compression and oil-control piston rings reduce friction and improve sealing.

Suzuki Dual Throttle Valve (SDTV) digital fuel injection and engine management system powered by a 32-bit computer enhance response and efficiency.

An automatic Idle Speed Control (ISC) system improves cold starting and stabilizes engine idle under varying conditions.

Effective engine management system and emissions control measures allow the SUZUKI BOULEVARD M90 to meet latest emissions standards.

Cable-operated back-torque-limiting clutch with Suzuki Clutch Assist System (SCAS) makes for efficient clutch operation and a lighter pull.

To reduce mechanical noise, each cylinder head's cam cover is separate from the cam bearing caps, and a rubber gasket is used between the cylinder head and the cam cover.

Dual slash-cut chromed mufflers fed from equal-length head pipes produce a dynamic, throaty V-Twin rumble.

Inverted 43mm-outer-tube front forks deliver 130mm of wheel travel.

A classic, rigid hardtail look is composed by hiding the coil-over 46mm rear shock absorber underneath the bodywork.

Wide, long, well-padded seat. The comfortable passenger seat is easily replaced with an optional tailsection cover for solo rides.

Flat-bend, drag-style chromed 25.4mm diameter handlebars, positioned at a relatively short reach from the seat.

Dual fully floating 290mm front disc brakes with dual-piston calipers; 275mm rear disc brake with a single dual-piston caliper.

Wide 120/70ZR18M/C (59W) front and 200/50ZR17M/C (75W) rear Bridgestone radial tires specifically designed for the SUZUKI BOULEVARD M90.

Distinctive instrument cluster, integrated into the headlight cowl under a chrome cover.

Long, chrome-plated sidestand, designed and positioned to help make it easier to move the parked bike up off the stand.

Multi-reflector headlight with a 60/55W halogen high/low-beam bulb.

LED taillight with fisheye fresnel-cut smoked red lens.

Bullet-shaped turn signals with unique vertical lens cuts.

Instrumentation features a stepping-motor-driven analog speedometer and a bar-section fuel gauge always on display.


Features and Benefits
Engine Features

32 bit 512kb ROM engine management computer and state of the art SDTV fuel injection system.
A spring loaded scissor type split primary drive gear mounted on the crankshaft also reduces mechanical noise.
The powerful long stroke V-twin engine features single overhead cams, water cooling, and four valves per cylinder, with the cylinders set at a 54-degree angle.
Aluminum-alloy slipper pistons have cutaway sides to reduce friction and each piston carries three rings.
An Automatic Idle Speed Control (ISC) system regulates the amount of air fed into the throttle body idle circuits, improving cold starting, reducing cold start emissions and stabilizing engine idle under varying conditions.
Bore and stroke of 96.0mm x 101.0mm for a full 1462cc (90 ci) of displacement
Compression ratio of 9.5:1
Dual chromed slash cut exhaust system features a built in catalyzer that further reduces hydrocarbon, carbon monoxide and nitrogen oxide emissions.
Each aluminum alloy cylinder is plated with SCEM nickel phosphorus silicon carbide coating which reduces friction and increases heat transfer, durability and ring sealing.
Each compact combustion chamber carries dual spark plugs, which fire at the same time during low rpm, light load running but fire at staggered intervals during high rpm, high load conditions, increasing combustion efficiency and fuel efficiency while also reducing emissions.
Each cylinder has its own 42mm throttle body featuring Suzuki advanced SDTV Fuel injection system.
Each piston rides on a chrome-moly steel connecting rod, which is shot peened to improve durability and strength.
Large flywheels help smooth out low rpm power pulses, as does a spring loaded primary drive damper bolted to the end of the crankshaft.
Power is delivered through a wide ratio five speed transmission and a shock reducing damper, through a clean running, reliable drive shaft to the rear wheel.
Suzuki's proven PAIR system uses a solenoid valve controlled by the engine management system to inject fresh air from the airbox into the exhaust ports, igniting any unburned hydrocarbons and reducing carbon monoxide emissions.
The forged steel crankshaft's offset crankpins produce the staggered firing order internal combustion heartbeat and elongated exhaust note that attract cruiser riders
The internal design of the mufflers cancel out reflecting exhaust waves, reducing drops in backpressure and smoothing power delivery.
The M90 engine is tuned to deliver strong, smooth torque across the rpm range, with peak torque produced at just 2600 rpm.
The Suzuki Boulevard M90's advanced digital fuel injection system and engine management system is designed to increase throttle response while also getting the most out of every drop of fuel, producing broad power and reducing emissions.
The underside of each piston is cooled by a stream of oil directed from the crankcase oil gallery.
The upper compression ring and oil ring on each piston are electro plated with a chrome-nitride coating applied in a vacuum chamber using a physical vapor deposition (PVD) system. The chrome-nitride PVD coating is harder and smoother than conventional chrome plating.
To reduce mechanical noise, each cylinder heads cam cover is separate from the cam bearing caps and a rubber gasket is used between the cylinder head and the cam cover.
Two 33mm intake valves and the two 30mm exhaust valves in each combustion chamber are set at a narrow 20-degrees from the cylinder centerline
Chassis Features

A sporty front fender compliments the headlight cowl with a smooth tapered shape.
Careful consideration was paid to the relationship between the comfortable seat, the forward mounted rubber covered footpegs and control levers and a relatively short reach to the flat bend drag style chromed handlebars.
Chromed drag style handlebars feature a 1.0 inch diameter and control switches and levers are ergonomically designed to improve the machine interface, adding to rider comfort.
Distinctive cast aluminum alloy wheels carry wide Bridgestone radial tires specifically designed for the M90.
Dual fully floating front brake discs measure 290mm each and work with dual piston calipers
Inverted front forks have 43mm inner tubes and deliver 5.12 inches (130mm) of wheel travel.
Massive rear fender and LED Tail light combination accent the 200mm rear tire
Special attention to comfort started with the Suzuki Boulevard M90's wide, well padded seat including extra length to allow the rider to slide forward or rearward on long rides.
Tastefully chromed engine covers, air cleaner covers, shaft drive secondary cover, swingarm pivot cover and exhaust system heat shields give the M90 an exciting look
The Boulevard M90's stylish cutting edge look features sleek flowing lines swooping from a distinctive headlight cowl to a smooth tail section and wider rear fender covering a massive 200 section rear tire
The comfortable passenger seat can easily be replaced with an optional tailsection cowl for solo rides.
The frame incorporates three rubber engine mounting points to reduce vibration.
The long stretched fuel tank holds a full 18.0 L (3.9 Imp gal) of fuel
The low center of gravity and careful design and positioning of the long chrome plated sidestand help make it more convenient for the rider to pick up the M90 off its sidestand.
The low maintenance LED tail light features a fisheye Fresnel-cut smoked red lens.
The M90 features a steel tube frame with a hidden rear shock absorber, for the look of a classic rigid hardtail without the accompanying rough ride.
The multi reflector headlight features a 60/55w halogen high/low beam bulb. The passing light feature both beams are illuminated.
The swingarm is built from strong steel tubing and incorporates the driveshaft on the left side.
The rear brake disc measures 275mm and works with a single dual piston caliper.
To maintain the M90's clean lines the rear brake fluid reservoir is remotely located away from the right-side, forward position footpeg, brake pedal and master cylinder.

2010 Suzuki Boulevard M90 – USA Specifications
MSRP: $TBA USD

TBA





2010 Suzuki Boulevard M90 – Canada Specifications
MSRP: $13,799 CDN

Chassis:
Brakes Front 2-piston calipers, 290 mm disc, twin
Brakes Rear 2-piston caliper, 275mm disc
Colour Black, Red
Curb Weight 328kg (723 lbs.)
Final Drive Shaft Drive
Fuel Tank Capacity 18.0 L (4.7 US gal)
Ground Clearance 145mm (5.7 in.)
Overall Length 2390 mm (94.1 in.)
Overall Width 870 mm (34.3 in.)
Seat Height 716 mm (28.2 in.)
Suspension Front Inverted telescopic, coil spring
Suspension Rear Lynk type, oil damped, coil spring
Tires Front 120/70ZR18M/C (59W), tubeless
Tires Rear 200/50ZR17M/C (75W), tubeless
Transmission 5-speed, constant mesh
Wheelbase 1690mm (66.5 in.)

Engine:
Bore Stroke 96.0 mm x 101.0 mm
Compression Ratio 9.5 : 1
Engine 1462 cc, 4-stroke, 2-cylinder, liquid-cooled, OHC
Fuel System Fuel Injection
Ignition Fully transistorized
Lubrication Wet sump
Starter Electric

Warranty:
Warranty 12 Month unlimited mileage limited warranty

2010 Suzuki Boulevard M90 – Australia Specifications
MSRP: $TBA AU
ENGINE
2 cylinder, 4-stroke, liquid cooled, 54-degree, V-twin

STARTER
Electric

TRANSMISSION
5-speed constant mesh

FRONT SUSPENSION
Inverted telescopic, coil spring, oil damped

REAR SUSPENSION
Link type, coil spring, oil damped

FRONT BRAKES
Disc brake, twin

REAR BRAKES
Disc brake

WHEELBASE
1,690mm

SEAT HEIGHT
716mm

LENGTH
2,410mm

WIDTH
870mm

HEIGHT
1,100mm

CURB MASS
328kg

FUEL CAPACITY
18 litres

COLOURS
Pearl Black or Dark Cherry Red

WARRANTY
2 year unlimited kilometre