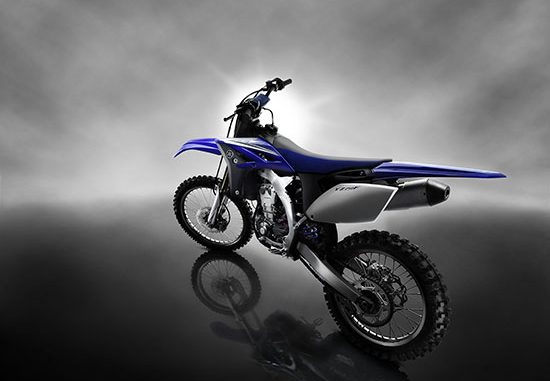 Back to 2010 Yamaha Motorcycle Index Page
Click photos to enlarge.
They make great desktop images.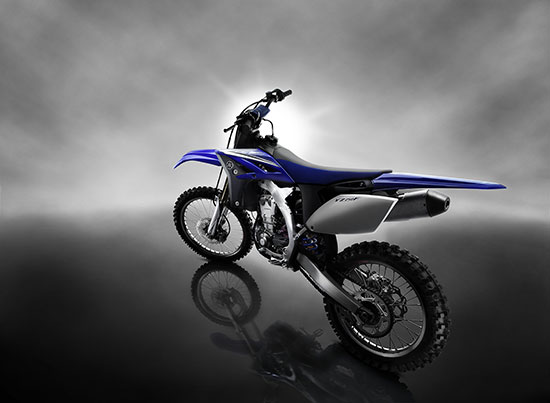 2010 Yamaha YZ250F (Australian version)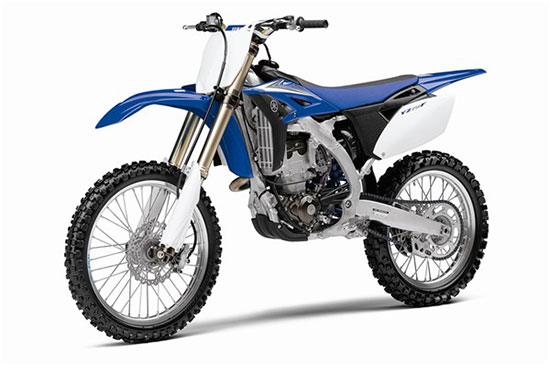 2010 Yamaha YZ250F (North American version)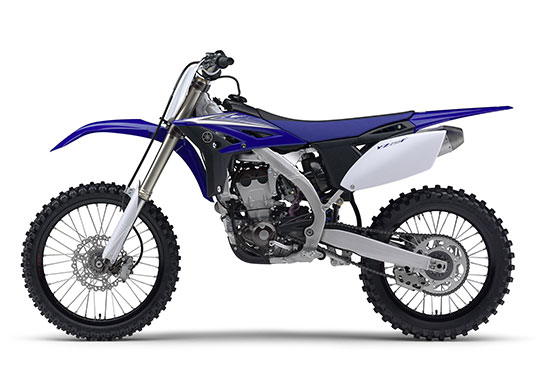 2010 Yamaha YZ250F (Australian version)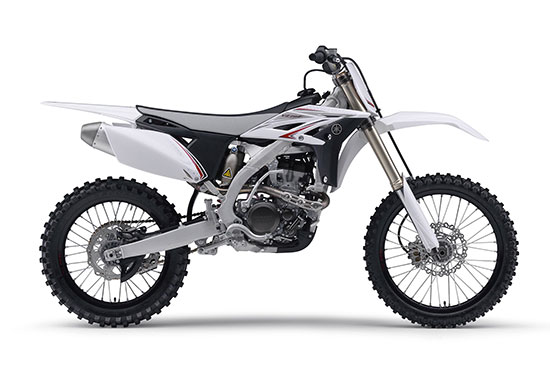 2010 Yamaha YZ250F (Australian version)


– 2010 Yamaha YZ250F

2010 Yamaha YZ250F
The new YZ250F… designed specifically for the 250cc class competition.
Introducing the new 2010 Yamaha YZ250F. The key development concept behind this awesome new machine is excellent cornering and handling performance. In other words, the new 2010 YZ250F "does exactly what the rider wants".
The year was 2001 and Yamaha introduced the first modern 250cc 4-stroke motocrosser. We have taken the original concept of "Ultimate Quick Turn Performance" and elevated it to an entirely new level.
The all new Bilateral Beam aluminum frame centralizes mass for exceptional cornering and handling performance. The 250F is more compact than the pervious generation chassis for superior cornering. The optimized engine delivers a new level of power in the low-to-midrange, with a great torquey feel, exactly where riders want it. Mix in improvements to the intake and exhaust system, lighter valve train, new carburetor settings and you have a winning combination that will be hard to beat.
Key Features:

The all-new, Bilateral Beam frame is specific to the 250 and is more compact than the previous generation chassis. This places the rider closer to the front wheel, which delivers superb rigidity balance for unmatched lightweight handling and cornering. This nimbleness lets the rider get on the gas sooner out of corners and cross the finish line with less fatigue – even on long motos.

The optimized engine delivers a new level of power in low-to-midrange, with a great torquey feel, exactly where riders want it. That is due to the new straight intake boot that enhances breathing, new carburetor that provides excellent throttle response and fuel atomization, and redesigned valve train components that reduce inertial mass and boost low end torque. Exhaust is also enhanced with a new D-shaped exhaust port and newly designed exhaust system. Ongoing refinement to the suspension and engine produces an amazingly balanced, light-handling machine with performance that's accessible to all levels of riders.

All new styling emphasizes the bike's light weight and nimble handling character. The sharp, horizontal lines set the bike apart, with a clean, aggressive look.

KYB® suspension has been recalibrated front and rear and is tuned to work with the new Bilateral Beam frame for unmatched handling. The clutch lever has a lighter pull feel even though the clutch has stronger engagement. The new clutch also has a wider engagement range that will give riders an advantage off the line. . . shift after shift, moto after moto.

There's no disputing the YZ250F's unmatched four-stroke prowess – it was the 1st four-stroke 250 motocross bike on the market, the 1st to win an international race, the 1st to win an AMA® Supercross ® and the 1st to take an AMA® U.S. Supercross Championship® title, as well as the first to win an AMA® National race.


Features and Benefits:

For 2010 the YZ engineers have focused on optimizing the intake & exhaust systems, lightened the valve train, revised the carburetor settings and improved the ignition advance characteristics. These improvements result in improved low to mid power and a more rider friendly engine with a more linear power delivery for improved drivability and control.
New, liquid-cooled, 250cc, DOHC, 5-titanium valve, 4-stroke engine features a 13,500-rpm redline.
Short skirt forged piston reduces weight and vibration, plus offers excellent durability.
The 13.5:1 compression ratio provides fast, controlled combustion and excellent engine performance.
Optimized 5-valve (3-intake & 2-exhaust) combustion chamber design provides the most efficient intake and exhaust flow for maximum power.
Titanium valves decrease weight by more than 40% over a conventional steel valve train and reduce reciprocating mass for faster-revving.
All new aluminium valve retainers reduce inertial mass for faster throttle response
New "load reduced" valve springs reduce the amount of force required to open the valves and thereby minimizes power losses associated with friction and improves torque in the low and mid ranges.
Special chromium nitride coating on the tips of the intake valve stems reduces wear.
Exhaust port shape has been revised from a round to a "D" shape to optimize flow and improve performance and engine character
Revised intake cam profile further improves performance.
The lightweight "liner less" aluminium cylinder features a ceramic composite coating which insures faster, more uniform heat dissipation, reduced friction and a longer service life.
Cylinder design features cutaways that allow the air trapped under the piston to enter a side chamber (or cutaway) to reduce horsepower-robbing "pumping losses."
Revised lightweight engine crankcase also utilizes special cutaways to reduce "pumping losses." The crankcase cutaways match the cutaways in the cylinder for maximum efficiency.
Relocated convenient oil sight glass window and oil drain plug.
Lightweight magnesium cylinder head cover.
Dry sump lubrication system uses a remote oil tank reservoir positioned in front of the engine. This revised oil tank is lighter and more compact for 2010 and features a partition in the centre of the tank that improves the air-oil separation function. This tank is positioned low in the chassis which centralizes mass and lowers the centre of gravity for exceptional handling and a light feeling.
Oil volume in the engine has been optimized to reduce weight and "oil drag" related power losses.
Revised, 5-speed transmission features "involute splines" on the transmission axles to ensure smooth shifting and instant hook-up under power. The gear ratios for 3rd and 4th gears and the engagement dog shape have been changed to maximize the engine improvements. 3rd gear ratio = 26/18(1.444) while 4th gear ratio is 22/18(1.222).
Lightweight engine counterbalancer reduces vibration for improved rider comfort and less rider fatigue.
Revised multi-plate wet clutch features a revised clutch boss insert for improved wear, clutch spring load has been increased and the length of the push lever cam has been revised to change the lever ratio for an easier clutch lever pull and improved clutch feeling.
Lightweight, "quick-access" outer clutch cover provides fast, easy access for clutch maintenance.
Compact design automatic cam chain tensioner reduces maintenance and mechanical engine noise
Revised Keihin FCR-MX37 flat-slide carburetor with throttle position sensor (TPS). The carb settings have been revised to accentuate the improvements in the intake and exhaust systems. The cam for the accelerator pump has been optimized while the shape of the carburetor "throat" on the air box side has been modified for improved air flow.
The air box assembly has been revised for improved performance. The funnel shape at the air box "outlet" is optimized, while an all new straight design "boot" between the air box and the carb also improves air flow.
Washable, dual-stage, foam air filter.
No fuss auto decompression system means fast, easy starting. The YZ250F restarts in any gear.
Convenient, handlebar-mounted hot start lever ensures fast starts when the engine is hot.
Revised CD ignition system delivers a precise spark and monitors engine rpm to insure optimal timing for fast, strong response at all rpms. The ignition timing advance curve has been revised for improved performance.
Direct ignition system means the ignition coil is integrated into spark plug cap to reduce weight and complexity.
New compact, lightweight, single core, dual radiators provide outstanding cooling efficiency. The location of the rads has been lowered and moved rearward for improved performance and protection while also lowering the all important center of gravity and centralizing mass. The thickness of the cores has also been increased. For 2010, the revised rads mount to the new frame at 3 points.
Lightweight titanium exhaust header pipe reduces weight, improves performance and allows hassle-free replacement of the oil filter.
The lightweight exhaust system utilizes a 4-stage expansion format that improves the cylinder filling induced by the exhaust pulse effect, resulting in excellent power characteristics.
Revised rigid mount muffler assembly is 50mm longer than last year for improved performance and reduced noise levels. The size of the internal diffuser pipe and the noise reducing "punched hole pipe" have been modified to achieve optimum performance.
The muffler can be repacked to maintain peak performance and reduced noise. The lightweight aluminium / stainless steel muffler complies with current CMRC & AMA noise regulations for 2010.
Trick, oversized "barrel adjuster" on the clutch lever perch allows on-the-fly clutch adjustments.
Chassis/Suspension
All new, compact "bilateral beam" aluminium frame centralizes mass for exceptional handling and cornering ability. This 250cc class specifically designed frame consists of forged, extruded and panel aluminium parts. This all new frame is more compact than the last generation and offers significantly improved "rider – machine communication" (a.k.a. feedback). The key goal of this new chassis is faster and easier cornering … one of the keys to winning races. The engineers started with a clean sheet of paper and designed the chassis based on the requirements of a 250cc motocrosser. Note: the YZ250F frame is unique unto itself.
The rigidity balance of this new frame has been optimized and features increased lateral and torsional rigidity compared to the last generation frame. It also contributes to a feeling of lightness, agility and traction.
The head pipe (steering head), wheelbase, caster and trail dimensions are optimized to accentuate the new engine and frame character. The benefit is incredible turning ability and quick, stable handling.
New removable rear sub frame is constructed of square-section, lightweight aluminium pipe. Its detachable design allows easy access when servicing rear suspension components.
Lightweight, tapered, aluminium swingarm is produced using "hydro forming", a special method that uses high pressure water to form shapes. The swingarm design provides great overall chassis "balance" for precise cornering and a light handling feel.
Forged aluminium upper triple and lower triple clamps reduces weight and improve strength.
Pro Taper handlebars are one of the most sought after style of bars. The Pro Taper bars provide excellent strength and durability. Foam handlebar pad is included.
Handlebar position has been raised 5mm for 2010 to suit the new, more compact frame. The revised handlebar holders (with the upper triple clamp), offer a total of 4 different positions, and an adjustment range of 30mm, to better suit a wide variety of riders.
Revised 48mm, adjustable, inverted, Kayaba cartridge fork features a twin-chamber design. The twin chamber design means the damper unit is in a separate structure which prevents aerated fork oil from entering the inner damper assembly and degrading its damping abilities. Since the inner damper is pressurized, it also prevents air bubbles forming in the oil. Front fork adjustments include: 20-way compression damping and 20-way rebound damping. Optional fork springs are available through Genuine Yamaha parts.
Fork damping settings have been revised for 2010. The shape of the outer fork tubes, the inner piston rod design, and the low friction fork oil seals are also revised. The engineers focused on the enhancing the ground holding capabilities of the front wheel, a key for precise cornering.
The 48mm inverted KYB fork also features a Transfer Control Valve (TCV) system. The TCV enhances the damping force of the inner damper from mid stroke to full stroke and improves bottoming characteristics. The benefit of TCV is more precise control throughout the full stroke. The TCV is located on the upside of the spring and its function is controlled by piston speed, not piston position … hence the term "Speed Sensitive fork".
Front wheel travel is 300mm or 11.8″
Revised, large "wrap-around" plastic fork protectors provide excellent lower fork tube protection. The "self-supporting" design reduces friction for smoother fork operation.
Revised Monocross link rear suspension system features a fully adjustable Kayaba, piggyback shock which features separate adjusters for high- and low-speed compression damping. Adjustments include: spring preload, 20-way rebound damping, 20-way low-speed compression damping and 2 turns of high speed compression damping.
The shock spring location has been lowered 29mm to accommodate the new intake boot.
The shock uses an 18mm diameter piston rod. Kashima coating is used in the shock body and sub tank to reduce friction and improve suspension performance during a long moto. The Kayaba shock utilizes a full rebound oil lock system for excellent suspension function and great ride quality.
Rear wheel travel is 307mm (12.1″).
250mm floating front wave-style disc reduces weight and is squeezed by a Nissin twin piston caliper.
245mm rear disc brake features a lightweight "wave-style" disc and a single piston Nissin caliper.
Compact and lightweight rear master cylinder is an integrated design (fluid reservoir is integrated into the top of the master cylinder) for strong stopping power with excellent feel and control.
Newly designed rear pedal tucks in tighter to the engine / frame and reduces weight.
Newly designed, compact body work includes front number plate, front fender, rad shrouds, fuel tank, side panels and rear fender which enhance the lightweight feel and look of the new YZ250F. This new "minimal " bodywork is a flat design, allowing fast, easy rider movements. The ergonomics provide a natural and roomy riding position. The body has been designed to maintain it good looks throughout the life of the machine.
The lightweight, plastic resin 6.4 litre fuel tank compliments the chassis and has been moved closer to the rider for centralization of fuel tank mass and compactness.
Redesigned seat is unique to the 250F. The surface texture has been designed to give a grip when needed, yet still allow easy rider movements. The "gripper" style seat cover has been designed to resists clogging with dirt or mud to ensure long lasting good looks.
New lightweight Sun Star rear sprocket.
Lightweight, 21″ front and 19″ rear Excel rims provide exceptional durability and help reduce unsprung weight for optimal suspension performance and handling.
Rear wheel assembly uses a large 25mm diameter axle and a rear hub design which features a second bearing on the sprocket side for increased rigidity and durability.
Bridgestone knobby tires offer competition-spec traction and excellent wear. Front = M403 / rear = M404.
Details
All new rugged polypropylene engine and integrated water pump protector plate reduces weight.
"Shorty" adjustable front brake lever. Adjustment range is 5.5mm.
New heavy duty plastic rear caliper and lower rear disc protectors.
Large fuel cap and filler hole ensures easy opening and fast, hassle-free refuelling.
New lightweight, extra wide foot pegs are 5mm higher and provide excellent grip and improved rider comfort.
Lightweight header pipe heat shield.
Serrated rear brake pedal for extra grip
Folding gear shifter tip
Stainless steel inner clutch cable provides excellent strength and durability.
Lightweight chain guide / support helps reduce chance of chain derailment. It also helps protect rear sprocket from damage too.
Heavy duty rubber swingarm protector
Heavy duty DID 520 drive chain
Please note there are some small but significant differences between the Australian model and US model. And because AUS and Europe have different tyres, there are some differences to dimensions (eg length, seat height and ground clearance).
Key differences are:
US
– Silver rims on blue model, black rims on white
– Pointed muffler end cap
– Gearing 49/13
– Rear wheel travel 307mm
– Carb jetting
– Front suspension spring rate 4.4N/mm
– Bridgestone M403/M404 tryes
Europe
– Black rims on both colour models
– Rounded muffler end cap
– Gearing 51/13
– Rear wheel travel 310mm
– Carb jetting (same as AUS spec)
– Front suspension spring rate 4.5N/mm
– Pirelli Mid-Soft 32 tyres

Australia
– Black rims on both colour models
– Rounded muffler end cap
– Gearing 51/13
– Rear wheel travel 310mm
– Carb jetting (same as EUR spec)
– Front suspension spring rate 4.5N/mm
– Bridgestone M403/M404 tryes
2010 Yamaha YZ250F – USA Specifications
MSRP: $TBA USD
Engine
Type 250cc liquid-cooled DOHC 4-stroke; 5 titanium valves

Bore x Stroke 77.0mm x 53.6mm

Compression Ratio 13.5:1

Fuel Delivery Keihin® FCR MX37

Ignition CDI

Transmission Constant-mesh 5-speed; multiplate wet clutch

Final Drive Chain Drive


Chassis
Suspension/Front Speed-Sensitive System inverted fork; fully adjustable, 11.8-in travel

Suspension/Rear Fully adjustable single shock; 12.0-in travel

Brakes/Front Hydraulic single disc brake, 250mm

Brakes/Rear Hydraulic single disc brake, 245mm

Tires/Front 80/100-21

Tires/Rear 110/90-19


Dimensions
Length 85 in

Width 32.5 in

Height 51.3 in

Seat Height 38.9 in

Wheelbase 57.7 in

Ground Clearance 14.8 in

Wet Weight 224.8 lb

Fuel Capacity 1.7 gal


Other
Warranty 30 Day (Limited Factory Warranty)

MSRP to be announced Fall 2009.






2010 Yamaha YZ250F – Canada Specifications
MSRP: $8,599 CDN

Engine 4-stroke, liquid-cooled, DOHC, 5-valve (titanium), single
Displacement 250cc
Bore and Stroke 77 x 53.6 mm
Compression Ratio 13.5:1
Fuel Delivery Keihin FCR-MX37 flat slide w/throttle position sensor
Lubrication Dry sump
Ignition / Starting CDI / Kick
Transmission 5-speed
Final Drive Chain

Suspension (Front) Adj. 48mm, inverted fork / 300mm travel
Suspension (Rear) Fully adj. Monocross / 307mm travel
Brakes (Front) 250 mm, floating disc
Brakes (Rear) 245 mm, disc
Tires (Front) 80/100-21
Tires (Rear) 100/90-19

Length 2,159 mm (85″)
Width 825 mm (32.5″)
Height 1,303 mm (51.3″)
Wheelbase 1,466 mm (57.7″)
Ground Clearance 375 mm (14.8″)
Seat Height 988 mm (38.7″)
Fuel Capacity 6.4 litres (1.4 imp. gallons)
Wet Weight 102 kg (224.4 lb)
Colour(s) Yamaha Blue
Purplish White

* MSRP does not include freight, PDI (Pre Delivery Inspection), pre-rigging (boats), or taxes. Dealer may sell for less.
2010 Yamaha YZ250F – General Specifications
MSRP: $TBA
Dimensions and Weight
Overall length 2166mm
Overall width 825mm
Overall height 1304mm
Seat height 990mm
Wheelbase 1473mm
Minimum ground clearance 376mm
Wet(with oil and a full fuel tank) 102.0kg

Engine
Engine type Liquid cooled 4-stroke,DOHC,5-
valve
Cylinder arrangement Forward-inclined single cylinder
Displacement 250cm3
Bore & stroke 77.0 X 53.6mm
Compression ratio 13.5 : 1
Starting system type Kick starter
Lubrication system Dry sump
Radiator capacity (including all
routes) 1.0 litres
Engine oil capacity 1.2 litres

Fuel
Air filter type Wet element
Fuel tank capacity 6.4 litres
Carburettor Type/Fuel supply FCR-MX37 X 1
Electrical
Ignition system type C.D.I
Spark plug model CR8E

Transmission
Primary reduction system Gear
Primary reduction ratio 57/17 3.353
Secondary reduction system Chain
Secondary reduction ratio 51/13 3.923
Clutch type Wet, multiple-disc
Gear ratio
Transmission type Constant mesh 5-speed
Operation Left foot operation
Gear ratio-1st gear 30/14 2.143
Gear ratio-2nd gear 28/16 1.750
Gear ratio-3rd gear 26/18 1.444
Gear ratio-4th gear 22/18 1.222
Gear ratio-5th gear 25/24 1.042

Chassis
Frame type Bilateral Beam
Caster angle 27.4°
Trail 119.6mm
Tyre size (Front) 80/100-21 51M
Tyre type (Front) Bridgestone M403A
Tyre size (Rear) 100/90-19 57M
Tyre type (Rear) Bridgestone M404

Brake
Brake type (Front) Hydraulic single disc brake
Brake type (Rear) Hydraulic single disc brake
Diameter of disc (front/rear) 250mm/245mm
Inside diameter of drum / Effective
radius of disc (Front) 224mm
Inside diameter of drum / Effective
radius of disc (Rear) 219.8mm

Suspension
Suspension type (Front) Telescopic fork
Suspension type (Rear) Swingarm (link,suspension)
Shock absorber assembly type (Front) Coil spring/oil damper
Shock absorber assembly type (Rear) Coil spring/gas-oil damper
Wheel travel (Front) 300mm
Wheel travel (Rear) 310mm



Specifications, appearance, and price of product are subject to change without notice.
2010 Yamaha YZ250F – Media/Press Release
All new YZ250F is ultimate corner carver
Ask any motocross rider where races are won and lost and odds on he'll tell you its all in the corners. A light, nimble and supreme handling MX bike can pick its lines and stick to them, enabling its rider to hang on longer and go harder.
So it's no surprise to learn that cornering performance was the guiding theme throughout the development of the new model YZ250F.
The next generation motocross development plan was hatched with rider involvement paramount. Trackside customer research led Yamaha engineers to discover that what riders wanted more than anything else was sharp handling. Riders of all abilities from pros right down to swappers. And by handling, they meant better cornering performance. Because a better handling bike lets a rider get on the gas sooner, is less tiring to ride and is the key to winning motocross races.
The development team's goal was to make quick cornering easy for riders of all skill levels. Not a simple task and certainly not something that could be achieved with small tweaks to the chassis or engine. The goal could only be reached by applying a highly innovative and synergistic approach to the science of motorcycle cornering.
The engineers were well aware that the 250 is not just a smaller displacement version of the 450, but a unique machine in its own right. So the task was to design a stand alone 250, not a scaled down 450cc MX bike.
By making a specific 250cc machine, the chassis can be tailored to deliver the handling response suitable for the class. The engine character of the 250 can then be tuned to suit that chassis. And by starting from a clean sheet of paper, not only was the goal of enhanced cornering performance met, the machine's overall performance was dramatically improved.
The new YZ250F is compact, lightweight and requires little input for rider balance. Which means it's less tiring to ride. The credit for this goes to the all new Bilateral Beam aluminium frame which features high lateral and torsional rigidity and offers a stable feel and precise handling.
The new frame converts sideways shocks smoothly to longitudinal shocks that are more readily absorbable by suspension. This makes the YZ250F very stable when cornering, which means it's easier to dive into corners with more speed.
By quantifying rider feedback, the chassis' rigidity could be more precisely matched to the rider. Additionally, the new frame layout made it possible to change the shape of the fuel tank. By moving the tank towards the centre of the bike, mass centralisation was significantly advanced. Further improvements were made by moving the radiator rearward and mounting it lower.
Improvement to the initial damping quality of the front and rear suspension units have resulted in improved traction and give the rider a better feel for the terrain. This allows more confidence when entering a turn and lets the rider hold a line with less effort. The result is less rider fatigue during a long moto.
An engine built like a Swiss watch
After thorough research and testing, Yamaha engineers decided to retain Yamaha's five titanium valve engine layout and FCR carburettor fuel delivery system. This combination was found to produce the best power output for the displacement while maintaining compact engine dimensions and light weight.
But the engine has been thoroughly refined for 2010 to result in even more punch. A higher lift intake camshaft, revised exhaust port and carb intake funnel shapes, new valve springs and retainers, smaller oil tank and revised ignition map for the CDI are just some of the many detail improvements that have been made to the 250cc powerplant. The new frame also allowed a reshaping of the air cleaner box which improves intake efficiency.
The result is a more rider-friendly engine with more linear power delivery. Low- and mid-range power characteristics and response are improved, giving the bike a lighter feel when cornering.
The changes were made possible in part by a measurement device used in MotoGP. This device allowed the engineers to quantify the transitional power characteristics when the rider begins to open the throttle after corner entry (1/4 – 1/2 throttle opening). Based on this data the engineers tuned the engine's response characteristics to give the engine an ideal power feeling for the rider.
Another small but important change was to modify the clutch lever ratio so as to reduce the effort required at the lever. This makes it much easier for the rider to slip the clutch.
Dart styling hits the bullseye
The YZ250F's straight frame-work directly expresses the lightweight feel and look a 250 should have. The plastic parts have been made as small as possible while still retaining their protective functions.
The bike's lightness is further expressed by emphasising its linear imagery. The flatness of the tank, seat and rear fender also facilitates rider movement and the relationship between the handlebars, pegs and seat make for a natural and roomy riding position. The dart-like styling allows function to follow form, as the YZ250F's elegant design contributes to its winning potential.
YZ250F Main Features
? ENGINE
1) New engine with refined character
Improvements have been made to the liquid-cooled 4-stroke, DOHC single-cylinder 5-valve engine with its inherent qualities of excellent engine response and power. The improvements include optimised intake/exhaust systems, lightened valve assemblies, revised carburettor settings and new ignition advance characteristics. In particular the measures to reduce power loss in the valve drive mechanism have given this engine a new character.
The new engine is characterised by improved continuity in the climb through the rpm range, which especially improves drivability in the mid- to low-speed ranges. The 77.0 × 53.6 mm bore × stroke spec and the 13.5:1 compression ratio are the same as on the engine of the existing model.
2) Aluminium retainer and lightweight valve spring adopted
To improve the continuity in the climb through the rpm range, especially in terms of power development in the low- to mid-speed ranges, the retainer that holds the intake/exhaust valves has been changed to an aluminium unit (steel on the existing model) to reduce inertial mass in the valve drive mechanisms. In addition, the spring rate of the valve springs has been reduced to balance the reduced inertial mass.
Adoption of this new valve spring reduces the amount of force necessary to open the valves, which minimises power loss and thus contributes to superior torque characteristics in the low- to mid-speed ranges. Combined with a high lift intake camshaft, these changes help bring out drivability that exceeds expectations for a high compression ratio engine.
3) New carburettor settings and funnel shape
The settings of the FCR-MX37 carburettor have been optimised to accommodate the changes in the intake/exhaust systems. Also, the spec of the cam for the acceleration pump and the shape of the air passage on the air cleaner side have been changed. Together, these factors contribute to improved power development in the low- to mid-speed ranges.
As for the air cleaner, the shape of its funnel has been optimised and the shape of the cleaner box modified to best fit the new frame.
4) Modified exhaust port shape
In order to achieve the target performance, the shape of the exhaust port has been optimised (from a round cross-section to a "D" cross-section) to contribute to the new engine character.
5) Rigid mount silencer
Aussie spec models come with lightweight silencers. The length of the outer tube has been shortened by 55mm and the tail pipe shortened by 40mm. Also, in response to the new frame, the silencer mount has been changed to a rigid type that reduces weight.
6) Transmission ratios changed
In accordance with the new engine character, the gear ratios for third and fourth gears have been changed to achieve excellent ratio balance (third was 1.450 and now 1.444 while fourth was 1.227 and now 1.222)
7) New design reduces clutch operational load
Clutch spring load has been changed. Also, the length of the push lever cam has been modified to change the lever ratio and reduce operational load.
8) New-design crankcase cover
The crankcase cover has been given an oil level gauge window. Also, the drain bolt position has been changed to improve serviceability. The oil level gauge boss on the current model has been eliminated.
Also, the oil tank has been made more compact.
CHASSIS
1) New-design aluminium Bilateral Beam frame
In order to promote centralisation of machine mass, – and in particular centralisation of fuel tank mass – that contributes to fulfilling the aim of being the best cornering 250cc MX bike, a specifically designed all-aluminium Bilateral Beam frame has been adopted. This new frame is made up of about 20 parts of forged, extruded and panel aluminium parts welded together into a single unit.
In addition, parts and components other than the frame are also designed and positioned with centralisation of mass in mind. The total effect makes this new model significantly more compact than the existing model and that can be felt by the rider as a heightened level of rider-machine communication.
In terms of rigidity balance, the lateral rigidity and torsional rigidity have been increased compared to the present model in order to give a greater feeling. At the same time, it helps the rider experience an outstanding sense of rider-machine communication.
Also, it helps achieve an excellent balance that contributes to a feeling of agile lightness, good front wheel grip, strong traction and light handling in tight turns.
2) New dimensions adopted
The wheelbase, caster and trail dimensions have been optimised to bring out the characters of the new engine and frame. Wheelbase is shorter, caster angle relaxed and trail longer. The headstock is lower and the handlebars are higher for optimum performance. The 4-step adjustable handlebar positioning is the same as on the 2009 model. It enables settings to fit rider preference, course layout or surface conditions.
3) Further developed front suspension
In order to achieve dependable cushioning performance and smooth operation when entering a turn at high speed, the valve that produces the damping force has been optimised and the spec of the inner rod has been changed. This is a key factor for achieving front-wheel grip when leaning the machine over at the entrance to a turn.
The shape of the outer tubes has also been changed to optimise rigidity balance with the new frame. The handlebar crown is the same type as on the present model.
4) Rear suspension spring position optimised
The new model adopts the same basic rear suspension spec as the existing model with its excellent cushioning feeling and reliability although the position of the spring of the suspension unit has been lowered 29mm. The swingarm is the same type as on the existing model.
5) New-design flat seat
A new flat seat has been specially developed for the 250cc model. The rigidity of the seat bottom has been optimised for a better feeling and fit. The seat surface material is the same as on the 2009 model. It is vinyl chloride leather with an optimised mix of compounds added to the smooth wooly nylon base fabric to provide the right balance of grip and ease in sliding. The surface texture is designed to resist clogging of the surface grain with sand or mud to ensure superior grip and reduce the amount of dirt build-up after a ride.
6) Newly designed radiator adopted
The thickness of the radiator core has been increased and the mount changed from a 2-point to a 3-point mount, thus achieving outstanding heat-dissipation performance and greater unit reliability at the same time. The coolant volume and the cooling capacity are the same as on the existing unit.
7) New-design fuel tank adopted
The lightweight plastic resin fuel tank is designed to achieve the best relationship with the new frame and new dimensions. The centre of the tank has been moved closer to the rider to contribute to better centralisation of machine mass and a greater sense of compactness, which in turn contributes to a heightened feeling of rider-machine unity and lighter handling.
8) New lightweight parts adopted
This model adopts newly designed lightweight parts including a new-design sprocket, a plastic resin engine protector (under-guard), more compact oil tank, optimised brake pedal shape and smaller brake hose guides.
Also, new-design lightweight exterior parts have been adopted. These include new shapes for the front fender, rear fender, front number plate, front fork protector, side covers and air scoop, etc.
9) New body styling with smaller-surface exterior parts
This model has been designed with styling that accentuates compactness and lightness. This is achieved by keeping the surface area of the exterior parts to a minimum, accentuating compactness and expressing a sense of dynamic motion.
Also, the exteriors have the new textured plastic parts. They keep the bike looking good even if there are the scratches and dents on the surface caused by rough rider movement and contact.
10) White colour option
To further heighten pride of ownership, a white version is offered as a second colour. In addition to the model's high potential as a competition machine, this colour provides an image of refined quality
2010 YZ250F key dimension change chart
Change made 2009 model 2010 model
Silencer outer pipe tube length 380mm 325mm
Silencer tail pipe length 40mm shorter than 2009
Radiator fixation points 2 3
Cylinder head fixing point number 1 point 2 points
Intake cam lift 7.6mm 7.7mm
Exhaust cam shaft flange diameter 27mm 29mm
Intake valve spring wire diameter 2.2mm 2.1mm
Exhaust valve spring wire diameter 2.5mm 2.4mm
Exhaust pipe joint with silencer diffuser pipe diameter 50.8mm 45.0mm / 50.8mm
Clutch spring screw washer number 2 1
Clutch push lever cam height 4.4mm 4.0mm
Frame head pipe position 12 mm lower than 2009
Caster angle 27.1 degrees 27.4 degrees
Trail 117.4mm 119.6mm
Wheelbase 1476mm 1473mm
Ground clearance 371mm 376mm
Handle holder height 39mm 44mm
Number of aluminium parts in frame
About 20
Rear suspension 29 mm lower than 2009
Wet weight 102.8kg 102.0kg