You are here: Home — Tire/Tyre Guide — Pirelli — Pirelli Diablo Corsa
Pirelli Diablo Corsa
Back to Total Motorcycle Pirelli Tire/Tyre Guide
Click photos to enlarge.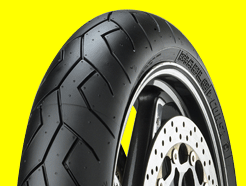 Pirelli Diablo Corsa Front
– Pirelli Diablo Corsa
FEATURES

Diablo Corsa is a tyre assuring the maximum performance in every sphere, BOTH ON ROAD AND ON TRACK, even on wet. THE FIRST MIRS™ TECHNOLOGY TYRE

– The riding pleasure allowed by this tyre results from precision when cornering, even in case of very sharp maneuvering, a linear, uniform and progressive behavior, with scorching accelerations, always controlling direction fully. A riding pleasure which can be felt on track as well.
– Pirelli Diablo Corsa is not conceived for road use only: it can be used on track, too. In fact, thanks to the wider temperature range of application, it has a shorter warm-up time, with a greater grip when the tyres are cold (in order to maximize safety on road, too) and keeps its performances unchanged even after several laps on track.
– The optimized stiffness of its sidewall and its new compound allow to count on a continuous push progressiveness, above all when cornering at the limit, knowing that the contact area will keep uniform, also in the presence of small asphalt irregularities, always assuring an effective and profitable handling.

Alternative tyres
– DRAGON SUPERCORSA PRO
Sizes
Front: DIABLO CORSA
120/65ZR17M/CTL(56W) DCORSF
120/70ZR17M/CTL(58W)(H) DCORSF
120/70ZR17TL(58W) DCORSF

Rear: DIABLO CORSA
190/50ZR17M/CTL(73W)(H) DCORSA
190/50ZR17M/CTL(73W) DCORSA
180/55ZR17M/CTL(73W) DCORSA