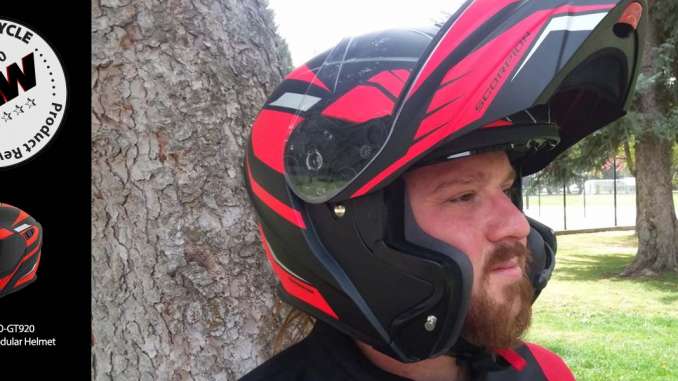 Hands down, no article of motorcycling gear is as controversial as the helmet. Whether it's your local government mandating their use or your track coach insisting no helmet under $500 is good enough, everyone has something to say about them. They're subjected to testing, certifications, and inspections. They can also make or break your reputation as a serious rider faster than anything else. Scorpion USA invited TMW to take their latest modular touring lid, the EXO-GT920, for a spin to see how it stacks up to the competition. Read on to see what we thought. 
EXO-GT920 Helmet by Scorpion
| | |
| --- | --- |
| Reviewed By: | Eric Leaverton |
| Review Dates: | September 14th to October 26th 2018 |
| Price As Tested: | $229.95 USD |
| Reviewed On: | 2009 Kawasaki Versys 650, 2012 Kawasaki Ninja 650 |
---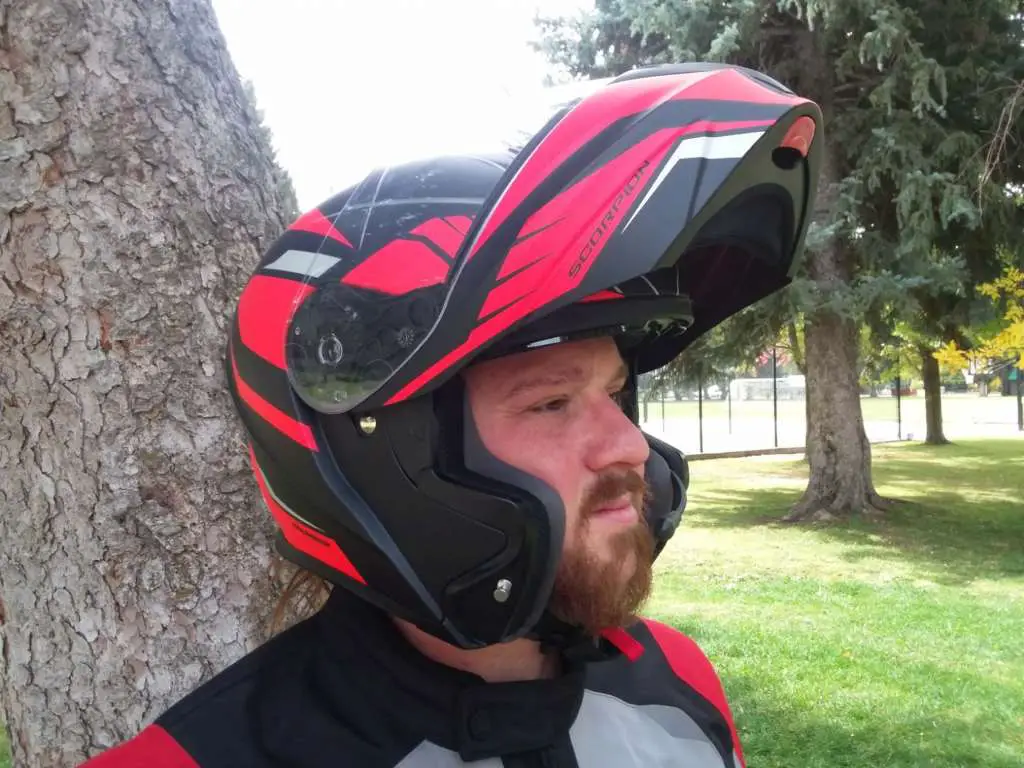 Overview
The Scorpion EXO-GT920 is a full-face modular helmet designed primarily for sport touring applications. The helmet is available in three different color schemes, seven different shell sizes, and accommodates an intermediate oval headform. It weighs 3.71 lbs (1,683g) and features a poly-carbonate shell and dual-density multi-layer EPS padding for impact displacement.
This helmet incorporates all the features you would expect in a premium, high-performance lid. Integrated drop-down sun visor, fog-resistant primary face shield, and one exhaust and two intake vents for airflow. Inside you'll find removable, washable liners and cheek pads with moisture-wicking fibers. It also has some less common features like integrated speaker pockets, removable chin curtain, and a breath deflector.
A note about modular versus convertible helmets. In recent years these words have become somewhat interchangeable, but they used to mean something specific. There is a breed of helmet on the market that features a fully convertible face, which rotates clear around to the back of the head and locks there for open-face riding. This helmet does not do that. The face and chin bar simply lift upwards to clear your face. It's not really intended for extended travel in this position.
DESIGN
Scorpion sent my EXO-GT920 in the "Shuttle" pattern and the black and red color scheme. The pattern has an organic, animalistic quality to it, but in a geometric or tribal way. The lines of this helmet are vaguely aggressive, but not overtly so, and it's solidly a sport touring bucket. Scorpion positioned the large central intake for upright riding, and a modest spoiler gives some shape to the exhaust ports out back. A pronounced pectoral ridge runs laterally from the chin bar to the spoiler in a sharp rake. Aerodynamic planes beneath that ridge channel air over the shoulders to minimize wind blast. The EXO-GT920 looks of a uniform size, neither bigger or smaller than you would expect and with no conspicuous features.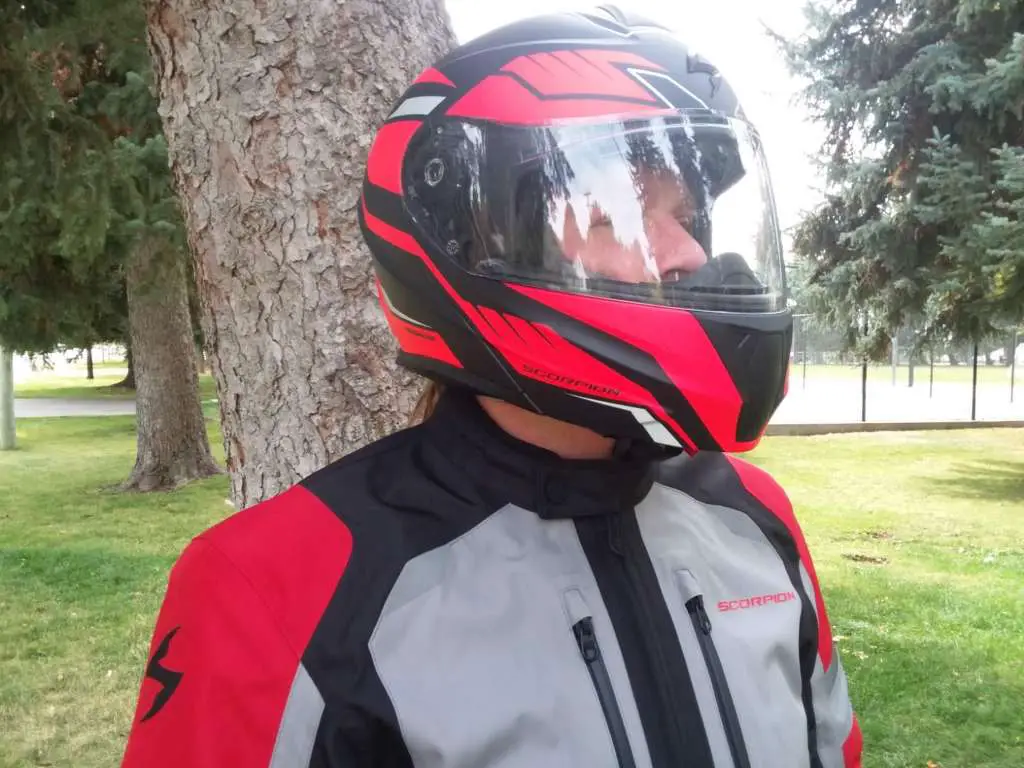 FIT
One thing we've come to expect from Scorpion is that their sizes run very small. The EXO-GT920 is no exception. My head, measured across my brow and over the widest circumference of my skull, measures 22" or 56cm. According to Scorpion's sizing chart for helmets, that puts me at the largest circumference for a Small. Knowing what I know about Scorpion, I ordered a Large.
Turns out I'm not as smart as I think I am, because this helmet is still too tight. And it's not just the padding. When I rotate my head into the helmet, I can feel the shell flexing. And if I'm not careful, I'll fold my ears in half against the padding. It's tight enough that I need to watch how I'm holding my mouth and jaw too. It's easy to find myself biting the inside of my cheeks when I'm talking or singing along to my music. And I want to stress, this is all with a helmet two sizes larger than the chart recommended. I can't imagine how the fit would be if my head were actually the size they identify for the Large shell size. It would be excruciating.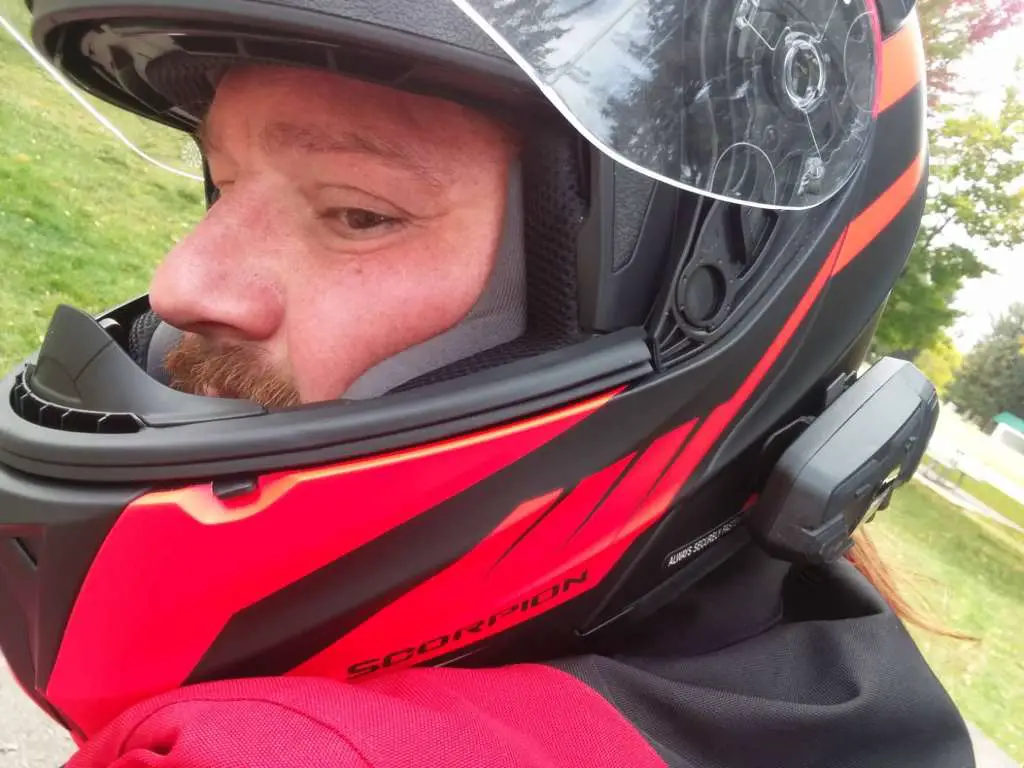 SAFETY RATINGS
TMW doesn't do any kind of impact resistance or intrusion testing on the helmets we review. Technicians, engineers, and other people smarter than ourselves have already worked those things out by the time a helmet reaches the market, and we place our trust in those professionals and the certifications they've developed. In this case, the Scorpion EXO-GT920 bears a D.O.T. certification in the North American market we tested it in.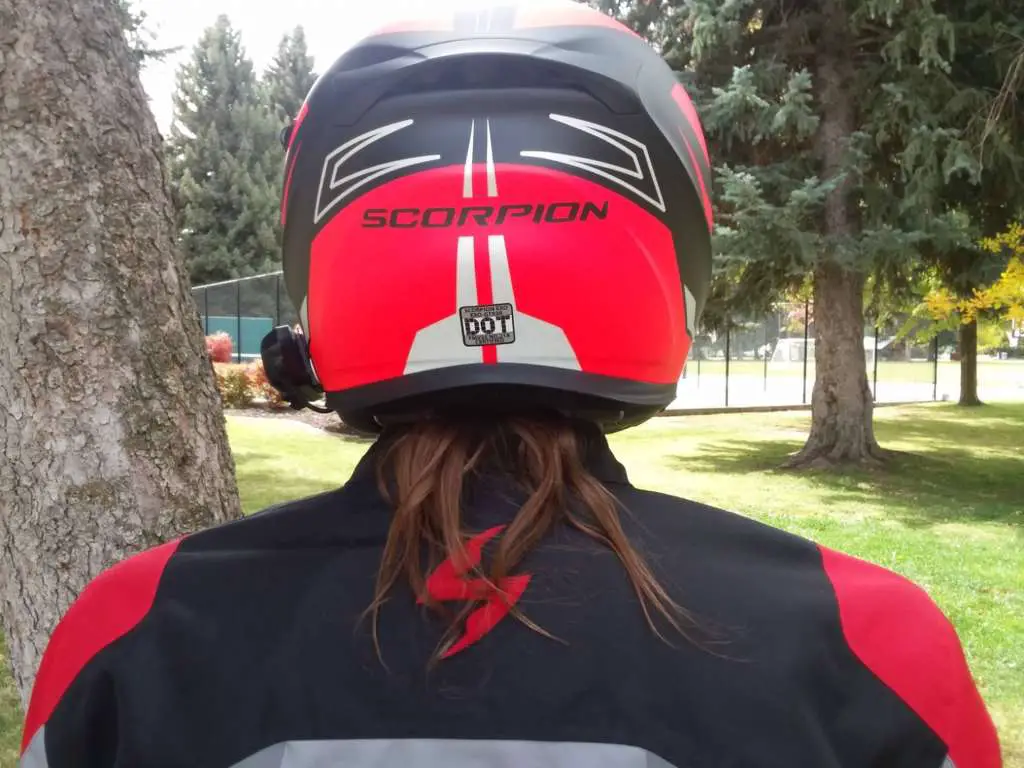 I know a lot of riders are adamant about using helmets with SNELL approval, so I want to say this. No helmet with a modular front or a void inside the headform can qualify for a SNELL rating. This is a modular helmet with a drop-down visor, so if these are features you value, the SNELL rating is the trade-off. Scorpion offers multiple models with SNELL ratings though, so as a manufacturer they're not afraid to subject themselves to that scrutiny. Take all that into consideration when choosing a helmet that fits your lifestyle.
That said, the EXO-GT920 has a whole suite of features we do test.
FEATURES AND FUNCTION
Modular Face
The EXO-GT920 offers a modular face. This means that the entire face of the helmet from brow to chin can rotate 90° upwards. The release button is located just under the bottom lip of the chin bar, and it's bright red so you can't miss it. It's easy to operate with or without gloves, and offers a solid, positive sense of engagement when you pull it.
PROS
There's a lot of benefits to a modular helmet. You can raise the front to talk to someone, to get to an itch, or to evict a bug. If you wear glasses, you can don or doff your helmet without having to mess with them. You can also free up the lower half of your vision if you need to look down. Finally, an EMT might be able to access your face and airway in the event you need medical attention. Chances are, if you're in the market for a modular, some of these are a priority for you. The EXO-GT920 delivers on all these.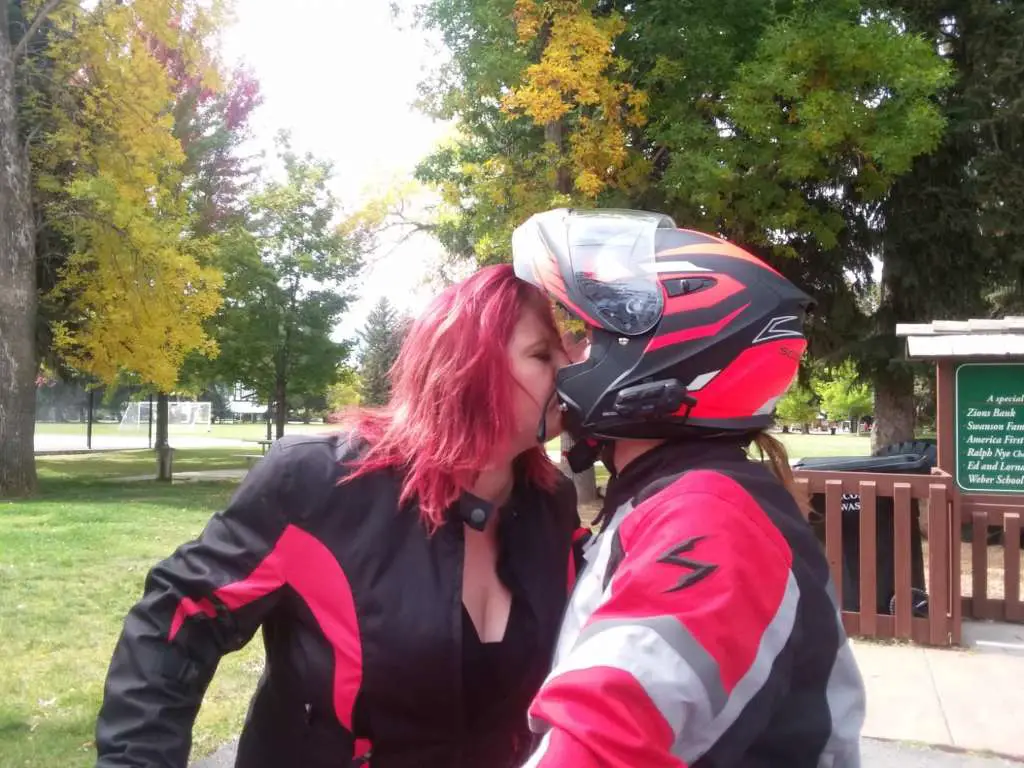 CONS
I do have a couple of complaints about the modular front though. First, it doesn't always latch on the first try. This may be because the helmet is too tight, and a better fitting helmet might alleviate this problem. When it does latch, the engagement is confident and notable. You won't find yourself realizing the helmet is unlatched two miles down the road. You'll know right away if it's not secure.
My second complaint is probably true of most modular helmets. The seam is exactly where you'd want to place a communicator or camera mount. I had to mount my SCS-S1 a lot further back than I'd like because of it. It's an uncomfortable reach to operate it, which means I get less use out of it. That might be a fair trade for the functionality of a modular. For me, it's a tough call. In the end though, I need to operate my headset more often than I need to open my helmet. I am more often disappointed I can't easily advance a track on my playlist than I am pleased I can uncover my face.
Visors
The main clear visor on the EXO-GT920 has a ratcheting closure and a wide tab for lifting and lowering. It also has a groove and post, for positive retention when it's in the closed position. This feature works almost too well, as it usually takes me a couple tries to lift. The visor has a proprietary anti-fog coating, and I haven't experienced any issues with condensation. For what it's worth, the breath deflector contributes to this as well.
The EXO-GT920 also has an integrated sunshade with an external actuator. This feature simply works, no two ways about it. Push back on the lever on the left side of the helmet, and the visor slides down. Move the lever the other direction and it retracts back into it's SNELL-disqualifying void. This gives you the option to ride all day without having to change out a visor or bring sunglasses. If you wear corrective lenses, sunglasses may not even be an option for you.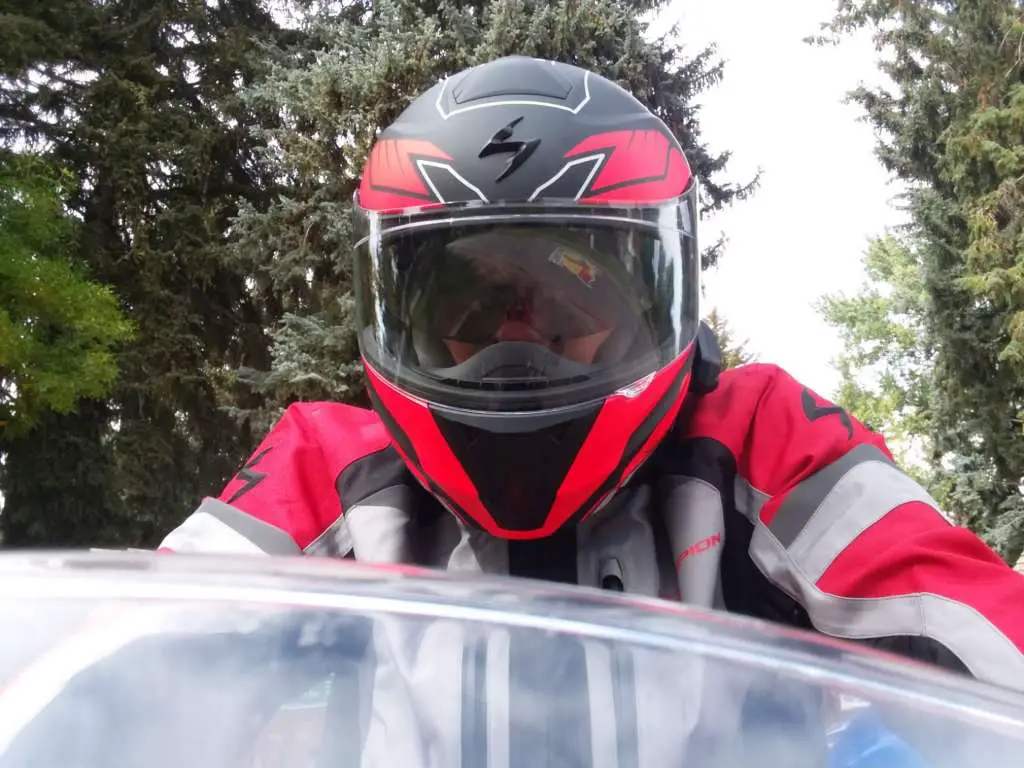 When we tour we ride sun-up to sun-down, so the sunshade gets a lot of use. If you've watched my video for the Indian gear roundup, you may have seen the outtake at the end where I had to pull over briefly on a narrow canyon road. That was to retrieve my sun glasses, which were still wedged beneath my passenger backrest. If I'd had the EXO-GT920 for that ride, we may have missed an excellent outtake opportunity.
Vents
For air circulation, the EXO-GT920 offers two intakes and one exhaust. The first intake is in the chin bar over the mouth, and helps with breath deflection as well. The second intake is high on the forehead. Both intakes open and close with a simple push, even with gloves on. They're easily identifiable as either open or closed with just a glance, which is incredibly convenient. The exhaust is situated in the spoiler and can't be closed. With the vents opened or closed, the EXO-GT920 is noticeably quieter than other helmets I've worn. And the vents seem to work well. In temperatures around 75°F (28°C) my head stays cool and dry.
Pads and Liners
Scorpion states that the liners in the EXO-GT920 are moisture-wicking and anti-microbial. I'll admit I haven't tried to swab and culture them. The inside of my helmet smells clean and fresh though, even after many miles of use. Should that ever change, the liners are removable and washable, and easy to remove and replace. They're very soft and comfortable, and even the chin strap is padded. If you've ever used an un-padded chin strap while you're sporting a 5:00 shadow, you'll appreciate that feature.
There's been a lot said about the cheek pads in this and other helmets by Scorpion. Specifically, that they're a little rigid and over-stuffed. Personally, I think that has more to do with the undersized shell than the pads themselves. Thinner cheek pads might alleviate the problems with fit, but the pads seem of an appropriate width and size to me. They're just in too small a cavity. Let's not blame the cheek pads for what the shell did.
Speaker Pockets
There's not much to say here. The EXO-GT920 features built-in pockets behind the cheek pads for easy installation of helmet comms. They work well and were easy to access, and I have no complaints either about their positioning, size, or the materials used.
Weatherproofing
I reviewed the EXO-GT920 in tandem with the EXO Optima Jacket, and I said a lot in that earlier review about the weather conditions I subjected myself to during that time. The remnants of Hurricane Rosa were sending heavy rain and cold temperatures across Northern Utah, and I went out in several of those rainstorms. Like the Optima Jacket, the EXO-GT920 fended off all the moisture I threw at it. As you can see in the pictures below, I really took a lot of rain on this helmet. Not a drop made it through that I could detect.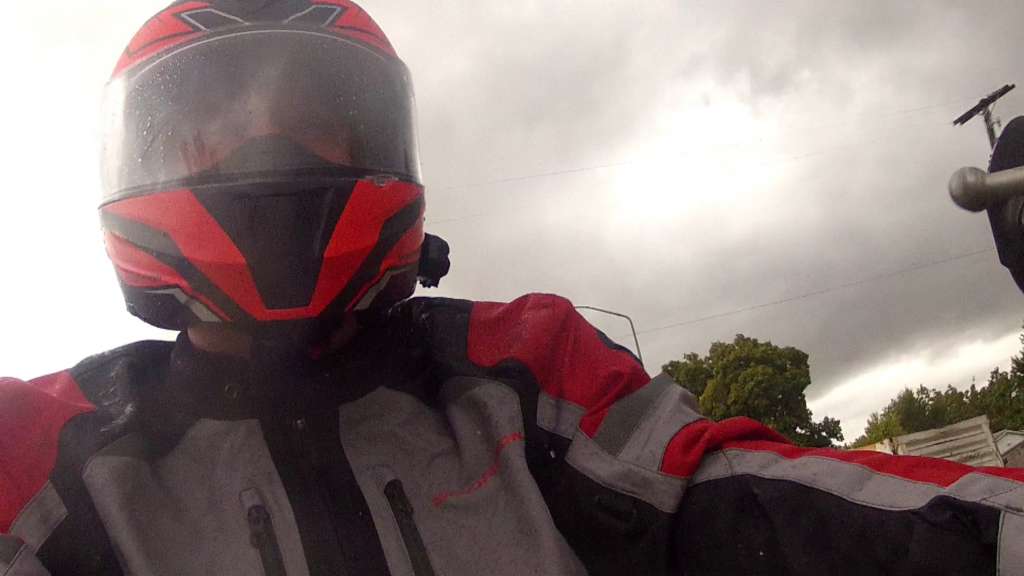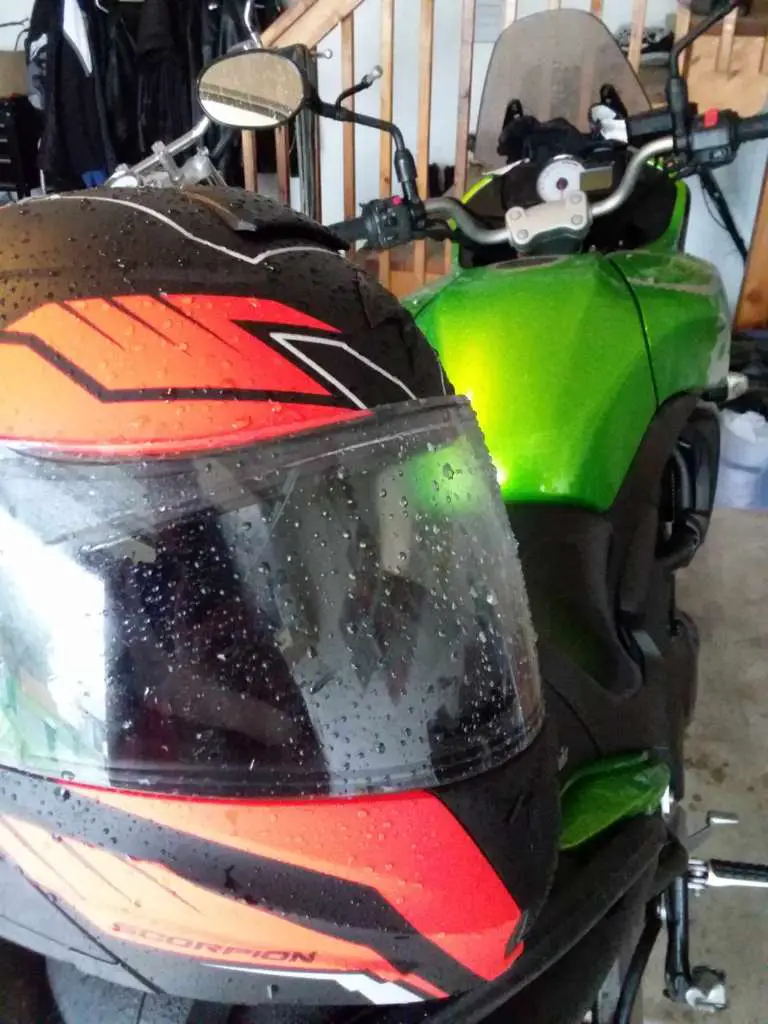 CONCLUSIONS
I want to be honest. I really wanted to like the EXO-GT920. As someone who wears prescription lenses, I've had a lot of reasons to like modular helmets in the past. As loaded as the EXO-GT920 is with other features, I was ready to be wowed. And in some respects I was. Vents, speaker pockets, integrated sunshade, slick design, they're all incredible. I love almost everything about this helmet.
Except, ya know, wearing it.
It's just too small. For all the soft liners and smooth edges, I don't experience a single moment of comfort inside this helmet. And it's supposed to fit a head two inches larger around than mine. If that ratio holds true, than anyone with a head size indicating Scorpions XL, 2X or 3X size will find this helmet unwearable in any size. If your head measurements are on the lower end of the sizing chart, add 2.5″ and order accordingly. I can't say if that rule would apply to Scorpions other models, but this one for sure.
That level of inaccuracy in sizing is inconvenient in clothing, but in helmets it's downright worrisome. It's easy to imagine riders choosing to leave their helmets at home when they're this uncomfortable. And at this price point, Scorpion is a very attractive option. That calculates to a lot of consumers who've potentially dropped $225 on a helmet they don't wear. I hope they've found a replacement.
This needs fixed. And it's an issue across Scorpion's entire lineup. Three stars, let's talk again later.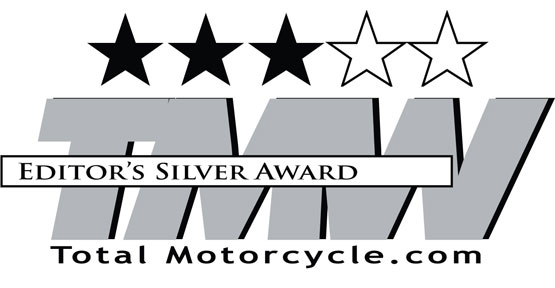 Did you like this article? We really hope so. We strive to bring you informative, interesting, useful content so you, our reader, can make informed decisions when it's time to lay out your hard-earned cash. Speaking of which, I know reviewing sounds like a pretty sweet gig. Free gear, travel, fame and accolades. Right? In actuality though, it's a pretty expensive endeavor. Hotel stays, fuel, and other travel expenses add up fast, and they're necessary because, hey, we have to actually TEST this stuff right? There's also video and photography equipment to buy and maintain, software subscriptions, hardware maintenance and internet bandwidth to pay for. Not that we mind, it's our pleasure. But if you enjoy our content and find it useful, please consider subscribing to help improve and amplify our impact. Subscriptions start at only $1 a month, and you'll have the pleasure of knowing that 100% of your donation is going to generate content for you and your fellow riders. And we will never sell your information or charge a fee for our services. Sign up HERE.