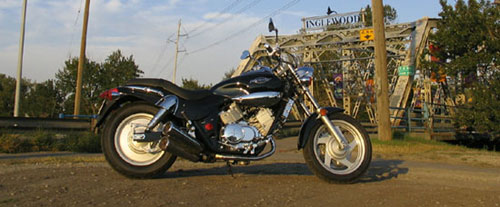 Back to Motorcycle Review Page
---

Triple Hit – Harley-Davidson, Best Western and the Canadian Rockies

Introduction
Page 1 of X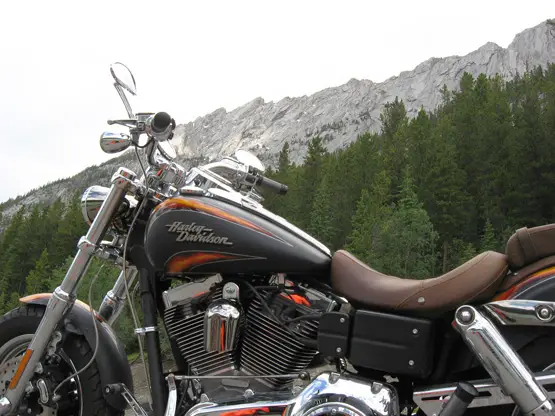 Beauty2 = A trip on a H-D through the Canadian Rockies.
There are very few places in the world as beautiful, awe inspiring and majestic as the Canadian Rockies. Riding a Harley-Davidson and staying at local Best Western Hotels while riding through this masterpiece of nature is just the icing on the cake.
Great scenery, great roads, great motorcycles, great people, great hotels and great food equals one really great ride. While you can substitute a Harley-Davidson motorcycle for any other manufacturerfor this type of trip, there is just something wonderfully unique about riding a Harley-Davidson V-Twin through the mountains that few other bikes could deliver. The engine roar and rumble echoing off the walls through the moutain passes, the sea of chrome always mirroring the beauty of the surrounding landscape, the I'm-in-no-rush relaxed riding position and the beauty of the bike lines that match the sweeping curves of the road… all this and more just seem to flow together to make a wonderful masterwork.
The Route – From Edmonton to Jasper to Banff to Calgary, a ride that shows the Canadian Rocky Mountains in their best light.
The Trip – Great scenery, great roads, great motorcycles, great people, great hotels and great food equals one really great ride.
 
 

..

..
 

The Group
Sometimes the most successful part of the trip isn't the trip itself. It's who you are with.

 
 
Like all multi-day motorcycle adventures it starts out with an idea; a road map, some time off and a good group of friends you don't mind sharing the experience with. Be it as it may, you can't plan the weather or the random experiences you will all encounter. But then, that's part of the experience and the memories you'll have with you forever. With everything in place, why don't we hit the starter button, shift into first and head out…
You can't control the weather…
Day 1: July 12th, 2010. Arrival in Edmonton, Alberta. Very rainy.
Two days ago, hail the size of golf balls fell upon the good people of Edmonton as they ran for cover being chased by fourious gusts of wind and the occassional tornado. Dented cars and flooded streets, malls and parking lots were everywhere. Even Heritage Harley-Davidson/Buell dealer on
1616 Calgary Trail SW (Edmonton) where our bikes were waiting for us started thinking we would want personal watercraft rather than motorcycles!
By the next day the rain was still coming down in long, cold, windy waves of water and as it blew across the Best Western Denham Inn parking lot people were tempted to stay inside. The riders for our tour were all flying in to the city hoping it would come to pass as tomorrow there won't be any staying inside for us.
Day 2: July 13th, 2010. Riding from Edmonton to Jasper. Born to be wild!
We all were on Best Western's Ride Reward program (called BW Rider), which is a newer program to cater to motorcyclists around North America. The hotel chain offers 1300+ "rider friendly" hotels and proides free rider-specific hotel services (such as wipe-down towels at check in and access to a wash station at no additional cost). In addition, some properties offer designated parking, tar remover, sunscreen and lip balm. BW Rider also gives Gold Elite status, which includes 10 percent bonus points on every Best Western stay and the ability to purchase points for award redemption, along with other signature benefits. We all joked about the "Pleasently Sented Tar Remover" wipes (Kerosene infused towel), but they are a nice addition to the package. Truthfully, it's nice to be welcomed as a rider because it wasn't that long ago that hotels turned their noses up at riders, groups of riders and even specifically Harley-Davidson riders.
 
 

..

..
 

The Best Western Denham Inn
The room was fit for a king

 
 
The Best Western Denham Inn's room was really nice (see photo) and the bed was very welcome after the flight. It was important to have a good night's sleep in preparation for the long ride ahead on the Harley-Davidson. The room was fit for a king and I slept well while the cold rain poured down outside.
Bright and early, a Best Western buffet breakfast was the first thing on the agenda, then on the bikes.
 
 

..

..
 

Best Western's Ride Reward program (BW Rider)
Free complementary Rider Friendly Hotel stuff.

 
 
Edmonton is the capital of the Canadian province of Alberta (population of 782,439). The city is located on the North Saskatchewan River in the central region of the province, an area with some of the most fertile farmland on the prairies. It is the second largest city in Alberta after Calgary.

Edmonton is a city that is live all year. Known as Canada's Festival City, Edmonton is home to over 30 annual festivals throughout the year celebrating sports, culture, music, visual arts and theatre. Home to North America's largest indoor shopping mall that even includes a roller coaster. Celebrate the summer at Edmonton's Capital X, an exciting festival held annually in July.
Ah, nothing like an alarm going off bright and early in the morning.
After a good Best Western buffet breakfast we arrived at Heritage Harley-Davidson to pick up the Harley-Davidson bikes. Thankfully the rain did stop at breakfast although the grey skies continued to look ominous.
The Heritage Harley-Davidson parking lot was being filled up with our bikes as we made ourselves comfortable in the new dealership. I'll hand it to Heritage Harley-Davidson, they sure know how to make a motorcycle dealership look good. It is newly renovated – everything to pristine displays, every single model on show, and bathrooms to dream of.
While in the dealership I also picked up one of Harley-Davidsons new Men's Hi-Vis Rain Suits (98275-08VM) to keep me warm and dry for the days ahead on the bike. Total Motorcycle believes in being safe on the motorcycle (which means being seen) and this H-D Hi-Vis Rain Suit fit the bill perfectly.
The Harley-Davidson motorcycle that I chose to ride first was the new 2010 Harley-Davidson FXDWG Dyna Wide Glide. Harley-Davidson says that the new Wide Glide is "a Dyna Big Twin done up old-school chopper style with a low, stretched-out custom with drag bars and forward foot controls that give its rider a real fists-in-the-wind profile. The LED stop/turn/tail light combo and side-mounted license plate keep the chopped rear fender clean. The Harley-Davidson Dyna family has its roots in the factory-custom revolution of the 1970s, and combines Big Twin performance with an extended FX front end. Dyna models deliver great handling and bold styling." This is a bike that works great for tall, long legged riders. Being that I am 6'4″ tall with 34″ inseam the Dyna Wide Glide worked for me.
We are riding to Jasper and thankfully it isn't stormy but unfortunately the rain had'nt completely gone away.
The 2010 Dyna Wide Glide… 100% Raw Harley-Davidson.
 
 

..

..
 

Rider view from the Dyna Wide Glide
Where do you want to go today?

 
 
The bike was a joy to ride and offered a really nice layout and seat. It sounded good, it accelerated good and was a great highway bike. Harley-Davidson kept it simple and raw. Pure H-D, with little in the way.
I really liked the stretched-out look of the Dyna Wide Glide. The 40-spoke laced (21″ front, 17″ rear) wheels were perfect for the look. The exhaust, which is a chrome, "Tommy Gun" 2-1-2 collector exhaust with dual mufflers, not only sounded great but also looked the part too. I could also see how a Dyna Wide Glide owner would add some custom touches to the bike as it's so raw and ready, which makes it perfect for the rider who wants to slightly personalise without going over the edge.
We filled up for gas in Stony Plain, Alberta (Edmonton to Stony Plain =167km) It started raining a bit and the winds were getting fierce. We were on the edge of a rain storm but thankfully it didn't last long. It ended when we pulled in for lunch in Edson at Ernie O's.
Ernie O's is one of those local diners you just have to stop in to eat if you are passing through Edson. Ernie wasn't there to greet us but he does have a little "statue" of himself at the entrance of his restraunt. Ya well, it's a small town thing I guess, part of the experience! But Ernie can cook up a good lunch at a very reasonable price.
Fuel up again and back on the Dyna Wide Glide for the next leg to Jasper, Alberta. The Trans-Canada Yellowhead Highway 16 between Edmonton to Edson is, well…nice and straight but well…a little borning. It's more of a way to get from Point A (Edmonton) to Point B (Jasper). Once you pass Hinton, Alberta it's a different story though as the highway starts to enter the foothills, then on through Jasper National Park and the Canadian Rockies making the 4 1/2 hour trip well worth it.
Jasper National Park
Jasper National Park is the largest national park in the Canadian Rockies, spanning 10,878 km² (4200 mi²). It is located in the province of Alberta, north of Banff National Park and west of the City of Edmonton. The park includes the glaciers of the Columbia Icefield, hot springs, lakes, waterfalls and, of course, mountains. Wildlife in the park includes elk, caribou, moose, mule deer, white-tailed deer, mountain goat, bighorn sheep, grizzly bear, black bear, beaver, Rocky Mountain pika, hoary marmot, gray wolf, mountain lion, and wolverine.
Out of gas.
Edson to Jasper. 180km.
180km's on the map doesn't sound that far, but when you are in the mountains with thin air gas milage isn't the best. Around 150km's my poor Dyna Wide Glide went on reserve with a 30km count down. There is nothing like seeing your "low fuel" light come on in the middle of nowhere and thinking "Humm… might be more than 30km's to the next gas station". Well, the Wide Glide did make it into town on fumes, sputtered and died; luckily, the gas station was right across the intersection. Rocking the bike got enough gas into the bike to get it started and ride to the pump. Embarassment of pushing the out-of-fuel H-D into the gas station was averted!
Fists in the wind.
Riding the 2010 Harley-Davidson Dyna Wide Glide is a unique experience not shared by other H-D motorcycles or brands. After 3 1/2 hours of riding in windy conditions the bike does hint at what an owner might want to upgrade next for long highway cruises. (hint… Seat and shocks.) No question that the seat and shocks are up to the task but they do feel basic and unfortunately give the bike a bit of a budget feel. For example, Corbin sells a seat for the Dyna Wide Glide which would be a recommended upgrade from the stock version. Shocks are a simple fix as well as I found the Dyna Wide Glide would bottom out the rear occassionally on big highway bumps, but typically it floats over the majorty of road imperfections. The Wide Glide offered a good ride but could benefit from more shock travel as mentioned.
 
 

..

..
 

Rider view from the Dyna Wide Glide
Where do you want to go today?

 
 
The Air-cooled, Twin Cam 96 cubic inch engine is strong and it sounds great. It's 92 ft. lbs. @ 3000 rpm (124.75 Nm @ 3000 rpm) power comes on at highway speeds in the lower gears. I found the 6-speed Cruise Drive transmission to be quite tall in gearing, maybe too tall as 5th and 6th gear is almost unuseable for any real power even at passing speeds. I talked about this fact to the other reviewers on the ride and we think that thanks to the tall gearing this could be the fastest H-D ever for top speed if the engine was willing.
The Dyna Wide Glide was happiest moving along around the 4000 rpm range, which was 3rd gear at highway speeds. In 3rd you always had power to accelerate the bike quickly and the engine was the smoothest but 4th gear was needed when passing due to the automatic red line limiter around 5,500 rpm. 2nd and 3rd gear are definitely the sweet spots as the engine is running quick enough to smooth out vibrations and have lots of power on tap. The bike is never really happy running in 1st gear (as with all the Harley-Davidsons tested on this trip). At very slow speeds (20km/h or less) the bike is VERY stable in a straight line; it's the low engine rpm's that make very slow speeds a routine of clutch, gas, clutch, gas or a jerky ride, your choice.
I also found the Dyna Wide Glide to be a great straight road runner but a poor corner turner at low speeds, which naturally had a lot to do with the rake and trail of the front wheel. Some reviewers didn't appreciate the 19″ skinny tire on front for tracking on rough pavement but I did not have an issue with it.
Harley-Davidson motorcycles are heavy bikes and one of the benefits of the weight you will notice is on the highway. Very little will be able to move this bike. For example you'll laugh at side winds and 18-wheeler wind drafts.
Our idea of the Dyna Wide Glide as a 100% raw and pure H-D fits the personality of the bike. You really feel like you are riding a blank canvas which you can easily customize in so many ways to suit your personality and riding style. Fix up those shocks and have a new seat fitted and you'll have yourself a great tourer for long distance rides.
 
 

..

..
 

Jasper National Park
Sweet.

 
 
Overall, I really enjoyed riding the 2010 Harley-Davidson Dyna Wide Glide. It was a good fun bike! Sure there were things I would change on it, but that's part of the fun of owning a Harley-Davidson motorcycle, the ability to customize it your way.
Would I buy one? Yes, I would. It would make a great bike to cruise the boulevards with, go on day rides and impress the friends with, all without costing much money.
Up, up, up… and more up.
Jasper, Alberta. July 2010. Cloudy.
Jasper, Alberta
Jasper is a quiet place in the heart of the Canadian Rockies. The resort town of Jasper is an excellent place to make your base for exploring the Canadian Rockies and Jasper National Park. Mountains are Jasper's calling card. Deep in the Alberta Rockies, peaks crown the horizon in every direction. The vast majority are pristine and will remain that way, preserved under the aegis of Canada's national parks system. Mountain sheep, bears, wolves, elk and mountain goats have a secure home here, and can often be seen when simply driving down the road.
Our arrival into Jasper meant a break from riding by taking a tourist diversion. With little time to spare we headed up to the Jasper Tramway. It is the longest and highest guided aerial tramway in Canada and the only guided aerial ropeway in the Canadian Rockies.
 
 

..

..
 

Jasper Tramway Car
Up, up, up and more up.

 
 
The Tramway transports visitors into Jasper National Park's alpine tundra up the side of a mountain for fantastic views of six mountain ranges, glacial fed lakes, the Athabasca river (Alberta's longest) and the scenic mountain town-site of Jasper. Starting at 1304 metres (4279 ft) above sea level in the safety of an enclosed Tram cabin the seven minute trip to the Upper Station located at 2277 metres (7472 ft) above sea level.
 
 

..

..
 

Jasper Tramway on top of the mountain
1304 metres (4279 ft) above sea level

 
 
 
 

..

..
 

The town of Jasper and the Athabasca river
1304 metres (4279 ft) above sea level

 
 
Taking the Tramway was an adventure in itself, ending up at the top of mountain was an unbelieveable picture taking experience. FYI – Make sure you wear something warm when you go up to the top of the mountain the temperature was a lot colder than at the base.
We also took this time to share our ride stories so far and to compare notes about the different H-D models we were riding. It was an exciting first day of riding topped off with a beautiful tram ride. Life is good!
 
 

..

..
 

1983 Harley Owners Group
A local H.O.G. chapter is a family. A collection of diverse individuals united by a common passion.

 
 
Checking into the Best Western Jasper Inn & Suites using the Best Western's Ride Reward program (BW Rider) provided us with close to the door parking, a good quality shammy and a wash station. The room at the Best Western Jasper Inn & Suites was slightly dated but was a very comfortable chalet loft style room with a soft bed. Nothing to complain about after a long day of riding!
Jasper to Banff via the Icefields Parkway.
Day 3: July 14th, 2010. Jasper to Banff. Adrenaline Rush.
After another good night sleep in a Best Western Hotel and the best Best Western breakfast buffet I have ever had it was on with the gear and we were ready to hit the road. I had the opportunity to ride the 2010 CVO Fat Bob FXDFSE2 today, only 1 of 3000 made.
A CVO bike stands for "Custom Vehicle Operations" of Harley-Davidson. They are the top of the line, fully customized and fully featured. Price is no object for this type of luxury bike.
 
 

..

..
 

2010 CVO Fat Bob FXDFSE2
Give me fuel, give me fire, give me that which I desire…

 
 
As Harley-Davidson puts it, "The Harley-Davidson CVO Fat Bob is a limited-production custom motorcycle that projects an agressive, super-duty presence behind a beefy front wheel, twisted Tommy Gun exhaust, bold paint and innovative custom styling. The CVO Fat Bob is based on the Harley-Davidson Dyna platform, which pairs Big Twin performance with an extended FX front end, exposed twin rear shock absorbers, and an under-seat battery box."
It is an awesome looking motorcycle. Looks paired with the Air-cooled, Twin Cam 110 cubic inch engine with Screamin' Eagle parts….well, you'll just have to wait to read about it in sec as I don't want to get ahead of myself.
First detour was to Maligne Lake within Jasper National Park.
 
 

..

..
 

Maligne Lake
Jasper National Park, Alberta, Canada

 
 
Maligne Lake, Jasper National Park, Alberta
Maligne Lake is a lake in Jasper National Park, Alberta, Canada. It is located south of Jasper town site, accessible by motor vehicle. Boat trips run to Spirit Island, one of the most popular sights of Jasper National Park. The 44 km Skyline Trail, Jasper's most popular, highest and above treeline, multi-day hike, begins at Maligne Lake and finishes near the town of Jasper. It boasts a resident self sustaining population of rainbow trout and brook trout. Maligne Lake is fed and drained by the Maligne River, which enters the lake on its south side, near Mount Unwin. The Maligne River drains the lake from its northern end. Maligne Lake, as well as Maligne River, Maligne Mountain, and Maligne Pass, takes its name from the French word for malignant or wicked.
Maligne Lake is amazingly beautiful and so was the ride up through the twisty mountains on the CVO Fat Bob to get there. The weather was not so bad, a little cold and just a little rain in the morning. The fresh mountain air is all the coffee one ever needs to wake up feeling refreshed and ready to take on the day as the sun peeks over the mountains. Canada is an absolutely beautiful country and I'll quote one US reviewer who was on the ride when he said "The US has beauty like this but Canada has it in greater stretches and all over."

 
 

..

..
 

Maligne Lake (Photo credit: Maligne Lake press)
Jasper National Park, Alberta, Canada.

 
 
Today was a great day to be alive and riding a Harley-Davidson in the Rocky Mountains of Canada around Jasper National Park is not a bad way to spend your last day on Earth, if you had a choice.
So photogenic it makes you want to cry, in a Harley-Davidson kind of way.
 
 

..

..
 

Photogenic? Hell ya.
The new 2010 CVO Fat Bob in it's element.

 
 
After visiting Maligne Lake it was time to hit the highway and get some mileage under the tires. The new 2010 CVO Fat Bob is Harley-Davidson's attempt to optimize the Fat Bob. Custom paint, custom parts and a powerful 110 cubic inch engine with Screamin' Eagle power, what more could you ask for?
A word about the CVO program from Harley-Davidson: The Harley-Davidson Custom Vehicle Operations has been fulfilling dreams since 1999. Since the CVO program was created in 1999 custom motorcycles haven't been the same. Each CVO model features unique paint schemes and accessories, creating demand that far exceeds limited production. It's a whole new level of customization, nearly impossible to duplicate on a standard bike, boasting accessories that can't be purchased anywhere else. Exclusive. Eye-catching. Cutting-edge style. Custom accessories. Screamin' Eagle power.
 
 

..

..
 

Such a photo hog.
CVO Fat Bob in Jasper, Alberta, Canada.

 
 
I have to admit this Harley-Davidson motorcycle is a real beauty, it is very naturally photogenic and begs to have it's picture taken. It drew attention to itself no matter where it was parked. People not only heard it going through town but also turned to look at it as well, which always gives a nice feeling. I'm not a huge fan of lots of chrome on a motorcycle but the chrome on the CVO Fat Bob just worked and looked great, even in the rain. When the sun came out, it shined and quickly found a place in my heart.
Like the 2010 Dyna Wide Glide I found that the CVO Fat Bob loves to be ridden harder in the upper RPM range at a lower gear and to be honest it's even more fun to ride at higher RPMs. As the CVO Fat Bob came standard with a tachometer it was easier to keep track of where the red line RPM limiter was (5,600 rpm) and I was around that range all the time. The 110 engine was brilliant – smooth and powerful – everything you want in a V-Twin, when you opened up the throttle, it was a rocket and it really went, something I loved most about this CVO. With 113 ft. lbs. @ 3500 rpm (153.21 Nm @ 3500 rpm) torque on tap and a 6-speed Cruise Drive it's eager to please from blasting around town to relaxed highway cruising. I found myself regularly wanting to feel the power and hear the acceleration notes out of the 2-1-2 Tommy Gun exhaust (same exhaust as the Dyna Wide Glide) by twisting the throttle at every occasion, and I did many times.
 
 

..

..
 

Bad to the Bone.
Eat Crow. The CVO Fat Bob asks a huge crow, who's badder?

 
 
The bike turns very well into corners and tight turns, to be honet it's something I didn't expect from the size of the front tire. I felt riding it that you could easily "hang" with any regular sport bike out there. With the comfortable leather seat I had no issues with numb butt riding the bike for hours and with it's decent long range fuel milage and large gas take it would make a good tourer. Speaking of the Fat Bob as a long distance ride; as with the Dyna Wide Glide, the suspension's travel just wasn't that good. I found that the suspension would bottom out more so than the Wide Glide and I would hit some really hard highway jolts along the way. Again, aftermarket shocks would be the first thing I would fix on this bike, but at $25,299 USD/$30,059 CDN retail, I would have liked to see H-D put better shocks on it.
The second issue I have is with the cost. The 2010 Dyna Fat Bob normal version is $14,999 USD/$17,819 CDN and the CVO version: $25,299 USD/$30,059 CDN, a 59% premium over the price of a normal Fat Bob. Is it worth it? Well if the Dyna Wide Glide is "The Raw Harley" then the CVO Fat Bob is "The Mid-life Crisis Bike". A name that, in my opinion, means you want the very best Harley-Davidson Fat Bob. You want the best luxury, best custom parts, best custom paint job and therefore you have the money to buy it and not worry about the price, period. After all you have earned it, right?
Would I buy it? Yes, I would, in fact*, the 2010 Harley-Davidson CVO Fat Bob was my favourite H-D motorcycle of the three bikes I reviewed. I looks amazing and has wonderful lines, is a comfortable ride, powerful engine and it really is an amazing motorcycle overall. I felt great riding it and would be proud to ride it.
*The extra $11,000 in price would have me look at a Fat Bob (non-CVO) first though if the CVO's price was just a little too high for me to justify.
The amazing Icefields Parkway
Icefields Parkway, Highway 93, Alberta
The Icefields Parkway, also known as Highway 93, is a scenic road in Alberta, Canada. It parallels the Continental Divide, traversing the rugged landscape of the Canadian Rockies. It travels through Banff National Park and Jasper National Park, linking Lake Louise and Jasper.
The parkway, 230 km (143 mi) long, was completed in 1940; it is named for features such as the Columbia Icefield, visible from the parkway.

The parkway is busy in July and August with up to 100,000 vehicles a month. The parkway is mainly two lanes with occasional passing lanes. It minimizes grades and hairpin turns but travellers must look out for wildlife, and vehicles stopped on the shoulder.
The one single road that everyone needs to take once in their life is the Icefields Parkway (Highway 93) in Alberta, Canada. Some of the most amazing scenery can be found along it's 230km stretch from Jasper to Banff so make sure you take your camera with extra batteries. There are lots of areas of interest with many pull outs for photo opportunities, bathroom breaks and rest stops along the way. It is also very common to see and photograph wildlife up close (remember, it's called "wild" life, not "tame" life, so always excercise caution when dealing with animals in the wild).
 
 

..

..
 

Icefields Parkway, Highway 93
Milky white rivers, blue mountains and trees everywhere.

 
 
There is only one place to gas up (if you need it) in the middle of the Icefields Parkway. They know this so they charge accordingly. But while getting gas you can enjoy a meal at the restaurant, get a bathroom break or buy some local souveniers. Remember, it does get darker sooner in the mountains so plan accordingly.
My Harley-Davidson Fat Bob CVO handled the roads well and the sound of it's Tommy Gun exhaust pipes echoed off the walls of the many short tunnels and mountain rocks. What a glorious ride. And even though there was a spot of rain in the morning, the sun came out in the afternoon as we made our way into Lake Louise.
The emerald coloured waters of Lake Louise
Lake Louise
Lake Louise is named after the Princess Louise Caroline Alberta (1848–1939), the fourth daughter of Queen Victoria and the wife of the Marquess of Lorne, who was the Governor General of Canada from 1878 to 1883.
The emerald colour of the water comes from rock flour carried into the lake by melt-water from the glaciers that overlook the lake. The lake has a surface of 0.8 km2 (0.3 sq mi) and is drained through the 3 km long Louise Creek into the Bow River.
The eastern shore of the lake is dominated by Chateau Lake Louise, one of Canada's grand railway hotels, a luxury resort hotel built in the early decades of the 20th century by the Canadian Pacific Railway.
We stopped for a quick rest stop at Lake Louise. This place is a favourite destination for scenery, wildlife and romance seekers from around the world. Even though the lake is very cold (it's glacier fed) it's relaxing scenery helps rest the body and the mind on a long road trip.
 
 

..

..
 

Lake Louise
Pictures say a thousand words.

 
 
Many tourists were discovering the protected wilderness surrounding Lake Louise. This is the only place in the world that can genuinely offer spectacular natural mountain scenery, abundant wildlife, four-season recreation and world-class accommodation in a protected National Park setting. I'm glad that we took the time to stop here, stretch our legs, take a few photos and enjoy the scenery. I may have been here many times before, but each time it is still amazing to see and it was wonderful to be able to share this part of Canada with the other reviewers.
Switching up to the Street Glide.

 
 

..

..
 

2010 Harley-Davidson Street Glide FLHX
Inspired by the street, but still ready for the long road

 
 
On this trip I wanted to try out the 2010 Harley-Davidson Street Glide tourer so I traded up the 2010 CVO Fat Bob for it. The Street Glide is a minimalist tourer but with the same fuel tank found on it's full featured tourer brothers. It also has saddlebags, a full fairing with a slim windshield, highway pegs and a radio. It is the most affordable tourer model Harley-Davidson offers and its not much more than the Dyna Wide Glide. (+$4,500 USD/$5,350 CDN).
Tourers have their place in the motorcycle world: they offer comfort, fuel range, convenience and luxury not found on other motorcycle styles. All this comes at a compromise of weight, size and price. Getting the balance right is the keystone of making just a good tourer great. Harley-Davidson has been making modern tourers (as we know them today) since 1980 with the 1980 Harley-Davidson FLT Tour Glide. Today, Harley-Davidson has 8 tourer models such as the 2010 FLTRU Road Glide Ultra, FLHR Road King, FLHRC Road King Classic, FLHTC Electra Glide Classic, FLHTCU Ultra Classic Electra Glide, FLHTK Electra Glide Ultra Limited, FLHX Street Glide and FLTRX Road Glide Custom. Today, touring is a big market for Harley-Davidson and one they want to make as good as possible for their riders.
 
 

..

..
 

1980 Harley-Davidson FLT Tour Glide
Harley-Davidson's first modern tourer

 
 
As Harley-Davidson states: "The redesigned 2010 Street Glide is a bagger with hot-rod soul, with minimal trim and chrome, lowered suspension, and black slotted aluminum wheels. Inspired by the street, but still ready for the long road. The innovative Harley-Davidson Touring chassis is based on a single-spar, rigid backbone frame and a stout swingarm developed to withstand the demands of long-haul touring riders and today's more-powerful engines." That pretty much sums it up.
The Street Glide and Dyna Wide Glide have something in common: they are "raw" Harley-Davidson motorcycles, ones that you can ride as-is or use as a blank canvas to customize, upgrade and personalise very easily. Harley-Davidson offers more parts and accessories than any other motorcycle manufacturer and our Harley-Davidson rep did say "the average Harley-Davidson owner spends as much money in parts and accessories for their H-D as the bike originally cost." Can you believe that?
 
 

..

..
 

2010 Harley-Davidson Street Glide FLHX
Just a little oil leak, nothing serious.

 
 
The Street Glide was a nicer ride than the Dyna Wide Glide on the highway. The seat was more comfortable, the riding position more upright, the saddle bags offered very useable space and the fairing was a welcomed wind block. The highway pegs were a great way to sit back, stretch my legs and relax. The engine was powerful enough (although the 110 would have been much nicer) for highway passing. And unlike the other two Harley-Davidsons was perfectly fine being run at very low speeds and in top gear (6th). The radio was a very nice feature but when traveling in the mountains you can't get any radio stations thus an XM or satellite radio would be a welcomed addition. The other reviewers who rode this model previously did say they had to have the radio near maximum to hear it from the wind noise on the highway.
The more I rode this bike the more I enjoyed it. But I can narrow it down to two items I would like to fix: the suspension (again) and the windscreen. I don't know what it is about the suspension on Harley-Davidson's but the travel just isn't there to absorb big bumps in the road. The Street Glide has the best suspension out of the 3 H-D's tested (Dyna Wide Glide, CVO Fat Bob and this model) but it still felt basic. Regarding the windscreen, the fairing was excellent in blocking the wind, rain and cold, but the small slim windscreen on top of it added a lot of wind buffetting and because the windscreen is non-adjustable there is not much you can do about it. A fairing is essential to a touring motorcycle but this one is so close to being perfect that the slim windscreen can ruin it at times.
The 6 gal. (22.71 L) fuel tank, comfortable seat, riding position and price is the best part of this model.
Would I buy it? I'm not 100% sold on it. I would have to try out the other Harley-Davidson tourers first before I put my money down on a Street Glide. Harley-Davidson makes many good tourers and I'd want to ride a few others before making my decision if a Street Glide would be for me.
 
 

..

..
 

Best Western Siding 29 Hotel
Rider and Wallet Friendly.

 
 
As we pulled into Banff, Alberta I was feeling a bit sad as it was the last night we had with the riding group. Tomorrow morning we would be setting off for Calgary and from there going our seperate ways on flights across the globe.
The long road home can sometimes be the shortest.
 
 

..

..
 

Riding to Calgary, Alberta
The long road home can sometimes be the shortest.

 
 
For me, the ride back to Calgary was a sentimental ride. I haven't been back home (Calgary) in two years and riding in on a Harley-Davidson is the perfect way to arrive. I was fortunate enough to get my favourite Harley-Davidson motorcycle model (out of the three I tested on this trip) for this nostaligiac journey. Can you guess which one? If you said the CVO Fat Bob, you are right on the money!
The ride from Banff to Calgary along the Trans Canada Highway 1 is pretty much like the ride from Edmonton to Jasper, just in reverse. A long straight-ish stretch of highway with some nice scenes along the way, but it's more of a point A to B road.
The Harley-Davidson definitely made this trip much more exciting than it would have otherwise been. The great sleeps and comfort at Best Western "Rider Friendly" Hotels made sure I could wake up refreshed and enjoy each day to the maximum.
As I said at the start of this review, "Sometimes the most successful part of the trip isn't the trip itself. It's who you are with." Riding Harley-Davidson's through the Canadian Rockies on a multiday ride with new friends was just the perfect spice for this recipe.
A little Harley-Davidson history and background.
 
 

..

..
 

The Shack
1903 The first factory in which William S. Harley and Arthur Davidson built their first motorcycles was a 10′ x 15′ wooden shed with the words "Harley-Davidson Motor Company" crudely scrawled on the door. The structure stood in the back yard of the home of Arthur's father, William C. Davidson.

 
 
Harley-Davidson, as many of you already know, is a premier motorcycle manufacturer that has been creating motorcycles since 1903.
1900-1920's From humble beginnings to the largest motorcycle manufacturer in the world…
Harley-Davidson is a true American story rich with heritage. William C. Davidson, Harley-Davidson's original founder, started building motorcycles in a 10×15′ wooden shed in his backyard. 9 years later the growing company built a six story headquarters and main factory building at Juneau Ave. in Milwaukee. By World War One almost half of all Harley-Davidson motorcycles produced were sold for use by the U.S. military during the war. By war's end, it is estimated that the Army used some 20,000 motorcycles in their efforts, most of which were Harley-Davidsons.
By 1920, Harley-Davidson was the largest motorcycle manufacturer in the world. New Harley-Davidson motorcycles could be purchased from over 2,000 dealers in 67 countries worldwide. In 1929 the 45 cubic inch V-twin engine (later to be known as the "flathead") was introduced on the D model. The engine proved to be so reliable that variations of it became available on Harley-Davidson motorcycles as late as 1973.
 
 

..

..
 

The 1929 Flathead
The 45 cubic inch, side-valve "Flathead" engine debuted in 1929 on the D model. The Flathead proves to be so reliable that variations of it are available on Harley-Davidson motorcycles until 1972.

 
 
The 1930-1940's – WWII and Just 2 left…
In 1931 all of Harley-Davidson's remaining American competition is now gone except Indian (Hendee Manufacturing). These two manufacturers are the only two American motorcycle manufacturers until 1953. By 1935 Joe Petrali and his Harley-Davidson peashooter won all thirteen of the American Motorcycle Association National Championship dirt track races. Petrali broke four records in the process.
In 1945 Harley-Davidson produced almost 60,000 WLA models during the war for military use. World War II ends. Wasting no time, production of civilian motorcycles resumed in November. In 1946 Harley-Davidson introduces the 45 cubic inch flathead WR racing motorcycle. It proved to be one of the best racing motorcycles ever built. In 1947 Harley-Davidson begins selling what will become the classic black leather motorcycle jacket.
1950's – Beginning of a modern era
In 1952 the side-valve K model was introduced with an integrated engine & transmission to compete with smaller, sportier motorcycles coming mainly from Great Britain. The K would eventually evolve into the Sportster.
 
 

..

..
 

1952 Harley-Davidson K model
The side-valve K model is introduced with an integrated engine & transmission to compete with smaller, sportier motorcycles coming mainly from Great Britain. The K will eventually evolve into the Sportster.

 
 
In 1955 a seven-year consecutive run of victories at the Daytona 200 began. The victories were shared by racers Brad Andres, Johnny Gibson, Joe Leonard and Roger Reiman, all who ride Harley-Davidson KR models. Reiman's victory in 1961 was on the new speedway course. In 1956 the new young star Elvis Presley poses for the cover of the May Enthusiast sitting on a 1956 model KH. In 1957 the motorcycling public met a new motorcycle called the Sportster. It premiered as a 55 cubic inch overhead valve engine, and within one year of its debut, became known as the first of the "Superbikes." Another Harley-Davidson tradition and legend is born. In 1958 the first rear brakes and hydraulic rear suspensions appeared on the Duo-Glide.
1960's – Race, speed, production and the AMF

In 1965 the Electra-Glide replaced the Duo-Glide and was updated with an electric starter. The Electra-Glide was the first FL available with electric start, and the Sportster line received electric starters soon after.
 
 

..

..
 

George Roeder (1965)
In a Streamliner powered by a 250cc Sprint CR racing engine, George Roeder shatters the speed records for Class A and Class C runs, averaging 177 miles per hour

 
 
Harley-Davidson in the 1960's was big in racing and in a Streamliner powered by a 250cc Sprint CR racing engine, George Roeder shattered the speed records for Class A and Class C runs, averaging 177 miles per hour. Also Harley-Davidson dirt track racer Bart Markel won the AMA Grand National Championship in 1965 and 1966. And in 1968 Cal Rayborn won the first of back-to-back victories at the Daytona 200 on a 750 KR model.

In 1966 The first of the "Shovelhead" engines is introduced on the Electra-Glide models, replacing the Panhead.
In 1969 Harley-Davidson merged with the American Machine and Foundry Company (AMF), a longtime producer of leisure products, which wasn't really the best decision for the brand for quality (infamous "oil leaks"), but it did save the brand in the end.

1970's – Innovations. The first cruiser and custom bikes.
 
 

..

..
 

1971 Harley-Davidson FX Super Glide
In response to the customizing craze, Harley-Davidson introduces the FX 1200 Super Glide, which comboned a sporty front end (similar to that of the XL series) with the frame and powertrain of the FL series) with the frame and powertrain of the FL series. A new class of motorcycle, the cruiser, is born.

 
 
1971 brought about the customizing craze. In response Harley-Davidson introduced the FX 1200 Super Glide, which combined a sporty front end (similar to that of the XL series) with the frame and powertrain of the FL series. A new class of motorcycle, the cruiser, is born.
In 1977 Harley-Davidson introduced the FXS Low Rider to the public in Daytona Beach. With drag style handlebars, unique engine and paint treatments, the Low Rider lived up to its name by placing the rider in a lowered seating position. Later in the same year, Willie G. Davidson's dynamic version of the Sportster, the Cafe Racer, was released. 1979 brought about the introduction of the FXEF Fat Bob, "Fat" because of the dual gas tanks, "Bob" for the bobbed fenders.
At the end part of the 1970's many Japanese motorcycle manufacturers were creating their own custom cruier style motorcycles to attempt to duplicate the success of Harley-Davidson's cruisers.

1980's – The H.O.G. Social movement.
 
 

..

..
 

1983 Harley Owners Group
A local H.O.G. chapter is a family. A collection of diverse individuals united by a common passion.

 
 
1983 was the year Harley-Davidson's most unique endeavors began with the creation of the Harley Owners Group. Fondly referred to as H.O.G., the Group immediately becomes the largest factory-sponsored motorcycle club in the world.
Harley-Davidson started building strong ties with its owners and started offering more than just buying a motorcycle but a lifestyle as well.
Within six years, H.O.G. membership soars to more than 90,000. By the year 2000, it exceeds 500,000 members. A local H.O.G. chapter is based on "family" (A collection of diverse individuals united by a common passion.)
The 1980's were also a big year for new models. In 1980 Harley-Davidson debuted the FLT, 1982 more innovations demonstrate a new commitment to quality, such as the FXR/FXRS Super Glide II. In 1984 Harley-Davidson unveiled the 1340cc V² Evolution engine and 1986 in another bold styling and engineering move, Harley-Davidson releases the Heritage Softail. 1988 the springer front end returns in the FXSTS Springer Softail and Harley-Davidson also introduces the Sportster 1200.
To sum up the 1980's Harley-Davidson celebrated its 85th Anniversary with a Homecoming in Milwaukee, attended by over 60,000 enthusiasts.
1990's – Going outside of North America.
 
 

..

..
 

1990 Harley-Davidson Magazine Ad
When did it start for you?

 
 
Harley-Davidson's popularity grew to worldwide proportions in the end of the 1990's which saw anew assembly facility opens in Manaus, Brazil, the first operations outside of the U.S. And in 1997 anew 217,000-sq.-ft. Product Development Center opened next to the Capitol Drive plant in Milwaukee. The building is dedicated to Willie G. Davidson. Also the new 330,000-sq.-ft. plant in Kansas City produces its first Sportster.
Most likely the biggest event for H-D in the 1990's was in 1993 Harley-Davidson celebrates its 90th Anniversary in Milwaukee with a Family Reunion. An estimated 100,000 people ride in a parade of motorcycles. And in 1998 Harley-Davidson celebrates its 95th Anniversary. 140,000 plus riders are warmly received by Milwaukee to help with the celebration.
At the end of 1999 the Touring and Dyna motorcycle families received the new Twin Cam 88 engine.
2000's – R&D and Reflection.
The 90th and 95th Harley-Davidson Anniversary parties were big but in 2002 Harley-Davidson debuts The Open Road Tour in Atlanta, GA, in July to celebrate the upcoming Harley-Davidson 100th Anniversary. In 2003 more than 250,000 people came to Milwaukee for the final stop of the Open Road Tour and the Harley-Davidson 100th Anniversary Celebration and Party. It was a huge success.
Because of H-D's huge brand success H-D could pour more money in R&D. Thus we saw in 2000 the FXSTD Softail Deuce and Softail models are outfitted with the Twin Cam 88B engine, a counter-balanced version of the Twin Cam 88. Also fuel injection is unveiled as a feature new to the Softail line of motorcycles for the 2001 model year. By 2001 the VRSCA V-Rod is introduced for the 2002 model year which was inspired by the VR-1000 racing motorcycle. The V-Rod is Harley-Davidson's first motorcycle to combine fuel injection, overhead cams and liquid cooling which delivered 115 horsepower.
 
 

..

..
 

2003 – Harley-Davidson 100th Anniversary Celebration
More than 250,000 people come to Milwaukee for the final stop of the Open Road Tour and the Harley-Davidson 100th Anniversary Celebration and Party.

 
 
2006 the first of the 6-speed transmissions are made available on 2006 model year Dyna motorcycles. Also joining the Dyna family is the FXDB/I Street Bob. By 2006 the all-new FLHX/I Street Glide was introduced being a lower profile touring motorcycle.

With all the history and success, Harley-Davidson decided to reflect upon it's past, present and future and unveiled plans for an all-new museum in Milwaukee, which opened in 2008.
What will the future bring for Harley-Davidson? More models, more innovations and more heritage products would be the easy answer. But Harley-Davidson faces a problem, how to attact the under 40 crowd to their models. The V-Rod is a good start, but it's just a start. Recently Harley-Davidson discontinued it's Buell line of motorcycles, a much-needed younger market magnet for the company and has also sold off it's MV Agusta Italian motorcycle brand they aquired just over year ago. With it's target market getting older all the time, H-D in the next 10-20 years will need to look at addressing this issue or be left behind and stuck in time.
A little bit of Harley-Davidson trivia:
 
 

..

..
 

The four founders of Harley-Davidson Motor Company -William A. Harley, and Walter, Arthur and William Davidson – posed with the entire staff in 1907. The picture was taken in front of the factory building they used prior to the one that was built in 1912.

 
 
What happened to the original factory "shed" that the founders started in?
The original factory survived into the 1970s and was kept at Juneau Avenue. At some point early in the decade, in a flurry of construction and renovation activity, the shed was accidentally torn down.
Why was the 50th anniversary celebrated with the 1954 model year motorcycles? Did someone regard 1904 as the first year?
A "50th birthday party" was held at the Capitol Drive plant in late summer of 1953 to celebrate the release of the 1954 anniversary models. However, the "Golden Anniversary" issue of The Enthusiast came out in September of 1953 and the magazine repeatedly referred to 1903 as the first year. Therefore, the timing of the 50th Anniversary celebration and the introduction of the 1954 model year was coincidental; the 1954 models were not 50th Anniversary models the way we now consider the 2003 models to be 100th Anniversary models. Anniversaries since 1953 have regarded 1903 as Harley-Davidson's first year based on the year that the first motorcycle sale took place. This fact has been corroborated numerous times by original interviews with Company founders.
When did the association of eagle imagery with Harley-Davidson begin?
If you want to be technical about it, it goes back to 1933. That year, art deco gas tank logos were introduced to the public with a stylized soaring eagle. The more recent eagle with the "bar & shield" logo was introduced with the 1976 product line. That logo was created by Milwaukee artist Paul Smith.
What are the origins of the bar & shield logo?
According to the Archives, the earliest known use of the bar and shield is 1908, when it became available from the Company as a transfer decal to be used on the tool boxes found on Harley-Davidson(R) motorcycles. It was trademarked in 1910. It is not known for certain what inspired the choice of design or who created it.
Is it true that Harley-Davidson bought Elvis Presley's KH from a farmer who found it in a barn?
No. The motorcycle was previously in the possession of Flemming Horne, a friend of Elvis', who offered it to Harley-Davidson.

A little Best-Western Hotels & Best-Western Ride Rewards history and background.
More than 1,300 BW Hotels Become 'Rider-Friendly'

"Best Western will continue to cater to the unique travel needs of the millions of motorcycle adventurers who believe the journey is as important as the destination," said Dorothy Dowling, senior vice president of marketing and sales for Best Western International. "Our heritage is deeply rooted along America's scenic roads, and extending our relationship with Harley-Davidson, another iconic brand synonymous with road travel, is a natural way to introduce more travelers to our hotel chain and contemporize our brand."

PLEASE NOTE THAT YOU DO NOT HAVE TO RIDE OR OWN a Harley-Davidson motorcycle or motorcycle to join this program – it is open to all riders.

BIKERS CAN REST THEIR HARLEY-DAVIDSON MOTORCYCLES
AT MORE THAN 1,300 BEST WESTERN HOTELS IN THE U.S. AND CANADA
 
 

..

..
 

Best Western Siding 29 Hotel
Rider and Wallet Friendly.

 
 
Best Western's "rider-friendly" hotels offer designated parking, wash stations and wipe-down towels.
More than 1,300 Best Western hotels in the United States and Canada have been identified as "rider-friendly," the company announced today, offering motorcycle riders wipe-down towels at check in and access to a wash station at no additional cost. In addition, some properties offer designated parking, tar remover, sunscreen and lip balm.
The hotel chain's commitment to designating participating hotels as "rider-friendly" is part of a multi-year agreement between Best Western and the Harley-Davidson Motor Company to bring travel benefits to Harley-Davidson enthusiasts.
"Best Western recognizes that Harley-Davidson and motorcycle enthusiasts have unique needs when on the road, and we're committed to providing them with amenities that make their rides more enjoyable," said Dorothy Dowling, Best Western's senior vice president of marketing and sales. "We're thrilled that more than 1,300 Best Western hotels are `rider-friendly,' and we will add to this total throughout the year."
Harley riders can also register for the Gold Crown Club International Ride RewardsTM program, a free, specially-themed rewards program for Harley-Davidson enthusiasts. Harley-Davidson owners or enthusiasts can register by going to www.bwrider.com. Once registered online as Ride Rewards members, Harley-Davidson riders will earn 10 points for every U.S. dollar (or Canadian equivalent) spent on qualified room rates, or 250 airline miles per qualified stay, at any of the 4,000 Best Western hotels worldwide, including the 1,300 "rider-friendly" properties in North America. By joining Best Western's Gold Crown Club International Ride Rewards loyalty program online, Harley-Davidson enthusiasts will automatically receive Gold Elite status, which includes 10 percent bonus points on every Best Western stay and the ability to purchase points for award redemption, along with other signature benefits.
As a complement to Ride Rewards, Best Western will also serve as a preferred hotel chain for Harley-Davidson's interactive Web application 'Ride Planner', found at www.harley-davidson.com/experience. Using Microsoft Virtual Earth technology, the application maps out a variety of picturesque U.S. "Great Roads" and shows Best Western hotels and Harley-Davidson dealerships along the way. Each property listing features hotel descriptions along with a directory of services and amenities. A 10 percent savings is available to customers who book their Best Western reservations through this Web site, or by calling 1-888-224-BIKE.


BW Rider – Best Western Riding Program and Rewards Site
Rider-Friendly Hotels

Rider-Friendly properties provide unique services to rider enthusiasts including, but not limited to, a clean wipe-down towel at check-in and a cleaning station for cleaning off the day's grime from your bike.

Harley-Davidson Rate

Harley-Davidson Enthusiasts Save a minimum of 10% with Best Western.
Additional H.O.G. Member Benefits

H.O.G. is the largest factory-sponsored motorcycle club in the world. Best Western Rewards members can now enroll or renew the following H.O.G. memberships in the U.S. and Canada with point values ranging from just 6,250 to 37,120.
– H.O.G. Membership – Full Member: One, two or three-year membership
– H.O.G. Membership – Associate Member: One, two or three-year membership
H.O.G. members are automatically upgraded to platinum elite status within the Best Western and Harley-Davidson exclusive rewards program – Best Western Ride RewardsSM , giving them 15 percent more bonus points for every qualified stay, plus complimentary room upgrades and early check-in and late check-out, if available. Members also earn the ability to save 10 percent or more with the Harley-Davidson rate. Following is a sampling of additional benefits and services available to Full H.O.G. members:
– Discounts and enhanced travel benefits through Best Western Ride Rewards. More than 1,300 Best Western hotels in North America offer rider-friendly services. Guests will have access to a host of amenities , such as complimentary wipe-down rags and access to a washing station at check-in. Additionally, some hotels offer extra benefits, including reserved parking spaces, bottled water and lip balm.
– H.O.G. America's Touring Handbook, which provides dealer information and locations across North America
– Safe Rider Skills reimbursement of up to $50 in the form of a coupon
– H.O.G. Roadside Assistance Standard Package: especially for motorcycle towing
– Harley-Davidson Insurance that includes money-saving discounts
– Subscription to HOG® magazine
– H.O.G. Fly & Ride motorcycle rentals
– Invites to local, state and national events and rallies
– Members-only access to members.hog.com


Our new Travel Blog which includes posts for the motorcycle enthusiast, by Jason Fogelson
Plan your next ride with Harley-Davidson's interactive mapping tool, Ride Planner!

Best Western Motel and Hotel History: From 1946 – Present
– Based on distribution and number of locations, Best Western International is the largest hotel company operating under a single brand name with 4,000* independently owned and operated hotels.
– Headquartered in Phoenix, Arizona, Best Western International corporate employs 1,059 people and offers 308,237 quality guest rooms located in 80* countries and territories worldwide.

1946 Best Western Motels was founded by M. K. Guertin, a hotelier with 23 years of experience in the business. The hotel chain began as an informal link between properties with each hotel recommending other hotel lodging establishments to travelers. The "referral system" consisted of phone calls from one front desk operator to another.

1951 In a guest editorial published in American Motel Magazine, Guertin spoke of the importance of advertising properties to the general traveling public. This was considered a very revolutionary approach in the industry.

1962 The Best Western Hotel Chain had the only hospitality reservations service covering the entire United States and Canada.

1962 Best Western began using the crown logo with a rope border to identify member properties.

1963 Best Western was the largest hotel motel chain in the industry with 699 member properties and 35,201 motel rooms.

1966 The entire membership, Best Western and Best Eastern, joined under the Best Western name.

1974 Best Western Hotels decided to drop its referral organization image, eliminated the word "motel" from its name and began competing directly with other full-service hotel lodging chains.

1977 The phrase, "world's largest lodging chain" became a part of Best Western's corporate identification and advertising theme.

1979 Best Western was accommodating 15 million guests and generating $1 billion in hotel room sales.

1980 Agreements were signed bringing 19 properties in Denmark, 120 properties in France, 19 properties in Finland, 23 properties in Spain, 19 properties in Sweden and 93 properties in Switzerland into the international hotel chain. By this time, Best Western's 903 international affiliates comprised 34 percent of the chain's total membership.

1980 Best Western membership rose to 2,654 hoteliers worldwide.

1988 The Gold Crown Club International Program for frequent travelers was launched in September. Within a year, it would report more than 200,000 members and sales of more than $40 million.

1993 The brand identity study, now complete, recommended the adoption of a new Best Western logo and identity. On Nov. 30, the members approved the adoption of a new logo and officially retired the Gold Crown logo.

1995 Best Western introduced its first hotel listings on the Internet at BestWestern.com. Full information on 150 member properties, including photographs, became instantly available via personal home computer.

2002 Best Western members implemented BestRequests, a uniform worldwide package of amenities and services.

2004 Best Western launched the hotel industry's largest High-Speed Internet Access (HSIA) initiative with the fastest implementation. In just eight months, the company established free wireless or hard-wired HSIA in some portion of the public areas, and at least 15 percent of hotel rooms, at all of its North American properties.

2004 Best Western became the first-ever Official Hotel of NASCAR. The NASCAR travel discount RaceFanRate was created.

2006 Best Western celebrated its 60th Anniversary with the 1946 Room Rate Promotion, where lucky guests were provided with a special one-night charge of $5.40 – the approximate value of overnight accommodations six decades ago, when the company got its start.
In 2006, the Best Western International Hotel Chain celebrated its 60th anniversary, providing quality service and hotel accommodations to leisure and corporate travelers alike.

2007 The hotel chain was named a Preferred Lodging Partner of AAA/CAA and began a multi-year partnership with Harley-Davidson.

2007 Best Western began using online surveys to keep track of customer satisfaction, one of the first steps in leading the industry in superior customer care.

2009 Best Western celebrated the honor of being the "Best Mid-Range Hotel Brand" in Asia-Pacific for three consecutive years.





Total Motorcycle would like to thank the kindness and hospitality of the following:
Harley-Davidson Canada
http://www.harley-davidson.com

Heritage Harley-Davidson/Buell
1616 Calgary Trail SW Edmonton, Alberta
(780) 430-7200
www.heritageharley.com/
Kane Harley-Davidson
914 11 Street Southeast
Calgary, Alberta, T2G 3E8
www.kanesharleydavidson.com/
Best Western Denham Inn (Edmonton area)
5207 50th Avenue
Leduc, Alberta, T9E 6V3
(780) 986-2241
http://www.bestwesterndenham.com/
Best Western Jasper Inn & Suites (Jasper)
98 Geikie Street
Jasper, Alberta, T0E 1E0
(780) 852- 4461
http://www.bestwesternjasperinn.com/
Best Western Siding 29 Hotel
453 Marten Street,
Banff, Alberta, T1L 1B3
(403) 762-5575
http://www.bestwesternsiding29.com/

Lux Steakhouse
10150 101 Street Northwest
Edmonton, Alberta T5J 4G8?
(780) 424-0400?
www.luxsteak.com/

Ernie O's in Edson, Alberta
2 Avenue
Edson, Alberta, T7E 1B8
(780) 723-3600
http://www.ernieos.com/

Jasper Brewing Company
624 Connaught Drive
Jasper, Alberta, T0E 1E0
(780) 852-4111
www.jasperbrewingco.ca/

The Bison Restaurant & Lounge
211 Bear Street
Banff, Alberta, T1L 1E4
(403) 762-5550
www.thebison.ca/
Jasper Tramway
Jasper, Alberta
T0E 1E0 Canada
Tel: 780-852-3093
http://www.jaspertramway.com/

 
 

..

..
 

Harley-Davidson's Men's Hi-Vis Rain Suit
Awesome protection in the rain on a motorcycle

 
 
Harley-Davidson's Men's Hi-Vis Rain Suit
About: Lightweight waterproof nylon with mesh lining. Double storm-flap zippered front with hook-and-loop closures. Two zipper hand-warmer pockets and one inside chest pocket. Stretch fit hood reduces bulk to fit comfortably under helmet. Pant features heat shields with extended protection on right leg. Rear-end anti-slip traction. Stirrups, removable suspenders and easy-access thigh pocket. 3M™ Scotchlite™ Reflective Material stripes and graphic for additional visibility. 98275-08VM
 
 

..

..
 

Harley-Davidson's Men's Hi-Vis Rain Suit
Highly visable and fits over your normal motorcycle gear.

 
 
While on the trip I wore my new Harley-Davidson Men's Hi-Vis Rain Suit most of the time. It protected me against not only the rain but the cold air temperature of the mountains as well (even in July). I found that the suit fits easily over normal motorcycle gear thanks to it's size and zipper/velcro jacket and pant leg design.
TBC *****
 
 

..

..
 

Heading out of Stony Plain to Edson
Grey, cold and rainy morning. Can you spot the H-D Hi-Vis rain suit?

 
 
---
KYMCO Websites and Contact Information
KYMCO Canada, KYMCO USA (Site #2), KYMCO UK, KYMCO Germany, KYMCO Italy, KYMCO Taiwan, KYMCO Australia, KYMCO International
Dealer Websites and Contact Information
Motor City Fun Inc.
Jose Sousa
#1, 3650, 19th Street NE
Calgary, Alberta, Canada
T2E 6V2
Phone: (403) 219-8838
Fax: (403) 219-8825
If you would like Total Motorcycle, North America's leading motorcycle information website to do a test ride and ride review of your motorcycle or scooter models just contact us for information or to book a date, location and time. It is a great way to promote your model and your company to over half a million visitors worldwide each month for no cost! Contact us today to inquire.
---