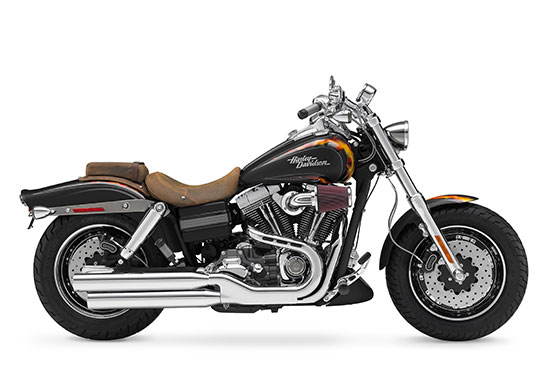 Back to Motorcycle Review Page

Maligne Lake
Page 5 of 12
<< Page Back – Page Forward >>
Jasper to Banff via the Icefields Parkway.
Day 3: July 14th, 2010. Jasper to Banff. Adrenaline Rush.
After another good night sleep in a Best Western Hotel and the best Best Western breakfast buffet I have ever had it was on with the gear and we were ready to hit the road. I had the opportunity to ride the 2010 CVO Fat Bob FXDFSE2 today, only 1 of 3000 made.
A CVO bike stands for "Custom Vehicle Operations" of Harley-Davidson. They are the top of the line, fully customized and fully featured. Price is no object for this type of luxury bike.
 
 

..

..
 

2010 CVO Fat Bob FXDFSE2
Give me fuel, give me fire, give me that which I desire…

 
 
As Harley-Davidson puts it, "The Harley-Davidson CVO Fat Bob is a limited-production custom motorcycle that projects an aggressive, super-duty presence behind a beefy front wheel, twisted Tommy Gun exhaust, bold paint and innovative custom styling. The CVO Fat Bob is based on the Harley-Davidson Dyna platform, which pairs Big Twin performance with an extended FX front end, exposed twin rear shock absorbers, and an under-seat battery box."
It is an awesome looking motorcycle. Looks paired with the Air-cooled, Twin Cam 110 cubic inch engine with Screamin' Eagle parts….well, you'll just have to wait to read about it in sec as I don't want to get ahead of myself.
First detour was to Maligne Lake within Jasper National Park.
 
 

..

..
 

Maligne Lake
Jasper National Park, Alberta, Canada

 
 
Maligne Lake, Jasper National Park, Alberta
Maligne Lake is a lake in Jasper National Park, Alberta, Canada. It is located south of Jasper town site, accessible by motor vehicle. Boat trips run to Spirit Island, one of the most popular sights of Jasper National Park. The 44 km Skyline Trail, Jasper's most popular, highest and above treeline, multi-day hike, begins at Maligne Lake and finishes near the town of Jasper. It boasts a resident self sustaining population of rainbow trout and brook trout. Maligne Lake is fed and drained by the Maligne River, which enters the lake on its south side, near Mount Unwin. The Maligne River drains the lake from its northern end. Maligne Lake, as well as Maligne River, Maligne Mountain, and Maligne Pass, takes its name from the French word for malignant or wicked.
Maligne Lake is amazingly beautiful and so was the ride up through the twisty mountains on the CVO Fat Bob to get there. The weather was not so bad, a little cold and just a little rain in the morning. The fresh mountain air is all the coffee one ever needs to wake up feeling refreshed and ready to take on the day as the sun peeks over the mountains. Canada is an absolutely beautiful country and I'll quote one US reviewer who was on the ride when he said "The US has beauty like this but Canada has it in greater stretches and all over."

 
 

..

..
 

Maligne Lake (Photo credit: Maligne Lake press)
Jasper National Park, Alberta, Canada.

 
 
Today was a great day to be alive and riding a Harley-Davidson in the Rocky Mountains of Canada around Jasper National Park is not a bad way to spend your last day on Earth, if you had a choice.
<< Page Back – Page Forward >>
---

Harley-Davidson
If you would like Total Motorcycle, North America's leading motorcycle information website to do a test ride and ride review of your motorcycle or scooter models just contact us for information or to book a date, location and time. It is a great way to promote your model and your company to over half a million visitors worldwide each month for no cost! Contact us today to inquire.
---