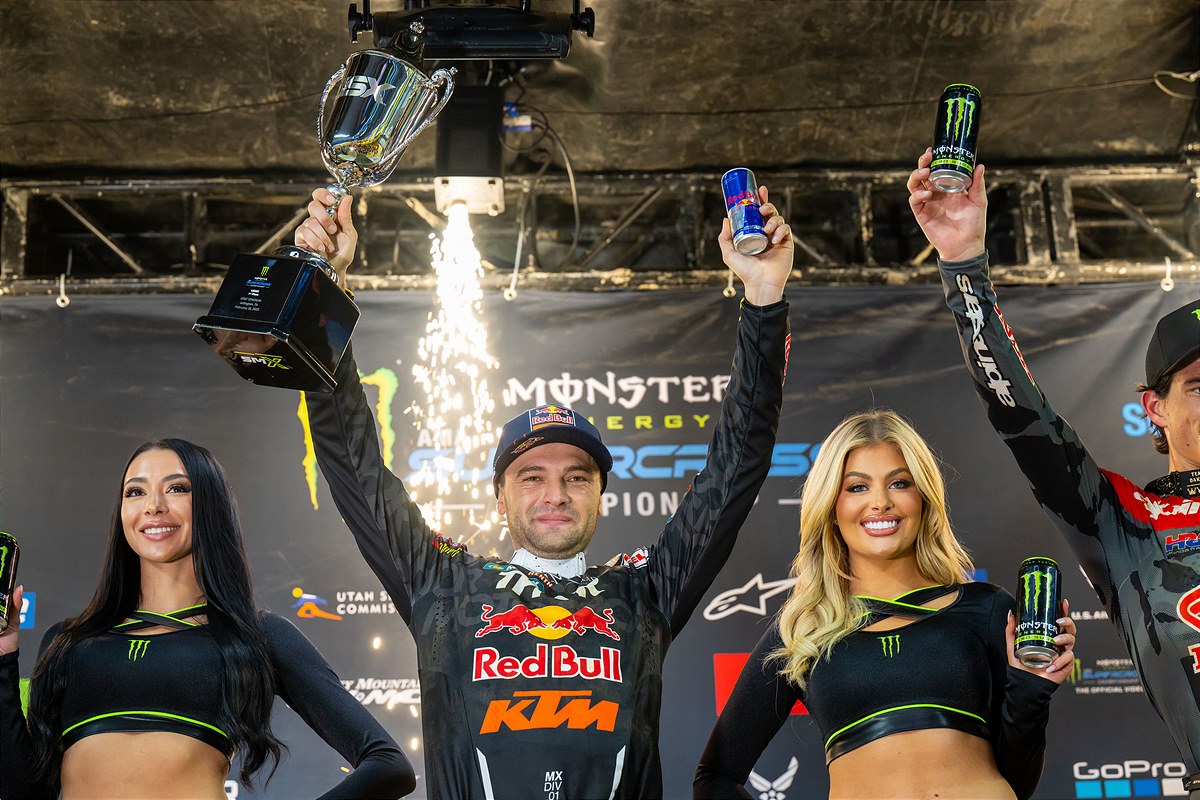 ARLINGTON, Texas – A second victory of the season in tonight's Arlington Triple Crown round of the 2023 AMA Supercross Championship has moved Cooper Webb to within two points of the red plate, as Red Bull KTM Factory Racing teammate Aaron Plessinger claimed sixth overall and Tom Vialle earned a career-best fourth in the 250SX East category.
After qualifying in fifth position, Webb was at his finest across the three-race format to progressively improve and deliver 5-2-1 finishes, which was enough to secure him a second win of the year. He's now earned five podiums in seven rounds, including the top step of the podium in Tampa and Arlington this month.
The opening Race saw two-time 450SX champion Webb charge forward through the pack to fifth position, before a stronger start in the second encounter saw him lead the opening lap on his way to the runner-up result. Race three was a spectacular one, where he rode his KTM 450 SX-F FACTORY EDITION to an important win from behind, securing him the overall at round seven.
Cooper Webb: "I'm extremely happy to get another win here in the season! Dallas is always a good one for me, so to come here and do well in the Triple Crown is super-cool. The first Race wasn't my best one, we improved for the second one and then, in the last Race, obviously some mistakes of other riders helped me out, but overall I'm stoked to execute and get another win! I knew I had to get to the front in that final one in the end to get the overall, so that was what I was going for and I felt good, had a great pace going and was comfortable, so it was a good round for us. We'll see where this carries us for the rest of the season, but I'm feeling confident and know what I can get better at – we're all riding well and it's definitely a dog-fight at the moment."
Plessinger put forward a consistent performance on his way to P6 in Texas. The 27-year-old was sixth in the first outing and then recorded fifth-place results in both Races two and three, constantly factoring toward the front of the pack. Those results marginally positioned him outside of the top-five overall, now also sitting sixth in the point-standings.
Aaron Plessinger: "I felt good all day in practice and then when the first Race came around, I'm not really sure what went on. I didn't feel like I had much in me, couldn't really push that hard, and in that first main event I didn't have it for whatever reason. I tried to get as much fuel in me as I could before the second one and felt a lot better – likewise for the third one. It was good to turn things around in the night show with 6-5-5 for sixth overall. I'll take it heading into Daytona and I'm excited for that!"
French rookie Vialle was able to pick up his best result in what was his third AMA Supercross start, also marking his maiden Triple Crown appearance on his KTM 250 SX-F. The 22-year-old was seventh in qualifying and scored fifth in Race one, then ninth in the second outing. His best was yet to come, benefiting from a top-five start in Race three and going on to take the checkered flag in second place. That was enough for P4 overall and he's now seventh in the championship.
Tom Vialle: "Today was good. I felt comfortable in practice, qualifying in seventh and that was my best so far – I felt great on the track. In the first Race I was P5, but struggled a little bit with the start on the second one and finished ninth. The third Race was much better, finishing second in that one and I was really close to the winner at the end, so I was happy. We've made good improvements in these past weeks, we're getting closer and fourth is a positive result. Now I'm looking forward to next week in Daytona."
Next Race: March 4 – Daytona, Florida
Results 450SX Class – Arlington Triple Crown
1. Cooper Webb (USA), KTM, 5-2-1
2. Chase Sexton (USA), Honda, 3-3-2
3. Eli Tomac (USA), Yamaha, 1-4-6
OTHER KTM
6. Aaron Plessinger (USA), KTM
10. Justin Hill (USA), KTM
13. Josh Hill (USA), KTM
18. Kevin Moranz (USA), KTM
Standings 450SX Class 2023 after 7 of 17 rounds
1. Eli Tomac, 160 points
2. Cooper Webb, 158
3. Chase Sexton, 155
OTHER KTM
6. Aaron Plessinger, 121
13. Justin Hill, 62
17. Josh Hill, 34
20. Kevin Moranz, 26
Results 250SX East Class – Arlington Triple Crown
1. Nate Thrasher (USA), Yamaha, 2-2-3
2. Jordon Smith (USA), Yamaha, 4-1-5
3. Hunter Lawrence (AUS), Honda, 1-3-6
4. Tom Vialle (FRA), KTM, 5-9-2
Standings 250SX East Class 2023 after 3 of 9 rounds
1. Hunter Lawrence, 73 points
2. Max Anstie, 62
3. Nate Thrasher, 57
OTHER KTM
7. Tom Vialle, 52