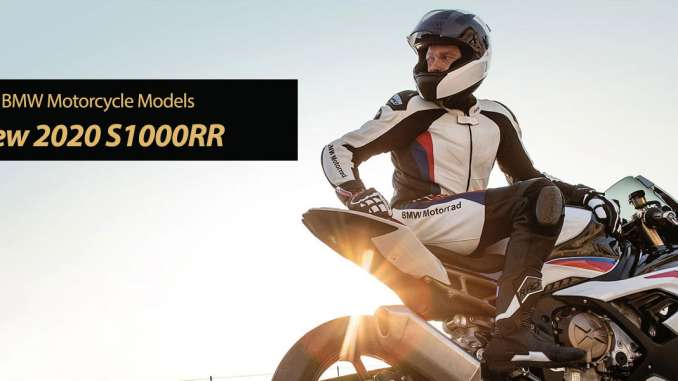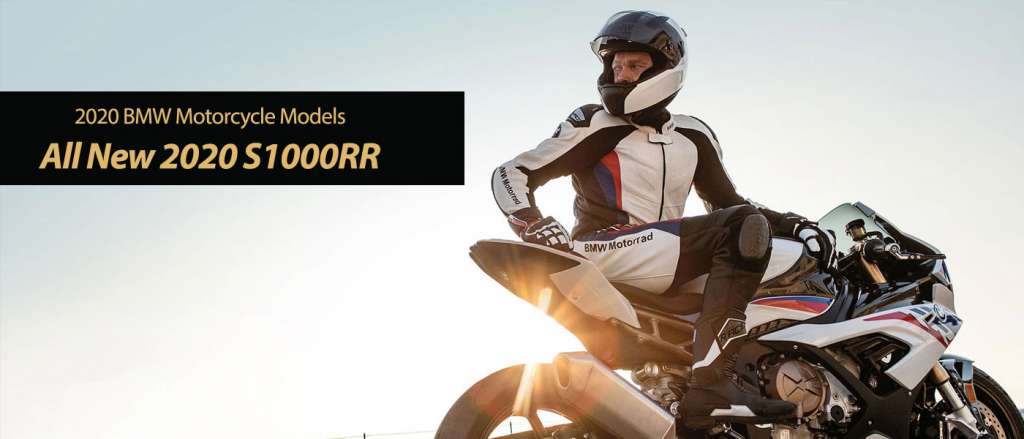 BMW's new blazing fast superbike has just been revealed and boy does the first 2020 motorcycle model from BMW delivers scorching numbers: 434lbs, 205hp and 37mpg. That's more fuel efficient (and cooler) than a 2020 Toyota Corolla or all-new RAV4! The 2020 BMW S1000RR delivers cutting-edge-technology, BMW M package, new BMW ShiftCam engine, Switch Assistant Pro (switch gears in milliseconds), LED lights, 6.5″ TFT display, riding modes and much more. For those looking to push the envelope, you have found what you are looking for.
With ten years after the first generation of the RR first mesmerized the world of motorcycles, we're now entering the next level of performance. BMW has updated almost every component of the RR – from the front to the rear. The result: less weight and noticeably higher performance. Are you ready for the pole position and for victory? The RR awaits you.
Standard features
4 Ride Modes (Rain/Sport/Dynamic/Race)
ABS Pro
Adjustable Clutch Lever
Adjustable Hand Brake Lever
Adjustable Rear Suspension Preload/Compression/Rebound Damping
Aluminum Fuel Tank
Anti-Hopping Clutch
Cast Aluminum Wheels
Connectivity with TFT Display
Detachable License Plate Bracket
Drop Sensor
DTC (Dynamic Traction Control)
Electronic Immobilizer
Gear Shift Assist Pro
Hill Start Control
Info Flat Screen
Integral Race ABS (Disengageable)
LED Headlight with Style Element
LED Tail Light
LED Turn Signals
Multi-Controller
Multifunction Display
On-Board Computer
Radial Front Brakes
Ready for GP Gear Shift Pattern
ShiftCam (Variable Camshaft Control)
Single Seat
Steering Damper
Tachometer
Torque Control Assist
Upside-Down Forks with Adjustable Preload/Compression/Rebound Damping
Additional Standard Equipment and Features (vs. MY 2019)
LED Headlight and turn signals
Connectivity with 6.5" TFT display
On Board Computer and Multi-Controller
Gear Shift Assist Pro
Hill Start Control
4 standard ride modes (Rain, Road, Dynamic, Race)
Adjustable Clutch Lever
Cornering-optimized ABS Pro
All-new dynamic design w/ optimal aerodynamics
Substantial engine and technology improvements
*The model year 2020 BMW S1000RR includes new standard features valued at over $2,000.
Engine/Design Enhancements (vs. MY 2019)
25 lb total weight reduction from 459 lbs to 434 lbs
(Additional weight reduction of 7.7 lbs. with M Package)
Engine is ~9 lbs. lighter: improved handling/ergonomics
BMW ShiftCam Variable Engine Timing system
205 hp vs. 200 hp
More balanced power delivery
Improved HP/torque curve at low/medium engine speed
37 mpg vs. 35 mpg
New suspension geometry: less weight, higher level of precision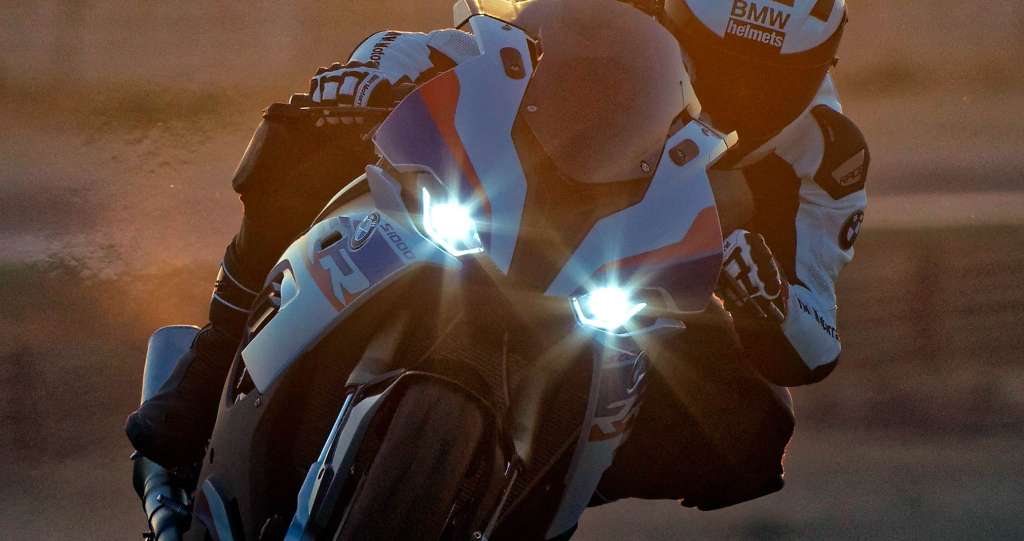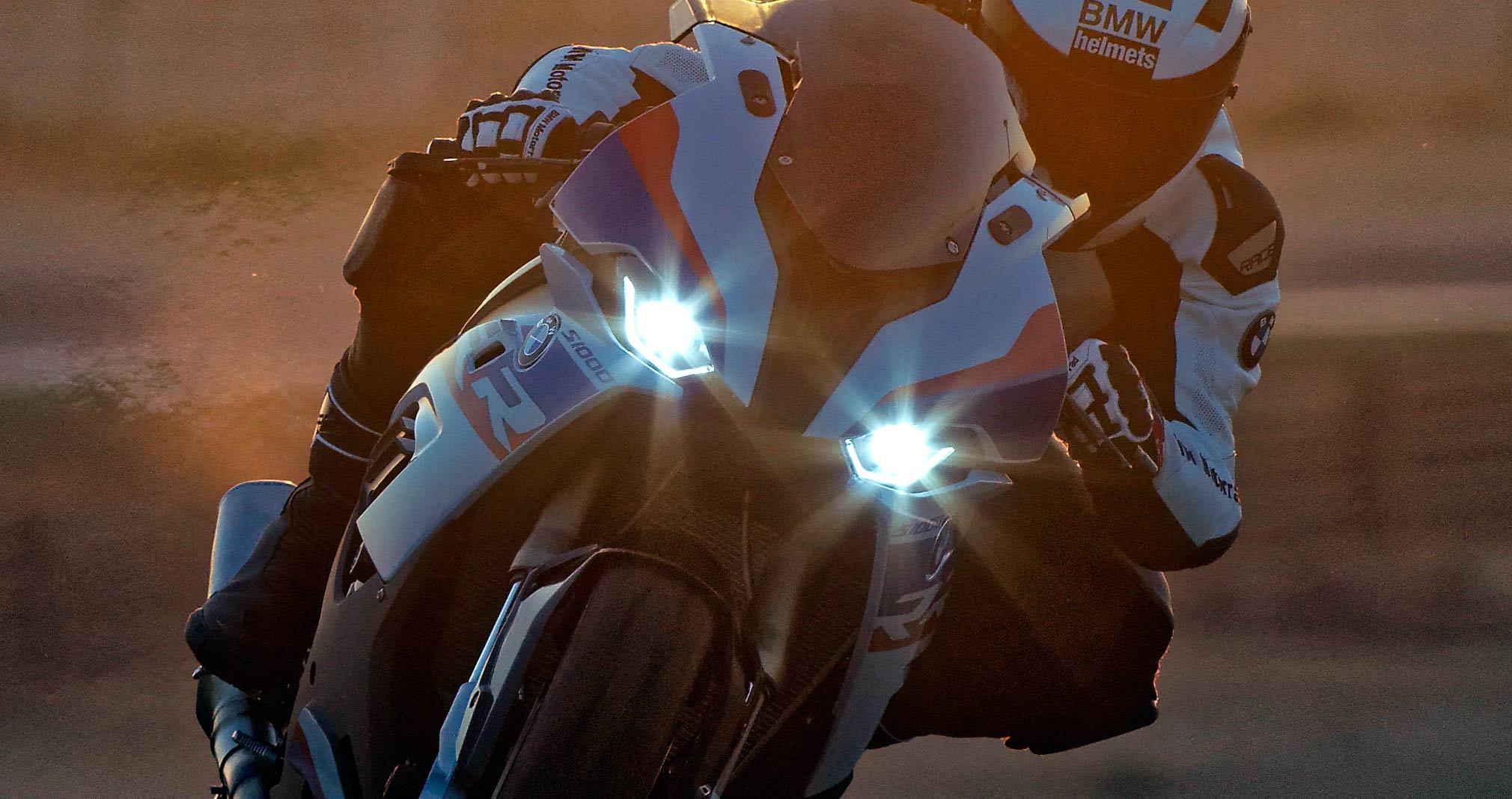 Designed for the pole position.
Anyone who looks at it immediately understands that this is a high performance motorcycle. Every part of the 2020 BMW S1000RR has been designed to get the most out of it. Take, for instance, the frame layout with its new suspension technology that makes the 2020 BMW S1000RR lighter and more precise. In addition, there is the ergonomically focused seating position, which is unrivaled thanks to the modified frame and fairing design. The standard LED headlights give the bike a dynamic and aggressive look. The front indicators have moved from the fairing to the rearview mirrors, which not only looks aesthetically pleasing, but it also provides improved visibility. Seen from the rear, the 2020 BMW S1000RR dominates in terms of design and functionality: "All-in-one" is the motto here. In addition to license plate lighting, the license plate bracket now also includes LED turn signals, tail lights and brake lights.
Ready for the track.
When it comes to top performance, the 2020 BMW S1000RR is your perfect partner. And not just on the road, but also on the track. In a few simple steps, you can dismantle both the rearview mirror and the license plate bracket and you've got a racing bike.
The optionally available M Package turns your 2020 BMW S1000RR into the ultimate racing machine. Here the weight is once more reduced by around 7.7 lbs down to a mere 427 lbs. In addition to the Motorsport finish, the M carbon wheels, the M battery, the M seat with M passenger seat cover and the M swing arm pivot you also get Ride Modes Pro with the configurable Ride Modes Race Pro 1-3 and electronic assistance systems, such as DTC +/- Shift, ABS Settings, engine mappings, wheelie control and slide control and a whole lot more.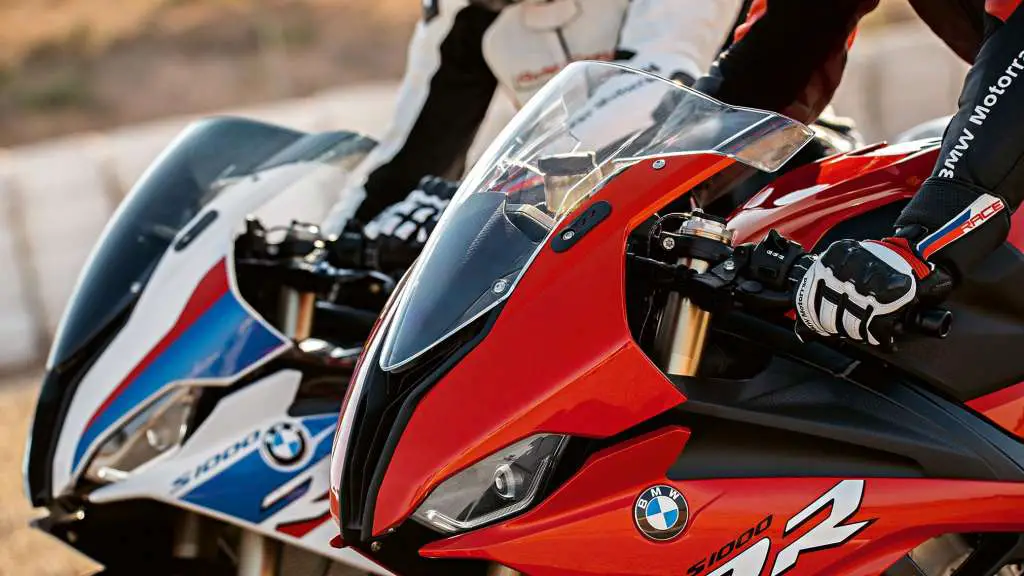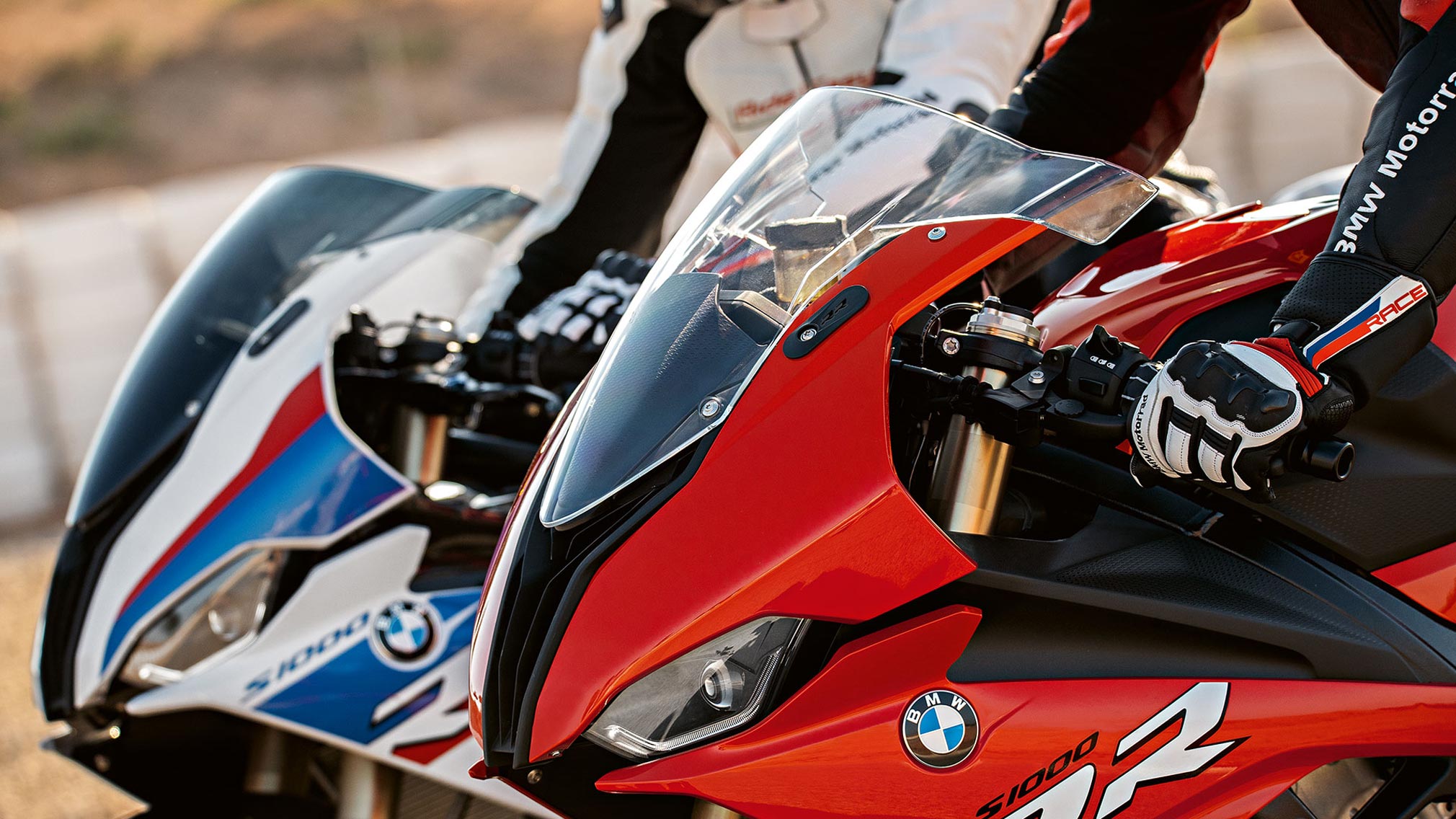 Introducing the new 2019 BMW Motorcycle Guide.
New Bike Reviews, Huge Photos, Full Specifications. Get it all at Total Motorcycle.
Sport
– 2019 BMW S1000RR – New model
– 2020 BMW S1000RR – New model (available summer 2019)
– 2019 BMW R1250RS – New model
Adventure
– 2019 BMW R1250GS* – New model
– 2019 BMW R1250GS Adventure – New model
– 2019 BMW S1000XR* – Early release
– 2019 BMW F850GS* – New model
– 2019 BMW F850GS Adventure* – New model
– 2019 BMW F750GS* – New model
– 2019 BMW G310GS
Tour
– 2019 BMW K1600GTL* – Early release
– 2019 BMW K1600GT* – Early release
– 2019 BMW K1600 Grand America* – Early release
– 2019 BMW K1600B* – Early release
– 2019 BMW R1250RT* – New model
– 2019 BMW F800GT
Roadster
– 2019 BMW R1250R* – New model
– 2019 BMW S1000R* – Early release
– 2019 BMW F800R
– 2019 BMW G310R* – Early release
Heritage
– 2019 BMW R nineT* – Early release
– 2019 BMW R nineT Racer* – Early release
– 2019 BMW R nineT Pure* – Early release
– 2019 BMW R nineT Urban G/S* – Early release
– 2019 BMW R nineT Scrambler* – Early release
Scooter / Urban Mobility / Maxi Scooter
– 2019 BMW C400GT* – New model
– 2019 BMW C Evolution* – Early release
– 2019 BMW C650 Sport* – Early release
– 2019 BMW C650GT* – Early release
Prototype
– 2019 BMW R1200GS Autonomous Driving Motorcycle