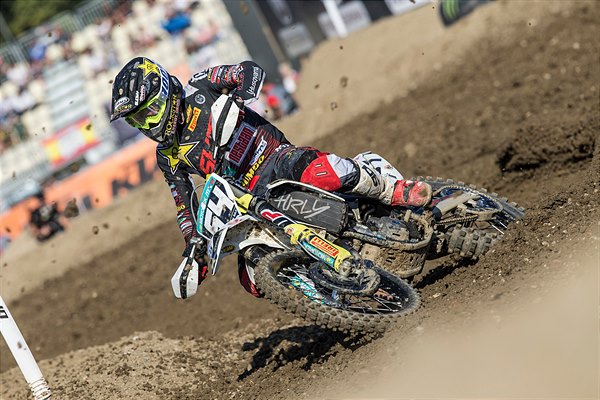 With the curtains on the 2018 FIM Motocross World Championship falling at the Imola track, Thomas Kjer-Olsen and Thomas Covington have ended their seasons by securing second and third place overall results in the MX2 category at the GP of Italy. Earning further hard-earned championship points ensures the two Rockstar Energy Husqvarna Factory Racing riders placed third and fifth respectively in the 2018 MX2 World Championship.
The man-made track built inside the historic Imola circuit allowed young Dane Thomas Kjer-Olsen to demonstrate his skills at yet another GP. Runner-up in the opening race and fourth in moto two, Thomas ended the season in a strong second overall in the MX2 class at Imola.
Following Kjer-Olsen in third overall was his Rockstar Energy Husqvarna Factory Racing team partner Thomas Covington. Running third for most of the opening moto, the American made a few mistakes in the closing stages of the race and had to settle for seventh at the line. Returning stronger in moto two, he claimed the holeshot and went on to cross the line in third position.
In the MXGP category, a strong fifth overall at the Imola track allowed Gautier Paulin to gain one position in the elite class' championship standings. Earning 4/6 results in Italy, Paulin claimed wraps up the 2018 MXGP World Championship in fifth.
Despite not getting the desired starts, Max Anstie battled to 9/13 results in Italy. Claiming 10th in the 2018 MXGP World Championship, Anstie is now looking ahead to next weekend's Motocross of Nations.
Rockstar Energy Husqvarna Factory Racing team riders Gautier Paulin and Max Anstie will return to action at the 2018 Motocross of Nations on October 6/7 in the United States, where they will represent Team France and Team Great Britain respectively.
Thomas Kjer-Olsen: "It feels great to end this season with third in the MX2 championship. Throughout the year I got on the podium ten times and I also got one overall win. It's been a long and demanding year of racing and this third place in the championship is the best reward for all the hard work. From the start of the series until the very last GP here at Imola I really did all I could. I am lucky to have this great team and I can't thank them enough for standing by my side in every step I take."
Thomas Covington: "With this being my last GP it's been a stressful weekend here in Italy and I am glad I wrapped it up with a spot on the podium. The track was slippery and quite technical, but I kept pushing for the best possible result in each and every session. In the opening moto I made a few mistakes in the last few laps and missed the chance for a top-three result. Then in moto two I got off to a good start and kept a good pace from start to finish. I'm really happy to end this season on the podium."
Gautier Paulin: "It was a long season and I am happy to finish fifth in the championship. The man-made track here at Imola was tough and got destroyed as the racing went on. In the opening moto I did not get the best of starts but had a good fight with the leading pack to finish fourth. Then in race two my start wasn't that good once again and I struggled with the sun making it hard to see in various places. We had some ups and downs this year, but overall I am satisfied with fifth in the 2018 championship. It was a good season for me and I want to thank my team for all their hard work and dedication. My eyes are focused now on next weekend's Motocross of Nations and I will do my best to defend Team France's trophy with the #1 on my Husqvarna."
Max Anstie: "It's been a challenging GP and I struggled with my starts in both motos. In the first race I managed to put in strong opening laps and made some good positions. My speed was good and I finished ninth. Not getting a good start in moto two made my life harder. The track was one-rutted in many places so there were not that many lines to make passes. I am excited to head to the States now to race for Team Great Britain. The Motocross of Nations has been the highlight of my year in 2017 and I am hoping for equally good results next weekend at Red Bud."
Download high-res images from the MXGP of Italy here.
Results – 2018 FIM Motocross World Championship, Round 20
MXGP – Overall
1. Jeffrey Herlings (KTM) 50pts; 2. Tim Gajser (Honda) 44; 3. Clement Desalle (Kawasaki) 40… 5. Gautier Paulin (Husqvarna) 33… 11. Max Anstie (Husqvarna) 20… 18. Tanel Leok (Husqvarna) 8
MXGP – Race 1
1. Jeffrey Herlings (KTM) 20 laps, 34:41.213; 2. Tim Gajser (Honda) 34:53.651; 3. Clement Desalle (Kawasaki) 35:09.344; 4. Gautier Paulin (Husqvarna) 35:11.674… 9. Max Anstie (Husqvarna) 35:32.902… 16. Tanel Leok (Husqvarna) 36:08.769… 22. Klemen Gercar (Husqvarna) 19 laps, 35:15.028… 27. Ander Valentin (Husqvarna) 16 laps, 29:26.352
MXGP – Race 2
1. Jeffrey Herlings (KTM) 20 laps, 34:35.763; 2. Tim Gajser (Honda) 35:10.591; 3. Clement Desalle (Kawasaki) 35:26.535… 6. Gautier Paulin (Husqvarna) 35:42.384… 13. Max Anstie (Husqvarna) 36:01.634… 18. Tanel Leok (Husqvarna) 19 laps, 34:54.622… 21. Klemen Gercar (Husqvarna) 35:06.131
MX2 – Overall
1. Jorge Prado (KTM) 50pts; 2. Thomas Kjer-Olsen (Husqvarna) 40; 3. Thomas Covington (Husqvarna) 34… 5. Henry Jacobi (Husqvarna) 32… 15. Brent Van doninck (Husqvarna) 14
MX2 – Race 1
1. Jorge Prado (KTM) 19 laps, 33:49.364; 2. Thomas Kjer-Olsen (Husqvarna) 34:10.407; 3. Henry Jacobi (Husqvarna) 34:26.243… 7. Thomas Covington (Husqvarna) 34:39.965… 15. Brent Van doninck (Husqvarna) 35:00.009… 31. Loris Freidig (Husqvarna) 18 laps, 34:29.672
MX2 – Race 2
1. Jorge Prado (KTM) 19 laps, 34:00.879; 2. Hunter Lawrence (Honda) 34:03.043; 3. Thomas Covington (Husqvarna) 34:16.531; 4. Thomas Kjer-Olsen (Husqvarna) 34:19.015… 9. Henry Jacobi (Husqvarna) 34:42.917… 13. Brent Van doninck (Husqvarna) 34:55.961… 29. Loris Freidig (Husqvarna) 18 laps, 34:55.235
2018 Championship Standings
MXGP
1. Jeffrey Herlings (KTM) 933pts; 2. Antonio Cairoli (KTM) 782; 3. Clement Desalle (Kawasaki) 685… 5. Gautier Paulin (Husqvarna) 574… 10. Max Anstie (Husqvarna) 386… 18. Tanel Leok (Husqvarna) 139… 29. Harri Kullas (Husqvarna) 18… 31. Lewis Stewart (Husqvarna) 13… 34. Ander Valentin (Husqvarna) 8; 35. Aidi Lazaroni (Husqvarna) 6; 36. Rizky Hanif Kusparwanto (Husqvarna) 6… 44. Matiss Karro (Husqvarna) 3… 52. Klemen Gercar (Husqvarna) 2; 53. Lars van Berkel (Husqvarna) 1
MX2
1. Jorge Prado (KTM) 873; 2. Pauls Jonass (KTM) 777; 3. Thomas Kjer-Olsen (Husqvarna) 673… 5. Thomas Covington (Husqvarna) 599… 10. Henry Jacobi (Husqvarna) 343… 11. Brent Van Doninck (Husqvarna) 224… 18. Iker Larranaga (Husqvarna) 185… 33. Muhammad Delvintor Alfarizi (Husqvarna) 28… 36. Diva Ismayana (Husqvarna) 24… 39. Hilman Maksum (Husqvarna) 20… 42. Jy Roberts (Husqvarna) 15… 49. Yoshua Pattipi (Husqvarna) 8… 51. Dylan Walsh (Husqvarna) 6… 55. Enzo Toriani (Husqvarna) 3… 59. Yasin Karaboce (Husqvarna) 3… 60. Andrea Zanotti (Husqvarna) 2