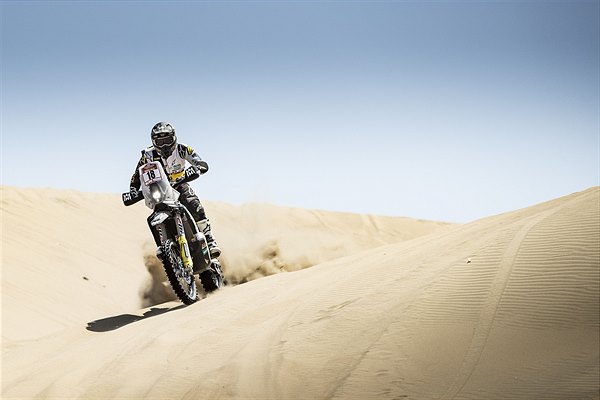 PABLO QUINTANILLA THIRD OVERALL WITH ONE STAGE STILL TO BE CONTESTED IN THE DUNES OF PERU
Securing a solid fourth place result on stage two of the 2018 Desafio Inca, Andrew Short has taken over the rally's provisional overall lead with just one stage to go. Following Andrew in fifth on stage two, Pablo Quintanilla is currently third in the overall standings and just 14 seconds behind his Rockstar Energy Husqvarna Factory Racing teammate.
Putting his experience collected so far to good use, Andrew Short has put in a solid stage two performance in the Peruvian dunes. Enjoying a consistent pace throughout the first of two laps, the American upped his pace in the second loop and managed to take control of the rally with one stage to go.
Making the day even more memorable for the Rockstar Energy Husqvarna Factory Racing rally team, Pablo Quintanilla was less than one-minute slower that his teammate Short on stage two. Continuing to gather valuable experience the reigning FIM Cross-Country Rallies World Champion is satisfied with the progress made so far in Peru.
Sunday's final stage of the 2018 Desafio Inca features a single 180km loop outside the city of Ica. With the first three riders in the overall separated by less than 15 seconds, it's all to play for on the third day of racing in the dunes of Peru.
Andrew Short: "I've been making some good progress here in Peru. Today was very similar to yesterday, the terrain and the style of the race was nearly identical. I pushed for a good pace right from the start and ended up catching the leading group. We finished the first loop in a big group like we did yesterday. Then on the second loop I decided to push even more to gain some time on them. I took more chances trying to learn the speed needed to be up front and this paid off. There was not much navigation to be done in the second loop so on that side there weren't things to learn, but I feel I am learning the pace and the style of racing needed to get good results. Peru is an amazing place to race a motorcycle and I have enjoyed every stage so far. I am happy with where we're at and I want to end this rally on a high note tomorrow."
Pablo Quintanilla: "We are learning a lot here in Peru. Today's stage was very similar to yesterday's stage. There were lots of big dunes and we also got treated with tricky navigation. There were some difficult WPCs to make and we had to be extra careful to avoid mistakes. Soon after the start I caught up with the leading group of riders and we all raced the rest of the stage together. I feel great on my bike at the moment and I enjoy riding it in these unique conditions. I can control my pace and push whenever I want to and this is really important for me. Overall, this race has been a good learning experience and I am looking forward to its final stage tomorrow."
2018 Desafio Inca Rally – Stage 2 Provisional Classification
1. Kevin Benavides (Honda) 03:55:21
2. Matthias Walkner (KTM) 03:56:15
3. Paulo Goncalves (Honda) 03:58:16
4. Andrew Short (Husqvarna) 03:59:24
5. Pablo Quintanilla (Husqvarna) 04:00:09
6. Ignacio Cornejo (Honda) 04:03:35
2018 Desafio Ruta Inca Rally – Provisional Overall Classification [After Stage 2]
1. Andrew Short (Husqvarna) 08:12:43
2. Matthias Walkner (KTM) 08:12:55
3. Pablo Quintanilla (Husqvarna) 08:12:58
4. Paulo Goncalves (Honda) 08:13:05
5. Ignacio Cornejo (Honda) 08:16:17
6. Kevin Benavides (Honda) 8:18:10