Honda Racing's David Johnson took his first Isle of Man TT podium in sensational fashion in today's Superstock race, getting the better of Michael Dunlop by just 0.2seconds. With the weather finally giving an uninterrupted day of running, it was a bumper day of track activity on the Island today.Getting off to a steady start in the Superstock, Davo was eighth on the first of the three-lap race, but wasted no time in starting his ascent through the field. By Ramsey he was sixth, and by the end of lap one that had become fifth. The team did a fantastic job of his pitstop, getting him underway 3.8seconds faster than Dunlop's pitstop, and with a penalty for speeding for James Hillier moved into fourth at the start of lap two.

Then in the final lap, the fight for the podium really became incredible. He and Michael Dunlop were separated by tenths of a second throughout, taking turns at holding third position. By Glen Helen, Davo was 0.7seconds ahead, but by Ballaugh Bridge that was just 0.1seconds, and by Bungalow Dunlop was one second ahead, but a stunning final sector for Davo overhauled that deficit to give the popular Aussie his very popular maiden TT podium.

In this morning's first session, both Ian Hutchinson and Davo ran their Superstock machines for the qualifying lap, which was followed shortly by the second Supersport race. Whilst Davo took his CBR600RR to 10th in the two-lap race, unfortunately Hutchy was forced to retire on the opening lap. He then elected to sit out the Superstock race, in which Davo took the CBR1000RR Fireblade to the podium, in order to focus on this evening's Senior qualifying lap.

As the sun was sitting low in the sky after what has been a rare beautiful day in this year's TT, the qualifying lap was the final chance for track time before the blue riband Senior TT tomorrow. Working on some changes to the bikes, Davo finishes 7th fastest and Hutchy 12th. The finale of TT week, the Senior, is scheduled to start at 1000h tomorrow morning.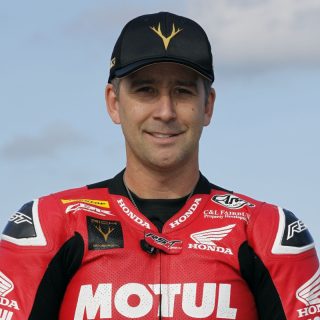 David Johnson 9
That was an unreal Superstock race! I didn't get up to speed straight away on the first lap but then I got up to fourth at the start of lap two. I saw the gap and it was +0 the whole time I was in fourth. I didn't know it was Michael I was dicing with but I could see the times to and fro and I just thought 'I gotta get this'. I just tried not to put a foot wrong on that last lap. Over the Mountain on the last lap was the best I've ever ridden over there on the Superstock bike, and that last sector was something else – I just put everything into it. I was P4 at the Bungalow and still at Cronk Ny Mona, so I just pushed like mad over the last bit. The team did a fantastic job and the dynamic between us is always very good, so I'm just so happy to get this podium.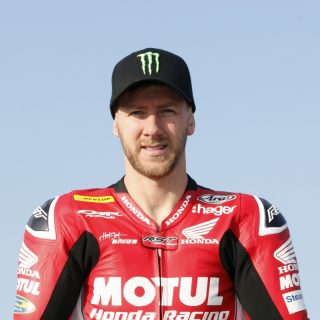 Ian Hutchinson 4
It's been a difficult day today and clearly the results aren't what we want, so there's some work to do for the Senior tomorrow. The organisers have done a great job to get so much running in today though with the good weather, which is what everyone wanted to see, so hats off to them. We'll come back tomorrow and see what we can do.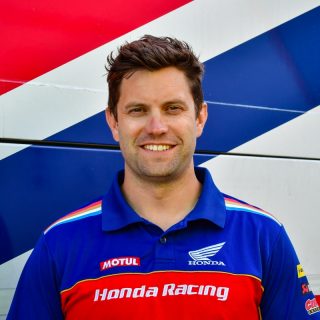 Jonny Twelvetrees
Team Manager
Most of all today it's fantastic to see Davo on the podium – his first at the TT! It's so well deserved, for him and for all the guys working so hard behind him, and nobody put a foot wrong. He performed brilliantly, and the team did as well with such a slick pitstop which certainly contributed to Davo being able to clinch third by just 0.2seconds. After such an interrupted, wet week, it's brilliant to be able to celebrate a podium today. The organisers also did a great job in getting so much running in today – a record five races. The Supersport and the Superstock races didn't work out for Hutchy so he's had a tough day, but we look forward to getting into the Senior tomorrow and try and continue the strong form Davo showed today.
 Isle of Man TT
Snaefell Mountain Course, Isle of Man
Road Racing 2019
RACE SUPERSTOCK
RACE SUPERSPORT
RACE SUPERBIKE TT
QUALIFYING SUPERSPORT 02/6
QUALIFYING SUPERBIKE 02/6
QUALIFYING SUPERSTOCK 28/5
QUALIFYING SUPERBIKE 28/5
QUALIFYING SUPERSPORT 26/5
 Thursday 6 Jun 2019, 15:54 UTC
| # | RIDER | NUM | TEAM | CONSTRUCTOR | TIME/GAP |
| --- | --- | --- | --- | --- | --- |
| 1 | PETER HICKMAN | 10 | SMITHS RACING BMW | BMW | |
| 2 | DEAN HARRISON | 2 | SILICONE ENGINEERING | KAWASAKI | + |
| 3 | DAVID JOHNSON | 9 | HONDA RACING | HONDA | + |
| 4 | MICHAEL DUNLOP | 6 | MD RACING | BMW | + |
| 5 | CONOR CUMMINS | 1 | MILENCO BY PADGETT'S MOTORCYCLES | HONDA | + |
| 6 | MICHAEL RUTTER | 8 | BATHAMS RACING | BMW | + |
| 7 | JAMES HILLIER | 5 | QUATTRO PLANT WICKED COATINGS | KAWASAKI | + |
| 8 | DAVEY TODD | 18 | PENZ13.COM | BMW | + |
| 9 | JAMIE COWARD | 15 | PREZ RACING | YAMAHA | + |
| 10 | GARY JOHNSON | 7 | RAF REGULAR AND RESERVES | KAWASAKI | + |