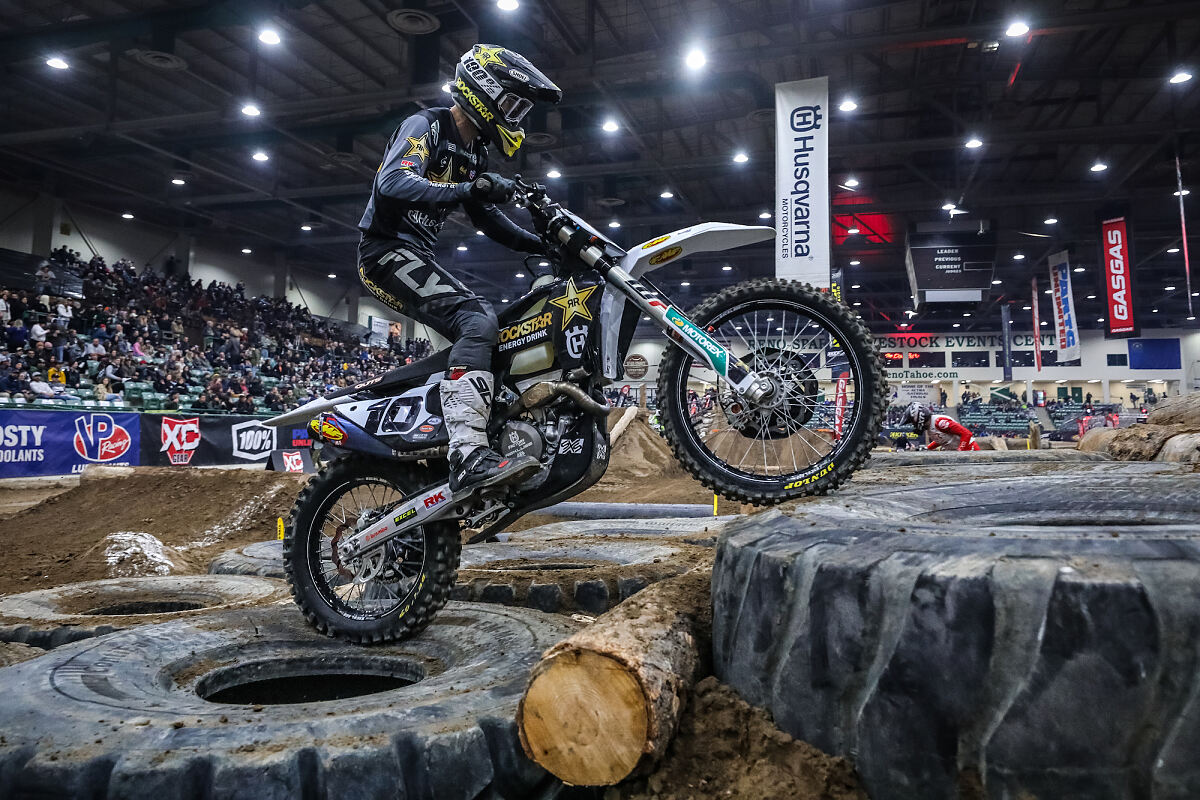 The final round of the 2023 AMA EnduroCross Championship saw Rockstar Energy Husqvarna Factory Racing's Colton Haaker race to a second-place result in the EX Pro Class, securing third position in the final standings at the Reno-Sparks Livestock Event Center in Nevada.
Haaker's momentum from the previous round win continued as bikes hit the circuit in Reno, with the number 10 setting the second-fastest time in the Pro Hot Lap session. After gaining a top-three start in Moto 1, Haaker charged into P1 by the midway point and would lead the field home for the opening race win on his FX 350.
Wedged deep in the field off the start in Moto 2, Haaker had his work cut out for him as he fought his way through the top 10, making a series of decisive moves throughout the race. A final lap pass for the lead completed what was a remarkable performance, setting up a showdown in the final EX Pro Class race of the season.
All of the contenders were up front at the start of Moto 3, with the championship wide-open as the gates dropped. Haaker's strong form continued as he battled hard among the leaders, eventually taking a sixth-place result to conclude his 2023 campaign.
Following a consistent season, including a dominant round victory in Redmond's penultimate stop of the year, multi-time EnduroCross Champion Haaker recorded a series of podiums throughout the 2023 series, which landed him a solid third overall in the EX Pro Class standings.
"It was a good night tonight," commented Haaker. "I would've liked to have won and was in a good position heading into the final moto after getting the two opening race wins, but the last Moto was just a freight-train, which made it difficult to pass. From where I have been the last couple of years, this year was a massive step up, mentally, physically, and just everything. I'm stoked to rebound as we have done – we were really coming on strong there, although sights now shift to next year."
Rockstar Energy Husqvarna Factory Racing teammate Ryder LeBlond posted the fifth-fastest time to open his day in Nevada during the Pro Hot Lap segment, before a lowly start in Moto 1 saw him slice his way through the field and take a fourth-place finish.
Launching to another tough start in Moto 2, LeBlond posted a steady ride over the duration of the eight laps, racing to an eighth-place score. Moto 3 began for LeBlond with another start outside the top 10, as he fought his way forward throughout the entirety of the race and finished P5 in the final outing of the season. A 4-8-5 Moto scorecard earned LeBlond sixth on the night and fifth overall in the 2023 AMA EnduroCross Championship.
"Final round here in Reno was a good one!" LeBlond said. "There was a lot happening tonight in the championship between a few guys, so I tried to just ride my own races, which was tough, especially in Moto 3. We were all so close together, it was like a massive freight-train all moto, which was super-cool. I finished fifth in the standings and proved a lot to myself that I can be a top guy next year, which is a massive improvement from where I was last season."
EX Pro Results – Round 6
1. Trystan Hart, KTM, 2-3-1
2. Colton Haaker – Rockstar Energy Husqvarna Factory Racing, 1-1-6
3. Cooper Abbott, Sherco, 5-5-2
…
6. Ryder LeBlond – Rockstar Energy Husqvarna Factory Racing, 4-8-5
EX Pro Championship Standings
1. Trystan Hart, 147 points
2. Jonny Walker, 140
3. Colton Haaker – Rockstar Energy Husqvarna Factory Racing, 137
…
5. Ryder LeBlond – Rockstar Energy Husqvarna Factory Racing, 98