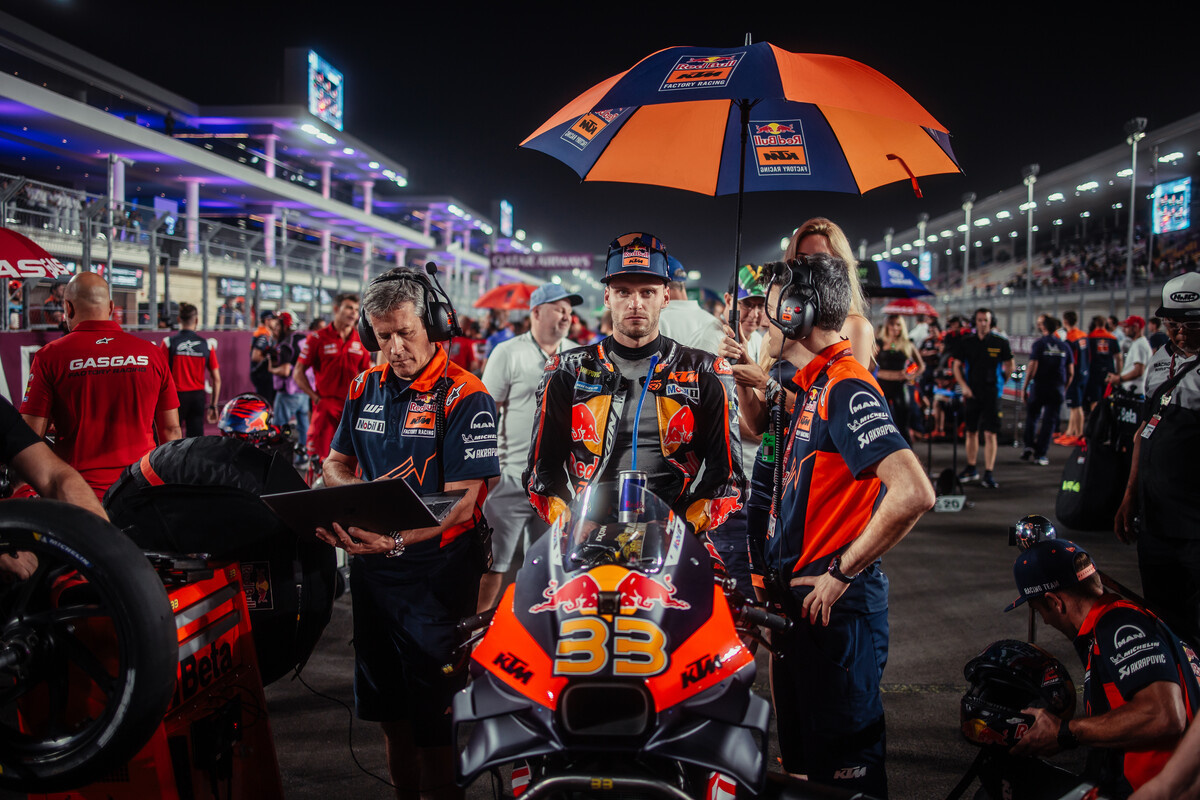 The penultimate round of 2023 MotoGP visited the unique and freshly modernized environment of the Lusail International Circuit in Qatar and a previously happy hunting ground for Red Bull KTM Factory Racing. Brad Binder again marked the reference for speed and competitiveness with the RC16 by fighting for a top five position and taking 7th while Jack Miller finished 12th after the 11-lap Sprint. Red Bull KTM Tech3's Daniel Holgado still has a mathematical chance of the Moto3™ world title and will start from Pole Position while Moto2™ world champ Pedro Acosta will wheel into 7th place on the grid for his second-to-last outing in the class.
MotoGP dazzles under the distinctive Lusail lights for an end-of-season date in cool and tricky conditions around the remodeled and resurfaced venue
The #33 KTM of Brad Binder circulates the 16 corners and spiraling network of flat, pacey turns to obtain 11th in qualification and then battle to 7th in the Sprint
Jack Miller enters Q1 and confronts the challenge of traction and tire consumption across the grippy but dirty and deceptive Qatari asphalt
Now free of world championship pressure Red Bull KTM Ajo's Pedro Acosta pushes to a grid position of 7th in Moto2 while the Moto3 title dispute rolls on and both Daniel Holgado and Deniz Öncü are hunting for FIM medals; Holgado earned his first Pole of the season while Öncü is also on the front row
Back to Lusail and a very different looking race circuit, thanks to comprehensive upgrades made to the paddock and general facilities. The light-bathed and resurfaced flat course remained the same however for the penultimate qualification and Sprint race of the year. The track held special memories for the launch of the company's MotoGP program in 2017 and also for Brad Binder's superb podium finish in 2022.
For what is now a regular occurrence, the Red Bull KTM pair were strong and competitive from the first laps. Practice and qualification took place in late afternoon temperatures, light and conditions, while PR (for the crucial classification session for qualifying) and the Sprint happened under the glare of Lusail lightbulbs and in cooler and more moist air. The range of grip and traction was significant for setup and the RC16 and the crew tried their best for optimization. Binder ranked 4th through the Friday evening air and on Saturday afternoon secured 11th after Q2. Miller was less than half a second from breaking out of Q1 and was unlucky to get baulked on his last flying lap attempt. He took to the grid in 16th.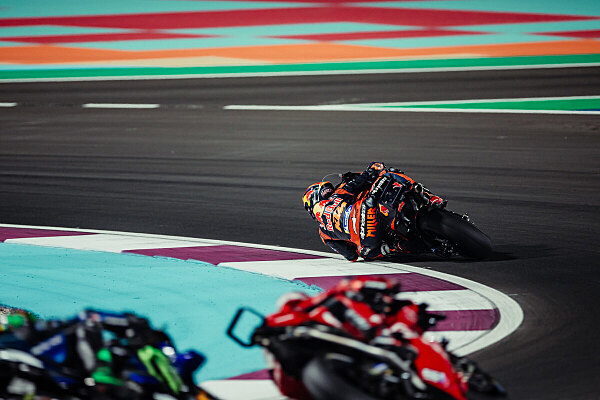 The MotoGP Sprint offered valuable data and timing for the main 22 lap distance on Sunday. The shorter spectacle involved 11 frantic circulations and saw Binder having to make some strong moves to roam within the large group seeking a top five classification. His 7th place was less than six seconds from the winner and just three seconds from the podium. Miller strained the throttle and sought a way from the rear of the grid to be part of an eight-rider collective in mid-pack positions. Jack was able to cross the line in 12th.
MotoGP will lose the red lights and head into the illumination of Lusail at 18.00 CEST on Sunday.
Brad Binder, 11th in qualification, 7th in the Sprint: "This whole weekend has been a bit tricky and I felt like I hit a bit of a wall in terms of struggling to improve and get a better feeling with the front. I felt great in the first three-four laps of the Sprint and thought 'I can do something here today…' but then as soon as the grip level dropped I ran into trouble. Difficult, but it was great we could learn what we could today and to see what we can fix to go again tomorrow."
Jack Miller, 16th in qualification, 12th in the Sprint: "A tricky day and going through Q1 is always a gamble. I was a tenth away from the old lap record and still end up in 16th! It was a chaotic start to the Sprint and with the single-line nature of this track it is hard to do much. I had a good battle and got into a rhythm. The pace was not fantastic but it was consistent and profited from mistakes from others at the end. We made a lot of changes today and we're trying to find a bit more; we're not far away."
Francesco Guidotti, Red Bull KTM Factory Racing Team Manager: "Nothing really special so far and we are looking for a better solution with the level of grip to allow our riders to show the potential of the bike. We have to find something to improve the situation for tomorrow. Today was not our day."
Results Qualifying MotoGP Grand Prix of Qatar
1. Luca Marini (ITA) Ducati 1:51.762
2. Fabio Di Giannantonio (ITA) Ducati +0.067
3. Alex Marquez (ESP) Ducati +0.136
11. Brad Binder (RSA) Red Bull KTM Factory Racing +0.967
16. Jack Miller (AUS) Red Bull KTM Factory Racing 1:52.889 (Q1)
Results MotoGP Sprint Grand Prix of Qatar
1. Jorge Martin (ESP) Ducati 20:52.634
2. Fabio Di Giannantonio (ITA) Ducati +0.391
3. Luca Marini (ITA) Ducati +2.875
7. Brad Binder (RSA) Red Bull KTM Factory Racing +5.761
12. Jack Miller (AUS) Red Bull KTM Factory Racing +10.173

KTM GP Academy
Moto3 qualifying took on extra significance for round nineteen of twenty and with four riders still pulling for the 2023 crown. Among the quartet is Red Bull KTM Tech3 Daniel Holgado, who lies joint 3rd with a 41-point deficit to the leader and with 50 still left to win. The Spaniard managed to scoop Pole Position during Q2 at Losail and took his KTM RC4 to P1 for the first time this season and for just the second time in his two-season career. He was two places and 0.152 of a second ahead of Red Bull KTM Ajo's Deniz Öncü, who cannot grasp the crown due to his 51-point distance but is firmly in the fight for 2nd or 3rd. The Turk is also on the front row. Rookie Jose Rueda was 18th and Filippo Farioli was given a back-of-the-grid penalty on Friday but showed decent pace to rank 11th.
Daniel Holgado
: 
"An incredible qualifying for me. I did a good job and I want to thank the team because Filippo did some great work out there. Tomorrow is the most important day. I am ready."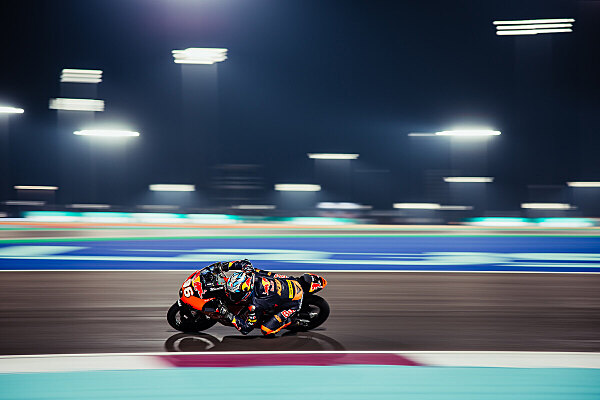 Moto2 title glory had already been snared by Pedro Acosta and the triumphant Red Bull KTM Ajo team in Malaysia. This left the Spaniard and Aki Ajo's squad free to pursue an eighth victory of the campaign and Acosta came through Friday and Saturday in a cool, calm way and with decent pace to acquire 8th place on the grid for Sunday. He was followed by countryman Albert Arenas who has done his own fine work to help the crew to a large quantity of points in the Teams standings. Arenas was 22nd fastest after Q2.
Results Qualifying Moto3 Grand Prix of Qatar
1. Daniel Holgado (ESP) Red Bull KTM Tech3 2:04.742
2. Diogo Moreira (BRA) KTM +0.003
3. Deniz Öncü (TUR), Red Bull KTM Ajo +0.152
11. Filippo Farioli (ITA) Red Bull KTM Tech3 +0.943
18. Jose Rueda (ESP) Red Bull KTM Ajo +1.948
Results Qualifying Moto2 Grand Prix of Qatar
1. Joe Roberts (USA) 1:57.305
2. Celestino Vietti (ITA) +0.007
3. Aron Canet (ESP) +0.028
7. Pedro Acosta (ESP) Red Bull KTM Ajo +0.541
22. Albert Arenas (ESP) Red Bull KTM Ajo 1:58.298 (Q1)