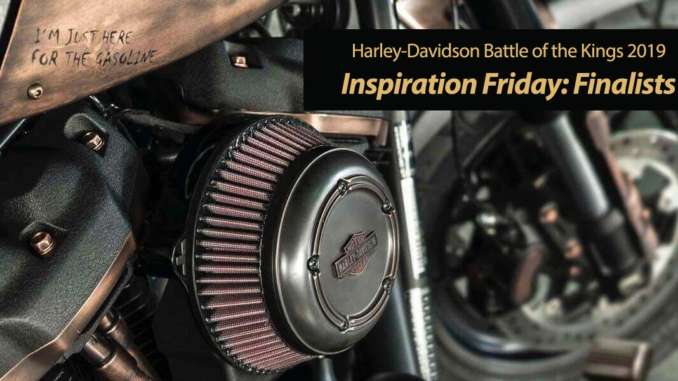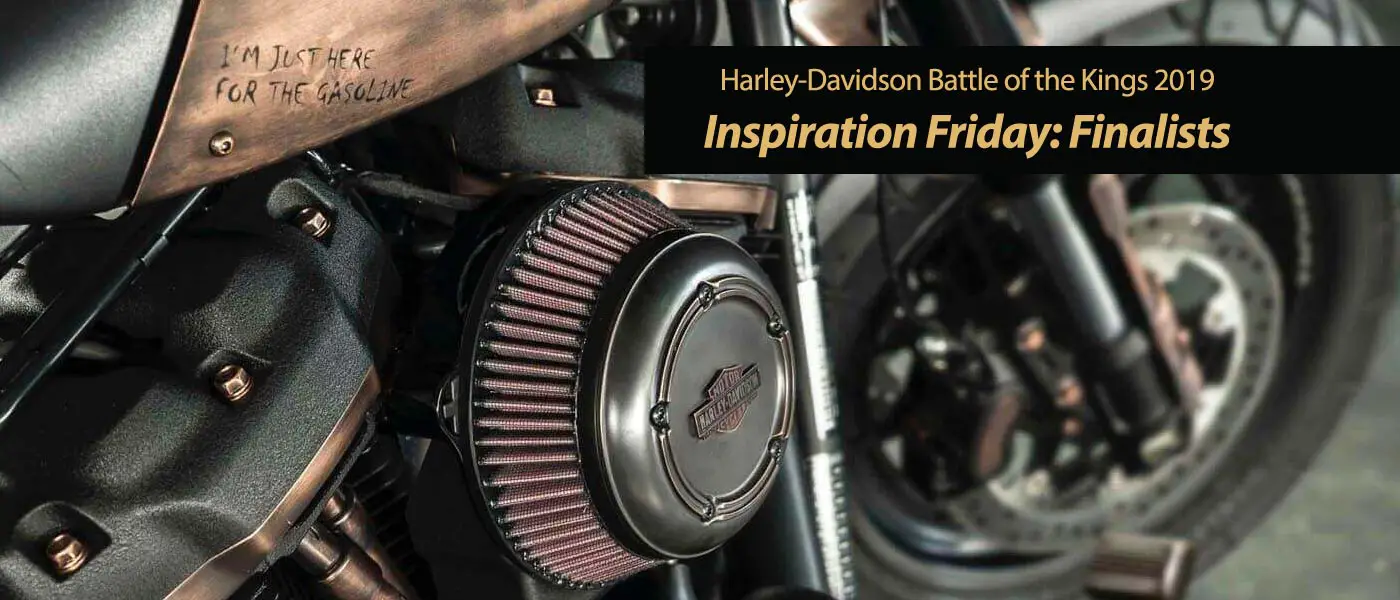 Total Motorcycle's Inspiration Friday brings us Harley-Davidson Battle of the Kings 2019! Back again for yet another year (see last years coverage), of amazing custom Harley-Davidson motorcycles, gifted builders completing from 258 ENTRIES in 26 COUNTRIES and crowning 1 GRAND CHAMPION! We have the finalists right here, in full beautiful full-HD photos (yes, they were VERY hard to find and took me 2 hours of editing) with full descriptions on each. I hope this inspires you to create something unique for your bike!
If you love and are into Harley-Davidson motorcycles, then we have a real treat for you, check out our new 2020 Harley-Davidson Motorcycle Model Guide chock full of goodies for any Harley enthusiast.
Enjoy!
THE BATTLE
Our Custom Kings have designed, crafted, personalized and perfected their bikes.
This year's rules:
Participants can choose a motorcycle from the entire Harley-Davidson model family (excluding CVOs and trikes).
Participants can choose from three categories of current customizing trends: Dirt (Tracker/Scrambler/Desert Sled), Chop (Bobber/Traditional/Hardtail) or Race (Street/Sport/Track)
The Customizing budget (parts & working time) is 50% of the motorcycle value, with a minimum of 50% Harley-Davidson P&A, a road registration is also required.
The bike must be reproducible for sale and reproduction.
MEET THE FINAL FOUR CONTENDERS
The votes have been cast. The judges have spoken. These are the final four bikes, shortlisted to join the USA's custom bike at EICMA for the chance to be named Custom King 2019. Check them out.
THE CROOK – STREET BOB – UNITED KINGDOM
Warr's Harley-Davidson
MODEL :STREET BOB CATEGORY :CHOP
The chassis is completely stock. The rear rim has been widened and the original rear rim is now the front so we could run 16in tyres front and rear. To keep the identity of the Street Bob, we cut into the side of the fuel tank to give it our Kings Road custom signature look. To mimic the mid-1990s custom look we used the Defiance Collection engine covers and forward controls.
There are a couple of things that really make it stand out: the 2-2 upswept exhaust, and the gas tank.
A lot of it speaks for itself. Like I said the gas tank is iconic to us, there's nothing that's really hidden and we have tidied up the lights, super bright. Everything is quite apparent on this, it's not a complicated build it's very simple, you can see every detail. We wanted to create a build where there wasn't anything that was too challenging. The whole idea of it was to easily replicate and promote easy custom building that's effective by looking awesome.
THE CUSTOM KING
Charlie Stockwell (38) – Head of Design and Custom. What inspired my passion for two wheels? I guess it was my brother in law. When I was 12 years-old he rode bikes when no one else in the family did at the time. I always liked bikes but never had the opportunity to ride them until he taught me.
Even though I've owned and still own a few bikes, it is Harley-Davidson that is special to me – for a lot of reasons. History, for one. The passion, as well, that people have for Harleys – it's infectious. There's the freedom they give– not just from riding, but also the freedom of expression in the design of the bikes; something that can be extended with customisation. Let's not forget Harley ownership also gives people a sense of belonging with the huge community spirit that's grown with Harley.
I've been customising since 1996. Under our custom sub-brand Warr's Kings Road Customs, it's been non-stop custom design and builds. As for BOTK, I've completed three Sportster builds, going back to 2015, which was the first one and then again in 2016-17. The 2019 BOTK build is for a Warr's customer who had a chop/bobber, kind of, back in the 90s. This BOTK build is a modern take on that.
PARTS
H-D P&A: Defiance Chrome Rocker Tops & Rocker Lowers. Defiance Chrome Cam Cover, Derby Cover, Handlebar Grips, Footpegs, Shifter Peg, Slotted Shifter Lever, Slotted Rear Brake Lever, Front Brake & Clutch Lever, Chrome Bar & Shield Shifter Linkage. H-D Bobber Solo Saddle kit (re-trimmed), 16 x in Gloss Black Wheel Rim.
Other: Custom Rear Fender, Firestone Champion tyres, modified Gas Tank, mini LED turn indicators, side mount license plate, Wild Hog Aged Brown Saddlebag & Brown Solo Saddle. S&S Grand National Chrome 2-2 exhaust & Chrome Mini Teardrop Intake. Custom Paint.
ROAR  – Thunderbike Harley-Davidson Niederrhein – GERMANY
MODEL :FXDR114 CATEGORY :RACE
NEW YEAR – NEW BATTLE!
The choice fell on the youngest and most sporty offspring in the Softail family: the FXDR 114. The FXDR scores particularly well with its factory-fitted dual brake discs, aluminum swingarm and upside-down fork. These already sporty components have made Thunderbike accentuate the racing character of the bike and deliver a deep and nasty dragster conversion for this battle.
This project turns the FXDR into a true custom dragster bike that does not just feel good on the ¼ mile. In addition, Thunderbike lowered the chassis by a whopping 50 mm and refined the look with the new 260 mm tire.
Thanks to the Screamin 'Eagle Stage 3 Kit not only the engine capacity grows to 117 cubic inches, but also engine power by almost 40%. The sweeping original fender had to give way to the Thunderbike GP-style rear with integrated lighting, which immediately got a matching seat.
Obligatorisch in such a conversion is of course the side license plate holder with Thunderbike Inside Plate. There is also a new front fender, front spoiler and well-hidden turn signals, which also emphasize the sporty look of the project. The Harley-Davidson P & A catalog also has many delicacies to offer. So Thunderbike decided on the brand new Dominion collection, from the primary cover, camshaft covers, filter cover and various inserts and covers were mounted, which fit perfectly into the overall picture.
In the paint shop, Thunderbike has added a noble silver tone to the Harley-Davidson colors Black & Orange, which puts the new shape of the bike in focus.
THE CUSTOM KING
Thunderbike has been a Harley-Davidson Dealer in the Lower Rhine region since 2006 and was already a sensation in the same year with the title of Vice-World Champion in Custombike Building. Today Thunderbike develops and produces a large number of custom bikes on HD basis and offers a huge selection of over 100,000 items of accessories & clothing in the online shop. At the 2016 Battle of the Kings, the Sportster from Thunderbike was voted Germany's winner. Thunderbike produces a whole range of custom parts for the Battle of the Kings project in small batches.
PARTS
Installed are among others:
– Primary Cover Harley-Davidson Dominion, Black # 25700795
– Oil filler insert for outer primary cover Harley-Davidson Dominion # 25700807
– Harley-Davidson Dominion # 61400609; # 61400599
– Camshaft Cover Harley-Davidson Dominion # 25700722
– Heavy Breather Performance Air Filter Harley-Davidson Screamin 'Eagle # 29400264
– Heavy Breather Filter Cover Harley-Davidson Screamin 'Eagle # 61300688
– Harley-Davidson Hydraulic Clutch
MOONSHINE – Calgary Harley-Davidson – MODEL :SPORT GLIDE CATEGORY :RACE – Canada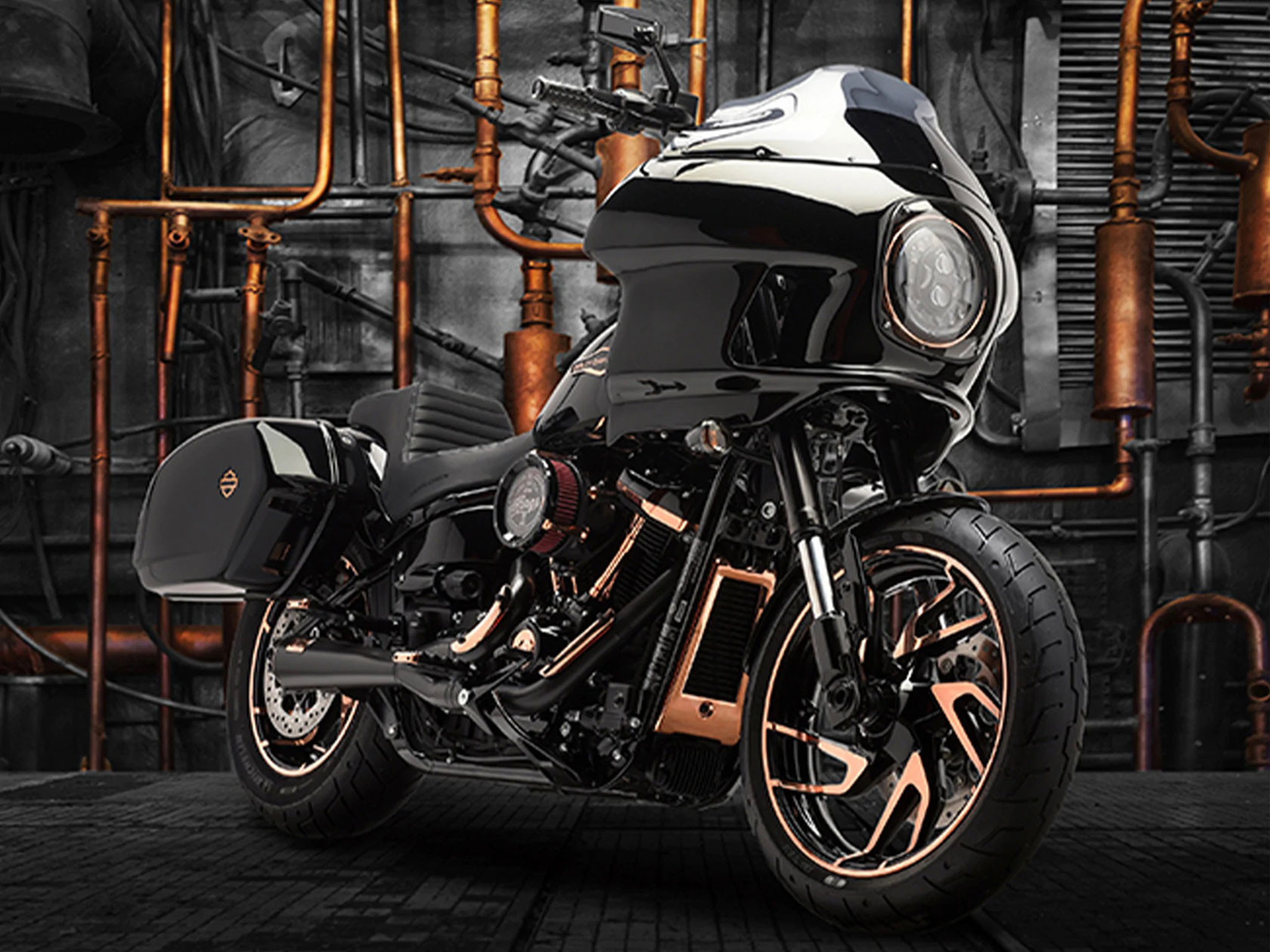 May's Battle of the Kings (BOTK) at the Roll the Bones Old School Motorcycle & Art Show in Montreal was every custom motorcycle enthusiast's dream. Celebrating choppers, custom builds, photography, art and music, it was a chance for local makers and people eager to talk bikes to share their passions.
An international event, BOTK challenges builders to transform standard Harley-Davidson® motorcycles into something unique. To inspire consumers to get their hands on their favourite Harley® and make it their own, participants must ensure their creations are replicable and road-legal.
This year's three Canadian finalists were chosen by the public to create bespoke, cutting-edge Harleys using only their imagination, technical competency and a budget that equates to half the cost of the original stock model. The three teams showcased their builds at Roll the Bones, where a panel of expert judges followed strict protocols to determine which bike would continue to Milan's International Motorcycle and Accessories Exhibition (EICMA) for the global competition.
Two of the three finalists opted to build off the 2019 Softail Slim® model, with the third team working off the 2018 Sport Glide® model. The builders from each dealership connected with the public at the event to share their inspirations, challenges and excitement over their custom creations. I spoke with the build teams to learn about their processes and inspiration, and the highs and lows of competition building.
*NATIONAL WINNER: Moonshine
Dealership: Calgary Harley-Davidson (Calgary, Alberta)
Lead builder: Justin Willimont
Inspired by the 1983–1992 FXRT Sport Glide models, this bike design stood out from the competition and was truly a dealership effort. Lead builder Justin Willimont, a service technician at Calgary Harley-Davidson, spoke of the camaraderie, passion, innovation and teamwork that led to Moonshine being crowned the 2019 Canadian BOTK winner.
"I can't take any credit for the vision of Moonshine," Willimont said. "It was truly a team effort. It wasn't one person saying, 'This is what we are doing.' It was all of us spit-balling and sharing ideas that ultimately led to Moonshine being born."
The team was inspired by the historical trends of baggers, choppers and bobbers, incorporating all major components of the custom Harley culture to produce a bike that blends new-school technology with old-school style. This merging of eras makes Moonshine equal parts form and function, combining the reborn 1980s FXRT-style fairing with modern advances like hardbags and cruise control.
Sketches, concept sharing and brainstorming kicked off the build process for this team, including Eric Sum from the service department and Ty Troutman, an H-D mechanic.
Calgary H-D staff had a "name that bike" competition, landing on Moonshine after several healthy debates and a few "there-is-no-way-we-can-call-it-that" conversations. The name was inspired by the team's whisky-lubricated brainstorming sessions and team members' beards reminiscent of characters from the TV show Moonshiners.
"Once the copper parts came out of the box, it all came together and someone on the team threw out, 'It looks like a still!'" said Willimont, referencing the copper found in traditional moonshine stills.
Willimont's favourite part of the bike is the fairing.
"As soon as that fairing went on in prime, I was just like, 'Yes, we got it,'" he said.
For Sum, the best part is the combination of the black and the copper: "It is classy, timeless and not just another black Harley. It is subtle, clean and well balanced."
Budget was the team's biggest roadblock. They had to pare back certain components to keep the build on budget, reproducible in its finished form and road-legal. Despite these challenges, the team is stoked to take their build to EICMA, and will participate in BOTK again if given the opportunity next year.
The Calgary H-D team will represent Canada at the international BOTK event in Milan, Italy.
Parts and Accessories used:
7 -inch Daymaker™ Adaptive LED Headlamp
7-inch headlamp mounting ring – black
Dominion Collection™ black anodized footpegs, shifter peg, hand grips, mirrors and fuel cap
Screamin' Eagle® street tuner
Screamin' Eagle® 10mm Phat spark plug wires – black
Black hand control levers
Milwaukee-Eight® Gloss Black rocker box cover upper, cam cover and tappet covers
JOE TRACKER – Harley-Davidson Queretaro – MODEL :SOFTAIL SLIM CATEGORY :RACE – MEXICO
Harley-Davidson Querétaro in this 2019 edition of the Battle of the Kings contest is proud to present his "Joe Tracker" motorcycle. Built on a 2019 Softail Slim, this motorcycle is inspired by 1920's Board Track races. The motorcycle has 21-inch wheels front and rear, which gives it the "look" we were looking for. It has a single seat which was reupholstered to match the color of the strap that we put on the tank and the leather bands we put on the cuffs, to continue completing that vintage racer style. We made some tailor-made leaks, which end with beautiful Akrapovic tips, giving it a very elegant and aggressive sound. The front dashboard was removed and on the back we put a dashboard that is originally a Sportster front. The double "bullet" headlights were set to complement the motorcycle line and thus achieve perfect harmony and balance. All this complemented with two-tone paint in colors inspired by several models of the brand was able to bring this board track racer to the 21st century.
THE CUSTOM KING
Because of its unparalleled appearance and its similarity to the 20's racing motorcycles, we named this copy "Joe Tracker", commemorating Joe Petrali "The record breaker", the brand's racing driver, who broke several speed records and "Board Track" competitions in those years. In Harley-Davidson Querétaro we are passionate about custom culture, we love meeting challenges like this contest to be able to tell stories with our motorcycles. We always try to highlight the personality of our projects because as motorcycle lovers, we believe that these should be a reflection of the personality of their owners or their creators. We always try to achieve a motorcycle of great style without sacrificing in the least its handling or performance.
PARTS
DOBLE FARO DE BALA CON FOCO LED DE HERITAGE
FILTRO DE AIRE DE ALTO FLUJO CON COVER ORIGINAL
SOLO SEAT RETAPIZADO
P&A HD parts list:
21 "wheels of Road Glide CVO
Street Bob Speedometer
Drag bar
Solo Seat Kit for Softail
High Flow Filter
Heritage auxiliary headlights
Screw Eagle spark plug wires
Footrest / Brake Pedal / Shifter Peg Dominion
STAY UP TO DATE – THE CHALLENGE
Battle of the Kings is a Harley-Davidson custom competition featuring the very best Custom Kings from across the globe. Their challenge is to take our standard Harley-Davidson model and turn it into something unique. Over 200 dealers from more than 30 countries will compete to create bespoke, ground-breaking Harley's, using only their imagination, skill and a budget no bigger than half the cost of the original model.
THE VOTING
The battle kicked off with a public vote to shortlist each country's favourite bike.
That shortlist was whittled down to one, as each country crowned its National Winner. The journey doesn't stop there. The National Winners now go head-to-head as bikes from across the world face each other to make it through to the final. Who makes that decision? You. We've opened another round of public voting to find the very best of the best.
The final is held at EICMA, where a panel of experts pick the ultimate winner: this year's champion in the Battle of the Kings