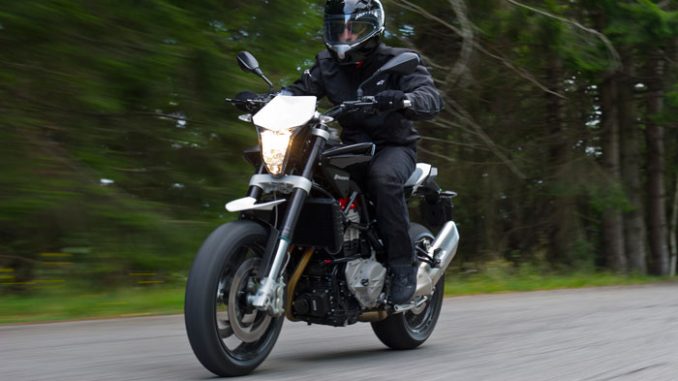 Click photos to enlarge.
They make great desktop images.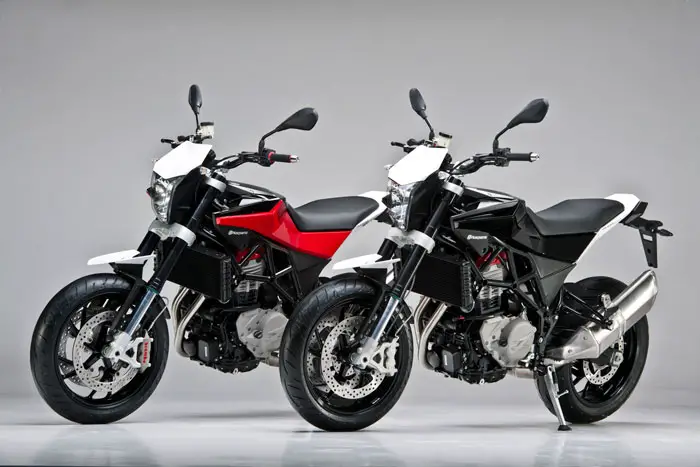 2012 Husqvarna Nuda 900R and Nuda 900 side-by-side
– 2012 Husqvarna Nuda 900

2012 Husqvarna Nuda 900 Review
Any colour you like, so long as it's black!

Arguably less aggressive and less menacing, the Nuda 900 sends out a clear statement of intent that performance, style and comfort can be designed and engineered into a motorcycle. Coming to a street near you.

Minimalist in design, tuned for performance and with a full range of touring accessories available such as a high windshield and adjustable panniers, the athletic Nuda 900 is a revolutionary new Husqvarna for the road.

We invite beginners and expert riders to come and experience a thrilling new motorcycle and become part of this latest chapter in our proud and successful heritage.
Small changes, big difference

Brought to life in the same 'Centro Stile' studios in Milan, the all-black 900cc Husqvarna shares its exposed trellis frame, high-level exhaust and sporty, dynamic looks with the premium priced 'R' model. Subtle but important differences include:

Lower ride height than the Nuda 900 R for a more relaxed, user-friendly ride
48mm Sachs front forks for a smoother feel
Fully-adjustable Sachs monoshock
Double-level seat for greater pillion comfort
Brembo four-piston radial callipers for ample stopping power

The Nuda 900 shares its engine with the 900 R but is styled to appeal to those who prefer a more relaxed, smoother ride, often with a pillion passenger.
Husqvarna Motorcycles is proud to unveil the first of a new generation of motorcycles: Nuda 900 and Nuda 900R. These exhilarating new models are the first to combine the history and race pedigree of Husqvarna with the technological innovations and engineering prowess of the BMW Group, and the flair of Italian styling. The results speak for themselves – the Nuda 900 and Nuda 900R – two motorcycles built with soul and passion that is backed up by high performance developed through years of competition experience. The first page in the story of the new Husqvarnas has been turned…

Nuda 900 and Nuda 900R – a taste of things to come
Developed as a crossover model between a supermoto and a naked bike, Husqvarna doesn't feel the Nuda can be shoehorned into any specific category. It delivers a sporty, dynamic ride where agility is balanced perfectly with performance in a bike with a bold and fresh look. Is it a supermoto? Is it a naked bike? The Nuda is whatever you want it to be, but above all it's a Husqvarna.


Nuda 900 and Nuda 900R – thrilling riding experience

2012 Husqvarna Nuda 900 Features and Benefits
Styling
With the factory situated to the north-west of Milan, Husqvarna's team of designers draw inspiration from the passion and flair that encapsulates this area of Italy. Inside the 'Centro Stile' a specially selected group of talented young designers work tirelessly to create the look that is unique to every Husqvarna, whether it be an on or off-road model.

Despite being minimalist in its design, every panel on the Nuda helps define its athletic body, giving it a sense of dynamic tension that flows the length of the bike and finishes on the tapered tail that mimics the aerodynamics of a sports bike. The exposed trellis frame, high level exhaust and red rocker cover hint at the performance that lies behind the curvy body, while the bike's unique headlight – its face on the road – glowers intent. Sporty yet elegant, sleek yet purposeful, the Nuda is bold Italian styling at its very finest.

The Nuda 900R proudly displays the company's distinctive red and white competition colours, made famous through race success, while the Nuda 900 has a more subtle black paint scheme.



Engine
Husqvarna understands that the heart and soul of a motorcycle comes from its engine and so choosing the right motor formed a crucial part of the Nuda project. A joint decision was made with BMW's engine development team in Munich to use the highly reliable and technologically advanced F 800 R motor as a basis for both the Nuda 900 and Nuda 900R – however it would then be adapted to meet Husqvarna's specific needs and demands.

Designed to reflect Husqvarna's sporting pedigree, this new configuration not only delivers a more aggressive racing feel and sound at maximum performance, it also vastly improves the power and torque characteristics of the engine, not to forget the higher capacity of 900cc Husqvarna has increased the power and torque (>100hp and 100Nm) while managing to retain the linear, fluid nature of the power delivery at small throttle openings and low revs.

Finally, to add the Husqvarna stamp to the engine, the rocker box cover is painted red – a feature common to all Husqvarna motorcycles.



Chassis
With its vast racing experience, Husqvarna knows which components to turn to for the ultimate performance and how to extract the maximum from a chassis. To further increase prestige of the Nuda 900R, Husqvarna has equipped its chassis with the very highest specification of components. The 48mm Sachs forks are fully adjustable and the Öhlins shock comes with compression, rebound and spring preload adjustment as well as a ride height adjustor. The Nuda 900R's suspension is designed to raise the bike's centre of gravity compared to the Nuda 900, increasing ground clearance and improving the handling to deliver a thrilling and responsive ride.

To create a motorcycle more suited to urban life or touring, the Nuda 900 comes with 48mm Sachs forks and a fully adjustable Sachs monoshock. The suspension is set-up to deliver a smoother ride and make the bike more relaxed and user-friendly while the seat has a double level to provide greater comfort also for the pillion

Husqvarna has made the ergonomics and handling a priority on both models of Nuda and as a result the bike's fuel tank is located under the seat to allow the weight distribution to be as close to the centre of gravity as possible. This work has created a bike that is both stable at high speed and agile at low speed that delivers a safe and comforting ride whatever the conditions.

This, along with the relaxed and natural riding position, is certain to be appreciated and exploited in full by both beginner and expert riders alike.

While both models have radial brake calipers, in order to further enhance its sporty appeal, the Nuda 900R comes with Brembo monobloc racing brakes with 320mm discs. Constructed out of a single piece of aluminium for maximum feel and power with minimal flex, these twin four-piston radial calipers give the Nuda 900R superior braking power on both the road and track. The Nuda 900 also features Brembo four-piston radial calipers and 320mm discs with sintered pads, delivering powerful, accurate and smooth braking feel whatever the conditions. Both models use the same 240mm disc and Brembo two piston caliper rear brake.

Weight is crucial in making a motorcycle agile and Husqvarna has managed to keep the mass of the Nuda 900 to less than 175kg (dry weight), thanks to clever engineering solutions and compact design.. Both models of Nuda come with a stainless steel exhaust muffler, however the 900R has a carbon fibre clamp, end cap and heat shield.



Accessories
Should owners of the Nuda 900 or Nuda 900R wish to take full advantage of the motorcycle's all-round ability, or simply want to personalize their machine, Husqvarna has developed a full range of accessories. For example those wishing to take their Nuda touring, either solo or with a pillion, either for a relaxed day loop in your home turf or multiple days with your friends, can perfectly enhance the experience with a high windshield kit and in their size easily adjustable sidebags.
---
2012 Husqvarna Nuda 900 – Specifications/Technical Details
US MSRP Price: See dealer for pricing.

Engine

Type Water cooled 4-stroke in-line two-cylinder, two overhead camshafts, dry sump lubrication
Bore / Stroke 84 mm x 81 mm
Capacity 898 cc
Rated output 77 kW (105 hp) at 8,500 rpm
Max. torque 100 Nm at 7,000 rpm
Compression ratio 13.0:1
Mixture control / Engine management Electronic intake pipe injection / digital engine management, two engine mappings (switchable by customer)
Emission control Closed-loop 3-way catalytic converter, emission standard EU3 Performance
Performance / Fuel consumption
Maximum speed Over 200 km/h
Fuel consumption over 100 km at constant 90 km/h 3.9 l/ 100 km [Trans]
Fuel consumption over 100 km at constant 120 km/h 5.3 l/ 100 km
Fuel type Unleaded super, minimum octane rating 95 (RON)
Electrical System
Alternator 390 W 12V
Battery 14 Ah, maintenance free
Power Transmission
Clutch Multiple-disc clutch in oil bath, mechanically operated
Gearbox Constant mesh 6-speed gearbox integrated into crankcase
Drive Endless O-ring chain with shock damping in the rear hub
Chassis / Brakes
Frame Tubular steel trellis main frame and rear frame, removable passenger footpegs
Front wheel location / suspension Sachs Up Side Down fork, ø 48 mm
Rear wheel location / suspension Cast aluminium dual swingarm, cantilever with Sachs shock absorber, spring preload mechanically adjustable, rebound damping adjustable
Travel front / rear 210 mm / 180 mm
Wheelbase 1,495 mm
Castor 101 mm
Steering head angle 65.5°
Wheels Cast aluminium wheel
Rim, front 3.5″x17″
Rim, rear 5.5″x17″
Tyres, front 120/70 ZR 17
Tyres, rear 180/55 ZR 17
Brake, front Brembo system: double floating discs, ø 320 mm, 4 – piston radial calipers with sintered pads
Brake, rear Brembo system: single disc, ø 265 mm with floating caliper
Dimensions / Weight
Seat height, unladen weight 870 mm (860 mm low seat-accessory)
Inner leg curve 1,910 mm (1,890 mm low seat-accessory)
Unladen weight, road ready, fully fueled 1) 195 kg
Dry weight 174 kg
Permitted total weight 391 kg
Payload (with standard equipment) 196 kg
Usable tank volume 13 l
Reserve approx. 3 l
Length 2,190 mm
Height (not inc. mirrors) 1,220 mm
Width (inc. mirrors) 895 mm
---
2012 Husqvarna Nuda 900 Press Release:
HUSQVARNA NUDA 900 R
In the previous time at the Milan EICMA Show last November Husqvarna Motorcycles presented the Mille 3 concept; which unequivocally proclaimed our intention to break into the on-roadmarket.

Husqvarna is about to write a new and important chapter in its history, producing the first powerful two-cylinder road bike which we will be presented today in its almost final build.

Why a street bike from Husqvarna? Actually there is a long tradition of street bikes for Husqvarna – before the famous area of off-road products. So the step for the brand is not really that big. In addition we see a great potential to grow in this direction , providing thrilling products including true Husqvarna DNA
In recent weeks the media all around the world have shown the sketches and then pictures of a prototype.
The relationship between BMW and Husqvarna is without doubt stronger and more harmonious than ever, and this new product is the first in a completely new segment for our more than one hundred year old brand.

This 900 combines Husqvarna's traditional sporting nature with BMW's engineering, technology and reliability. And this is just the start!

Our future road bikes will continue to have Husqvarna's DNA and, above all, its concept of riding based on pleasure, power and flexibility.
Husqvarna is the newcomer to the BMW Group and we aspire to attract and engage young motorcyclists with our innovative and thrilling concept of the road motorcycle as a means of achieving pure riding pleasure.

Choosing the right engine was vital in an ambitious project like this. The core is the parallel 800cc two cylinder engine also seen on the BMW F800R, but modified to give the bike a more aggressive, racing character.

To reach this aim the engine was upgraded, increasing the capacity to 900cc and many internal components were modified to improve the performance of the power and torque curve.

This new model will have more than 100 horsepower, will be very easy to handle thanks to its great lightness and the linear, fluid nature of the engine which bursts powerfully and controllable into action at the touch of the throttle.

The components will be top-notch too, just like our Husqvarna racing bikes: fork from Sachs, Öhlins shock absorber (both fully adjustable), Brembo Racing brakes, and many small details in carbon fibre, sport exhaust system with an exhaust valve and much more.

All this comes with an aesthetically pleasing appearance and a sexy, seductive and typically Italian style.

The bold shapes of the body are a consistent evolution of the new style and design direction introduced by Husqvarna's design team (some aspects of the chassis will remind you of the Mille 3 concept) and demonstrate the company's unique and unquestionable ability to innovate.

The design of this latest bike is brand new. The characteristic shape of the side panels, the tension in the vibrant surfaces and the sculpted volumes define an athletic and curvy body.

Dynamism, agility and lightness are all balanced harmoniously.

The air intakes incorporated at the front of the body and the tapered tail, almost like a racing bike, highlight the unique design of this new model.

The technical components, along with the engine, the trellis frame and the visible radiator are a prelude of sportiness, performance and, above all, fun.

All this comes in the typical colors of our competition bikes. A color combination which is both: Sporty and elegant at the same time.
This is the Husqvarna style!

This is the first bike of a new era of Husqvarna which will bring some more road bikes besides the competition bikes and we are really proud of this new model!

The bike will be in the showrooms by the end of the year.

As mentioned above, the bike shown at the BMW Innovation Day is pre-series but it is very similar to the final product.
You can call it Supermoto if you want, or Naked … but we prefer just to call it: NUDA 900 R.