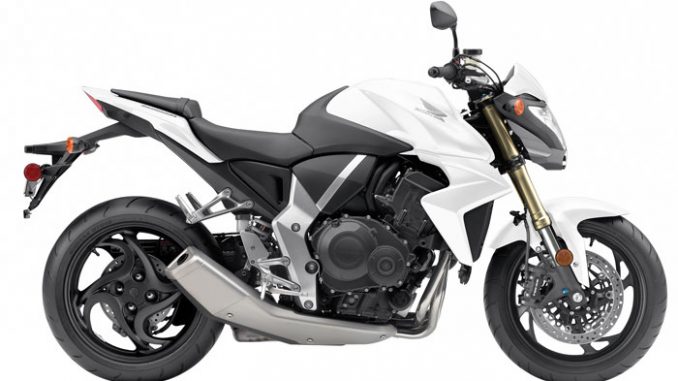 You are here: TMW — 2013 Motorcycle Models — Honda — 2013 Honda CB1000R Review
Click photos to enlarge. Our big, clean bike pics make great desktop wallpaper.
2013 Honda CB1000R Review

2013 Honda CB1000R
Power Performer.
Just one look tells you the CB1000R recreates the classic Honda formula for high performance in an unfaired four-cylinder bike-a design that has been well tested and validated over the years. The clean, essentials-only format perfectly frames the fuel-injected four-cylinder 998cc powerplant that's fairly overflowing with loads of right-now power. The unique chassis incorporates a single-sided swingarm with a high-performance single-shock rear suspension that helps make the CB1000R an exclusive choice in today's market. Whether you call it a naked bike, a street fighter or a race bike in civilian clothes, the CB1000R serves as an all-around high-performance motorcycle that's ready to take you where you want to go.
The formula is simple: We built a special chassis that puts the 998cc engine out front and center, and lets you sit more upright. The result is one of the most versatile open-class bikes the world has ever seen, as comfortable on a long trip as it is confident on the boulevard. When you need one bike that can do it all, and do it exceedingly well, the CB1000R is the machine you want in your corner.

The stunning CB1000R packs exhilarating litre-class Super Sports performance into a compact and muscular-looking form that looks fast even standing still. It delivers breathtaking acceleration, light, responsive handling and invigorating thrills at every twist of its throttle. This is combined with smooth, easy control and nimble handling that's just as enjoyable along winding roads as it is on city streets.
In 2011 the CB1000R was refreshed and updated with a new thicker aluminium handlebar and a new LED position light. In 2013 a brand new Matt White colour version further enhances its image as one of the most exciting and well designed Performance Naked machines on the road.

2013 Honda CB1000R Key Features
New for 2013
– Available in Cool Pearl White.
– New Matt White version.
– Thick aluminium handlebar for enhanced look and feel.
– Unique front light array features a triangular multi-reflector headlight integrated into a compact bikini cowl, and a 7-bulb LED position light.
– Compact, lightweight 998cc liquid-cooled fuel-injected inline-4 engine is tuned for dynamic low-to midrange performance.
– Magnesium cylinder head and ACG covers reduce engine weight.
– Angular, 'mass forward' design is emphasised by a short compact tail and positions rider forward for a sporty ride.
– Advanced gravity die-cast aluminium Mono-Backbone frame contributes to agile, sporty handling.
– Semi-underslung stainless steel exhaust system lowers centre of gravity and adds to light, responsive handling as well as delivering an exhilarating sound.

– Attractive 17″ wheels feature eye-catching swept 4-spoke design.
– Swift-handling, fully adjustable 43mm inverted front fork and cast aluminium Monoshock Pro-Arm swingarm contribute to precise control.
– Wide, high-performance Super Sports-class radial tyres deliver responsive high-speed cornering control.
– Lightweight 310mm floating front disc brakes with radial-mount 4-piston calipers and 256mm dual-piston caliper rear disc brake create a powerful stopping force.

– Combined-ABS version features 3-piston front brake calipers and advanced Antilock Brake System for extra assurance in all braking situations.

Superbike Heart.

The CB1000R is built around a superbike-strong 998cc DOHC inline four engine that's perfect for street riding, with plenty of torque and power on tap. Since it's a four cylinder, it's plenty smooth for longer rides too.

When You've Got It, Flaunt It.

It'd be a shame to cover up an engine like the CB1000R's, so we've put it out front and center so you and everyone else can enjoy it. Then our designers gave the CB1000R just enough styling touches (side radiator shrouds, fork-mounted cowl fairing, cast aluminum four-spoke wheels) to really set it apart. Check it out—everyone else will.

Great Bones.

The CB1000R offers exceptional handling, thanks to a Gravity Die Cast mono-backbone aluminum chassis that's light and strong. A fully adjustable inverted fork and adjustable Pro Link rear suspension with a single-sided swing arm further refine the handling package.
2013 Honda CB1000R Features and Benefits

All Digital Instrumentation
CB1000R's high-tech, all-digital instrument display features tachometer, plus LCD readouts for speedometer, coolant temperature, odometer, two tripmeters and a clock, mpg and average fuel consumption.
Fully Adjustable 43mm Inverted Fork
A bike as powerful as the new CB1000R needs top-notch suspension components. That's why we gave it a stout, large-diameter 43mm inverted fork that's fully adjustable. And it's also one of the reasons why the CB1000R handles so well.
Adjustable Brake and Clutch Levers
CB1000R's adjustable brake and clutch levers let you fine tune for the riding environment, and tailor fit the controls to your riding style.
LED Position Light
Uniquely styled, the LED Position Light is a compelling design feature that shows everyone that this is not any ordinary motorcycle. It's a Honda.
Radial Front-Brake Calipers
The CB1000R's radial-mounted monoblock front-brake calipers are stiffer, for better brake feel and performance. Each caliper uses four pistons that squeeze lightweight 310mm floating discs for exceptional stopping power.
PGM-FI Fuel Injection
The CB1000R's Programmed Fuel Injection (PGM-FI) ensures crisp throttle response and both low- and high-rpm performance. In addition, there's no choke to mess with, and the CB1000R runs perfectly at all altitudes and temperatures, even on cold mornings.
998cc DOHC Engine
The CB1000R uses a 998cc inline-four engine based on a previous generation CBR1000RR, but is tuned to produce more torque and horsepower in the midrange and bottom end—the perfect combination for a machine like this.
Four-Into-One Exhaust
Looks great, sounds great, and helps increase performance: How's that for a win-win-win situation? The four-into-one header with its flowing pipes pays homage to classic Honda inline fours of the 1970s like the CB400 Supersport. Some things just never go out of style.
Gravity Die-Cast Aluminum Mono-Backbone Frame
Gravity Die-Cast technology gives the CB1000R a chassis that's strong, but light. The single backbone architecture links the steering head to the swingarm pivot, but without any frame spars to interrupt the CB1000R's lines.
Single-Sided Swingarm
Proven on Honda's endurance racebikes, the CB1000R's single-sided swingarm not only looks awesome, but makes rear-wheel maintenance easier as well.
Styling

The CB1000R has a compact and dynamic form with a distinctive 'mass-forward' orientation that projects a 'ready to pounce' image. Its frontal design is characterised by a compact bikini cowl surrounding a brilliant three-corner shaped multi-reflector headlight. Underneath, a distinctive LED position lamp gives it an unmistakable presence on the road. Behind the cowl a high-tech, fully digital meter panel provides three large LCD readouts of all operating information. The tachometer features an instant multi-segment readout of engine speed, displayed in a wide, sweeping bar that extends across the top of the display.
The short, slim seat and tail cowl take obvious design cues from the CBR1000RR Fireblade and the powerful RC212V MotoGP racer. The seat is roomy and tapers towards the front, integrating smoothly with the side covers for a compact profile and comfortable riding position. The sleek, upswept tail cowl, supported by a strong and rigid cast aluminium rail, provides room for a passenger and integrates an attention-getting LED tail-light.
The lightweight form is matched by sharply sculpted bodywork. Mechanical parts like its magnesium head and ACG covers and natural finish aluminium pivot plates create a high-tech look of purposeful performance, accentuated by the eye-catching array of nickel-plated bolts that surround the engine's side covers. Stylish 17″ swept 4-spoke wheels place a strong accent on the CB1000R's exciting performance potential.
Remarkably, the CB1000R looks and feels more like a compact mid-sized sportsbike than the full-bodied litre-class performer it really is. Its compact dimensions and easy reach to both the ground and its controls are outstanding in this class of Naked road machines. Its form locates the rider closer to the steering head for a riding position that shifts the CB1000R's balance of weight slightly forward onto its front tyre, achieving a greater feeling of crisply responsive control.
Colours

For 2013, the CB1000R comes in four colour versions that emphasise its mix of cool urban style and powerful performance. These include a stunning new Matt White version.
– Matt White
– Mat Cynos Gray Metallic
– Pearl Cool White
– Tricolour
Engine

The CB1000R features a compact 998cc liquid-cooled fuel-injected inline-four engine originally derived from the World Superbike Championship-winning 2007 CBR1000RR Fireblade. It is tuned to deliver sharp acceleration and full-bodied torque from the lower reaches of its rev range as well as breathtaking and smoothly linear power further up the powerband. Features such as an IACV (intake air control valve) keep excessive torque reaction and jerky low-speed performance to a minimum, ensuring smooth, enjoyable operation. The light-action hydraulic clutch takes full advantage of the engine's strong low-end torque and can be engaged at engine speeds of less than 2,000rpm without fear of engine stalling. The combination of optimised power-to-weight ratio and a wide powerband means that the CB1000R is capable of dynamic and satisfying thrusts of acceleration from anywhere in its powerband.
Optimised mass centralisation is key to the CB1000R's quick, neutral handling, and is greatly enhanced by a low-slung system that concentrates most of its weight directly under the engine.
This results in significantly quicker response to steering inputs. The exhaust design also allows maximum cornering clearance It includes a built-in oxygen sensor and 300-cell catalyser element that combine with the engine's advanced fuel injection system to ensure low emissions while maintaining strong and smooth performance.
Chassis

The CB1000R is built on a Mono-Backbone gravity die-cast (GDC) aluminium frame that holds the engine as a stressed member in a rigid diamond configuration. Strong, rigid and lightweight it adds to the motorcycle's sharp, smooth handling and instant response to changes of direction.
The overall design places a strong emphasis on optimal mass centralisation. Heavier components, notably the engine, main frame sections and exhaust system, are positioned as close as possible to the machine's rolling centre of mass while those sections located farther away from its centre are designed to be as lightweight as possible.
Like the CBR1000RR Fireblade, the CB1000R features a sturdy and responsive 43mm inverted HMAS cartridge-type front fork that delivers superbly responsive handling through tight corners. Providing 120mm of smoothly damped wheel travel, its fork tubes are also fully adjustable for preload, compression and rebound damping, allowing customised control over riding performance. At the rear, an adjustable Monoshock damper and single-sided cast aluminium Pro-Arm swingarm provide 128mm of smoothly damped travel for assured handling balanced with compliant comfort.
Super Sports-class wheels, tyres and brakes enhance the bike's agile control and easy handling. The standard version combines a pair of radial-mount four-piston front calipers with a compact dual-piston caliper slowing a 256mm disc at the rear, creating smooth, responsive braking control. The CB1000R is also available in a Combined-ABS configuration that couples the balanced braking control of a Combined Brake System with the extra reassurance of an ABS.


Optional equipment

Honda Access Europe has created an extensive range of accessories, specially designed to match the stunning styling and performance of the CB1000R. These include:
– An Averto alarm kit
– Stylish titanium-look accessories including:
– A side cover set
– An undertray kit
– A meter visor kit
– An oil filter cover kit
– A radiator shroud kit
– A rear brake air guide kit
– Colour-matched clutch cover ornament kits
– Colour-matched crankcase cover ornament sets
– Colour-matched seat cowls
– Wheel sticker sets
– A crankcase ring set
– A matt black meter visor kit
– A matt black radiator shroud kit
– A carbon-fibre hugger
– A carbon-fibre swingarm protector
– A carbon-fibre front mudguard
– Colour coordinated Alcantara rider and passenger seats
– 3D CB1000R logo sets
– A magnetic tankbag
– A cargo net
– A maintenance stand
– A U-lock
– Indoor and outdoor motorcycle covers
– A fuel filler pad kit
– Heated grips
---
2013 Honda CB1000R – USA Specifications/Technical Details
US MSRP Price: $11,760 USD
Model: CB1000R
Engine Type: 998cc liquid-cooled inline four-cylinder
Bore and Stroke: 75.0mm x 56.5mm
Compression ratio: 11.2:1
Valve Train: DOHC; four valves per cylinder
Induction: PGM-FI with automatic enrichment circuit and 36mm throttle bodies
Ignition: Computer-controlled digital transistorized with 3-D mapping
Transmission: Close-ratio six-speed
Final Drive: #530 O-ring-sealed chain
Suspension
Front: 43mm inverted HMAS cartridge fork with spring preload, rebound and compression damping adjustability; 4.3 inches travel
Rear: Single gas-charged HMAS shock with spring preload and rebound damping adjustability; 5.0 inches travel
Brakes
Front: Dual radial-mounted four-piston calipers with full-floating 310mm discs
Rear: Single-caliper 256mm disc
Tires
Front: 120/70ZR-17 radial
Rear: 180/55ZR-17 radial
Wheelbase: 56.9 inches
Rake (Caster Angle): 25.0°
Trail: 99.0mm (3.9 inches)
Seat Height: 32.1 inches
Fuel Capacity: 4.5 gallons, including 1.0-gallon reserve
Estimated Fuel Economy**: 37 mpg
Color: Cool Pearl White
Curb Weight*: 485 pounds
*Includes all standard equipment, required fluids and full tank of fuel-ready to ride.
**Miles per gallon values are calculated estimates of fuel consumed during laboratory exhaust emissions tests specified by the EPA, not during on-road riding. Use for comparison purposes only. Your actual mileage will vary depending on how you ride and maintain your vehicle, weather, road conditions, tire pressure, cargo and accessories, rider and passenger weight, and other factors.
Meets current CARB and EPA standards.
Specifications subject to change.

---
2013 Honda CB1000R – Canadian Specifications/Technical Details
Canada MSRP Price: TBA CDN
TBA
---
2013 Honda CB1000R – UK Specifications/Technical Details
UK RRP: £TBA (Prices are recommended and inclusive of VAT @ 20% and delivery)
ENGINE
Type Liquid-cooled 4-stroke 16-valve DOHC inline-4
Displacement 998cc
Bore Stroke 75 56.5mm
Compression Ratio 11.2 : 1
Max. Power Output 92kW/10,000min-1 (95/1/EC)
Max. Torque 99Nm/7,750min-1 (95/1/EC)
Idling Speed 1,200min-1
Oil Capacity 3.6L

FUEL SYSTEM
Carburation PGM-FI electronic fuel injection
Throttle Bore 36mm
Aircleaner Dry, cartridge-type paper filter
Fuel Tank Capacity 17L (including 4-litre LCD-indicated reserve)
Fuel Consumption 17 km/l (48mpg) (WMTC Mode #)
ELECTRICAL SYSTEM
Ignition System Computer-controlled digital transistorised with electronic advance
Ignition Timing 5° BTDC (idle) ~ 50° BTDC (10,000min-1)
Sparkplug Type NGK: IMR9E-9HES (NGK); VUH27ES (DENSO)
Starter Electric
Battery Capacity 12V/8.6AH
ACG Output 340W
Headlights 12V; 55W (low) / 60W (high)
DRIVETRAIN
Clutch Wet, multiplate with coil springs
Clutch Operation Hydraulic
Transmission Type 6-speed
Primary Reduction 1.604 (77/48)
Gear Ratios 1 2.538 (33/13)
2 1.941 (33/17)
3 1.579 (30/19)
4 1.363 (30/22)
5 1.217 (28/23)
6 1.115 (29/26)
Final Reduction 2.750 (44/16)
Final Drive #530 O-ring sealed chain

FRAME
Type Mono-backbone; cast aluminium

CHASSIS
Dimensions (L W H) 2,105 805 1,095mm
Wheelbase 1,445mm
Caster Angle 25°
Trail 98.7mm
Turning Radius 2.8m
Seat Height 825mm
Ground Clearance 130mm
Kerb Weight 217kg (F: 106 R: 111kg) *222kg (F: 108kg; R: 114kg)
Max. Carrying Capacity 188kg
Loaded Weight 405kg *410kg

SUSPENSION
Type Front 43mm inverted HMAS cartridge-type telescopic fork with stepless preload, compression and rebound adjustment, 120mm cushion stroke

Rear Monoshock with gas-charged HMAS damper featuring 10-step preload and stepless rebound damping adjustment, 128mm axle travel
WHEELS
Type Front Hollow-section 4-spoke cast aluminium
Rear U-section 4-spoke cast aluminium
Rim Size Front 17M/C MT3.5
Rear 17M/C MT5.5
Tyre Size Front 120/70 ZR17M/C (58W)
Rear 180/55 ZR17M/C (73W)
Tyre Pressure Front 250kPa
Rear 290kPa (290kPa with passenger)

BRAKES
Type Front 310 4.5mm dual hydraulic disc with 4-piston (*Combined 3-piston) calipers, floating rotors (*ABS) and sintered metal pads
Rear 256 5mm hydraulic disc with dual-piston caliper (*ABS) and sintered metal pads
*Combined-ABS version

All specifications are provisional and subject to change without notice.
# Please note that the figures provided are results obtained by Honda under standardised testing conditions prescribed by WMTC. Tests are conducted on a rolling road using a standard version of the vehicle with only one rider and no additional optional equipment. Actual fuel consumption may vary depending on how you ride, how you maintain your vehicle, weather, road conditions, tire pressure, installation of accessories, cargo, rider and passenger weight, and other factors.

---
2013 Honda CB1000R – Australia Specifications/Technical Details
Australia MSRP Price: $TBA AU
TBA