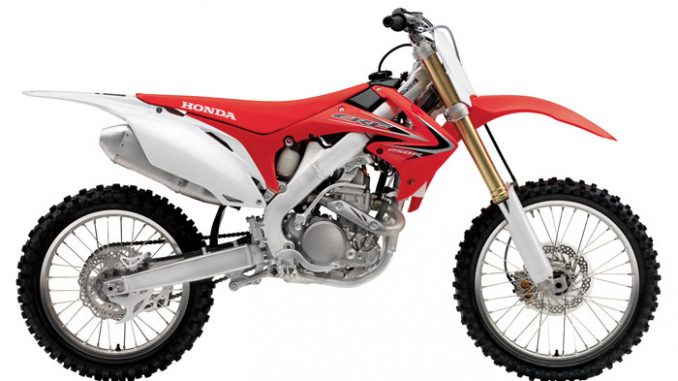 Click photos to enlarge. Our big, clean bike pics make great desktop wallpaper.
2013 Honda CRF250R Review

2013 Honda CRF250R
On The Gas!
Superb handling and excellent power stand as the hallmarks of the CRF250R, and the revised 2012 model ups the ante in the 250 class. A new cylinder head and 46mm throttle body produce a broadened powerband featuring more low-end and midrange torque for an amazing, right-now hit of power. In addition, a new suspension linkage along with updated suspension settings front and rear bestow improved tracking and more precise handling upon the CRF250R, enhancements that make a great-handling bike even better than before. In addition to those changes, longer and wider footpegs deliver more support and Dunlop's premium MX51 tires cap off championship-caliber credentials that make the CRF250R the bike to beat in 2012.
Anyone who's ever raced in the Lites class knows that your bike better be perfect if you expect to win. With a 450, all that power can help you erase a mistake, but on a 250 if you give an inch the rest of the pack is going to use you for traction.

That's why the new 2013 CRF250R doesn't give an inch. We took the 2012 Lites East AND West SX champion and gave it an even sharper edge. Updates include a larger high speed compression adjuster on the shock for improved low-speed damping, along with a stiffer fork spring up front and more high-speed compression damping adjustability in the rear. New Dunlop MX51 tires improve drive feeling and save weight, and new disc covers channel some of the 450's style into the 250 class.

Of course we've kept the features that put the CRF250R on the top podium box all across the country: its twin-spar aluminum frame, Unicam engine with fuel injection (new ECU settings this year for better low- and mid-rpm performance), and the exclusive Honda Progressive Steering Damper. All-in-all, it's the most dialed-in 250 we've ever produced, Which means it's way more dialed than anything else on the track.
Honda's engineers focused their efforts around the CRF250R's engine and suspension performance. The engine's response at low and mid-rpm has been boosted thanks to recalibration of the fuel injection, while the rear shock has been revised with new internals and damping rates. The front fork has a new, stiffer spring with damping to match. Taking advantage of the suspension's upgraded performance are new Dunlop tyres; offering improved traction the rear also saves weight.

Light Makes Might.

Compact and batteryless, the CRF250R's Programmed Fuel Injection (PGM-FI) system optimizes performance, and improves fuel efficiency.

Totally Dialed.

New front and rear suspension internals, stiffer fork springs, and revised high-speed compression adjustments in the rear help the CRF250R hook up and handle better than ever.

The Power to Win.

Honda's Unicam engine is the benchmark in the four-stroke MX class. New settings for the electronic fuel injection (EFI) give you improved performance in the low- and mid- ranges this year.

The Honda Difference.

Developed by our factory racing team, the Honda Progressive Steering Damper is lightweight, compact and enhances cornering ability while reducing rider fatigue.

Nothing Else Even Comes Close.
Balance is the key to winning in the Lites class. You need a bike that offers performance, responsiveness and rider-friendly ergonomics, all in equal amounts, the more refined the better. And that's exactly what the 2013 CRF250R offers. Last year we gave it some major engine upgrades; this year we've fine-tuned the suspension. The result is a machine that a wide range of riders can use to full advantage on the track. Add in the new Dunlop MX51 tires designed specifically for this bike and from the time the first start gate drops you'll know you're on the best Lites-class MX bike you've ever ridden.

Honda Genuine Accessories†
– American Honda will also be offering a lineup of Honda Genuine Accessories for the 2012 CRF250R. The HRC-branded line will include performance accessories such as HRC PGM-FI Tuning Kit, Red Cylinder Head Cover, Aluminum Radiator Brace, White ACG Cover, White Clutch Cover, Billet Duraluminum Triple Clamp, Red Billet Duraluminum Inspection Plug Cap, Red Billet Duraluminum Front Brakeline Clamp, Red Billet Duraluminum Oil Filler Cap, Red Billet Duraluminum Oversize Handlebar Holder, Red Billet Duraluminum Rear Brake Adjuster Clevis, Red Billet Duraluminum Front Master Cylinder Cap, Red Billet Duraluminum Rear Master Cylinder Cap, Red Billet Duraluminum Front Wheel Spacer Set, Red Billet Duraluminum Rear Wheel Spacer Set, Rear Master Cylinder Guard, Red Billet Duraluminum Dipstick, Red Billet Duraluminum Quick Adjuster Axle Block. Select accessories will also fit the 2009-2012 CRF450R.
† WARRANTY: Because we're so confident in the quality of each of our Honda Genuine accessories, we're pleased to offer one of the best warranties in the industry. One-year warranty begins on the day accessories are purchased by the customer.
2013 Honda CRF250R Features and Benefits
– New cylinder head and 46mm throttle body produce a broadened powerband featuring more low-end and midrange torque.
– Revised engine tuning produces added response and midrange power.
– Updated suspension settings front and rear for improved tracking and more precise handling.
– New footpegs are wider and longer for more support, and are now silver color.
– New front axle collars add rigidity to the front end, increasing steering precision.
Engine/Drivetrain
– Liquid-cooled four-valve Unicam® 249cc engine.
– Engine is designed for improved power delivery from a compact package that lowers the center of gravity and enhances mass centralization for improved handling.
– Forged slipper-piston material permits a thinner crown. Low-friction surface treatment ensures high-rev potential.
– Programmed Fuel Injection (PGM-FI) system utilizes a 46mm throttle body with 12-hole injector fed by lightweight 50-psi pump to ensure optimum fuel atomization and precisely targeted fuel charge. System also improves fuel consumption.
– PGM-FI system monitors throttle position, intake air and coolant temperatures and manifold pressure to accurately map fuel charge and ignition spark, significantly improving partial-throttle response and helping to ensure excellent rideability.
– Two crankshaft position sensors quickly determine crank position to provide quick starts, hot or cold.
– Kashima coating applied to the clutch basket and clutch center improves clutch life and feel.
The CRF250R's 249cc, liquid-cooled four-valve Unicam engine has always impressed riders of all abilities with its broad spread of useable power, everywhere in the rev-range, plus a pin-sharp and instant throttle response. Bore and stroke remains 76.8mm x 53.8mm, with compression ratio at 13.2:1; the 30.5mm titanium inlet valves and 25mm steel exhaust valves are unchanged.
For improved drive and traction out of corners revised mapping of the PGM-FI fuel injection has boosted low/mid-range torque and power, and also allows the engine to make a little more power at peak rpm. To meet FIM noise regulations the rear exhaust muffler also features a new 'Triangle Punch' design on the internal baffle. A Honda patent, the pattern is highly efficient at passing exhaust gas to the glass wool wrapping, and at high rpm reduces noise output by 2dB with no loss of performance.
Chassis/Suspension
– Revised fork valving offers improved balance and bottoming resistance.
– Revised shock valving helps deliver optimum chassis balance and improved suspension action.
– Honda Progressive Steering Damper (HPSD)-equipped Twin-Spar Aluminum Frame with forged-aluminum steering head.
– HPSD features a compact damper attached to the lower triple clamp and the steering head to allow more aggressive steering characteristics and assist straight-line handling. Damping action smoothly progresses as handlebar deflection increases, which produces very natural steering characteristics and feel.
– Pro-Link® Rear Suspension features exclusive Showa integrated-reservoir shock absorber with all-new damping.
– Brake system integrates the rear master cylinder and fluid reservoir, eliminating the separate reservoir and hose.
– Link-type front-brake master cylinder and a lightweight brake rotor provide strong braking.
The CRF250R's steering geometry, aluminium twin-beam frame and swingarm are unchanged, but the Showa 48mm inverted cartridge forks feature new springs with a stiffer (from 4.4 to 4.6 Kg/cm) rate, for more precise handling through extra-rough sections of track. The forks' internal sub-piston diameter has increased from 35mm to 37mm, for improved low speed damping. Both rebound and compression damping can be adjusted through 16 positions.
A redesigned internal damper adjuster bolt (up 2mm in diameter to 11.5mm), guide and coil spring improves the Showa rear shock's high-speed control and bump absorption. Damping rates are firmer to suit. The Pro-Link rear suspension has 12.3in travel, plus spring preload adjustment and 17-position rebound adjustment. Compression damping is separated into 13-position (low-speed) and 3.5 turns (high speed).
The Dunlop MX51 Geomax 81/100-21 front tyre features a subtle tread pattern change that helps traction and aids rider confidence. The 100/90-19 MX51 tyre saves 400g of all-important unsprung weight from the rear wheel, using a lighter inner structure, with no loss of rigidity or grip. Protecting the front 240mm wave pattern disc and two-piston brake caliper is a new, two-piece cover identical to that fitted to the 2013 CRF450R; the rear 240mm wave-pattern disc and single-piston caliper also gets a CRF450R-spec cover.
Additional Features
– Compact muffler lowers sound emissions to 94 dB.
– Engine stop switch features an integrated LED pre-ride check indicator. This confirms the PGM-FI system is operating normally.
– PGM-FI tuning connectors located behind radiator shroud for easy access.
– Rider ergonomics are optimized by adapting the handlebar, seat and footpeg height to place the rider's legs at the narrowest part of the frame for improved comfort and handling feel.
– Adjustable front-brake lever for improved control.
– Quick-adjust clutch perch for easy cable adjustment.
– Aluminum Renthal handlebar (971 bend) is rubber-mounted to help reduce rider fatigue and improve comfort.
– Front brake rotor cover shields against damage from roost and rocks.

2013 Honda CRF250R Key Features

94db Exhaust System – The CRF250R's silencer teams with the bike's fuel-injection throttle body and injector to give you superior low- and midrange power. Legal for AMA competition, it's fully integrated into the engine's tuning concept.
Rear Suspension – The CRF250R's fully adjustable rear suspension gets a larger high speed compression adjuster on the shock for improved high speed damping and bump absorption.
Lightweight Aluminum Frame – The CRF250R's race-inspired twin-spar aluminum frame revolutionized MX chassis tech when it first appeared in 1997 on the radical CR250R and has continued to do so every year since. The CRF250R's frame boasts optimized torsional and lateral rigidity with minimized weight and maximum durability, ensuring razor-sharp handling performance.
Programmed Fuel Injection – The CRF250R's Honda fuel injection makes a HUGE difference with a bike in this class. New settings this year improve low- and mid-range performance. And fine-tuning it to specific track conditions is easier than ever with our Genuine Accessory HRC Fuel-Injection Setting Tool.
Honda Progressive Steering Damper (HPSD) – The HPSD is designed to work in conjunction with the front and rear suspension to give you unmatched steering precision under braking, acceleration, and in the whoops, ruts, and hardpack. There's nothing like it!
Revised Front Suspension – A Showa 48mm inverted front suspension features full adjustability for rebound and compression damping. For 2013, a new, larger diameter sub piston improves low-speed damping for a more controlled, better balanced ride.
Works-Style Brakes – Honda's MX bikes have always had great brakes on the track, and the 2013 CRF250R continues that tradition. Front and rear discs with factory-spec master cylinders help haul you down fast, so you can outbrake the other guy into the turns.
New Dunlop MX51 Tires – We designed the 2013 CRF250R's suspension to perfectly coordinate with these premium tires. And the tires themselves are brand new too, lighter weight and designed specifically for your new CRF. You'll experience improved traction front and rear, especially in corners and under acceleration.
---
2013 Honda CRF250R – USA Specifications/Technical Details
US MSRP Price: $TBD USD
Model: CRF250R
Engine Type: 249cc liquid-cooled single-cylinder four-stroke
Bore and Stroke: 76.8mm x 53.8mm
Compression ratio: 13.2:1
Valve Train: Unicam, four-valve; 30.5mm intake, titanium; 25mm exhaust, steel
Induction: PGM-FI, 46mm throttle body
Ignition: Full transistor with electronic advance
Transmission: Close-ratio five-speed
Final Drive: #520 chain; 13T/49T
Suspension
Front: 48mm inverted Showa cartridge fork with 16-position rebound and 16-position compression damping adjustability; 12.2 inches travel
Rear: Pro-Link Showa single shock with adjustable spring preload, 17-position rebound damping adjustability, and compression damping adjustment separated into low-speed (13 positions) and high-speed (3.5 turns); 12.3 inches travel
Brakes
Front: Single 240mm disc with twin-piston caliper
Rear: Single 240mm disc
Tires
Front: Dunlop MX51 80/100-21
Rear: Dunlop MX51 100/90-19
Wheelbase: 58.6 inches
Rake (Caster Angle): 27°23′
Trail: 118mm (4.6 inches)
Seat Height: 37.4 inches
Ground Clearance: 12.7 inches
Fuel Capacity: 1.5 gallons
Color: Red
Curb Weight*: 229 pounds
*Includes all standard equipment, required fluids and full tank of fuel-ready to ride.
Consult owner's manual for optional racing parts.

---
2013 Honda CRF250R – Canadian Specifications/Technical Details
Canada MSRP Price: TBA CDN
TBA
---
2013 Honda CRF250R – Europe/UK Specifications/Technical Details
European MSRP Price: See dealer for Pricing.
UK RRP: £TBA (Prices are recommended and inclusive of VAT @ 20% and delivery)
ENGINE
Type 4 stroke single uni-cam
Displacement 249.4cc
Bore x Stroke 76.8 x 53.8
Compression Ratio 13.2:1
Max. Power Output 27.9KW @ 11,000 r/min
Max. Torque 26.2Nm @ 8,500 r/min
FUEL SYSTEM
Carburation FI
Fuel Tank Capacity 5.7L
ELECTRICAL SYSTEM
Ignition System Full transister
Starter Kick
DRIVETRAIN
Clutch Multi plate wet clutch
Transmission 5 speed, constant mesh
Primary Reduction 3,166
Gear Ratios
1st 2,357
2nd 1,888
3rd 1,555
4th 1,333
5th 1,136
Final Reduction 3.769 (49/13)
Final Drive Chain

FRAME
Type Aluminium twin tube

CHASSIS
Dimensions (LxWxH) 2,181 x 827 x 1,271mm
Wheelbase 1,489mm
Caster Angle 27?
Trail 117mm
Seat Height 951mm
Ground Clearance 322mm
Kerb Weight 105kg
SUSPENSION
Type Front: 48mm inverted, 310mm stroke (275mm axle
travel), fully adjustable
Rear: Pro-link, Fully adjustable mono shock, 133mm stroke

WHEELS
Type Wire spoke
Rim Size Front: 21 x 1.60
Rear: 19 x 1.85
Tyre Size Front: 80/100-21
Rear: 100/90-19
BRAKES
Type Front: 240mm Hydraulic disc
Rear: 240mm Hydraulic disc

All specifications are provisional and subject to change without notice.

---
2013 Honda CRF250R – Australia Specifications/Technical Details
Australia MSRP Price: $TBA AU
TBA