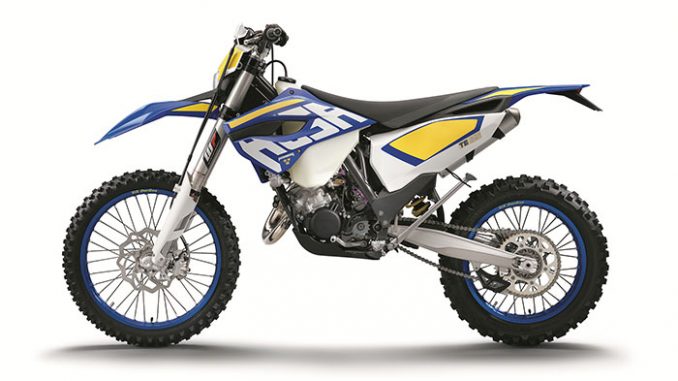 Click photos to enlarge. Our big, clean bike pics make great desktop wallpaper.
2015 Husqvarna TE125 Review

2015 Husqvarna TE125 on Totalmotorcycle.com
Where the fun begins….
An agile and light chassis was designed to perfectly suit the lively and powerful little 2-stroke engine. Lightning fast throttle response, class-leading brakes and a smooth and precise gearbox are just a few of the TE 125's defining characteristics. High performance combined with extreme entertainment, it brings back the child in every man, and is also the perfect tool for future champions to start their career with.


Motocross 2015: What's new

From being the newcomers in 2013, to consistently featuring at the top of race results and on magazine covers around the world, the spotlight is most certainly on Husqvarna to deliver class-leading performance and technology. Last year a completely new generation of Motocross bikes was launched to an enthusiastic world audience. Now for MY15, significant updates further develop the premium characteristics of the highly technological Husqvarna Motocross range. From the lightweight and agile handling of the 2-strokes to the explosive power and all-round ability of the 4-strokes, every rider is sure to find a match in the MY15 Husqvarna Motocross range.

o New 4CS fork specifically designed for Motocross with improved damping
o New 22mm front axle reduces unsprung weight and increases feeling
o New linkage geometry with optimized rising rate and weight reduction
o New shock with 4mm more stroke and new setting
o Rear subframe reinforcement on airbox side for improved sealing of airbox
o New fork protectors are easier to replace and maintain
o Improved handguards for better impact resistance
o New Neken handlebar and bar pad
o New seat cover with better grip and durability
o New Dunlop MX52 tyres
o New graphics differentiated from Enduro models are an evolution of Husqvarna design and colours
o New clutch basket with a weight saving design and new clutch springs for more consistent behaviour on the FC 250-350
o New O-rings on the oil pump suction screen for the 4-stroke engines
o New swingarm on the TC 85, 0.5 kg lighter with same structural characteristics; redesigned chain guide, chain slider and brake hose bracket for increased safety and performance
o New Maxxis "Maxx Cross SI" tyres on the TC 85
o New ignition curve on the TC 125 for safety against detonation
Motocross 2015: what's new – in detail

New 4CS fork
WP has developed a closed cartridge 4CS fork specifically for Motocross. The new four chamber fork has improved damping characteristics and is also lighter than the previous closed cartridge fork. As with all 4CS forks by WP, the clicker settings can be easily and quickly adjusted via the dials on the top of the fork tubes. The red dial on the right alters rebound damping, while the white dial on the left is for compression damping. WP suspension stands for top quality and offers the best performance levels. Precision engineering, quality materials and advanced production processes are an integral part of the WP forks on the Husqvarna model range.
– New 4CS closed cartridge fork ? specifically designed for Motocross, improved damping and 175g lighter than previous fork
– Easy access clicker dials ? simple and fast clicker settings
New 22mm front axle
In the overall optimisation of the chassis, the MY15 Motocross bikes feature a new 22mm front axle with specific fork shoes in place of the previous 26mm axle. The new axle is lighter, and the shoes have shorter offset and increased trail, for more stability and better front-end feel.
– New 22mm front axle replaces 26mm axle ? reduced unsprung weight (40g) and better feeling
– Shorter offset on fork shoes ? improved fork functioning
New linkage geometry
The rear link has been revised and now features a higher starting rate, and therefore a less progressive curve, that provides better control in all circumstances. Further advancements in production processes have seen an improvement in quality and a reduction in weight of the triangle and pull rod of approximately 40g.
– New linkage geometry ? optimized rising rate for better control and stability
– New production process ? weight reduction on all components
New rear shock
The high performance Husqvarna DCC (Dual Compression Control) rear shock made by WP has a revised setup and has been re-valved to match the geometry changes of the new rear link. The new shock features a 4mm increase in stroke thanks to the new link geometry, for better handling and damping characteristics.
– New WP shock ? revised setup and valving
– 4mm more shock stroke ? same wheel travel for better damping characteristics
Rear subframe reinforcement
The lightweight polyamide rear subframe has been reinforced with an additional screw on the airbox side that improves the fitment between the left subframe arm and the airbox. The improved seal guarantees better performance and durability.
– Improved fitment of subframe components ? improved airbox seal for better performance
– A unique feature in Motocross ? highlights Husqvarna's technological knowhow
New fork protectors
The distinctive yellow fork protectors have been redesigned and no longer wrap around the fork leg. The new design allows for improved access to the fork leg for better maintenance and cleaning, while also being easier to replace.
– New fork protectors ? easier to replace, better maintenance and cleaning of fork
Improved handguards
Handguards are standard across the range and now feature better impact resistance thanks to a new compound.
– Improved handguards ? better impact resistance
New Neken handlebars
New Neken handlebar, with the same bend as the previous model year, with Husqvarna bar pad mated to Husqvarna grips for excellent control of the bike.
– New Neken handlebar and bar pad ? distinctive looks
New seat cover
The seat features a new seat cover material that improves grip and durability. The sturdy material is also harder than the previous cover, making the entire seat firmer, improving comfort and feeling.
– Durable and firm seat cover ? improved grip, durability, feeling and comfort
Dunlop MX52 tyres
wheels are complemented by new Dunlop MX52 Motocross tyres that feature The lightweight a new "block-within-a-block" design for more progressive cornering. The new Dunlop rubber has been developed to offer superior grip in a wider variety of terrain.
– New design developed in top-level AMA Supercross and Motocross ? enhanced handling, cornering and steering feel combined with increased durability
New graphics
The traditional Husqvarna white, blue and yellow has evolved into a striking and distinctive look for the MY15 Motocross range.
– New graphics differentiated from Enduro models ? evolution of Husqvarna design and colours
Overall weight savings
The general optimization of the MY15 Motocross range results in an overall weight saving of 338 g.
2015 Husqvarna TE125 www.Totalmotorcycle.com Key Features

ENGINE
The high performance 125cc 2-stroke engine on the TE 125 features a sophisticated power valve that optimises power delivery from low in the rev range up to the rev limit. Boyesen reeds, combined with high-tech intake reed blocks, guarantee excellent response, durability and intake flow rates.
CYLINDER
The high performance cylinder and power valve have been optimised for maximum throttle opening resulting in strong bottom-end torque and excellent top performance.
CLUTCH
The hydraulic Magura clutch guarantees excellent modulation and clutch action, while the flex lever reduces the risk of breakage by rotating almost 90° in the event of a crash.

TRANSMISSION
The ratios of the lightweight 6-speed gearbox have been optimised for Enduro use. The precise shifting action allows riders to accurately maintain the TE 125 in the ideal power range of the engine.

2015 Husqvarna TE125 Totalmotorcycle.com Features and Benefits
ENGINE
The TE 125's high performance 125 cc 2-stroke engine features a sophisticated power valve that optimises power
delivery across the entire rev range. Boyesen reeds guarantee excellent response, durability and intake flow rates. For MY15
a smoother power delivery has been achieved thanks to a revised carburettor setting.

New carburettor setting – better, smoother power delivery 2-stroke running costs – affordable access to race winning performance
Boyesen reed valve – excellent response and durability

CYLINDER AND PISTON
The high performance cylinder and power valve are designed to deliver strong bottom-end torque and high peak power at maximum throttle opening. The Vertex piston's material and piston rings have been designed for power and reliability.
Optimised for maximum throttle opening – excellent top performance

CLUTCH
Excellent clutch modulation, low maintenance and consistent behaviour are guaranteed by the hydraulic Magura clutch.

The clutch lever reduces the risk of breakage by rotating almost 90° in the event of a crash.
Magura hydraulic clutch – excellent modulation Flex lever reduces risk of breakage – can rotate by al most 90° in the event of a crash
BENEFITS:
New carburettor setting for better, smoother power delivery
Powerful 2-stroke 125cc engine for maximum performance while keeping running costs low
Boyesen high performance reeds for great throttle response
Consistent behaviour by the confidenceinspiring rear linkage allows riders to push the limits on any terrain

---
2015 Husqvarna TE125 – www.Totalmotorcycle.com International Specifications/Technical Details
MSRP Price: See dealer for pricing.


ENGINE
Design
1-cylinder 2-stroke engine, water-cooled, with reed intake and exhaust control
Displacement
124.8 cm³
Bore
54 mm
Stroke
54.5 mm
Starting aid
Kick starter
Transmission
6 gear, claw shifted
Engine lubrication
Mixture oil lubrication
Primary ratio
23:73
Secondary gear ratio
14:50 (13:50)
Cooling
Liquid cooling system
Clutch
Wet multi-disc clutch / hydraulically operated
Ignition system
Contactless, controlled, fully electronic ignition system with digital ignition timing adjustment, type Kokusan
CHASSIS
Frame
Central tube frame made of chrome molybdenum steel tubing
Forks
WP Suspension Up Side Down 4CS
Shock absorber
WP Monoshock with linkage
Suspension travel Front
300 mm
Suspension travel Rear
330 mm
Brake system Front
Disc brake with four-pot brake caliper
Brake system Rear
Disc brake with one-pot brake caliper, floating brake discs
Brake discs – diameter Front
260 mm
Brake discs – diameter Rear
220 mm
Chain
520 X-Ring
Steering head angle
63.5°
Wheel base
1,471±10 mm
Ground clearance (unloaded)
355 mm
Seat height (unloaded)
960 mm
Total fuel tank capacity approx.
11 l Unleaded premium fuel (95 octane), mixed with 2-stroke engine oil (1:60)
Weight without fuel approx.
96 kg
Specifications and appearance are subject to change without prior notice.