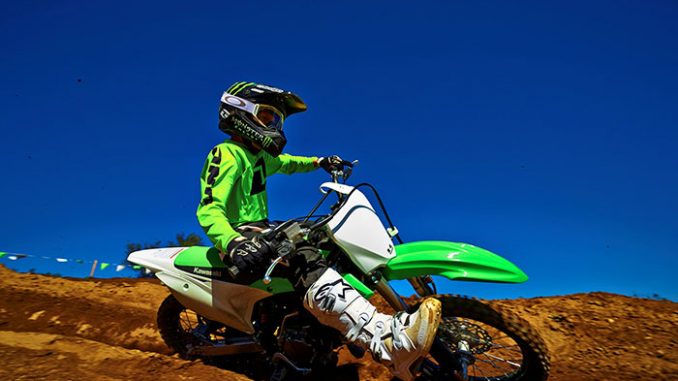 Click photos to enlarge. Our big, clean bike pics make great desktop wallpaper.
2015 Kawasaki KX85 Review

2015 Kawasaki KX85 on www.Totalmotorcycle.com
A Fast Weapon for Future Motocross Champions
Kawasaki's intermediate KX85 motocross racer is the natural progression after the kids outgrow their KX65. Loaded with big KX features, these high performance racers keep young riders at the front of the pack.
Every budding motocross star reaches a crossroads in their career, when choosing the right motorcycle can mean the difference between success or failure. With more amateur national championship titles than any other brand, the pedigree of the Kawasaki KX™85 already outshines the competition and the 2015 KX85 continues to do so. In fact, the one thing that hasn't changed is that the KX85 is still the ultimate training tool for the Ryan Villopotos of tomorrow. Box-stock, it's ready to win championships!
The powerful 85cc two-stroke engine boasts numerous features that create strong low-end and mid-range torque. No doubt, the KX will continue to grab more holeshots than any other machine in its class, while the torque also makes it more suitable for riders whose motocross skills are still developing.
Other race-proven features include the advanced perimeter-frame chassis, 36mm cartridge fork with 20-way adjustable compression damping and a fully adjustable Uni-Trak® rear shock provide excellent handling and superior ability to tame the nastiest, most challenging racetracks.
ENGINE
The cylinder head on the 85cc two-stroke engine has many power-inducing features such as a shallow combustion chamber and Nikasil-plated cylinder with a large exhaust port optimized for gas flow. The single-ring piston design helps to reduce cylinder wall friction for superior throttle response.
The KX85's factory race-replica character is supported by the 28mm Keihin PWK carburetor, which features a crescent-shaped slide to positions the needle closer to the intake ports for optimized fuel atomization.
The KX85 also employs the Kawasaki Integrated Power-valve System (KIPS®) to boost mid-range and top-end power with its independent slider valves for each port, replacing a previous three-piece design to reduce maintenance and improve reliability.
The 83mm crankshaft features a precisely shaped resin block to close the gap around the machined area near the crank pin. This helps boost power as well as making the crank more rigid and durable.
Because power generates heat, the KX85 radiator provides ample cooling capacity, prolonging engine life and providing consistent power delivery during grueling motos.
The smooth-shifting six-speed transmission has the perfect ratios for tackling any obstacle on the track, while durability is assured thanks to its hard chrome-finished shift fork ends, thick base on the clutch basket housing and additional bushing on the input shaft.
CHASSIS
It takes a race-proven suspension package to put the KX85's horsepower to the ground, and the Uni-Trak® linkage, KYB reservoir shock and inverted KYB 36mm forks are up to the task of tackling the roughest motocross terrain. They utilize 24-position compression and 21-position rebound damping adjustment, along with stepless spring preload to help ensure the rider can tune the handling to his or her preference.
Just like its big brothers, the KX85 front forks features shim-type valving and firmer damping for the faster riders, while also offering superior bottoming resistance as well as 20-position damper adjustment settings to suit a variety of riding styles and track conditions.
In the rear, the shock's black-anodized aluminum body has a clicker-type adjuster to make fine-tuning the rear suspension damping quick and easy.
The petal-type brakes improve the stopping power, with 220mm front and 184mm rear rotors delivering efficient braking performance and the petal shape helps clean the pads in muddy conditions.
The front brake hose is routed behind the axle for better protection using hose guides. The KX85 runs on Dunlop® Geomax MX51 intermediate tires to provide optimal grip over varying terrain and riding conditions.
The KX85's high-tensile steel perimeter frame has reinforcement in key areas to maintain the Kawasaki's legendary handling. Its 32.7" seat height fits a wide variety of growing inseams, and there is plenty of adjustability thanks to a wider and taller handlebar, three-position risers and two-position clamps to provide six different handlebar positions to ensure a comfortable fit for the rider.
The KX85 looks as fast as it runs, thanks to bold factory race styling that is virtually identical to the big KX models. The low fuel tank, slim radiator covers and side panels blend with a flatter two-tone seat with seamless cover and grippy material to ensure the rider is both comfortable and able to move freely.
An angular front fender, number plate and white rear fender not only match the big KX models, but the front fender also helps reduce mud accumulation, while wrap-around fork guards protect the inner fork tubes and seals. Last but not least, a brushed finish on the aluminum swingarm helps keep the KX85 looking fresher for longer.
Completing its factory-race styling, the KX85 is finished in Kawasaki's signature Lime Green with eye-catching detail appointments such as green alumite coatings on the adjusters and black alumite coating on the rims, just like Villopoto's factory KX™ 450F.
Those who race their KX85 at designated events, Kawasaki will continue to offer the same support to racers of all ages and levels that it has for more than 30 years. The Team Green™ support program has given riders the tools for success by providing technicians and support staff at a number of selected events throughout the year. Team Green also provides racers with unparalleled trackside support and emergency parts for last-minute adjustments. While helping amateur athletes achieve success, Kawasaki never forgets its most important goal is to ensure a positive and enjoyable experience for every rider.

2015 Kawasaki KX85 www.Totalmotorcycle.com Key Features

At A Glance…
Liquid-cooled, two-stroke, 85cc engine
Kawasaki Integrated Power-valve increases more mid-range torque and top-end power
Jetting in the 28mm Keihin PWK carburetor helps give ideal fuel atomization, for quicker throttle response and a smoother power delivery
Six-speed transmission has chrome-finished shift fork ends to resist wear and seizing while bushings on the second, third and fourth gears on the output shaft increase durability
Petal-shape brake rotors clear mud and dirt quick, look like factory racers
Uni-Trak® rear suspension is fully adjustable for compression and rebound damping and spring preload
Rigid 36mm inverted cartridge forks are 20-way compression damping adjustable and provide better steering response and control
Adjustable bars for greater comfort for a variety of riders
Industry-leading amateur racer support through Team Green™
2015 Kawasaki KX85 www.Totalmotorcycle.com Features and Benefits
Liquid-cooled, Two-stroke, Single-cylinder 85cc Engine
Cylinder head combustion shape increases power at all rpm
Cylinder head gasket and gasket retention dowel prevents detonation, increasing reliability
Piston has single-ring design (was two rings) reduces friction
Lightweight Nikasil-coated cylinder features exhaust port shape for better flow, more power
Large outer diameter crankshaft is 83mm, increasing rigidity and improving durability
Precisely shaped resin block added to crankshaft closes the gap around the machined area near the crank pin, reducing volume of the bottom-end to increase intake transfer for more power
Intake and exhaust port bridges are machine-finished for reduced wear and improved reliability
Rotor comes with rare-earth magnets; it is small, light and more efficient; low moment of inertia improves low-RPM response
Connecting rod big-end bearing has rigid cage for improved durability
Intake port shape and cylinder skirt allow cooling air into the crankcase chamber
Primary gear is secured using a lock-nut to help reduce mechanical noise
Metafoam gaskets for the generator and water pump covers improve sealing

Kawasaki Integrated Power Valve System (KIPS®)
KIPS system varies exhaust-port height for increased horsepower and torque at all rpm
Independent valves increase reliability and reducing maintenance
Produces a broad powerband with more mid-range torque and excellent top-end power
Breather in KIPS cover improves high-rpm and overrun performance

Radiator
Radiator cooling capacity sustains engine power during long motos

Airbox
Large right-side cutout improves airflow for increased power
Reusable foam air filter

28mm Keihin PWK Carburetor
Jetting optimizes performance with new engine tuning specs
Large crescent slide positions the needle closer to intake ports for ideal fuel atomization, providing quicker throttle response and a smoother power delivery
Carburetor adjustable for various conditions

Exhaust System
Features large-diameter O-ring and groove on exhaust pipe for improved durability and easy installation
Aluminum silencer is re-packable like larger KX models

Clutch
Thick-base clutch hub rides on needle bearings for smooth action
Large 91mm clutch plates offer excellent durability and precise engagement
Clutch-release ratio is designed for light clutch lever action
Clutch plate service cover simplifies maintenance and utilizes a metal-carbon composite gasket

Six-speed Transmission
Positive shifting action and rugged durability
Fifth and sixth gears ride on bushings for added reliability
Shift forks are hard chrome-finished to resist wear and seizing
Convenient oil-level window offers easy level checks
Bushings on the second, third and fourth gears increase durability

High-tensile Steel Perimeter Frame
High-tensile steel tubing has reinforcement in key areas to optimize durability and weight
Perimeter design accommodates optimal intake/exhaust design
Wide, steel footpegs offer added control and strength.
Thick footpeg-mount brackets withstand today's rigorous tracks
Engine and chassis bolts feature rust-resistant coating

Uni-Trak® Rear Suspension
KYB reservoir shock features black-anodized aluminum body
Clicker-type compression damping adjuster allows for more precise damping adjustments
Swingarm uses large cross-section beams for improved rigidity and control
Cast-aluminum drive chain adjuster sections allow easy chain adjustments
Shock is fully adjustable with 24-position compression and 21-position rebound damping, plus stepless spring preload

36mm Inverted Cartridge Fork
Shim-type valving provides precise damping control
Firm damping rates offer superior bottoming resistance
Inverted fork is rigid, providing better steering response and control
Compression damping is 20-way adjustable
Aluminum upper fork tubes measure 36mm in diameter for flex-free performance
Revised axle clamp reduces under-hang for greater fork clearance in ruts

Disc Brakes
Petal-type brake rotors (220mm front/184mm rear) increase stopping power
Petal-type rotor design helps clean the brake pads for more consistent performance
Front brake hose routing helps protect brake line; front guides are just like the big KXs
Direct upward line routing simplifies brake bleeding and maintenance
Front brake lever shape offers optimum feel
Forged-aluminum rear brake pedal is strong, lightweight and features two seals at the pivot for smooth operation and increased durability
Provide strong braking power with minimal effort

Rims/Tires
Black alumite-coated lightweight aluminum rims offer a factory look
Rear hub features two bearings on the drive side for added durability
Large rear-axle diameter for optimum rigidity
Dunlop® Geomax MX51 tires provide optimal grip for a wide range of riding conditions


Bodywork/Graphics
Slim radiator shrouds and side panels improve rider ergonomics
Flat seat with seamless seat cover and gripper material improve comfort and make weight shifts easier
32.7″ seat height is ideal for growing riders
Wide handlebars offer both leverage and comfort
Three-position handlebar risers offer STD, +5mm higher and +10mm higher bar positioning
Two-position handlebar clamps offer six different location positions to suit a range of riders
Swingarm surface finish matches big KXs and is easier to clean
Angular front fender, angular rear fender and number plate design match big KX-styling
Wraparound fork guards with embossed Kawasaki logo protect inner fork tubes and enhance styling
Grey clutch and ignition covers resist the signs of boot rub to help keep the KX looking fresh
Factory Lime Green "flow line" graphics and green alumite coatings on the suspension adjusters to reflect the reigning champion's motorcycle
---
2015 Kawasaki KX85 – www.Totalmotorcycle.com USA Specifications/Technical Details
US MSRP Price: $4,349 USD

Engine: Two-stroke single with KIPS®
Displacement: 85cc
Bore x stroke: 48.5 x 45.8mm
Cooling: Liquid
Carburetion: Keihin PWK28
Induction: Crankcase reed valve
Compression ratio: 10.9:1 (low speed) – 9.0:1 (high speed)
Ignition: Digital CDI
Transmission: Six-speed
Final drive: Chain
Frame: High-tensile steel perimeter design with subframe member
Rake / trail: 29 degrees / 3.8″
Front suspension / wheel travel: 36mm inverted telescopic cartridge fork with 20-way compression damping / 10.8″
Rear suspension / wheel travel: UNI-TRAK® single-shock system with 24-way compression and 21-way rebound damping, plus adjustable spring preload / 10.8″
Front tire: 70/100×17
Rear tire: 90/100×14
Front brake / rear brake: Hydraulic disc / disc
Overall length: 72″
Overall width: 30.1″
Overall height: 43.3″
Ground clearance: 11.4″
Seat height: 32.7″
Curb weight: 165.3 lb
Fuel capacity: 1.32 gallons
Wheelbase: 49.8″
Color: Lime Green
MSRP: $4,349
---
2015 Kawasaki KX85 – www.Totalmotorcycle.com Canadian Specifications/Technical Details
Canada MSRP Price: $4,799 CDN
ENGINE
Type 2-stroke, Single with KIPS
Displacement 84cc
Bore and stroke 48.5 x 45.8 mm
Cooling Liquid
Compression ratio 10.9 (low speed), 9.0 (high speed)
Induction 2-petal carbon-fibre piston reed valve
Fuel system Keihin PWK28 carburetor
Ignition Digital-CDI
Lubrication Petrol mix (32:1), 2-stroke racing oil
BRAKES
Front: type Single 220 mm disc
Front: calipers Single-piston caliper
Rear: type Single 184 mm disc
Rear: calipers Single-piston caliper
DIMENSIONS
Overall length 1,830 mm (71.7 in.)
Overall width 765 mm (28.9 in.)
Overall height 1,100 mm (41.5 in.)
Wheelbase 1,265 mm (49.4 in.)
Ground clearance 290 mm (13.4 in.)
Seat height 830 mm (33.1 in.)
Curb mass** 75 kg (152.1 lbs)
Fuel capacity 5 litres (1.2 gal.)
DRIVETRAIN
Transmission 6-speed, constant mesh, return shift
Final drive Chain
Primary reduction ratio 3.400 (68/20)
Gear ratio: 1st 2.538 (33/13)
Gear ratio: 2nd 1.875 (30/16)
Gear ratio: 3rd 1.500 (27/18)
Gear ratio: 4th 1.250 (25/20)
Gear ratio: 5th 1.090 (24/22)
Gear ratio: 6th 0.956 (22/23)
Final reduction ratio 3.571 (50/14)
Clutch Wet multi-disc
FRAME
Type Tubular semi-double cradle, high tensile steel
Wheel travel: front 275 mm (10.8 in.)
Tire: front 70/100-17
Wheel travel: rear 275 mm (10.8 in.)
Tire: rear 90/100-14
Caster (rake) 29°
Trail 97 mm (3.5 in.)
Steering angle (left/right) 45° / 45°
SUSPENSION
Suspension, front 36 mm inverted telescopic cartridge fork with 20-way compression damping
Suspension, rear Uni-Trak single-shock system with 24-way compression and 21-way rebound damping, plus adjustable spring preload

* The Manufacturer's Suggested Retail Price does not include freight, pre-delivery inspection or applicable taxes. The final price is at the discretion of the dealer. Prices and Specifications are subject to change without prior notice. The amount indicated as "Your price" may include an optional instant Mega Cash credit that is deducted from the manufacturer's suggested retail price before taxes. This promotion is time limited and certain conditions will apply. See your dealer for complete details. Offer not available on financed purchases and cannot be combined with any other special offers. The final price is at the discretion of the dealer. Prices and Specifications are subject to change without prior notice.
** Includes all necessary materials and fluids to operate correctly, full tank of fuel (more than 90% of capacity) and tool kit (if supplied)
‡ Power / Torque figures measured at the crankshaft.
The specifications mentioned here apply to and have been achieved by production models under standard operating conditions. We intend only to give a fair description of the vehicle and its performance capabilities but these specifications may not apply to every machine supplied for sale. Kawasaki Heavy Industries, Ltd. reserves the right to alter specifications without prior notice. Equipment illustrated and specifications may vary to meet individual markets. Available colours may vary by market.