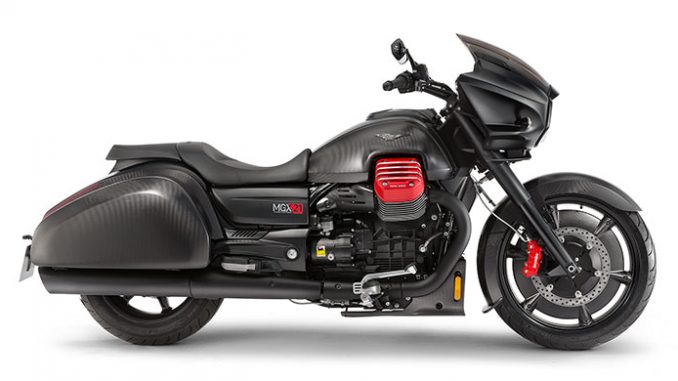 Click photos to enlarge. Our big, clean bike pics make great desktop wallpaper.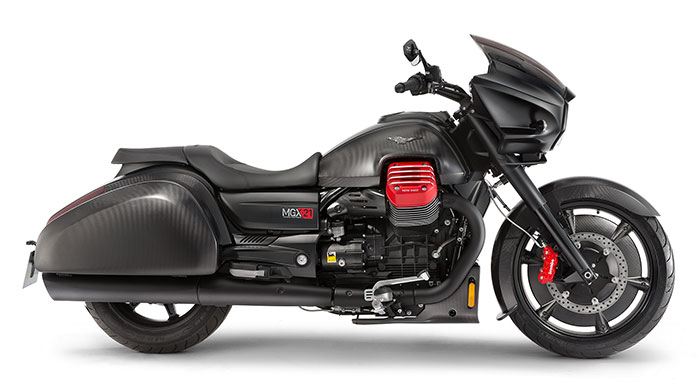 2016 Moto Guzzi MGX-21 Flying Fortress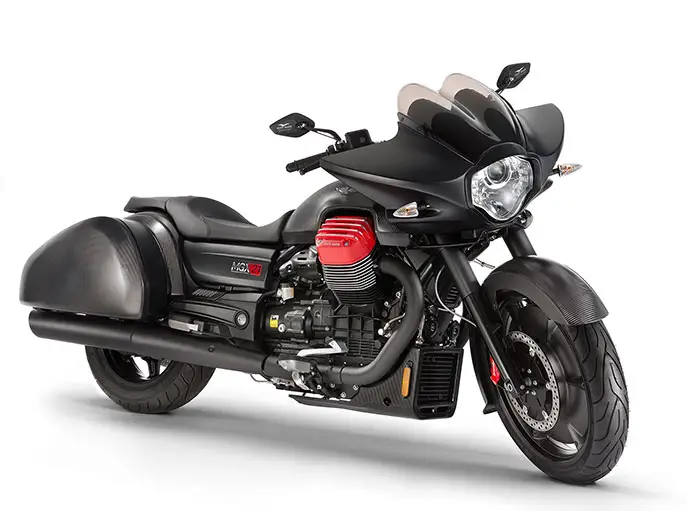 2016 Moto Guzzi MGX-21 Flying Fortress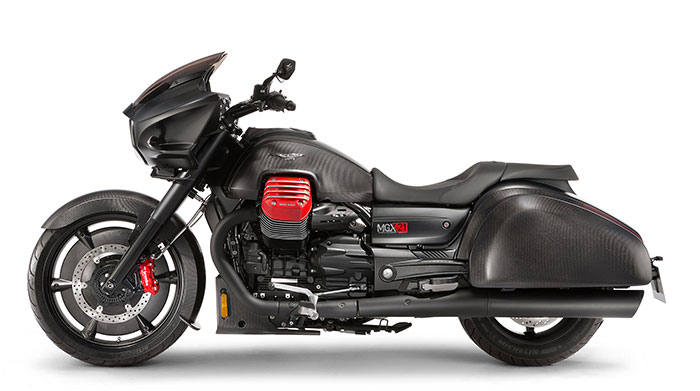 2016 Moto Guzzi MGX-21 Flying Fortress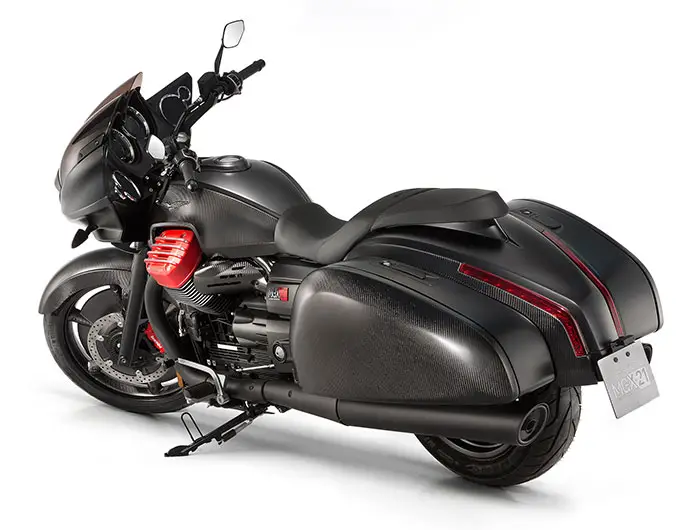 2016 Moto Guzzi MGX-21 Flying Fortress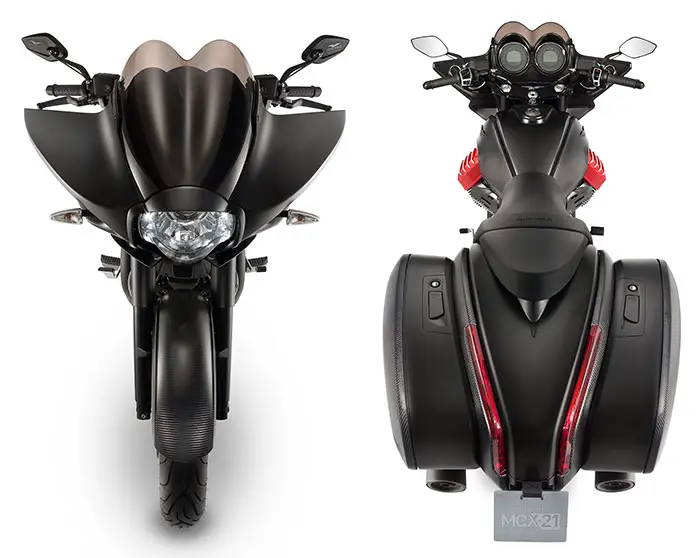 2016 Moto Guzzi MGX-21 Flying Fortress
2016 Moto Guzzi MGX-21 Flying Fortress Review

2016 Moto Guzzi MGX-21 Flying Fortress on www.Totalmotorcycle.com
We dared imagine a different way of travelling, cooler, as the Americans would say…
MOTO GUZZI MGX-21 FLYING FORTRESS
THE MOTO GUZZI MGX-21 CONTINUES ITS EVOLVUTION AFTER THE PRESENTATION OF A PROTOTYPE LAST YEAR THAT GARNERED APPROVAL AND INTEREST FROM PUBLIC AND CRITICS
THE MOST TECHNOLOGICALLY ADVANCED OF THE MOTO GUZZI CRUISERS BOASTS OUTSTANDING FITTINGS THAT MAKE IT A REAL BAGGER, WHILE ITS STYLE AND TECHNICAL SOLUTIONS STAY FAITHFUL TO AN ORIGINAL PROJECT WITH THE CAPACITY TO SURPRISE EVERYONE

The MGX-21 is the most unconventional, rich and technological of the 1400 cc grand cruisers built at Mandello del Lario. It is the latest distinguished representative of a line begun in 1921 when Moto Guzzi started to make unique hand built motorcycles as one-off collector's items. Moto Guzzi is one of the greatest brands in the motorcycling world and in almost a century of history has produced bikes that are often ahead of their time, whose innovations are subsequently adopted by everyone. From the racing track to the streets of the world, the company has not compromised its Italian soul. Bolstered by universally recognised values, Moto Guzzi now expresses the influences and stimuli of motorcycle culture in an increasingly personal and unique style. The MGX-21 is the latest example of Moto Guzzi's tradition of originality and courage. This model is dedicated to lovers of exclusive motorcycles, to people who like to feel excited even before they embark on a journey, simply by appreciating the majesty of this prestigious Italian bike resting on its side stand. The MGX-21 seems to invite you to fasten your helmet and set off, heading wherever the map takes you. The excitement felt even before you climb on board swells when the 90° V-twin engine roars into life. From the banks of the Lario to the corners of the world, your journey is marked by the rhythm of the strokes of the huge pistons of the Moto Guzzi big block.
Miguel Galluzzi, the head of the PADC (Piaggio Advanced Design Center) in Pasadena, California, describes the genesis of this new spectacular Moto Guzzi: "How do we imagine crossing an entire continent on a Moto Guzzi? This is the first question we asked ourselves and the immediate response was, on board a California 1400, a classic that has just been renewed. But we wanted to push beyond our thoughts and dreams, to take a leap into the future. We dared imagine a different way of travelling, cooler, as the Americans would say. And we imagined that Moto Guzzi would design and build its own bagger. How could that be? How could a project like this be steeped in Italian design? This is how our thinking and inspiration turned to the masters and masterpieces of Italian design. I mean Bertone and his extraordinary Alfa Romeo BATs of the 1950s, when these crazy Italians interpreted the American taste for extreme shapes such as fins and translated the wildest dreams into precious metal, masterfully combining Italian creativity with American pragmatism. And of course we thought about infinite spaces, with straight roads heading to distant horizons, to speed records snatched on the expanses of salt lakes, to travelling aimlessly and freely. In this way a indistinct image started to take on a definite shape, and thus the MGX-21 Flying Fortress was born."
2016 Moto Guzzi MGX-21 Flying Fortress www.Totalmotorcycle.com Key Features
The bagger stands out for its design, build quality and attention to detail
Presented last year as a prototype of a futuristic, seductive and powerful bagger, the current version of the MGX-21 is now very close to the final one to be delivered to dealers next year.

The immediately obvious aspect of its appearance is also wholly exceptional. The technical and stylistic features of the prototype, which had surprised everyone when first revealed, have been kept totally intact. This is not a marginal detail, given that very important changes are usually made between a prototype version of a motorcycle and the final production model. Indeed, in the case of the MGX-21 a major detail has been added: the refined Moto Guzzi has become a bagger, gaining a pair of lateral motorcycle cases, which maintain intact the purity of design boasted by the prototype, harmoniously blending into the style of the tail.

The design of the MGX-21 leaves little room for indifference and, like all Moto Guzzis, begins by showing off the engineering of the big 90° transverse V-twin engine. Its two large cylinders seem literally to explode out of the petrol tank, helping to significantly lower and streamline the side view. The red paint of the aluminium head covers emphasises the power this engine is capable of expressing, even in its aesthetics. With a low tail and raised front, thanks to the striking and distinctive design of the big fairing, the MGX-21 takes on the appearance of a large, technological and luxurious motorcycle able to grind out the miles with a smooth ride. It's certainly no wallflower, but rather seeks to attract people's attention with its original shape and the mysterious nocturnal appearance created by the PADC (Piaggio Advanced Design Center) designers in California. To celebrate such a personal, powerful and brave style, Moto Guzzi gave the new MGX-21 the evocative soubriquet of Flying Fortress. The Moto Guzzi bagger keeps the 21″ alloy front wheel, now protected by carbon covers with small openings where the spokes intersect with the channel. This design choice also brings the technical advantage of increased stability and ease of handling due to the passage of air from one side of the hub to the other while the bike is in motion.
2016 Moto Guzzi MGX-21 Flying Fortress www.Totalmotorcycle.com Features and Benefits

Moto Guzzi's technological flag
The Flying Fortress raises Moto Guzzi's technological flag. The new Italian bagger is distinguished by its high level contents some of which are unique and patented, helping to maximise riding pleasure and comfort, and of course safety. Behind the cowl a sophisticated instrument panel has a monochrome dot matrix display and real entertainment system. The latter includes a stereo and the intercom system. The Bluetooth module ensures full interaction with external devices such as a smartphone, which can be used as a music player or to manage the Moto Guzzi (MG-MP) multimedia platform, an exceptional source of information for the journey. The standard equipment is complemented by a sophisticated electronic engine management system, which includes the Ride-by-Wire multimap, in addition to two-channel ABS, traction control set to three different levels of operation (and excludable) and cruise control. The new Moto Guzzi also stands out for meticulous and obsessive attention to detail. The spectacular optical units use LED technology, while the electrical controls on the handlebars are made of metal. While respecting the solid century-old tradition, the MGX-21 reaches out to the future, employing materials typically used in the most advanced sports motorcycles. Indeed, many parts are made in high quality carbon, such as the front mudguard, the tank panels, the motorcycle case covers, the engine push rod and the front wheel covers.
State of the art technology for maximum riding pleasure
The adoption of the 21″ front wheel brought with it a major evolution of the frame to ensure high levels of comfort and riding pleasure. Moto Guzzi worked hard to define the new steering geometry and ensure balance and ease of riding. In so doing it thus combined the comfort and load capacity of a custom with the dynamism and performance of a cruiser, two qualities that are difficult to reconcile. The new tubular structure of the closed double cradle frame adopts the ingenious elastokinematic engine mounting system developed by Moto Guzzi to eliminate vibrations transmitted to the rider when moving. However, when stationary the bike still retains the throb of the Moto Guzzi big block's two powerful 104 mm diameter pistons, which can excite even the most streetwise motorcyclist, intensifying the vibrancy of this model. The largest V-twin ever produced in Europe, which can deliver more than 120 Nm of torque with ease and precision from very low revs, has earned EU4 certification and a new exhaust unit with very long horizontal terminals. All this verve is controlled by a benchmark brake system for the category, worthy of a sports motorcycle, comprising a trio of large diameter discs and four-piston front callipers and radial connection.

---
2016 Moto Guzzi MGX-21 Flying Fortress – www.Totalmotorcycle.com USA Specifications/Technical Details
US MSRP Price: $21990 USD

ENGINE
Type Four-stroke V 90 twin, four valves, dual ignition, Ride by Wire with 3 engine maps, 3 level adjustable traction control, Cruise Control as standard equipment
Capacity 1380cc
Maximum power 71 kW (96 HP) at 6,500 rpm
Maximum torque 121 Nm at 3,000 rpm
Fuel system Weber-Marelli electronic fuel injection.
Exhaust system Three-way catalyser with lambda probe

TRANSMISSION
Gearbox 6-speeds with final overdrive
Lubrication Forced circulation with lobe pump – circuit capacity: 1.78 Kg
Final drive CA.R.C. Compact Reactive Shaft Drive
Clutch Dry single plate with flexible couplings

CHASSIS / SUSPENSION / BRAKES
Frame Double cradle tubular frame in ALS steel with detachable rear subframe
Wheelbase 1,695mm
Trail 109
Steering rake 27°50'
Front suspension standard swingarm Ø 46 mm, with radical calliper mountain bracket and telescopes on the stanchions
Front wheel travel 120 mm
Rear suspension swingarm with double shock absorber adjustable spring preload
Rear wheel travel 120 mm
Brake system Brembo
Front brake Dual 320 mm stainless steel floating discs, Brembo radial callipers with 4 horizontally opposed pistons: ABS as standard equipment
Rear brake 282 mm stainless steel fixed disc, Brembo floating calliper with 2 parallel pistons: ABS as standard
Wheels Spoked steel rims
Rear wheel 200/60 R16″
Front wheel 130/70 R18″
Front tire Metzeler Lasertec 100/90- 18 56H TL
Rear tire Metzeler Lasertec 130/80 -17 65H TL

DIMENSIONS
Length 2445 mm
Width 940mm
Height 43.8 inches (1,115 mm)
Saddle height 740 mm
Minimum ground clearance 7.2 inches (182 mm)
Dry weight 401 lbs (182 kg)
Curb weight 701 lbs (314 kg)
Fuel tank capacity 5.4 Gallons (20.5 liters)
Reserve .66 Gallons (2.5 liters)



---
2016 Moto Guzzi MGX-21 Flying Fortress – www.Totalmotorcycle.com Canadian Specifications/Technical Details
Canada MSRP Price: $ CDN
NA

---
2016 Moto Guzzi MGX-21 Flying Fortress – www.Totalmotorcycle.com European Specifications/Technical Details
Europe/UK MSRP Price: £ GBP (On The Road inc 20% Vat)
NA
*Starting at MSRP is the manufactured suggested price and excludes delivery, setup, tax, title, license, and additional fees and expenses. Bikes may be shown with optional accessories. Final sale price determined by an authorized dealer. Specifications and MSRP are subject to change.
Manufacturer Specifications and appearance are subject to change without prior notice on Total Motorcycle (TMW).