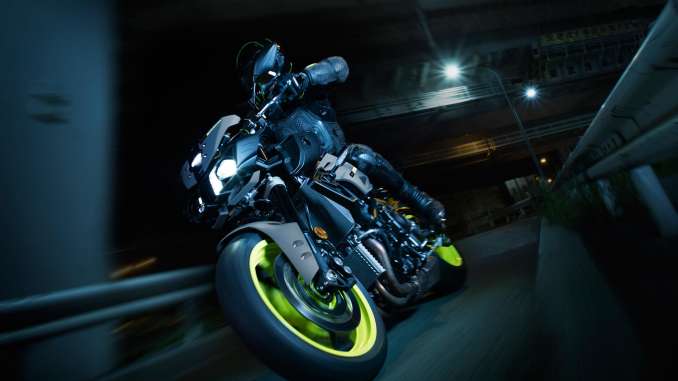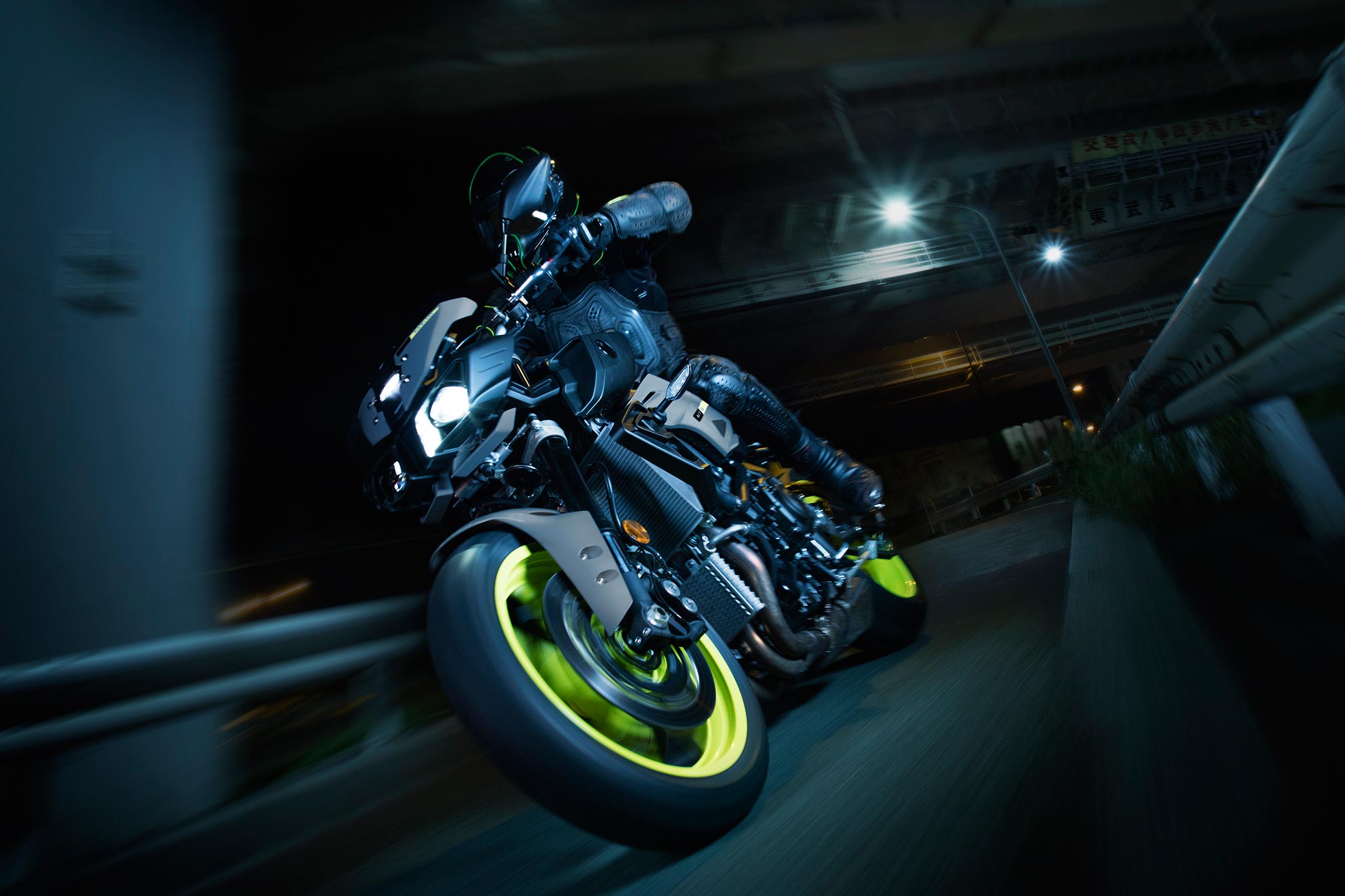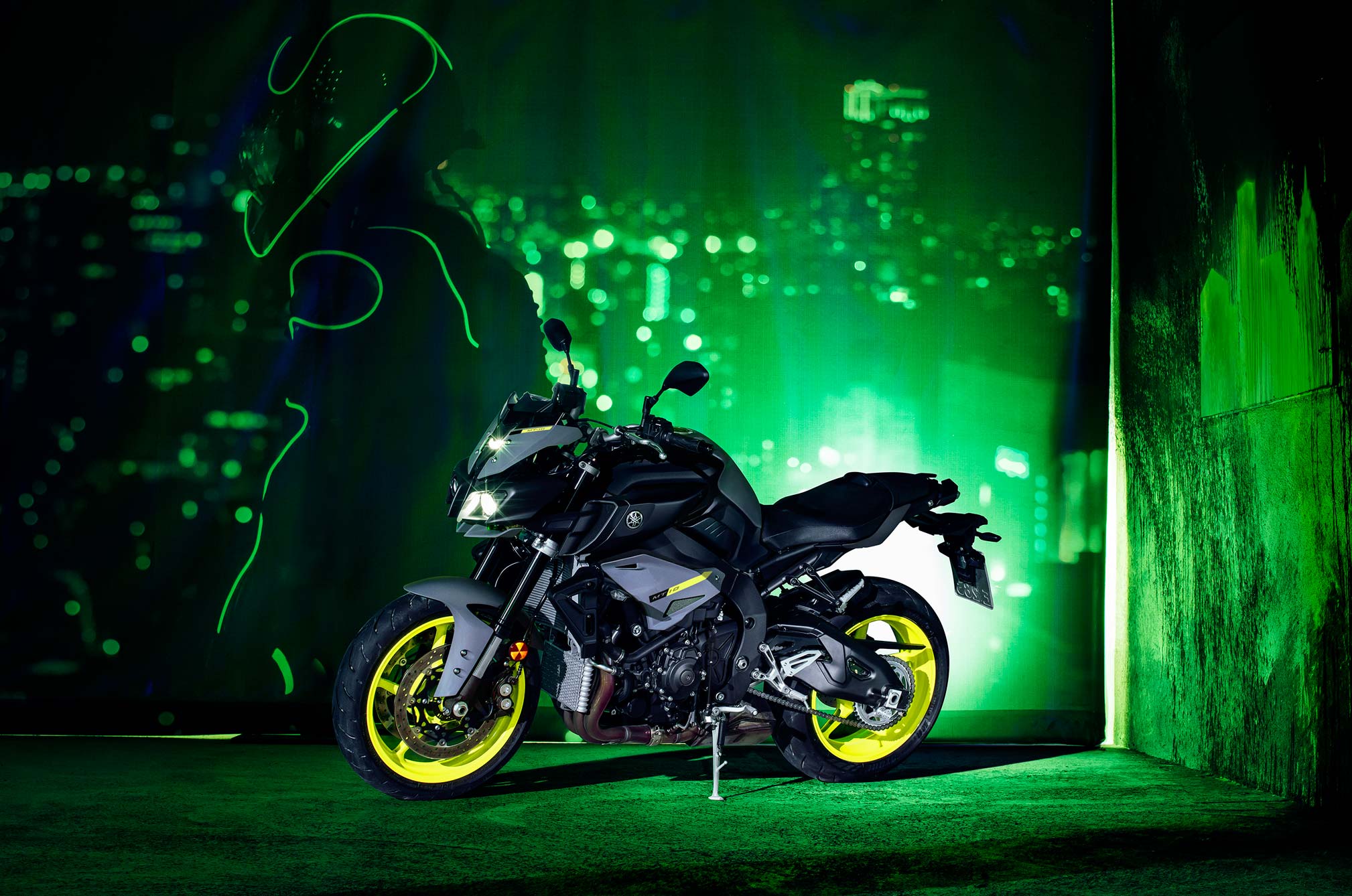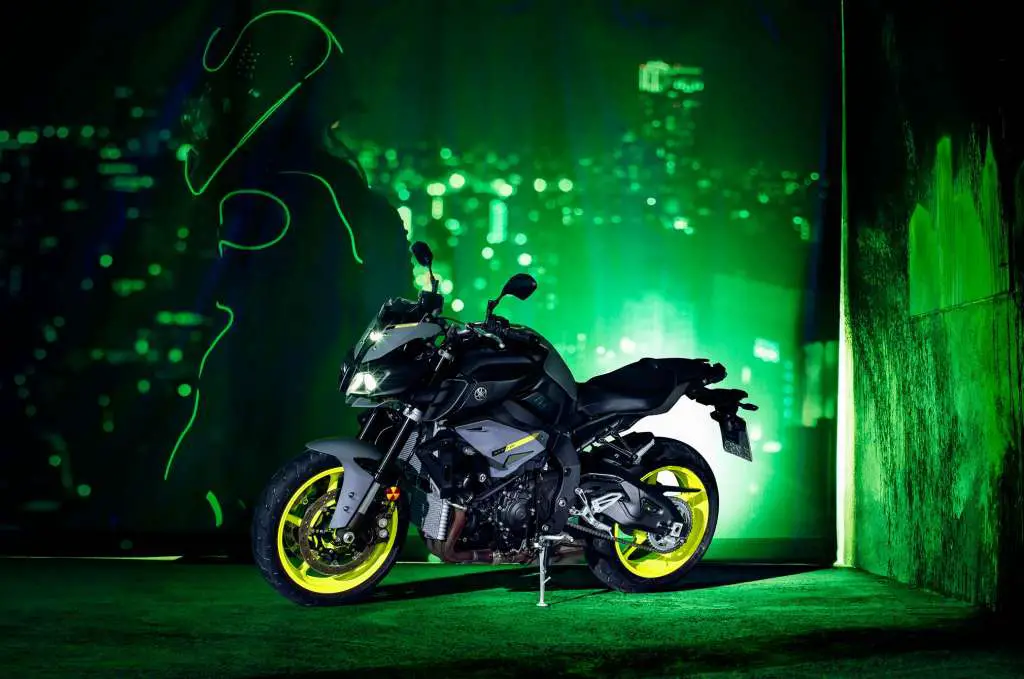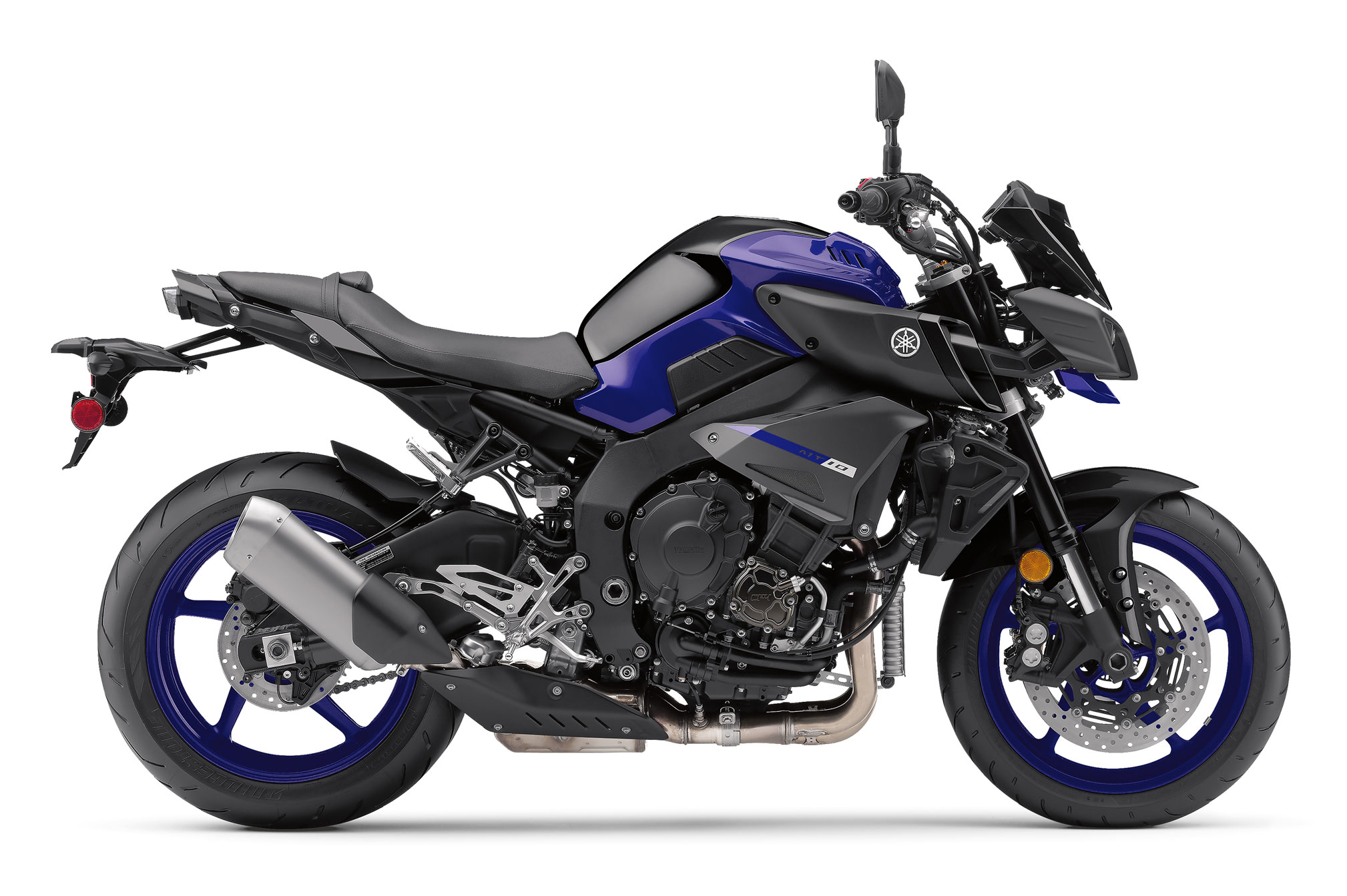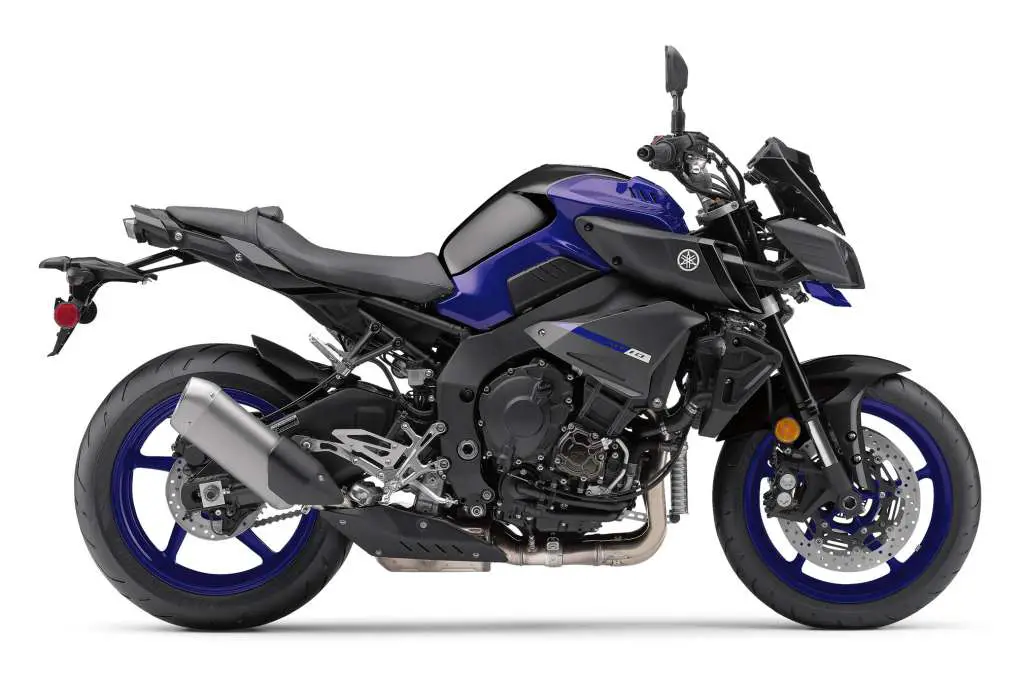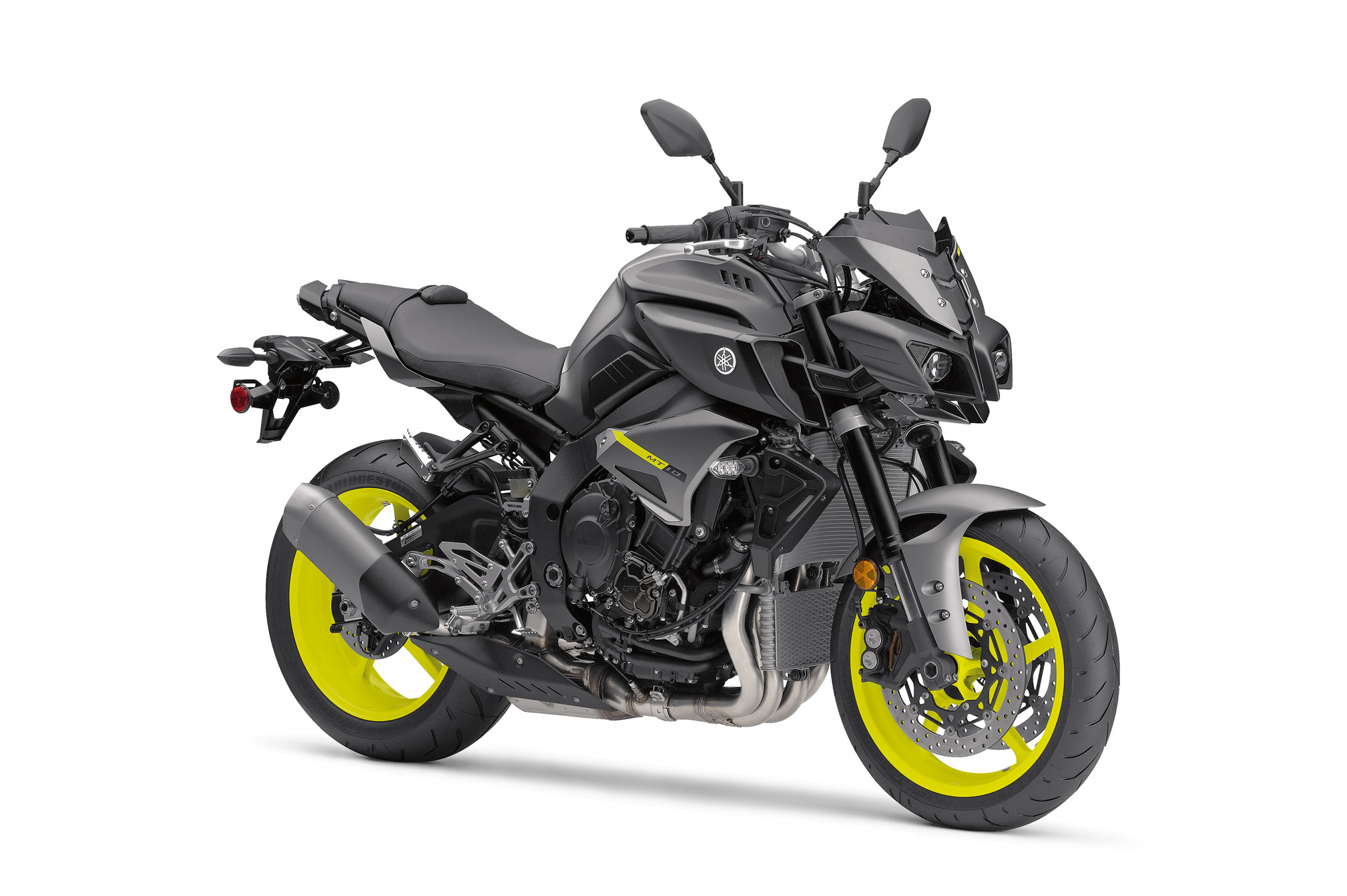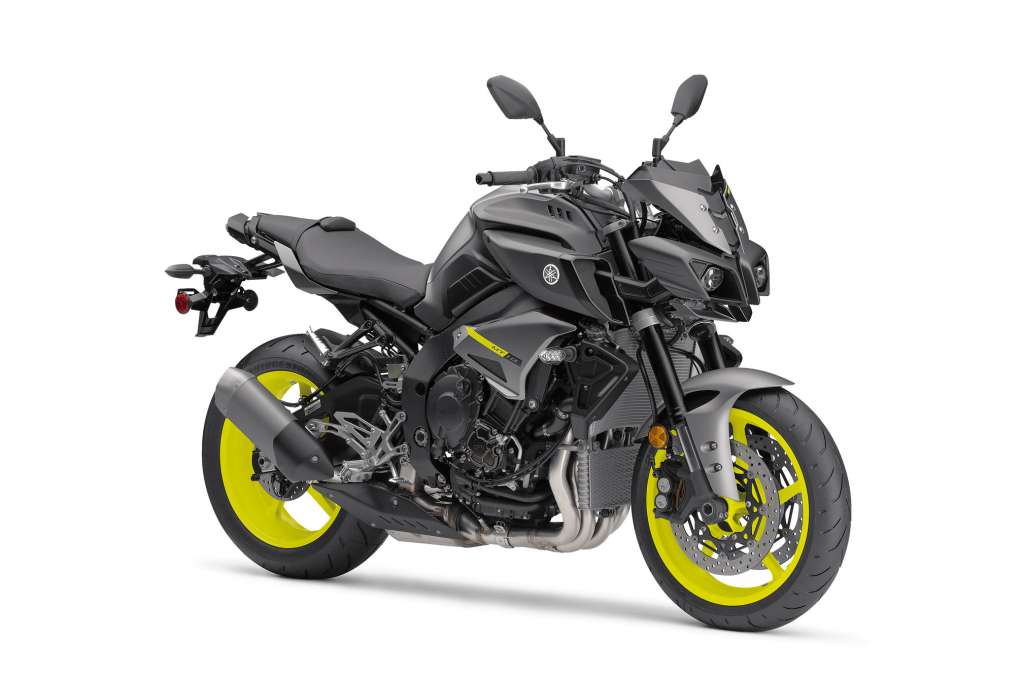 RISE TO PURE POWER.
Power. Torque. Agility. The MT-10 is the one you've been waiting for. It's by far the most powerful Hyper Naked we have ever created. And the time has come for you to enter the next level of darkness.
You've done a lot of riding. So you know exactly what you want. Serious power with corner-carving precision. And natural ergonomics that mean you can ride anywhere on any road. Ride the Ray of Darkness with the MT-10.
Driven by a 998cc crossplane engine tuned for extra low to mid-range torque – and rolling on a lightweight ultra-short wheelbase aluminium Deltabox chassis with a natural riding position – the MT-10 gives you ultimate power with class leading agility and total control.
The pinnacle of MT naked sportbike power, style and performance that lets you rules the twisties and urban streets.
Achieve next level exhilaration around every corner in every gear on the MT‑10.
Ray of Darkness
The aggressively styled MT-10 offers serious power and agility thanks to its R1-derived engine, chassis and fully adjustable suspension. Experienced riders will appreciate its comfortable upright riding position, torquey power delivery and corner-carving precision. The MT-10, guaranteed to provide an emotionally charged riding experience.
///Power
The latest generation R1 based crossplane engine has been tuned to provide plenty of low to mid-range torque and power. The intake ports and valves, combustion chamber and camshafts have all been newly designed to achieve outstanding "ride-ability" in a wide variety of riding situations.
///Versatility
Natural ergonomics, cruise and traction control systems plus ABS brakes highlight the versatile positioning of the MT-10. And with Yamaha's wide variety of genuine accessories, we have your riding style covered. From sport riding to commuting to longer distance adventures, the MT-10 is ready to impress.
///Style
The distinctive exterior style of the MT-10 is defined by a dynamic mass-forward silhouette with lean yet muscular, athletic lines. A small front cowl, full LED lighting, and exposed engine combine to create the visual expression of spirited performance.
///Key Highlights
•R1 derived engine, chassis & suspension
• R1 based engine with revised engine tuning (combustion chamber, compression, cams, intake valves & intake ports) for strong, linear low & mid-range torque
• Crossplane crankshaft with "fracture split" steel con rods & offset cylinder
• Yamaha's chip controlled throttle (YCC-T), D-Modes (3 modes) & traction control (3 settings)
• Cruise Control
• Compact & lightweight aluminum Deltabox chassis & swingarm
• ABS Brakes
• Upright ride position with slightly sporty forward lean
• LCD instrumentation
• Full LED lighting
• Accessory "quick shifter" ready
Latest Generation Crossplane Crankshaft Engine
The potent 998cc inline 4-cylinder engine features the same Crossplane Crankshaft technology developed in Yamaha's renowned YZF-R1® superbike. Tuned specifically for the MT-10™, this engine develops awesome low- and mid-rpm torque with arm-stretching top-end power.
Yamaha Chip Controlled Throttle with D-MODE and Cruise Control
The MT-10 features YCC-T®—a ride-by-wire throttle system that provides exceptionally precise engine control—and D-Mode, which allows the rider to select a preferred engine response at the flick of a switch. The MT-10 also includes cruise control for improved highway cruising comfort.
Adjustable Traction Control System
An advanced Traction Control System (TCS) assists the rider in managing traction on various road conditions by quickly modulating throttle opening, ignition timing, fuel volume and other parameters.
Like the YZF-R1 superbike, the MT-10 uses an aluminum Deltabox frame to create a lightweight and responsive chassis built for agility, featuring an ultra-compact 55.1-inch wheelbase.
Fully-Adjustable KYB® Suspension
The MT-10 features a fully-adjustable inverted KYB® front fork and a four-way-adjustable, linkage-type KYB® shock, for excellent road holding along with a tuning range ready for a wide range of street conditions.
Powerful, Controllable Brakes with ABS
An advanced Anti-lock Braking System (ABS) is mated to high-specification braking components for strong braking power with excellent feedback and control.
Aggressive Ergonomics and Styling
The MT-10 displays raw aggression from every angle, with upright ergonomics that perfectly balance sport riding feedback and relaxed comfort. High-tech LED lighting and an all-LCD instrument panel boost both style and function.
2018 Yamaha MT-10 Totalmotorcycle.com Features and Benefits
///ENGINE
• Ultra-lightweight, compact, 998 cc, DOHC, 16-valve (4-valves / cyl.), liquid-cooled, in-line four-cylinder engine with "crossplane" style crankshaft. The MT-10 engine is EU-4 emissions compliant (European Union emission standards … this is a very clean engine!)
• The key components of this cutting edge engine design are the "crossplane" crankshaft and an uneven firing order. Both of these features are used on Yamaha's championship winning R1. The MT-10's crossplane crankshaft locates the center two rods at a 90 degree plane from the outer cylinders. Instead of the crank pins aligned on the same plane (a straight line drawn through the center of the crankshaft), they align on 2 planes in the form of a cross… or "crossplane". Working in conjunction with the crossplane crank is an uneven firing order. This MT-10 engine fires 1,3,2,4 cylinders and the firing intervals are uneven at 270 / 180/ 90 / 180 degrees. What all this means to the rider is the most linear torque possible with amazing throttle control.
• 4-valve cylinder head design.
•compact pent roof combustion chambers with 12:1 compression ratio
•combustion chamber shape is optimized for low to mid-range power delivery
•lightweight 31 mm steel intake valves & 26.5 mm steel exhaust valves
•4-valve design optimizes breathing efficiency & enhances "real world" ride-ability
• Special intake port shape provides maximum filling efficiency & excellent torque.
•revised intake port shape (Vs. R1) enhances low to mid-range torque & power
• "Finger follower rocker arms".
•reduces friction, allows greater valve lift & provides super accurate control of valve opening & closing at high rpms
•sliding area of the rocker arms feature a DLC (diamond like coating) to reduce friction & wear
• Valve adjustment intervals are every 42,000 kms.
• Unique intake & exhaust cams.
•intake & exhaust cam profiles & timing have been revised (Vs R1) for increased low to mid-range torque & power
• Closed deck aluminum cylinder with "liner-less" ceramic composite plated cylinder bores.
•ceramic coating sprayed directly on the aluminum block, eliminating the liner & reducing weight
•excellent heat dissipation for consistent power delivery
•coating enhances the thin film of oil between the cylinder & piston, reducing friction & increasing power
•closed deck design allows cylinders to be spaced more closely together, reducing engine width
•cylinder is a stand-alone design (not integrated into the upper crank case)
• Offset cylinder design.
•offsets cylinder block relative to the crankshaft (to the exhaust side) to reduce frictional losses between the piston & cylinder wall during the power stroke for improved power output
• Short skirt, forged aluminum pistons.
•lightweight design means fast throttle response
•piston top / crown has been revised (Vs. R1) to optimize the new combustion chamber shape & revised compression ratio
•special Defric coating on piston skirts & piston pins reduce friction
•piston oil coolers spray oil at the underside of pistons & rods to reduce temperature
• Crossplane crankshaft design.
•revised crank webs (heavier … for optimized inertial mass vs R1) for excellent "ride-ability / street-ability"
•increased inertial mass (weight) improves starts (moving away from a stop) & low speed engine control
• Fracture split, steel connecting rods feature a "nut less" design.
•lower end "cap" of the rod is made from the same piece of material as the upper portion; the 2 pieces are "split" apart using a special process known as fracture splitting & then machined
•fracture splitting ensures true big end roundness & greater precision in con rod dimensions for excellent durability despite the high horsepower loads
• Single axis balancer shaft.
•reduces engine vibration to a minimum for excellent rider comfort
• Crankcases feature a "Tri-Axis" layout for the crank, main & drive axles.
•creates a more compact & shorter engine front to back
•shorter engine allows for optimum engine placement in the "sweet spot" of frame for desired weight distribution & great handling
• Closed loop, Mikuni throttle body fuel injection system.
•MT-10 uses a single set of 4 injectors
•12-hole injectors with optimized spray pattern for excellent "ride-ability" & throttle control
•"closed loop system" uses dual oxygen sensors to sniff spent exhaust gases & automatically adjusts the fuel / air ratio for reduced emissions
•fuel injection benefits include instant throttle response, choke-free starting, steady idle during warm up & reduced emissions
• Yamaha Chip Control Throttle (YCC-T)
• YCC-T electronically controls throttle valves for outstanding throttle response & controllability
• system features Throttle Position Sensor (TPS) and D.C. motor driven throttle valves
•YCC-T system provides precise control of intake air volume for a smoother torque curve
•ECU that controls YCC-T is capable of responding to changes at a speed of 1000th of a second
• Compact 6-speed transmission.
•features optimized gear ratios matched to engine output (same ratios as R1)
• secondary (final) reduction ratio has been revised (Vs. R1)… 43/16
• Compact, lightweight slipper (back limiter) clutch assembly with assist.
•reduces rear wheel hop/chatter during aggressive down shifts & under hard braking
• smoother corner entries
• assist function reduces clutch lever effort by up to 20% (Vs. a non-assist clutch)
•Accessory quick shifter ready.
• allows for faster upshifts by eliminating the need to close the throttle or pull in the clutch
• works with standard shift pattern
• reduces wear & tear on the clutch & transmission
•easy plug-and-play installation (part number: B67-181A0-00-00)
• Large capacity 12 litre air box
•viscous type, high flow air filter is used
•large capacity design helps smooth transition from on throttle to off throttle & vice versa
• Mid ship design 4 into 2 into 1 exhaust system
•features stainless steel header pipes & stainless steel under engine exhaust chamber
• lightweight titanium silencer / muffler
• design maximizes power, centralizes mass & lowers the centre of gravity for fast, light, agile handling
• dual 3-way honeycomb catalyzers reduce harmful exhaust emissions
• Yamaha's EXUP System (Exhaust Ultimate Power Valve).
•part of the mid ship exhaust system
•utilizes butterfly valve that prevents the "blow back" phenomenon caused by "valve overlap"
•EXUP system eliminates "flat spots" in the power band & reduces emissions too
• High-efficiency, high capacity curved radiator.
•curved rad provides more cooling surface area than a conventional flat rad
•dual "ring-type" fans provides increased airflow (& cooling) versus a standard cooling fan
•external water pump (located outside of crankcases) reduces engine width & simplifies maintenance
• Air-cooled oil cooler with protective screen
•located below main rad
• maintains consistent lubricant temperatures for extended engine life
• Wet sump lubrication system with deep design aluminum oil pan.
•easy access drain plug & spin-on type oil filter for fast, easy oil changes
• Maintenance-free transistor controlled ignition (TCI).
•produces a strong spark for fast starts
•provides precise ignition timing / mapping for optimum engine performance at all rpms
• Direct ignition coils
•ignition coils are integrated into the plug caps, significantly reducing weight & complexity
///ELECTRONIC RIDER AIDS
• Yamaha Chip Control Throttle (YCC-T)
• YCC-T electronically controls throttle valves for outstanding throttle response & controllability
• system features Throttle Position Sensor (TPS) and D.C. motor driven throttle valves
•YCC-T system provides precise control of intake air volume for a smoother torque curve
•ECU that controls YCC-T is capable of responding to changes at a speed of 1000th of a second
•Yamaha "D-Mode" variable throttle control… 3 modes available.
•enables the rider to adjust the performance characteristics of the engine based on riding preferences or riding conditions
•standard mode offers throttle response well suited to a variety of riding conditions, emphasizing linear throttle control
•A Mode enhances throttle response allowing riders to enjoy even sportier engine performance in the low to mid rpms
•B Mode offers the sportiest throttle response
•Traction control system… 3 modes available.
•works in conjunction with the YCC-T system (utilizes same front & rear wheel sensors as ABS system)
•system senses when the rear wheel begins to spin & modifies the YCC-T function, ignition timing & fuel injection duration to reduce power & eliminate wheel spin
•3 modes: mode 1 for sporty riding — minimal intervention; mode 2 for normal street riding — medium intervention & mode 3 for slippery or wet conditions — maximum intervention
•system is automatically engaged when ignition is on … can be turned off if desired
•status indicator / warning light in meter assembly
•Electronic cruise control system.
•works in conjunction with the YCC-T system
•"settable range" is from 50 to 160 km/hr & transmission must be in 4th gear or higher
•cruise control can be cancelled by activating front or rear brakes, pulling in the clutch, completely closing the throttle grip or using the activation button
•control buttons are located on the L.H.S. handlebar switch gear
///CHASSIS/SUSPENSION
• Gravity cast, aluminum R1 based Deltabox frame
• designed to offer an optimized strength — rigidity balance (balance of strength, rigidity & tuned flex) to maximize handling & suspension performance
• engine is stressed member with rigid mounts
• benefits include reduced weight, excellent high-speed stability & cornering characteristics, excellent traction / drive characteristics exiting a corner and greater freedom in choosing or changing a line through a turn
• Detachable steel rear subframe
• steel is used for additional strength (optional sport luggage)
• reduces costs in the event of damage & allows easier rear shock access
• Lightweight aluminum "upward truss-type" swingarm
• provides great torsional rigidity for excellent rear wheel traction & control
• swingarm length is 570 mm to optimize traction, suspension performance & reduce effects of "chain tensioning"
• swingarm features threaded holes for accessory spools for superbike style stand
• Short 1400 mm (55.1″) wheelbase for super agile handling.
• Fully adjustable KYB 43 mm inverted fork with 120 mm (4.7″) of wheel travel.
• R1 based fork with setting revisions
• adjustments include: spring preload, rebound & compression damping
• incredible suspension performance with excellent "feedback"
• inverted design reduces unsprung weight & increases the rigidity of the fork since the larger diameter tubes are gripped in the triple clamps
• adjustable design allows the rider to tune suspension to match riding style, rider weight & road or track conditions
• Lightweight aluminum upper & lower triple clamps.
• Fully adjustable Monocross link rear suspension utilizes a piggyback-style KYB shock providing 120 mm (4.7″) of wheel travel.
• shock adjustments include: threaded spring preload, rebound damping, slow speed compression damping & high speed compression damping
• overall shock length can be adjusted by 5 mm for ride height adjustability
• piggyback design helps to keep the shock oil cool for more consistent damping
• Electric steering damper.
• ABS equipped, radial mount, 4-piston, mono-block calipers squeeze fully floating 320 mm dual front discs.
• great braking performance with excellent control & lever feedback.
• radial mount design helps to reduce caliper distortion for improved braking performance
• 5-position adjustable front brake lever
• Compact, single piston, slide-type Nissin rear caliper squeezes a lightweight 220 mm disc.
• Front & rear brakes feature Yamaha's latest anti-lock brake (ABS) technology.
• ABS offers excellent control under hard braking or braking on wet or slippery surfaces
• when ABS system senses impending wheel lock-up (via active type wheel sensors) it regulates the hydraulic brake pressure to the point just before the wheel(s) lock-up
• Lightweight, 5-spoke, cast aluminum mag wheels.
• lightweight contributes to excellent handling & suspension (reduced unsprung weight)
performance • front rim size is MT3.50 x 17, rear rim is MT6.00 x 17
•17 litre steel fuel tank.
• tank provides excellent knee grip
• 4 litre reserve capacity (fuel trip meter activates)
• steel design allows use of magnetic tank bags
• in-tank electric fuel pump
• Tapered aluminum handlebar.
• lightweight design with excellent strength
• offers a comfortable, upright riding position for all day riding comfort
• traditional "handlebar" design allows easy replacement to a different "bend" if desired
• Minimal "naked" roadster styling with extreme design highlights.
• unique & stylish "face" highlights the lean, muscular look of the MT-10
• Full LED lighting (headlights, brake & tail lights, turn signals, license plate light).
• excellent illumination & visibility
• headlights can be aimed both vertically & horizontally
• LEDs reduce power consumption (LED bulbs use less power than conventional bulbs)
• Single piece rider & passenger seat with rider "hip stopper".
• seat design allows good side to side movements & helps hold the rider in place during acceleration
• Fully digital LCD meter assembly.
• displays include; speedo, bar style tach, odometer, dual trip meters, gear position, clock, intake air temp, coolant temp, instant & average fuel efficiency, fuel gauge, low fuel trip meter (counts kilometers since fuel switched to reserve), ECO light (illuminates when bike is being ridden in a fuel conserving manner), D-Mode display, plus a full range of warning & indicator lights including cruise control & traction control status
• background illumination is adjustable
• Immobilizer ignition system is designed to reduce the possibility of "ride away" theft.
• system must recognize the "coded ignition key" in order for the unit to start
• if the immobilizer ignition does not recognize the key, the ignition system & starter will not function, even if the ignition is forced into the on position
///DETAILS
• lightweight aluminum side stand, gear shifter, rear brake pedal, footpegs & footpeg mounts
• 12-volt auxiliary DC connector
• easy access, YDT (Yamaha Diagnostic Tool) connector
• lean angle sensor will shut down the engine if the bike is lying on its side
• oil level sight glass window
• heavy duty "O" ring chain
• low maintenance, sealed 10 amp hour battery (higher capacity battery than R1 & R1S). Battery should be charged during winter storage.
NOTE: The MT-10 offers a significant level of power & performance. It is not intended for novice or inexperienced riders. All information is subject to change without notice.
2018 Yamaha MT-10 – Totalmotorcycle.com USA Specifications/Technical Details
US MSRP Price: $12,999 USD
Engine Type 998cc, liquid-cooled DOHC inline 4-cylinder; 16 valves
Bore x Stroke 79.0mm x 50.9mm
Compression Ratio 12.0:1
Fuel Delivery Fuel Injection with YCC-T
Ignition TCI: Transistor Controlled Ignition
Transmission 6-speed; multiplate assist and slipper clutch
Final Drive Chain
Suspension / Front 43mm KYB® inverted fork, fully adjustable; 4.7-in travel
Suspension / Rear KYB® piggyback shock, fully adjustable; 4.7-in travel
Brakes / Front Dual 320mm hydraulic disc; ABS
Brakes / Rear 220mm hydraulic disc; ABS
Tires / Front 120/70ZR17
Tires / Rear 190/55ZR17
L x W x H 82.5 in x 31.5 in x 43.7 in
Seat Height 32.5 in
Wheelbase 55.1 in
Rake (Caster Angle) 24.0°
Trail 4.0 in
Maximum Ground Clearance 5.1 in
Fuel Capacity 4.5 gal
Fuel Economy 30 mpg
Wet Weight 463 lb
Warranty 1 Year (Limited Factory Warranty)
Color Matte Gray; Team Yamaha Blue
2018 Yamaha MT-10 – Totalmotorcycle.com Canadian Specifications/Technical Details
Canada MSRP Price: $16,199 CDN
///Engine
Engine
Liquid-cooled, DOHC, 16-valves (4-valves/cyl), in-line four-cylinder
Displacement
998cc
Bore and Stroke
79 x 50.9 mm
Compression Ratio
12:1
Maximum Torque
11.3 kg-m (81.8 ft-lb) @ 9,000 rpm
Engine Management
YCC-T, D-Mode (3), Traction Control (3), Cruise Control
Fuel Delivery
45 mm Mikuni throttle body fuel injection
Estimated Fuel Consumption±
12.8 kpl / 36 mpg (Imp.)
Lubrication
Wet sump
Ignition / Starting
TCI / Electric
Transmission
6-speed
Final Drive
"O"-ring chain
///Chassis
Suspension (Front)
Fully adjustable inverted 43 mm fork / 120 mm (4.7″) wheel travel
Suspension (Rear)
Fully adjustable link Monocross / 120 mm (4.7″ wheel travel)
Brakes (Front)
Dual 320 mm discs / radial mount, 4-piston calipers / ABS equipped
Brakes (Rear)
220 mm disc / single piston caliper / ABS equipped
Tires (Front)
120/70ZR17
Tires (Rear)
190/55ZR17
///Critical Data
Length
2,095 mm (82.5″)
Width
800 mm (31.5″)
Height
1,110 mm (43.7″)
Wheelbase
1,400 mm (55.1″)
Rake / Trail
24° / 102 mm (4″)
Ground Clearance
130 mm (5.1″)
Seat Height
825 mm (32.5″)
Fuel Capacity
17 litres (3.7 imp. gallons)
Wet Weight
210 kg (463 lb.)
Colour(s)
Yamaha Blue
Metallic Gray
2018 Yamaha MT-10 – Totalmotorcycle.com European Specifications/Technical Details
Europe/UK MSRP Price: £ See Dealer for Pricing in GBP (On The Road inc 20% Vat)
Engine MT-10
Engine type 4-stroke, liquid-cooled, DOHC, 4-valves
Displacement 998cc
Bore x stroke 79.0 mm x 50.9 mm
Compression ratio 12 : 1
Maximum power 118.0 kW (160.4PS) @ 11,500 rpm
Limited power version N/A
Maximum torque 111.0 Nm (11.3 kg-m) @ 9,000 rpm
Lubrication system Wet sump
Clutch type Wet, Multiple Disc
Fuel system Fuel Injection
Ignition system TCI
Starter system Electric
Transmission system Constant Mesh, 6-speed
Final transmission Chain
Fuel consumption 8.0 l/100km
CO2 emission 185 g/km
Chassis MT-10
Frame Aluminium Deltabox
Front suspension system Telescopic forks, Ø 43 mm
Front travel 120 mm
Caster angle 24º
Trail 102 mm
Rear suspension system Swingarm, (link suspension)
Rear travel 120 mm
Front brake Hydraulic dual disc, Ø 320 mm
Rear brake Hydraulic single disc, Ø 220 mm
Front tyre 120/70 ZR17 M/C (58W)
Rear tyre 190/55 ZR17 M/C (75W)
Dimensions MT-10
Overall length 2,095 mm
Overall width 800 mm
Overall height 1,110 mm
Seat height 825 mm
Wheel base 1,400 mm
Minimum ground clearance 130 mm
Wet weight (including full oil and fuel tank) 210 kg
Fuel tank capacity 17 litres
Oil tank capacity 3.9 litres
Manufacturer Specifications and appearance are subject to change without prior notice on Total Motorcycle (TMW).