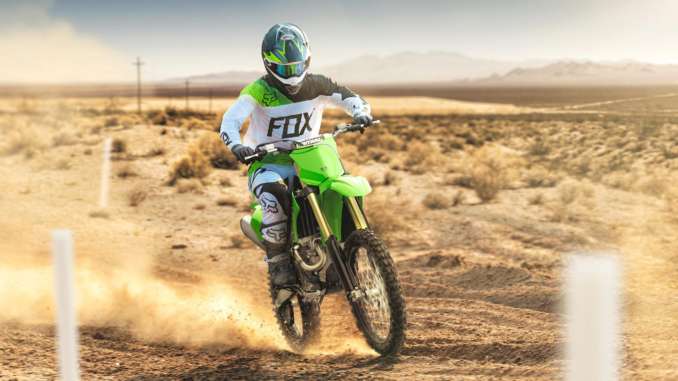 2021 Kawasaki KX450 XC : GET THE OFF-ROAD EDGE.
Introducing the 2021 Kawasaki KX450 XC.
When it comes to KX™ motorcycles, winning runs in the family. The all-new cross-country KX™450XC motorcycle is powered by technology that hails from a legacy of champions and tuned to take on the toughest terrain. Get the off-road edge on the bike built to ride ahead of the rest.
With a rich history in off-road racing, Kawasaki adds the new KX™450XC to its off-road line-up. The new cross-country racer retains all of the championship-winning performance and factory-style features of the KX450 motocross racer but adds XC-specific engine tuning and suspension settings, 21/18-inch wheels fitted with enduro-type tires, and convenient standard features like a side stand and skid plate.
The engine has potent peak power while a flat torque curve makes it easy to accelerate and find traction. Kawasaki's multi-time World Superbike Championship-winning engineers designed the finger-follower valve train that, combined with minimal friction loss and steep downdraft style intake tract, contributes to the power.
The championship-proven technology of KX™ race machines has now been purposely tuned for off-road competition. Kawasaki is proud to announce all-new race ready off-road KX™ XC models with the all-new 2021 KX™250XC and KX™450XC models.
As a brand that has a rich history in off-road racing with more than 25 championships in WORCS, National Hare & Hound, GNCC, and Endurocross over the past 20 years, there's no denying the all-new KX XC models are powered by technology that hails from a legacy of champions.
The KX250XC and KX450XC share many winning traits with their motocross counterparts including the engine, frame, chassis, and styling, paired with unique cross-country tuning and settings such as suspension settings, gearing, off-road 21"/18" wheel combination, Dunlop Geomax AT81 tires, brake components, skid plate, and kickstand. The softer suspension settings and shorter gearing ratio help to create the optimal handling off-road race package for the KX XC lineup.
Developed to dominate off-road racecourses in both the woods and the desert, the KX XC lineup offers riders an arsenal of factory-style features along with the dominant engine and chassis performance right off the showroom floor.
Highlights of the 2021 KX XC Lineup
ALL-NEW Off-road optimized engine and suspension settings
ALL-NEW 21" front wheel and 18" rear wheel
ALL-NEW Dunlop GEOMAX AT81 tires
ALL-NEW Brake components
ALL-NEW Skid plate
ALL-NEW Kickstand
POWERFUL 449cc ENGINE
RACE-READY XC SUSPENSION
F21″/R18″ WHEELS AND OFF-ROAD TIRES
SKID PLATE & SIDE STAND
Electric start
Coned disc-spring hydraulic clutch
Launch Control Mode
Easy engine tuning
Finger-follower valve actuation
Industry-leading slim aluminum perimeter frame
Powerful brakes
Slim, ergonomic bodywork
ERGO-FIT® adjustable ergonomics
Renthal® Fatbar® handlebar
Uni-Trak® linkage system
The all-new 2021 KX450XC has been designed as the flagship model of the KX XC lineup. Whether in the woods, desert, or cross-country the KX450XC is a race-ready championship winning machine right off the showroom floor, and shares numerous winning traits of its motocross counterpart, the KX450.
An cross-country race machine tuned for more experienced riders, the 449cc liquid-cooled, four-stroke engine, slim aluminum perimeter frame, Showa A-KIT technology suspension, hydraulic clutch and electric start are the ultimate combination of a championship winning package.
The KX450XC is built with race-winning components to help Kawasaki riders get to the top step of the podium. From the showroom to the racetrack, the performance of Kawasaki's KX family of motorcycles is proof of its engineering pedigree.
ENGINE
The four-stroke, single cylinder, DOHC, water-cooled 449cc lightweight engine package utilizes input derived directly from the factory race team, with optimized engine mapping and settings for off-road racing. The potent KX450XC engine features an electric start, which is activated by the push of a button and powered by a compact Li-ion battery.
Kawasaki brought top-level road racing technology to the KX450XC valve train, using designs from Kawasaki World Superbike engineers. It uses a finger-follower valve actuation, enabling larger-diameter valves and more aggressive cam profiles. The intake and exhaust valves are formed from lightwight titanium, while a bridged-box piston uses the same design as the Monster Energy® Kawasaki race team's factory motorcycles. For increased performance on the 2021 KX450XC engine, the piston also features a dry film lubricant coating on the piston skirt to reduce friction.
A close-ratio five speed transmission features lightweight gears and shafts to keep weight down, yet retains strength, while contributing to the motorcycle's winning performance. The KX450XC has shorter gearing than its counterpart, the KX450, with a final gear ratio of 51/13. The transmission is paired with a coned disk-spring hydraulic clutch that is designed to provide a consistent feeling through minimal change in play as the clutch heats up during heavy use. The coned disc-spring contributes to a light clutch actuation and a wide clutch engagement range, which facilitates increased control.
CHASSIS
An industry-leading slim aluminum perimeter frame provides pecise cornering through excellent front-end feel and the ultimate agility when riding at high speeds. The frame's lightweight construction is composed of forged, extruded and cast parts, while the engine is used as a stressed member and adds to the frames rigidity balance. A lightweight alloy swingarm is constructed of a cast front section and twin tapered hydro-formed spars in a raw aluminum finish, complementing the frame's raw look. Engineers carefully placed the dimension of the swingarm pivot, output sprocket and rear axle locations, helping to focus on lower center of gravity and balanced handling.
SUSPENSION & BRAKES
The race-ready suspension found on the KX450XC features front and rear spring rates and damping settings that have been optimized for technical off-road and cross-country racing environments. High-performance Showa 49 mm coil spring front forks with A-KIT technology can be found up front, featuring large diameter inner tubes that are the same size as those found on Kawasaki's factory racing team's machines. The forks enable the use of large damping pistons for smooth action and firm damping. A super-hard titanium coating on the outer surface of the inner/lower fork tubes helps prevent wear and abrasion. The increased surface hardness of the dark navy-blue coating also helps to prevent scratches and damage to the tubes. Kashima Coating on the fork tubes also helps prevent wear and abrasion while optimizing performance.
On the rear, a new Uni-Trak® linkage system is designed to work in conjunction with the Showa shock, aluminum frame and swingarm. The linkage, which is mounted below the swingarm, allows for a longer rear suspension stroke and more precise rear suspension tuning. The Showa Compact Design rear shock boasts A-KIT technology with large diameter compression adjusters, improving on the high frequency movements found when racing cross-country. The Showa shock features a self-lubricating alumite coating on the shock body to help prevent wear and abrasion, while also reducing friction for smoother suspension action.
An oversized 270 mm, petal-shaped front brake rotor from the renowned manufacturer, Braking, is fitted to perfectly complement the powerful engine of the KX450XC. Optimized for cross-country riding and increased control, the rear is equipped with a 240 mm petal-shaped Braking® rotor that matches the large front disc. Both are gripped by Nissin master cylinder and caliper setups with XC-specific pads.
XC SPECIFIC COMPONENTS
The KX450XC is equipped with many specific cross-country components, such as the 21" front and 18" rear wheel combination paired with Dunlop GEOMAX AT81 tires, which were selected for optimal handling in off-road racing conditions. Other cross-country specific components include the durable plastic skid plate and side stand.
ERGONOMICS & ERGO-FIT® ADJUSTABLE COMPONENTS
Kawasaki continues its umatched commitment towards providing riders with class-leading comfort thanks to its ERGO-FIT® adjustable handlebar mounting system and footpegs to fit a variety of riders and riding styles. The KX450XC is equipped with factory-style 1-1/8" aluminum Renthal® Fatbar® handlebar, as standard equipment. The handlebars feature four-way adjustable mounts. The multi-positition handlebars offer two mounting holes with 35 mm of adjustability, and the 180-degree offset clamps boast four individual settings to suit different size riders. The footpegs feature dual-position mounting points, with a lower position that reduces the standard setting by an additional 5 mm. The lower position effectively lowers the center of gravity when standing, and reduces knee angle when tallers riders are seated.
BODYWORK & SEAT
Complementing the championship proven technology, the 2021 KX450XC features aggressive styling along with in-mold graphics on the radiator shrouds that result in an ultra-smooth surface and a factory-racer look needed to finish at the top of its class. The sleek bodywork has been molded to match the V-mounted radiators and narrow chassis design. Each piece of the bodywork has been designed to help facilitate the rider's movement with long, smooth surfaces. The rims are coated with tough, durable black alumite treatment. Adjusters on the fork and shock both feature a high-quality green alumite finish. A gold finish on the oil cap and the both plugs on the engine cover further contribute to KX factory-racer looks and styling.
2021 Kawasaki KX450 XC Totalmotorcycle.com Features and Benefits
4-Stroke Engine
• Light piston helps minimize reciprocating weight and contribute to engine performance. The piston features a similar bridged-box bottom design featuring fully flush internal bracing as those used on the factory racers, with a short skirt and reinforced external ribs resulting in a lighter, stronger piston.
• The piston skirt is coated with a dry film lubricant to reduce friction between the piston and cylinder for increased performance.
• Plain bearings at the connecting rod big end reduce mechanical loss and help boost power.
• Cylinder offset is 8.5mm forward to reduce friction and enable more efficient power generation.
• Wedge-shaped crank web increases offsetting moment for a balance factor close to 60 percent, which is close to the factory bike. The high balance factor contributes to reduced engine vibration, smoother power delivery and increased performance, especially at low rpm where response is noticeably snappier.
• Aluminum cylinder with chrome composite plating(KP) provides rapid heat transfer, superb wear resistance and optimum lubrication retention for increased performance and durability.
• Semi-dry sump(KP) lubrication system for quicker engine response. The majority of oil is stored in the transmission to keep excess oil away from the crankshaft and prevent power-robbing stirring loss. A shallow chamber collects oil at the bottom of the crankcase, where a scavenge pump moves it to the transmission. This allows the crank to be located as low as possible to help lower the center of gravity.
Race-tuned 4-Valve Cylinder Head(KP)
• Finger-follower valve train designed by Kawasaki's multi-time World Superbike Championship winning engineers allows large diameter valves, aggressive cam profiles and high rev limit for high-rpm performance.
• Finger-follower valve actuation reduces valve train mass by approximately 6.5 percent compared to tappet-style actuation, as well as reducing friction at the cam lobe. DLC (Diamond-Like Carbon) coating on the followers help prevent wear.
• Aggressive camshaft lobes have a chromium nitride coating for durability.
• 40mm intake and 33mm exhaust valves are titanium to help reduce weight.
• Chromium steel valve spring retainers are also light and provide reliable valve control at high rpm.
• When the cylinder head is cast the intake port cores are coated so that they have extremely smooth surfaces for increased intake efficiency.
ENGINE
• Downdraft Intake
• Downdraft-style intake routing has a 20˚ approach angle for a straight approach for intake air that enhances cylinder filling efficiency and contributes to power.
• 44mm throttle flows abundant air for maximum performance, especially at high rpm and overrun. A reversed orientation tilts the butterfly valve open from the top for optimum fuel atomization from the top-mounted injector.
• Fine atomizing, 12-hole injector sprays 75 micron droplets and contributes to smooth power delivery and superb engine response at partial throttle.
Resonator Exhaust
• Long header pipe contributes to robust low-end power.
• Exhaust system features a resonator chamber to effectively increase exhaust pipe length and reduce exhaust noise.
Coned Disc-spring Hydraulic Clutch
• The clutch uses a single coned disc spring instead of five coiled springs for light clutch actuation when the lever is pulled and a wide clutch engagement range that helps the rider control the clutch. The coned disc spring rate decreases as the clutch lever is pulled in so that lever action is very light to help reduce rider fatigue during long off-road events.
• Kawasaki's hydraulic clutch offers direct feel and light lever action. Less play as the clutch heats up during heavy use results in a more consistent feel.
Electric Start
• Provides the convenience of quick and easy push-button engine starting.
• Powered by a lightweight, compact lithium-ion battery that helps keep weight gain to a minimum.
• Automatic centrifugal compression release system on the exhaust cam lifts one exhaust valve to facilitate starting. The system's simple construction is light weight and highly reliable
• NOTE: Only use Lithium-ion specific battery charger to help prevent fatal battery damage.
Easy DFI Tuning
• Riders can change DFI settings by simply replacing a coupler located on the right side of the steering stem. Riders can choose between Standard, Hard or Soft terrain settings to suit riding conditions.
• Hand Held Easy-to-Use KX FI Calibration Kit (Optional)
• Accessory KX FI Calibration Kit features a hand-held controller that enables users to adjust engine characteristics trackside simply by plugging the controller into the engine's ECU.
• The kit's user interface is easy to understand and easy to use.
• Seven different maps come loaded on the controller to adjust the ECU to suit track conditions. Additional maps can be created and stored on the hand held controller, or on a PC with data transfer between the controller and PC performed via SD card.
• When connected to the ECU, the controller can be used to display the status of a running engine.
• Can be used on all KX™ models equipped with DFI.
Launch Control Mode
• Similar to the system used on the Monster Energy® Kawasaki factory racers, allows riders to activate a separate engine map designed to assist them get holeshots in live-engine starts by pressing a button.
• The Launch Control Mode map retards ignition timing, allowing the tire to gain grip in low traction situations, and allowing riders to focus on their lines.
• Even for top-level riders, controlling the massive power of the KX450XC off the start requires throttle control and clutch finesse. By slightly reducing this power, Launch Control Mode helps riders maximize traction and increase the chance of getting a good start.
• Launch Control Mode has the greatest effect within the first few seconds of releasing the clutch off the start – the most crucial time to get ahead of rivals for better positioning going into the first corner.
• Activated when the engine is running by pressing and holding the launch control button, located at the left handlebar, for two seconds or more while in neutral, first or second gear. When activated, the indicator lamp next to the button flashes quickly to let the rider know the system is engaged.
• The system automatically disengages when the transmission is shifted into third gear, switching back to the normal engine map.
• The Launch Control Mode indicator light also serves as a warning light if the DFI system malfunctions.
Aluminum Perimeter Frame (KP)
• The engine is used as a stressed member, contributing to the frame's rigidity balance.
• Steering head area with optimised rigidity, main frame rails, and line for the swingarm brackets contribute to the overall rigidity balance. Wide lower frame rails also contribute to overall rigidity balance.
• Down tube combines a forged front portion with cast aluminum rear piece which contributes to better front-end feel.
• Composed of a combination of forged, extruded and cast parts, the aluminum frame is designed with a balance of torsional and longitudinal rigidity for quick handling.
• Design emphasis on providing maximum traction under acceleration. Specific chassis dimensions and design (reinforcing ribs, swingarm pivot, output shaft, linkage mounts and rear axle) placed to prevent chassis squat and improve traction.
FRAME
• SHOWA 49mm Coil-Spring Fork with A-Kit Technology
• Equpped with several items developed in SHOW
A's A-Kit premium aftermarket performance kit fork.
– Large-diameter inner tubes –the same size used on Kawasaki's factory racers –allows large 39mm compression damping pistons and a 25mm cartridge cylinder to be used for smooth action and firm damping.
– The inner surface of the outer fork tubes have Showa's Dimplush™ texture, which features a wave-like finish to help retain an oil film for smoother action. The Dimplush texture also has Kashima coating to create a hard, low-friction surface that helps prevent wear so the sliding surfaces remain smooth for a long time. The lubricating material in the coating contributes to smoother suspension action, especially at the initial part of the stroke, and a better ride feel.
– Low-friction fork oil further reduces friction.
– Hard titanium oxide coating on the outer surface of the inner fork tubes helps prevent wear, scratches and other damage to the tubes while reducing stiction and improving overall fork action.
• Based on feedback from Kawasaki's factory race teams, the 22mm front axle enhances front-end traction.
New Uni-Trak® Rear Suspension
• Compact designed rear shock has larger diameter compression adjuster that helps prevent oil cavitation under high frequency movement and is equipped with items from Showa A-KIT shock technology.
• New Uni-Trak rear suspension linkage ratios selected to suit the chassis. The linkage mounts underneath the swingarm allowing additional rear suspension travel yet maintaining a low seat height. The additional rear travel offers improved suspension action over a wider range of track conditions.
• Dual compression adjustability allows high speed and low-speed damping to be tuned separately.
• The inside of the shock reservoir has a self-lubricating alumite coating that helps prevent wear abrasion and reduces friction for smoother suspension action.
• 270mm Braking brand petal front brake disc provides superb stopping power.
• Front brake master cylinder provides superb initial control while contributing to overall braking performance.
• 240mm Braking brand petal rear brake disc for strong stopping power and enhanced rider feedback and feel, beneficial in longer off-road races where endurance is tested.
• Petal disc shape helps remove dirt build up in pads, increasing performance.
BRAKES
A smooth, flat rider interface provides easy rider mobility on the bike.
• Equipped with 1-1/8 inch Renthal aluminum Fatbar handlebar that helps reduce vibration and shocks transmitted to the rider as well as optimizing the riding position.
Slim, Adjustable Ergonomics
• Wide footpegs provide firm footing.
• Bodywork is designed to facilitate rider movement with long, smooth surfaces that ease sliding back and forth on the bike.
• The top of the fuel tank is designed to provide a flat progression from the seat to the tank, giving riders great freedom of movement and allowing them to sit far forward.
• Radiator shrouds are positioned close to the frame so they are slim where the rider's knees make contact, and the single-piece design make them easy to grip with the legs.
•  The radiators are turned inward 10 degrees, and combined with the narrow frame spars provide a narrow rider interface.
ERGONOMICS
ERGO-FIT® Components
• Upper triple clamp provides two mounting positions for the reversible handlebar clamps so that the Renthal handlebar can be set in one of four positions with a 35mm range of adjustment.
• The footpeg brackets can be mounted in two positions, allowing the rider to change footpegs height by 5mm.
Factory-style Details
• Gold finish on the oil filler, flywheel nut cap and timing inspection cap contribute to factory looks.
• Black wheels, triple clamps, and cylinder head covers complement Kawasaki's racing lime green color.
• Lightweight magnesium clutch, generator and cylinder head covers.
• Optional parts available through Kawasaki dealers include rear sprockets, solid brake discs, handlebar holder for 7/8" handlebar, and stiffer or softer shock springs.
• The KX graphics use an in-mold process to seal the graphic into the shroud plastic for greater longevity and an ultra-smooth outer surface.
2021 Kawasaki KX450 XC – Totalmotorcycle.com USA Specifications/Technical Details
US MSRP Price: $9,599 USD
Canada MSRP Price: $10699 CDN
Europe/UK MSRP Price: £ GBP (On The Road inc 20% Vat)
POWER
Engine
4-stroke single, DOHC, liquid-cooled
Bore x Stroke
96.0 x 62.1mm
Fuel System
DFI
®
 with 44mm Keihin throttle body
Ignition
Digital CDI with 3 Coupler Options
Transmission
5-speed, return shift, with wet multi-disc manual clutch and hydraulic clutch actuation
PERFORMANCE
Front Suspension / Wheel Travel
49mm inverted telescopic coil-spring fork with 16-way compression damping and 16-way rebound damping/12.0 in
Rear Suspension / Wheel Travel
Uni-Trak
®
 gas charged shock with piggyback reservoir with dual-range (4 turns stepless high speed/19-way low-speed) compression damping, 22-way rebound damping and adjustable preload/12.1 in
Front Brakes
Single semi-floating 270mm Braking
®
 petal disc with dual-piston caliper
Rear Brakes
Single 250mm Braking
®
 petal disc with single-piston caliper
DETAILS
Frame Type
Aluminum perimeter
Curb Weight
235.8 lb without fuel / 246.0 lb**
Kawasaki Protection Plus™ (optional)
2021 Kawasaki KX450 XC – Totalmotorcycle.com  Canadian Specifications/Technical Details
POWER
| | |
| --- | --- |
| Engine | 449cc, liquid-cooled, 4-stroke, DOHC 4-valve single |
| Bore x Stroke | 96.0 x 62.1 mm |
| Compression Ratio | 12.5:1 |
| Fuel System | Fuel injection: ø44 mm x 1 |
| Ignition | Digital DC-CDI |
| Starting | Electric |
| Lubrication | Forced lubrication, semi-dry sump |
| Transmission | 5-speed, return |
| Clutch | Wet multi-disc, manual |
| Final Drive | Chain |
PERFORMANCE
| | |
| --- | --- |
| Frame | Perimeter, aluminum |
| Front Suspension / Wheel Travel | ø49 mm inverted fork with adjustable compression and rebound damping / 305 mm (12.0 in) |
| Rear Suspension / Wheel Travel | New Uni Trak with adjustable dual-range (high/low-speed) compression damping, adjustable rebound damping and adjustable preload / 307 mm (12.1 in) |
| Rake / Trail | 27.6° / 120 mm |
| Steering Angle (L/R) | 42° / 42° |
| Front Tire | 80/100-21 51M |
| Rear Tire | 120/90-18 65M |
| Front Brake | Single semi-floating ø270 mm petal disc with dual-piston caliper |
| Rear Brake | ø240 mm petal disc with single-piston caliper |
DETAILS
| | |
| --- | --- |
| Dimensions (L x W x H) | 2,185 x 820 x 1,265 mm (86.0 x 32.3 x 49.8 in) |
| Wheelbase | 1,485 mm (58.5 in) |
| Road Clearance | 335 mm (13.2 in) |
| Seat Height | 950 mm (37.4 in) |
| Curb Mass** | 111.6 kg (246 lb) |
| Mass Without Fuel | 107.0 kg (236 lb) |
| Fuel Capacity | 6.2 litres |
**Curb weight includes all necessary materials and fluids to operate correctly, full tank of fuel (more than 90 percent capacity) and tool kit (if supplied).
KAWASAKI CARES: Always wear a helmet, eye protection, and proper apparel. Never ride under the influence of drugs or alcohol. Read Owner's Manual and all on-product warnings. Professional rider shown on a closed course. 2019 Canadian Kawasaki Motors, Inc.
Specifications subject to change.
2021 Kawasaki KX450 XC – Totalmotorcycle.com European Specifications/Technical Details
NA
Manufacturer Specifications and appearance are subject to change without prior notice on Total Motorcycle (TMW).