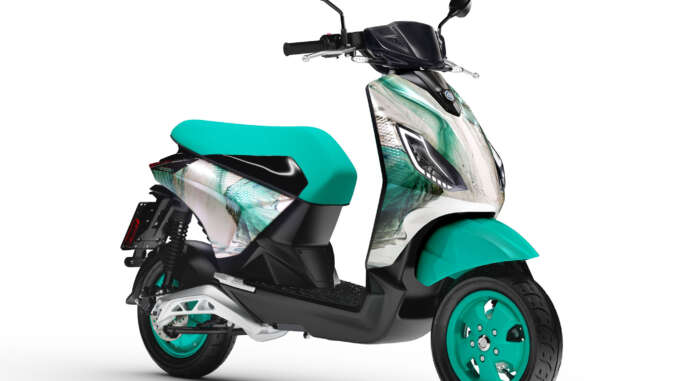 2022 Piaggio 1 Feng Chen Wang: HEALTH. PROSPERITY. HARMONY.
Introducing the 2022 Piaggio 1 Feng Chen Wang…
Piaggio and Feng Chen Wang, one of the most experimental and innovative designers on the international landscape, have joined forces to create a special customized edition of Piaggio 1, the latest urban electric mobility solution from Piaggio.
Agile, light, essential and practical, Piaggio 1 revolutionizes the e-scooter concept with a captivating design and real attention to detail. The Feng Chen Wang special edition that will be previewed at EICMA 2021 stands out for its exclusive livery, in which the designer blends the Chinese tradition (Feng was in fact born in Fujian, a province in southeastern China known for its breath-taking natural scenery) with vibrant London creativity.
The watercolor visually combines the natural elements of water and the symbol of the Phoenix that, in Chinese mythology, represents virtue and grace. It is hand-painted using the traditional Chinese brush stroke technique, while the green color, also used on the seat upholstery and the rims, does not only reflect the indigenous flora, but also universal values such as health, prosperity, and harmony.
2022 Piaggio 1 Feng Chen Wang Guide Totalmotorcycle.com Key Features
PIAGGIO 1 FENG CHEN WANG
INTRODUCING THE FIRST PIAGGIO E-SCOOTER IN A VERSION CUSTOMIZED BY DESIGNER FENG CHEN WANG
FUNCTIONALITY, SUSTAINABILITY, AND DESIGN COME TOGETHER IN A REINTERPRETATION OF CONTEMPORARY MOBILITY VALUES
THE COLLABORATION ALSO SEES A DEDICATED HELMET AND A SPECIAL STREETWEAR COLLECTION
Piaggio 1
Speed of 45 km/h, range of up to 55 km in ECO*, up to 43 km in SPORT (WMTC cycle)
Piaggio 1 Active
Speed of 60 km/h, range of up to 85 km in ECO*, up to 66 km in SPORT (WMTC cycle)
2022 Piaggio 1 Feng Chen Wang Guide Totalmotorcycle.com Features and Benefits
The collaboration with Feng Chen Wang has also led to a dedicated helmet and a capsule collection of unisex streetwear garments. The fashion collection, presented on October 13 during Shanghai Fashion Week, remodels tradition to make it special and contemporary. Original and surprising garments in which the overlapping of recycled materials is also symbolic of the significant attention Feng pays to the themes of sustainability, the respecting of nature and creative recovery.
The exclusive Piaggio 1 Feng Chen Wang (in the Piaggio 1 and Piaggio 1 Active versions) will be available at dealerships from February 2022, along with the dedicated helmet and Feng Chen Wang for Piaggio fashion collection.
Feng Chen Wang
Feng Chen Wang was born in Fujian, a province in southeastern China. From there she travelled to London where, in the space of a few years, she established herself as a cutting-edge stylist, part of a new generation of fashion talent. Her work sees her pursue a style that is conceptual, distinct and functional, based on aesthetic values that draw from her Chinese roots and experiences. Nominated for the LVMH prize in 2016, she has collaborated with iconic brands such as Nike, Converse, UGG, and Levi's.
100% Electric
Introducing Piaggio 1, a new generation of E-Scooters that enables you to experience the city without emissions, but with all the quality, technology and safety that Piaggio scooters are renowned for. This new scooter from Piaggio offers all the typical components that you would expect from a premium scooter: attractive design and attention to detail, refined chassis, handling and a generous load capacity. It is a new and exciting way to make a difference, it is a silent scooter with a removable battery, making your commute easier and 100% electric.
COMFORTABLE
Designed with the upmost comfort in mind.
EASY
Whatever your riding experience Piaggio 1 offers an easy transport solution.
ELECTRIC
Forget having to wait for fuel, recharge at your convenience and enjoy your commute.
JUST AS YOU WANT IT
Piaggio 1 is available in two different versions. The standard model offers a top speed of 28mph and a range that varies between 34 miles in ECO mode and 27 miles in Sport mode. There is also, the Piaggio 1 Active model which boasts a maximum speed of 37 mph, a range of 52 miles in ECO mode and 41 miles in Sport mode.
Getting around has never been easier
Piaggio 1 is user friendly in every way. Starting with the ignition which has a keyless system, meaning that it doesn't require a traditional key and can be started using the practical remote control. To start, simply press the MAP button on the right side of the handlebar and select one of the two driving modes: ECO or Sport. The ECO mode, aimed at saving energy, offers greater range, speed limited to 19 mph and more progressive acceleration. Sport, on the other hand, is the mode where all the engine power is used for an even more thrilling experience.
Recharging couldn't be faster or easier
Piaggio 1 recharging operations are simple and easy to undertake. For all versions the battery is removable in seconds and easily transportable to enable recharge at home or in the office. Version 1 is equipped with a battery which has a capacity of 1.4 kWh and a weight of 10 kg, while the 1 Active version has a 2.3 kWh battery, which weighs 15 kg. The batteries do not require maintenance or special precautions and to recharge them you just use the charger supplied with the vehicle.
A Silent Revolution
The scooter is powered by an electric hub motor developed by Piaggio. It is integrated into the rear wheel hub which makes the vehicle leaner and more compact. The 1 is equipped with an electric motor that delivers a continuous power of 1.2 kW, while in the 1 Active version the power is 2 kW. Thanks to the lightness, the modern lithium-ion battery and energy recovery during deceleration, all versions of Piaggio 1 guarantee excellent autonomy.
Colour digital display
The handlebar houses a large 5.5 "colour LCD digital display that is always perfectly legible thanks to the twilight sensor which adapts the background and colour of the characters according to the detected light conditions.
Ergonomic saddle
With a ground clearance of only 770 mm, Piaggio 1 is versatile for all riders, Making stopping at traffic lights and parking manoeuvres effortless.
Removable battery
The battery is removable in seconds and equipped with a handle that makes it easily transportable. You can then conveniently charge at home, in the office or anywhere else.
Storage
The battery is positioned in the compartment under the saddle, but does not compromise its functionality or storage: Piaggio 1 is the only e-scooter in its class to offer a significant load capacity, with an under-saddle compartment capable of accommodating a Full Jet helmet
Full LED
Mounted to the sides of the Piaggio 1 are LED headlights, giving the scooter distinctive lines and a dynamic finish. The slender rear of the scooter also hosts a rear LED light unit.
Piaggio 1
Piaggio 1 combines the winning features of the latest e-scooter – agile and lightweight for urban commuting as well as minimalist and practical – with the quality and reliability of Piaggio scooters.
First and foremost, this means safety, thanks to a solid frame and suspension designed for riding pleasure, but also an attractive design, comfort, and high-level rideability, as well as a full technological package that includes digital color instrumentation, full LED lighting, and a key-less system. Piaggio 1 is also the only e-scooter in its category with a spacious under-seat storage compartment, large enough to hold a full jet helmet.
Piaggio 1 is powered by an electric motor built into the rear wheel. the moped version (Piaggio 1), with speed limited to 45 km/h, puts out 1.2 kW of power, whereas the motorbike version (Piaggio 1 Active) mounts a 2 kW unit.
With both versions, the battery is located beneath the seat, easily removable in just a few seconds and portable so it can be conveniently charged at home or in the office.
2022 Piaggio 1 Feng Chen Wang Guide – Totalmotorcycle.com Specifications/Technical Details
US MSRP Price: $ USD
Canada MSRP Price: $ CDN
Europe/UK MSRP Price: £ See Dealer GBP (On The Road inc 20% Vat)
MOTOR 1.2 kW (1.34 kW peak)
BATTERY 1.4 kWh
BRAKES Disc-Disc
WEIGHT WITH BATTERIES 85 kg
RANGE* 55 @ Eco mode* 43 @ WMTC
DIMENSIONS (L X W X H) 1.680 x 750 x 1.080 mm
WHEELS (FRONT – REAR) 10'' – 10''
MAX. SPEED 45 km/h
*The measured data are based on road test at constant speed (wide open throttle) and can be affected by different conditions such as
load, temperature, wind speed, road surface and operating habits. Battery capacity may decay up to 20% due to different factors such
as number of recharging cycles and battery usage.
Manufacturer Specifications and appearance are subject to change without prior notice on Total Motorcycle (TMW).