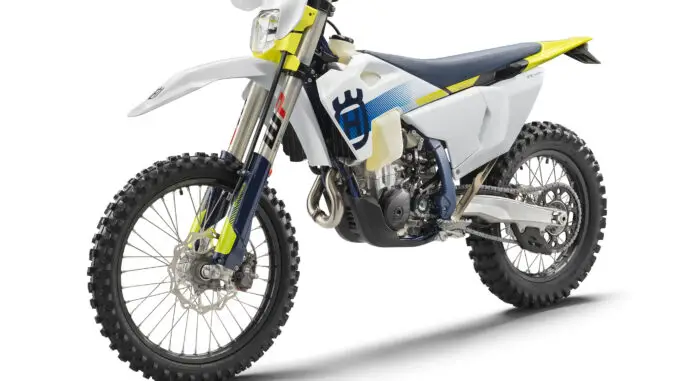 2024 Husqvarna FE501w: VASTLY IMPROVED.
Introducing the 2024 Husqvarna FE501w…
Enhanced with the latest technical innovations and a powerful SOHC engine, the new FE 501w is the latest addition to the off-road line up. A new engine for 2024 produces a broader spread of controllable power and by positioning the engine shaft arrangements at the ideal center of gravity, maneuverability is vastly improved. Aiding this agile feel is the new chassis, which has been developed and manufactured using advanced engineering techniques. Together with new WP Suspension, enhanced comfort is assured. Expertly assembled with high-quality components throughout, the FE 501w is finished with new functional bodywork adorned with white, yellow, and blue graphics inspired by the Swedish heritage of the brand.
Husqvarna Motorcycles – Enduro Model Year 2024
Husqvarna Motorcycles' all-new 2024 TE, FE, FEs, and FEw machines set a new standard for riding offroad. Expertly crafted with new frames, subframes, bodywork, suspension, and brakes, the extended list of shared innovations across the new enduro platform further improves the overall rideability of all seven machines.
The change to WP XACT Closed Cartridge spring forks will be favored by many riders, and by incorporating a mid-valve piston and hydrostop, smooth action and predictable performance is guaranteed. A redesigned WP XACT shock features a new piston to improve comfort and is 100 g lighter and 15 mm shorter while retaining 300 mm of travel. Both the fork and shock settings can be adjusted by hand for a fast and easy personalized set-up.
Working in perfect harmony with the WP suspension is the new chromium molybdenum steel frame. Improving anti-squat behavior and offering revised flex characteristics, the chassis, which includes a new and much more durable polyamide/aluminum hybrid subframe, guarantees each machine is exceptionally agile without sacrificing straight line stability.
All models feature new bodywork adorned with modern, Swedish-inspired graphics and a new high-grip seat cover. The rider triangle has been refined to provide more knee contact and therefore, better control. The slim design of the bodywork offers complete freedom of movement when riding. The new LED headlight produces a brighter light output and is installed with a much more efficient and user-friendly mounting system.
The TE 150, TE 250 and TE 300 2-stroke models are now powered by new engines that are fueled using Throttle Body Injection (TBI) technology. Introduced to maintain their best-in-class performance, TBI guarantees a much more consistent and controllable spread of power throughout the rev range, even in the toughest of conditions.
The competition FE 450, dual-sport FE 350s and FE 501s, and new 50-state off-highway compliant FE 350w and FE 501w machines benefit from new and much more compact engines. Positioned in the frame two degrees backwards when compared to the previous generation, the engines are designed to centralize mass and contribute to the improved anti-squat behavior of the chassis. In addition, the engines position all major components as centrally as possible for improved handling as well as generating maximum torque and power.
The line-up is complete with premium components shared across the range including a new LED headlight, enhanced BRAKTEC brakes with high performance GSK discs, a combined start/stop button, ProTaper handlebars, and Michelin enduro tires.
2024 Technical Highlights
New chromium molybdenum steel frame optimized for improved anti-squat behavior and enhanced flex characteristics
New polyamide/aluminum hybrid subframe offers exceptional strength and durability
New 48 mm WP XACT Closed Cartridge spring forks deliver consistent damping and predictable handling
New WP XACT rear shock is lighter and developed specifically for enduro riding
New ergonomic bodywork offers revised rider triangle for enhanced control
New 2-stroke engines feature TBI technology for improved rideability and ease of use
New 4-stroke engines provide class-leading power and torque
New LED headlight provides a brighter light output and simplified fitment
New BRAKTEC brake system and high-performance GSK discs provide superior stopping power
New multifunctional Map Select Switch design controls the Quickshifter and Traction Control (FE 450 only)
New Offroad Control Unit (OCU) for highest level of reliability and user-friendly serviceability of electronics
Premium-quality ProTaper handlebar and ODI Grips
Electric starter powered by a lightweight Li-ion 2.0 Ah battery
2024 Husqvarna FE501w Totalmotorcycle.com Features and Benefits
Engine
The SOHC engine is the perfect example of the advanced engineering techniques used by Husqvarna Motorcycles, offering higher peak power at an overall weight of just 65 lb (29.5 kg) (-300 g compared to previous generation).
Mass-centralization is key in the engine design. Chassis engineers positioned the engine closer to the center of gravity for greatly improved handling and maneuverability. This was achieved by tilting the engine 2° backwards and repositioning the sprocket 3 mm lower. Together with the benefits of mass centralization and reduced weight the anti-squat behavior of the chassis was significantly improved.
Another focus was put on the serviceability of the new engine. Service markers on the engine (▲) clearly show where to use washers, making maintenance and service easier than in the past.
Engine tilted 2° backwards with repositioned sprocket (3mm lower) for improved mass centralization and better anti-squat behavior
Light and compact engine design for optimized mass-centralization

Weight of 2024 engine 65 lb (29.5 kg)
Weight of 2023 engine 65.6 lb (29.8 kg)

Including clutch slave master cylinder, oil, shift lever, sprocket, and vent hose

Improved performance of engine with rev-limit at 10,000 rpm.
Improved serviceability of engine internals with added service markers
Cylinder head
The redesigned SOHC cylinder head is incredibly compact and lightweight using a short profile with the camshaft located as close to the center of gravity as possible. The frame mounts significantly improve handling and agility and are specifically developed to work for the oversized 500cc 4-stroke power plant and the new Husqvarna frame geometry in an ideal way.
The lightweight valves are actuated via a rocker arm and feature optimized timing, specifically designed to deliver precise levels of torque and throttle response. The diameter of the intake valves is 40 mm, while on the exhaust it is 33 mm. Redesigned intake ports allow higher flow coefficients, resulting in a more efficient and powerful engine.
A new valve cover reduces the number of mounting screws (only 2 needed) and a single oil spray jet guarantees efficient cooling while keeping weight low.
A new fine punched cam chain and the low-friction DLC coating on the rocker arm offers optimum efficiency, reliability, and durability.
Another focus was put on maintenance work. Added lock positions for the cam chain improve the serviceability of the valve train.
Redesigned SOHC cylinder head with compact design, featuring a camshaft close to center of gravity
Redesigned Intake ports for higher flow coefficients
DLC coating on rocker arms for optimum efficiency reliability, and durability
Optimized valve timings for improved torque and throttle response
New lightweight valve cover with reduced number of mounting screws (only 2) and only one oil spray jet for cooling
New, fine punched cam chain adding durability and reduced friction
Improved serviceability of valve train through added lock positions for cam chain
Cylinder and piston
The lightweight aluminum cylinder features a 95 mm bore and a CP bridged-box-type piston optimized for low weight and a high-power character. The piston features anodized annular grooves, adding durability and longer service intervals. The compression ratio has been unchanged at 12.75:1 but peak performance has increased.
The piston bolt is no longer DLC coated but comes with a cube bushing offering similar performance and reliability.
Lightweight aluminum cylinder with 95 mm bore / 72 mm stroke
Lightweight, high-performance CP forged bridged-box-type piston reducing oscillating masses
Unchanged compression ratio (12.75:1) but significantly increased peak performance
Anodized annular groove, adding durability, and guaranteeing longer service intervals
Piston bolt with cube bushing
Crankshaft
The inertia produced by the crankshaft has been carefully calculated to deliver optimal traction and ride-ability from the ultra-powerful 500cc engine. The crankshaft is specifically positioned to harness the rotating mass in the ideal center of gravity resulting in a lightweight and agile handling feel. A plain big end bearing comprising of two force-fitted bearing shells ensure maximum reliability and durability. On top, the oil scrapper design has been significantly improved.
Crankshaft position with ideal center of gravity, improving the handling
Plain big end bearing and force-fitted bearing shells for advanced durability and service intervals
Significantly improved oil scraper design on the crankcase (crankshaft)
Crankcases
The crankcases are designed to house the shaft arrangements and internals of the engine in the position that offers the best possible handling. A new steel oil pump gear, repositioned oil jets and an increased overall oil pressure, result in increased resistance against clutch overheating and improved durability. The side balancer shaft counter mass has been adopted as well. Increased mass leads to less overall vibrations from the engine.
High-pressure die cast production processes keep the overall weight to a minimum, resulting in thin wall thickness while retaining reliability. The Husqvarna crown logo gives the bronze powder coated enduro specific and noise reducing clutch cover a premium and durable look. Additional oil scrappers on the ignition cover round off the package.
Design featuring optimized mass-centralization and increased efficiency
High pressure die-cast production process with thin walls for reduced weight, while maintaining strength
New, steel oil pump gear and repositioned oil jets improving durability
Higher oil pressure for increased resistance against clutch overheating
New oil scrappers on the ignition cover
Increased side balancer shaft counter mass (higher vibration comfort)
Enduro specific clutch cover (noise reduction compared to FC models)
Gearbox
The redesigned lightweight 6-speed gearbox is produced by Pankl Racing Systems ensuring the highest level of durability and reliability. The redesign focused on a weight optimized shift shaft, reducing the operating force of gear changes. The gearbox also features a revised transmission ratio, as well as a revised primary gear ratio (29:72).
The gear lever features a design that prevents dirt build-up and keeps the lever tip in its original position even in the toughest conditions. An advanced gear sensor selects a specific engine map tailored for each gear.
Redesigned 6-speed gearbox with revised transmission ratio
Weight optimized shift shaft, reducing operating force of gear changes for smooth and precise shifting
Integrated gear sensor for specific engine maps for each gear
DDS clutch
The FE 501s and FE 501w feature a Dampened Diaphragm Steel (DDS) clutch. The exclusive characteristics of this system include a single diaphragm steel pressure plate instead of traditional coil springs. It integrates a damping system for better traction and durability. The clutch basket is a single-piece CNC machined steel component that allows the use of thin steel liners and contributes to the compact design of the engine.
The main improvement includes a better clutch cooling from the pressure lubrication, reducing clutch fade in high stress usage. The clutch basket has been redesigned and adapted for the new 6-speed transmission.
Lightweight DDS clutch featuring consistent action and exceptional durability
Improved clutch cooling from pressure lubrication, reducing clutch fade from high stress
Redesigned clutch basket for adapted 6-speed transmission ratio
Enduro specific clutch cover for reduced noise output
Exhaust
The diameter of the header pipe is now the same as on the FC 450 model. It's a reduced diameter compared to the old generation, allowing for more engine response in lower rpms but also increased peak power.
New header pipe diameter for increased engine response and peak power
2024 Husqvarna FE501w – Totalmotorcycle.com Specifications/Technical Details
US MSRP Price: $12,649 USD
Canada MSRP Price: $ NA CDN
Europe/UK MSRP Price: £ NA GBP (On The Road inc 20% Vat)
Engine
Engine type
Single cylinder, 4-stroke
Displacement
510.9cc
Bore/stroke
95/72 mm
Compression ratio
12,75:1
Starter/battery
Electric starter / Lithium Ion 12,8V 2Ah
Transmission
6 gears
Fuel system
Keihin EFI, throttle body
Ø 42 mm
Control
4 V / OHC with rocker levers
Lubrication
Pressure lubrication with 2 oil pumps
Gear ratios
13:33  16:30  18:26  22:26  23:23  26:22
Primary ratio
29:72
Final drive
14:48
Cooling
Liquid cooling
Clutch
DDS wet multi-disc clutch,
BRAKTEC hydraulics
Ignition / Engine Management
Keihin EMS
Chassis
Frame
Central double-cradle-type 25CrMo4
Subframe
Aluminium reinforced Polyamide
Handlebar
ProTaper, Aluminium Ø 28/22 mm
Front suspension
WP XACT CC-USD, Ø 48 mm
Rear suspension
WP XACT-Monoshock with linkage
Suspension travel front/rear
300/300 mm
Front/rear brakes
BRAKTEC disc brake Ø 260/220 mm
Front/rear rims
1.60 x 21"; 2.15 x 18" DID
Front/rear tyres
80/100-21" DUNLOP MX33 F;
110/100-18" Dunlop AT81
Chain
520 X-Ring
Silencer
Aluminium
Steering head angle
63.9°
Triple clamp offset
22 mm
Wheel base
1,489±10 mm
Ground clearance
343 mm
Seat height
952 mm
Tank capacity, approx.
8.0l
Competition weight:
(without fuel)
114.6 kg
Manufacturer Specifications and appearance are subject to change without prior notice on Total Motorcycle (TMW).