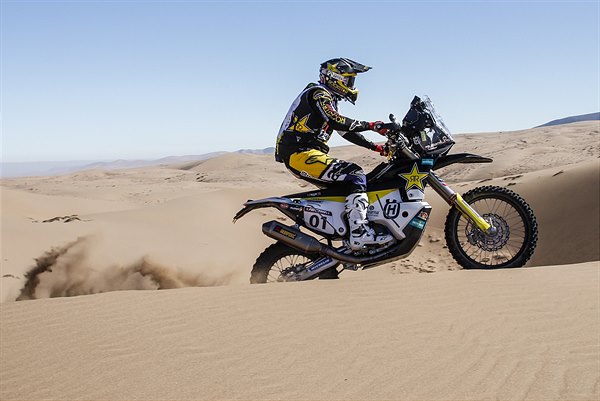 ROCKSTAR ENERGY HUSQVARNA FACTORY RACING STAR IS THE RALLY'S PROVISIONAL OVERALL LEADER AFTER THE FIRST FULL STAGE IN THE CHILEAN DESERT
Rockstar Energy Husqvarna Factory Racing rider Pablo Quintanilla has gained the provisional overall lead at the 2018 Atacama Rally after the first full rally stage contested in Copiapó. Following his strong performance in the short opening Prologue, the Chilean rally star has secured a solid runner-up result on stage one and is now leading the overall by one minute and 40 seconds going into Wednesday's stage two.
Taking advantage of his good starting position Pablo was able to maintain a steady pace from the start to the finish of today's timed special. Posting a total time of two hours, 52 minutes and 23 seconds, Pablo was just four seconds behind eventual stage one winner Kevin Benavides.
Earning a strong third place result in the event's Prologue, Andrew Short also enjoyed a good starting position for Tuesday's stage one. Putting in a steady performance in the dunes of Chile, the American posted the 12th best time for the day and is currently sitting 11th in the rally's provisional overall standings.
Tomorrow's stage two is the longest of this year's Atacama Rally and features a timed special of 375km. Taking competitors towards the city of Vallenar in the Atacama Region, it is expected to be a long and challenging day of racing for all competitors.
Pablo Quintanilla: "It's been a good day and I'm really satisfied with my performance on stage one. This was the first full rally stage after my small injury and I felt even better than I expected. I was able to find a good race pace and maintain it until the end of the timed special. The way I rode today gives me some extra motivation for the remainder of this rally. I feel good on my bike at the moment and enjoy every moment of it. Tomorrow will probably be one of the hardest days of this rally. We're heading towards a new area and the terrain and conditions are expected to be quite challenging. There'll be some off-piste sections so it's crucial to remain focused and avoid mistakes. I'll do my best for another good result tomorrow."
Andrew Short: "This first full stage here of this rally was a great experience. It gave me a good taste of how things are here in Chile and how fast the tracks are. I've never done a course that's more wide open or where you had to keep the throttle at the stop for that long. After a bit of adjustment to these new conditions I could ride the way I know I can and have fun. There were some big dunes along the way and it was great riding through them. The goal is to continue improving and making steps towards the right direction each day. Hopefully I'll try to push to the next level each day while trying to remain safe and make it to the finish of this rally."
Download high-res images from the 2018 Atacama Rally here.
2018 Atacama Rally – Stage 1 Provisional Classification
1. Kevin Benavides (Honda) 02:52:23
2. Pablo Quintanilla (Husqvarna) 02:52:27
3. Toby Price (KTM) 02:58:58
4. Matthias Walkner (KTM) 02:59:21
5. Franco Caimi (Yamaha) 03:02:30
6. Adrien Van Beveren (Yamaha) 03:04:56
…
12. Andrew Short (Husqvarna) 03:12:58
2018 Atacama Rally – Provisional Overall Classification [After Stage 1]
1. Pablo Quintanilla (Husqvarna) 02:53:55
2. Kevin Benavides (Honda) 02:55:35
3. Toby Price (KTM) 02:59:54
4. Matthias Walkner (KTM) 03:03:03
5. Franco Caimi (Yamaha) 03:03:48
6. Adrien Van Beveren (Yamaha) 03:06:17
…
11. Andrew Short (Husqvarna) 03:12:58