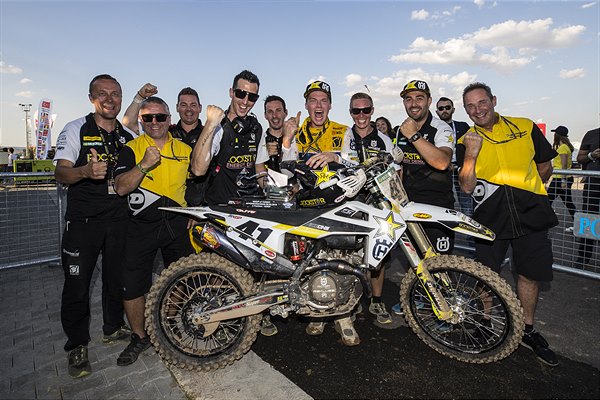 ROCKSTAR ENERGY HUSQVARNA FACTORY RACING RIDER CLAIMS ANOTHER TOP-THREE RESULT WITH 2-5 FINISHES AT AFYONKARAHISAR, TURKEY
Rockstar Energy Husqvarna Factory Racing's Pauls Jonass has claimed a second consecutive MXGP podium result having finished third overall at round 17 of the 2019 FIM Motocross World Championship, the MXGP of Turkey.
Placing an impressive second in moto one to eventual GP winner Jeffrey Herlings, Jonass rounded out the penultimate round of the series with a strong fifth in moto two. Jonass' teammate Arminas Jasikonis endured a mixed weekend, placing 10th and 13th in each of the two MXGP class motos. Rockstar Energy Husqvarna's MX2 class rider Thomas Kjer Olsen was unable to score any points due to a severe bout of food poisoning.
Claiming a place on the MXGP class podium for the second weekend running, Rockstar Energy Husqvarna's Pauls Jonass once again showed impressive late season form as the former MX2 World Champion enjoyed a highly positive weekend in Afyonkarahisar. Powered by his FC 450, Jonass claimed his first ever MXGP holeshot putting him in prime position to claim a strong opening moto result. Performing faultlessly throughout the race, in being passed by just one rider – Jeffrey Herlings – Jonass completed all 18 laps of the race in the runner-up spot to finish second.
Jonass started the second moto well as he rounded the first turn in sixth, but in making a few small mistakes during the early corners of the opening lap he completed the first full lap in eighth. Remaining composed and again riding a mistake-free moto Pauls improved one position on lap seven and worked his way into sixth on lap three. Importantly, on lap eight he moved into fifth, which he held to the finish and in doing so secured third overall.
With his 10/13 results not a true reflection of his speed, Arminas Jasikonis completed the MXGP of Turkey in 11th overall. Starting race one in 10th, after dropping a few positions AJ worked his way back into 10th at the finish. Frustratingly, after showing promising early moto speed and making a number of committed passes, Jasikonis fell during the closing stages of moto two and eventually placed 13th.
For Rockstar Energy Husqvarna's Thomas Kjer Olsen the MXGP of Turkey was one to forget. With teammate Jed Beaton still sidelined with injury, TKO was hoping for a podium result at the penultimate round of the MX2 series.
Unfortunately, in being struck down with severe food poisoning on Friday night ahead of the grand prix the Dane was in no fit state to race. However, in finding the strength to complete one lap of the MX2 qualifying race he guaranteed himself a position on the start line for Sunday's motos. Valiantly completing 12 laps of the opening moto Kjer Olsen was forced to abandon the race due to exhaustion and took no further part in the grand prix.
Just one round of the 2019 FIM Motocross World Championship now remains – the MXGP of China, which takes place next weekend, September 15, in Shanghai.
Pauls Jonass: "It's been a really good GP, but it didn't start the best way. I had to work really hard to come back from my start crash in my qualifying race on Saturday, but it also gave me some good confidence coming into today's motos as I knew I had good speed and I also liked the track. Getting the holeshot in the first moto today was awesome – I've been working hard on my starts and to get a first MXGP holeshot is really positive. I felt good the whole race. After Herlings passed me I rode well and, yeah, second place was great. The second race was also good – a good start but then I made a few small mistakes and dropped a few positions. I kept a good pace and managed to move into a position to get on the overall podium, which is a great way to finish the GP. I'm looking forward to China now."
Arminas Jasikonis: "It was a little bit of a mixed weekend for me, but although I wasn't in the best shape coming into the GP there's been some positives. 10th in the opening moto today doesn't sound great but I was close to the top five, so I was happy with that. I felt pretty good, but it was a fast track and not so easy to pass on. I had a good pace in the second race and was pushing, I made some nice passes. But once I was behind Paulin it was hard to move forward any further. Then I made a few mistakes, spun out on one corner and dropped a few spots. I'll work hard with the team next week and head to China looking for a strong end to the championship."
Thomas Kjer Olsen: "It's been a very tough weekend for me. Without giving too many details I was extremely ill all Friday night, also with a very high temperature. I knew that if I completed one-lap of my qualifying race I could, if I felt ok, try and race on Sunday, which is what I did. I gave my all in the first moto today, but I just had no power in my muscles. The track was fast and it was just too risky to continue. It's really disappointing but I hope I can recover and be ready to finish the season with strong results in China."
Results – 2019 FIM Motocross World Championship, Round 17
MXGP – Overall
1. Jeffrey Herlings (KTM) 50 points; 2. Glenn Coldenhoff (KTM) 42; 3. Pauls Jonass (Husqvarna) 38… 11. Arminas Jasikonis (Husqvarna) 19; 17. Tanel Leok (Husqvarna) 6; 21. Artem Guryev (Husqvarna) 1…
MXGP – Race 1
1. Jeffrey Herlings (KTM) 35:00.462, 18 laps; 2. Pauls Jonass (Husqvarna) 35:05.751; 3. Glenn Coldenhoff (KTM) 35:15.362… 10. Arminas Jasikonis (Husqvarna) 35:27.083; 18. Tanel Leok (Husqvarna) 36:41.033; 20. Artem Guryev (Husqvarna) 36:04.754, 17 laps…
MXGP – Race 2
1. Jeffrey Herlings (KTM) 35:07.079, 18 laps; 2. Glenn Coldenhoff (KTM) 35:09.376; 3. Tim Gajser (Honda) 35:40.611… 5. Pauls Jonass (Husqvarna) 35:46.899; 13. Arminas Jasikonis (Husqvarna) 36:22.187; 16. Tanel Leok (Husqvarna) 35:22.155, 17 laps; 19. Artem Guryev (Husqvarna) 36:20.862…
MX2 – Overall
1. Jorge Prado (KTM) 50 points; 2. Jago Geerts (Yamaha) 38; 3. Roan Van De Moosdijk (Kawasaki) 36… 8. Alberto Forato (Husqvarna) 25; 10. Mattia Guadagnini (Husqvarna) 21. Alvin Ostlund (Husqvarna) 11…
MX2 – Race 1
1. Jorge Prado (KTM) 34:20.136, 17 laps; 2. Jago Geerts (Yamaha) 34:41.915; 3. Calvin Vlaanderen (Honda) 34:47.824… 9. Alberto Forato (Husqvarna) 35:10.258; 11. Mattia Guadagnini (Husqvarna) 35:17.917; 16. Alvin Ostlund (Husqvarna) 35:35.249…
MX2 – Race 2
1. Jorge Prado (KTM) 34:09.237, 17 laps; 2. Tom Vialle (KTM) 34:19.415; 3. Roan Van De Moosdijk (Kawasaki) 34:21.197… 8. Forato Alberto (Husqvarna) 34:44.326; 10. Mattia Guadagnini (Husqvarna) 35:08.126; 15. Alvin Ostlund (Husqvarna) 35:33.362…
Championship Standings – After Round 17
MXGP
1. Tim Gajser (Honda) 744 points; 2. Jeremy Sewer (Yamaha) 542; 3. Gauthier Paulin (Yamaha) 499… 6. Pauls Jonass (Husqvarna) 428; 7. Arminas Jasikonis (Husqvarna) 416; 16. Tanel Leok (Husqvarna) 181; 29. Andero Lusbo (Husqvarna) 29. 33. Adam Coles (Husqvarna) 22…
MX2
1. Jorge Prado (KTM) 787 points; 2. Thomas Kjer Olsen (Husqvarna) 592; 3. Jago Geerts (Yamaha) 505… 12. Jed Beaton (Husqvarna) 250; 17. Alvin Ostlund (Husqvarna) 171; 19. Davey Pootjes (Husqvarna) 157; 21. Dylan Walsh (Husqvarna) 137…