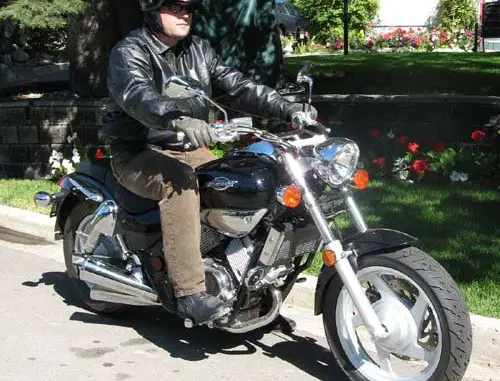 Back to Motorcycle Review Page
---

KYMCO Venox 250 Cruiser Review
Rider Test & Review 3 – Rider: Matt
Page 4 of 8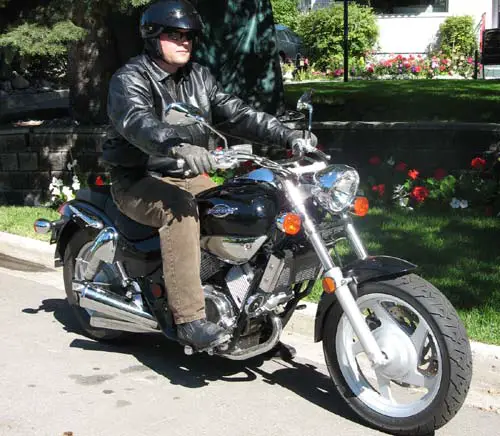 "The best first bike available in North America" – Matt
Over the many years I have been riding, I often get asked the age-old question: What would you recommend for a first bike? This question has many different answers because a lot depends on where you riding. In Europe, with long sweeping corners and tight hairpin bends, a low cc traditional or sport bike would fit the bill quite nicely. However, in North America where bends are more rare than hen's teeth, a cruiser fits the bill better.

 
 

..

..
 

It has full sized frame so any size of person does not look out of place on the Venox, and it is very comfortable for taller people like myself.

 
 
Until recently the only bikes that I really considered fitting the category of first bikes was the Honda Rebel 250, which, although good bike in its day, is now very much out-classed. So then you are led to the very popular mid cc class of cruisers. Although these are not bad first bikes they are quite heavy. A beginning rider should be most concerned with bike weight on top of trying to learn to ride.

So in comes the Kymco Venox 250. It is cheaper than the Honda Rebel and much more modern and better looking in my opinion. Also, the Venox looks like a much larger capacity bike than it is. There are no decals or badges' indicating it is only a 250 cc. This bike drew quite a few admiring glances wherever I went with it. It has full sized frame so any size of person does not look out of place on the Venox, and it is very comfortable for taller people like myself.

The controls are in the standard layout; speedometer is on the tank and the usual warning gauges on the headstock. I do feel it could use a tachometer, but more about that later.

The engine is Kymco's own 250 cc 8 Valve V-twin producing 26hp and 14lbs of torque. There is a disk brake up front and drum brake on the rear.

Now onto the ride. I swung my leg over, and being 200 lbs and 5'10" I'm not the smallest of guys but the bike was comfy for me. Due to the low center of gravity it also felt light, which is important to new riders that might be interested in a 250 cc bike.

I thumbed the starter and a nice gentle purr exudes. As I engage first and take off, I find that unfortunately, although it s a V-Twin, you do need give some revs to get going which doesn't quite go with the cruiser image. Riding around town was fine. This is where this bike excels – enough grunt to be quicker than most cars and light enough to chuck around through the bend. However, if you want to really get it moving you have to rev it and that is why I feel this bike needs a tachometer. It is only a 250 cc after all, but I thought they could have tuned the engine to give the bike more torque.
 
 

..

..
 

Riding around town was fine.
This is where this bike excels.

 
 

Once you are out on the freeway you will need to up the revs to stay with flow of traffic. It will cruise all day in top at 80 kph, however if you need to get moving at that speed you will have to change down a couple of gears. While fun for short bursts, this could get tiring on a long journey.

The gearbox is fine, it is a little notchy but not too bad for what is, after all, a very low cost motorcycle. The brakes I found to be a little a weak, but a beginner would feel very comfortable with them.

This brings me back to why this is such a good beginner's bike. It does not look like a beginner's bike. It will teach you to use the entire rev range and improve your shifting because you can't just put it in top gear as you can with the larger cruisers.

In making the decision as to whether you want a sports bike or cruiser, after this bike you will be ready to decide. I feel Kymco has done a great job with this bike and hopefully we will see some new models from them in the future. If Kymco were to put the Venox engine in a sports bike frame it would be a truly great bike as the engine would feel so much more at home.

Page 1 • Page 2 – Page 3 – Page 4 – Page 5 – Page 6 – Page 7 – Page 8
If you would like Total Motorcycle, North America's leading motorcycle information website to do a test ride and ride review of your motorcycle or scooter models just contact us for information or to book a date, location and time. It is a great way to promote your model and your company to over half a million visitors worldwide each month for no cost! Contact us today to inquire.
---