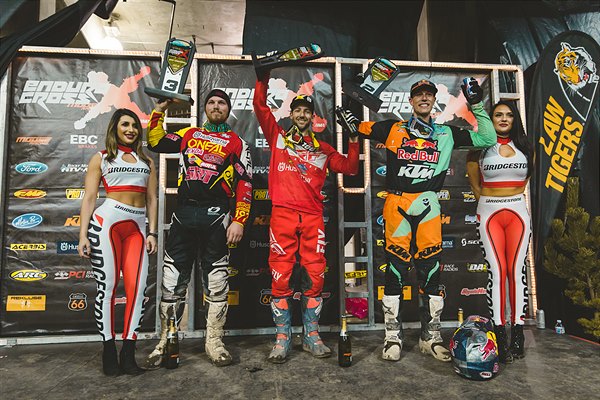 VICTORIOUS HAAKER EXTENDS CHAMPIONSHIP POINTS LEAD AT PENULTIMATE ROUND
The Rockstar Energy Husqvarna Factory Racing Off Road team had a winning night at the penultimate round of a very exciting EnduroCross series, held at the Angel Of The Winds Arena in Everett, Wash. on Saturday. After a dramatic victory at the previous round in Denver, Colton Haaker extended his points lead in Everett by earning another hard-fought win.
Haaker started the night with a win in his heat race, then finished second in the bracket races, just missing out on the all-important extra championship point. He lined up for the Super EnduroCross Main Event looking to clock in yet another win and went to battle as soon as the gate dropped. He rode hard and pushed through the entire Main Event then made an exciting pass for the lead with two laps remaining to take the win. The victory further extends his points lead as the series heads to the final championship round.
"I'm really happy with my performance the past two weeks," said Haaker. "It felt great to take my fist win in Everett at a really important part of the season. We have one race left with our biggest lead of the season so far..so fingers crossed everything goes well in Idaho and we bring home this title. Thanks to the whole Rockstar Energy Husqvarna Factory Racing Off Road Team for their efforts. It has been incredible so far!"
Next Event: November 3 – Boise EnduroCross – Boise, ID. – Ford Idaho Center
Everett EnduroCross Results
Super EnduroCross Main
1. Colton Haaker – Rockstar Energy Husqvarna Factory Racing Off Road
2. Cody Webb
3. Kyle Redmond
4. Ty Cullins
5. Noah Kepple
6. Geoff Aaron
7. Cooper Abbott
8. Max Gerston
9. Keith Sweeten
10. Mason Ottersberg
Super EnduroCross Championship Points
1. Colton Haaker – Rockstar Energy Husqvarna Factory Racing Off Road – 126 points
2. Cody Webb – 120 points
3. Kyle Redmond – 81 points
4. Ty Tremaine – 80 points
5. Geoff Aaron – 75 points
6. Ty Cullins – 73 points
7. Noah Kepple – 71 points
8. Cooper Abbott – 65 points
9. Mason Ottersberg – 45 points
10. Dustin McCarthy – 44 points