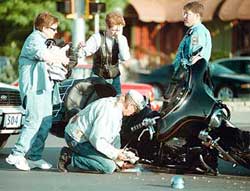 Section Nine: Survivability – Cars Versus Motorcycles
Cars are bigger, heavier, make of more metal, hit harder, have no brains and simply do not play fair.
Cars versus motorcycles, an automatic defeat?
Maybe not…
The purpose of this article is NOT to scare you, or shove statistics down your throat either. It is to show you what works and what doesn't work in a brief way so you can increase you chance of riding away unharmed. If you want to read more about improving your riding skills, I highly suggest: Proficient Motorcycling by David L. Hough.
Motorcycles have advantages over cars (and other vehicles) that when realised (used and practiced) can even up the odds of NOT getting into an accident. A car's weight is just too much for a motorcycle to come out on top. 55% of all U.S. motorcycle fatalities involved a collision between a motorcycle and another vechile, here are some facts:
Collision Between

Other Vehicle

Motorcyclist

Car & Motorcycle

17

596

Light truck & Motorcycle

0

396

Large truck & Motorcycle

0

114

Motorcycle & Motorcycle

n/a

28

Bus & Motorcycle

0

7

Other/unknown & Motorcycle

0

29

from Bureau of Transportation Statistics, U.S. Fatalities, Two-vehicle Collisions, 1994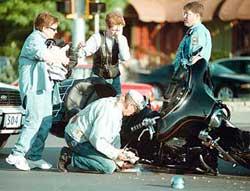 Sickening statistics eh? I used these above statistics to prove one point. Don't hit another vechile* because chances are you won't win. (* or other stationary object: poll, building, etc) "When they meet, four wheels are frequently better than two. While the car's driver is usually uninjured, the cyclist needs transportation to the hospital."
So, what can we do as motorcyclists so we do not end up in this situation? Since you don't want you hurt, injured or dead here is what YOU can do about it.
Survivability – Cars Versus Motorcycles
– Oil & Filter Changes
– Websites


Motorcycles are small, lighweight, performance oriented motorized vechicles compared to other vechiles. This gives them certain advantages and disadvantages on the road in an emergency situation.

We have already looked at 1 of the major disadvantages of the motorcycle, and that is hitting something bigger and heavier than you. The Solution: Don't. Simply, Don't hit it and do everything you can to avoid hitting it. Sure that sounds easy and I can see you laughing that that. If you hit something there wasn't anything you could do to avoid it in the first place, that's why you hit it… or was there something you could do?

That's is THE question, did you know and practice your motorcyces advantages and know what to do? Did you use all your advantages or not?
The Advantages of a Motorcycle (over other vehicles):
A famous motorcycle expression goes something like this: "There are two kinds of bikers, those who have been in an accident, and those about to be". Don't think of "accident" as fatal, injuring, death in your face type because it means any type of accident like dropping your bike on your driveway or at an intersection. There are no substitutes for learning than experience. Experience comes from making mistakes and learning from them. So, accept that you are going to make a mistake, it is natural, and OK.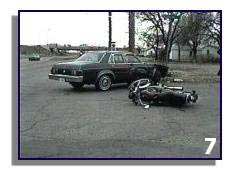 I've been in 2 accidents. The first one was the wind blowing over my bike on top of a hill while on its centre stand (in the middle of no where). Minor accident but I learned from it (don't park your bike on soft soil when it is really windy out and lucky I knew how to pick up a 500+lb motorcycle myself). The second one was taking a curve too fast on the highway for my skill level riding in a competitive group. Sure I regret the major accident and the loss of my motorcycle, but again, I learned a lot from it. I walked away with only minor injuries (sprained wrist) but learned important lessons as well like: Don't get caught up in a group mentality, always watch for blind curves, slow down when you are not 100% certain of the road ahead, slow down for corners plus more. Sure I knew all that stuff from my Motorcycle Safety Foundation course but I could not recall it immediately when I needed it. That is where practice comes in, over and over again. You will always do what comes naturally and you are in the habit of doing.
The Advantages:
In case you do not know, a motorcycle has really good acceleration, braking and manoverability over other vechiles. How good? Let's take an average motorcycle and car:
2001 Suzuki GS500E.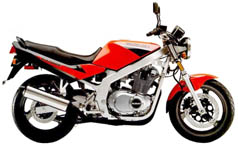 Engine Size: 487 cc
Horse Power (HP): 39.2 @ 8500
Torque: 26.6 @ 7000
1/4 Mile: 13.65 sec @ 95.5mph
Braking (60mph, 100-0 km/hr) approx: 36-42 metres (120 – 140 feet)
Weight: 424lbs
This is a good typical first or second motorcycle. 39hp doesn't sound like a lot does it since a typical car stacks up like this:
2003 Pontiac Sunfire


Engine Size: 2198 cc
Horse Power (HP): 140 @ 5600
Torque: 150 @ 4000
1/4 Mile: 16.9 sec @ 78 mph
Braking (60mph, 100-0 km/hr) 50.4 metres (165.35feet)
Weight: 2,771lbs
So the car on the other hand has 100hp, 123 foot lbs more torque and weights 2,347 more than the GS500E.
BUT, you can out accelerate it, out brake it and out manuver it in tight spots.
A Suzuki GSXR 1100 has great acceleration. You'll be at 100 mph in under 3 seconds. You can hit 150 without trying too hard. Just remember that the peace officer's radio can always call ahead faster than you can outrun him.
Typical Accidents:
Topeka man suffers injuries in motorcycle, truck collision on Anderson Avenue – Motorcyclist treated for slight injuries; driver of truck receives no injuries.

A New Perspective:
LOSING A STUDENT – Motorcycle safety instructor deals with trainee's death
Hard Knocks – A few drinks, no helmet land motorcyclist in emergency room
Late Evening Reads
Ride Within Your Abilities – Ride Within Your Abilities – Basic Vehicle Control,
Keeping Your Distance, SIPDE, Intersections, See and Be Seen, Collision Avoidance, Handling Dangerous Surfaces, Mechanical Problems, Animals, Flying Objects, Getting Off the Road, Carrying Passengers and Cargo, Group Riding.
"The Hurt Report" (link 2, 3, 4) – AKA "Motorcycle Accident Cause Factors and Identification of Countermeasures" – Required Reading for all Motorcyclists, What You Don't Know Can Hurt You.
Quarter Mile Rivals – Motorycles versus cars in the quarter mile. (stats)