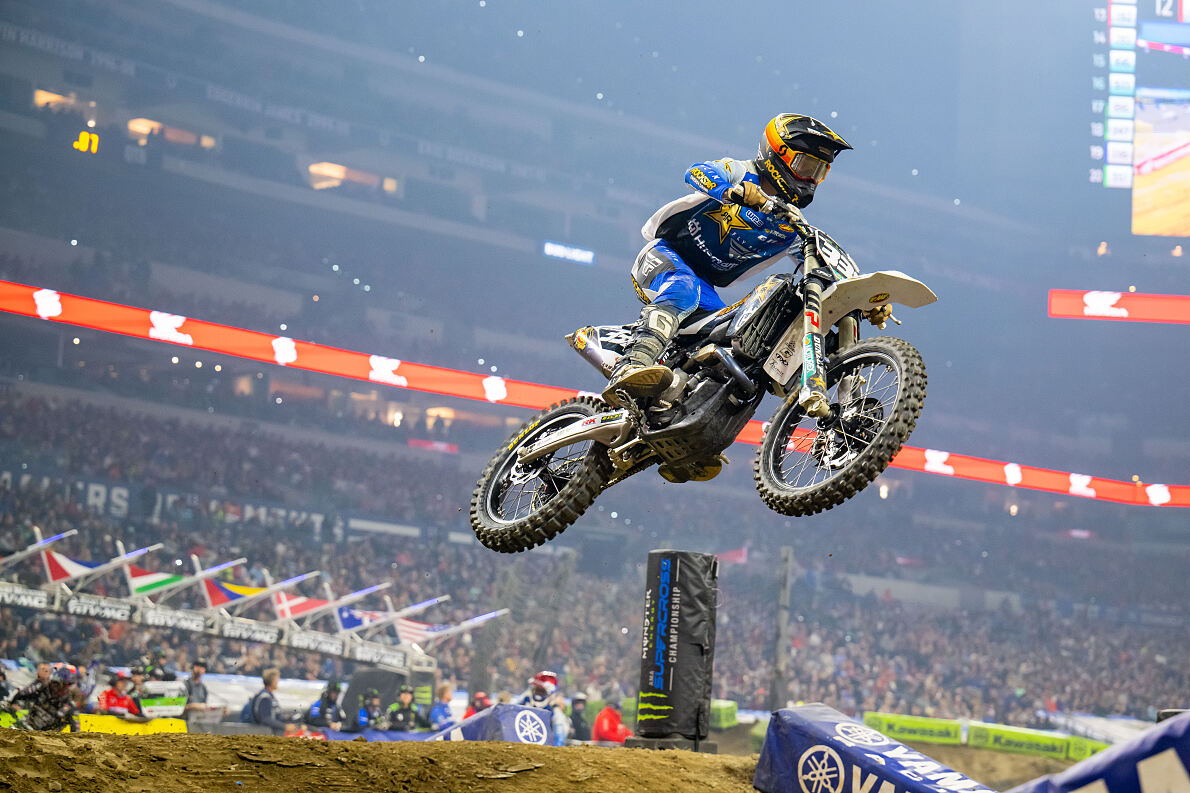 Conditions for this week's action in Indianapolis were among the toughest seen this season, with a rut-filled soft terrain challenge awaiting the Rockstar Energy Husqvarna Factory Racing Team.
450MX
Christian Craig has been consistent throughout the AMA Supercross season aboard his FC 450 Rockstar Edition, and that trend continued in Indianapolis. Following a seventh in qualifying, and a fifth in his heat race, he was set for the main event. Starting just inside the top ten, he advanced to seventh on a track that others struggled with.

"Indy started out pretty good," Craig said."The track was gnarly all day…super-rutted. I felt like I rode pretty good throughout the whole day and made some little changes here and there. I was able to ride consistently and make the least mistakes possible. I got a bad start in the main and just picked my way through. I got up to eighth and made a pass toward the end and almost got sixth. I felt like I made improvements on my bike and myself and things are clicking. So, we'll keep pushing forward for next week.

250 MX
Rockstar Energy Husqvarna Factory Racing Team's 250 East rookie, Talon Hawkins, continues to build his knowledge base, and found an easier path to the main event this week on his FC250, qualifying directly from his heat race. In the Main Event, he climbed as high as 11th at the midway point, before slipping back to 15th at the checkers.

"It was pretty good," Hawkins said. "There's a lot to take away from these. I'm learning so much at these Supercross races. I know I say that every time, but there's good to take from every single race that I've done so far. It's just a matter of putting it all together. I'm looking forward to hopefully doing that in Detroit. I've got some work to do, and we're going to get back on that training program right on Monday. Keep grinding away, and try to make something happen this next weekend."
Next Event (Round 10): March 18, 2023 – Ford Field in Detroit, Mich.
Round Nine Results: Indianapolis
250MX Results
1. Hunter Lawrence (Honda)
2. Nate Thrasher (Yamaha)
3. Jordon Smith (Yamaha)
…
15. Talon Hawkins – Rockstar Energy Husqvarna Factory Racing
22. Hardy Munoz  (Husqvarna)
450SX Results
1. Ken Roczen (Suzuki)
2. Justin Barcia (GASGAS)
3. Cooper Webb  (KTM)
…
7. Christian Craig – Rockstar Energy Husqvarna Factory Racing 

250SX Rider Point Standings
1. Hunter Lawrence – 125 points
2. Max Anstie – 103 points
3. Nate Thrasher – 93 points
…
15. Talon Hawkins – Rockstar Energy Husqvarna Factory Racing – 39 points
16. Hardy Munoz – 32 points

450MX Rider Point Standings
1. Cooper Webb – 202 points
2. Eli Tomac – 201 points
3. Chase Sexton – 189 points
…
8. Christian Craig – Rockstar Energy Husqvarna Factory Racing – 119 points