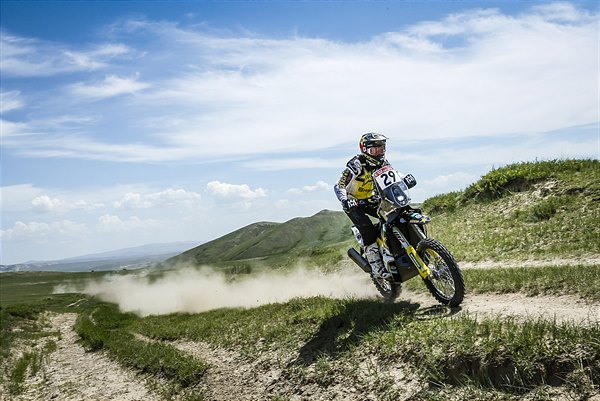 ROCKSTAR ENERGY HUSQVARNA FACTORY RACING RIDER CURRENTLY EIGHTH OVERALL AS EVENT ENTERS MONGOLIA
Andrew Short has posted his best result of the 2019 Silk Way Rally so far, completing the 243-kilometre timed special stage in fifth place. A notable change of terrain was encountered by the competitors as the rally left the forests of Russia for the open plains of Mongolia.
The second longest day of the event at a total of 691.35 kilometres, stage three greeted all riders with an early start for the trek over the mountains and into Mongolia before finishing near the country's capital of Ulan-Bator.
Following his eighth-place finish on Monday's stage two, Andrew Short was given the opportunity to make up time on his rivals by chasing down the riders in front over the course of the 243-kilometre stage. After a steady start, the American rider was able to find a good rhythm and push hard as the landscape flattened out to the grassy tracks of the Mongolian plateau.
Reaching the finish with a total time of two hours and 33 minutes, Short was fifth fastest, five-and-a-half minutes behind the leader. Lying eighth in the provisional overall standings and with the terrain now more to his liking, Andrew will be aiming to move further up the ranking over the days ahead.
Wednesday's stage four of the Silk Way Rally is a looped stage held around the city of Ulan-Bator. Riders will cover a total of 476.96 kilometres including a 470.19-kilometre timed special.
Andrew Short: "Today's stage was really fun compared to the first two days. The tracks were fast and flowing and full of grass with a lot of diversity. At one point we went up a mountain and it felt like we were trail riding in the mountains close to my home in Colorado. I really enjoyed the variety of terrain and the landscapes were incredible. The average speeds were a little faster than I usually like but the whole stage was really fun, so overall a good day."
2019 Silk Way Rally – Stage Three Provisional Classification
1. Kevin Benavides (Honda) 2:28:14
2. Joan Barreda (Honda) 2:28:44
3. Luciano Benavides (KTM) 2:30:08
4. Sam Sunderland (KTM) 2:31:00
5. Andrew Short (Husqvarna) 2:33:41
6. Adrien Van Beveren (Yamaha) 2:33:58
2019 Silk Way Rally – Provisional Standings After Stage Three
1. Kevin Benavides (Honda) 5:20:42
2. Sam Sunderland (KTM) 5:23:36
3. Joan Barreda (Honda) 5:23:51
4. Luciano Benavides (KTM) 5:25:01
5. Paulo Goncalves (Hero) 5:30:10
6. Oriol Mena (Hero) 5:30:19
…
8. Andrew Short (Husqvarna) 5:32:27