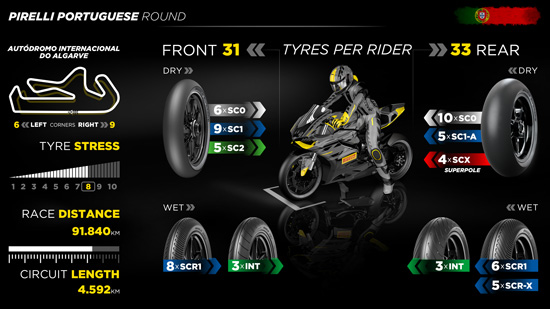 In the penultimate round of the FIM Superbike World Championship, Pirelli brings the complete front range while for the rear it relies on more resistant solutions
Now the excting Aragón round is over, the FIM Superbike World Championship circus moves to Portugal where, next weekend, the penultimate round of the season – of which Pirelli is the Event Main Sponsor, will take place. To face the challenges that the Autodromo Internacional do Algarve of Portimão offers, Pirelli brings their entire range of compounds for the front, from the softest SC0 to the hardest SC2, while for the rear it focuses on harder solutions capable of supporting the high loads, both lateral and longitudinal, to which the tyres are subjected, and trying to compensate for the little grip offered by the track. In both WorldSBK and WorldSSP the rear reference solution will be the standard soft tyre, the SC0, supported in both cases by two development solutions in medium compound already used successfully in the past on demanding circuits such as Phillip Island and Most. The SCX will be entrusted with the role of qualifying tyre and possibly Superpole Race.
WorldSBK
Front: the complete range is available, starting from the soft development SC0 in specification C0927, available in the quantity of 6 tyres per rider, to then move on to the medium SC1, in the availability of 9 tyres per pilot, and finally to the hard SC2, with 5 tyres per rider.
Rear: the standard SCX will be the softest solution among those available to the riders but in Portimão it can only be used for qualifying and the Superpole Race, effectively taking on the role that usually belongs to the SCQ, which cannot be exploited here due to the characteristics of the track. The standard SC0 will instead be the softer alternative for long races, in which riders can also decide to use the A1126 development SC1 which debuted last year in Mandalika and was then the most used at Phillip Island both in 2022 and 2023. This year it was also used in Most. Compared to the standard solution, it has a more robust structure – also designed for high temperatures, and it offers a good compromise between high performance and low wear.
WorldSSP
At the front, Pirelli focuses on the medium compound with three alternatives: the standard SC1 for the WorldSSP class in size 120/70, the one used by WorldSBK in size 125/70 and the new SC1 in B1333 specification, also in size 120/ 70. For the rear, two options: the standard soft SC0 and the development medium SC1 A1128 which uses the same compound as the standard SC1 but has a more robust structure.
Further details on the tyre allocation are available in the technical data sheets attached to this press release.
Portimão: charm and pitfalls
"Portimão is certainly not the most demanding circuit on which we are called to race during the season, but it still remains one of those tracks not to be underestimated, both by the riders and by ourselves as tyre manufacturers. It is difficult for the riders due to the ups and downs and blind crests followed by sudden braking but, for this very reason, it is full of charm. But it is also a circuit which, despite being completely resurfaced in 2020, is very poor in grip and, at the same time, subjects the tyres to high lateral and longitudinal loads. Therefore, solutions that are too soft over the race distance could be penalised due to the graining they could encounter, especially with low temperatures. This is why we will use the SCX instead of the SCQ as a qualifying and possibly Superpole Race tyre while for long races the choice falls on the standard SC0 or on the development SC1 capable of ensuring better performance consistency."