You are here: Index — My Bike History
Our Motorcycles
Mike's Motorcycles:
– #8 – Current Bike 2013 Moto Guzzi V7 Stone
– #7 – 2001 Kawasaki ZR7F
– #6 –2007 Suzuki V-Strom 650 (DL650)
– #5 1982 Yamaha XJ650RJ
– #4 1978 Suzuki GS550 (full restoration project finished)
– #3 1980 CBM400T (the project that never was finished)
– #1 1984 Honda Magna V30
– Mike's Motorcycle History in Brief : – 2001 Kawasaki ZR7F – 2007 Suzuki DL650 V-Strom 650 – 1980 Honda Hawk CB400T – 1980 CBM400T – 1978 Suzuki GS550 – 1982 Yamaha Seca XJ650RJ – 1984 Honda Magna V30
Andrea's Motorcycles:
– #4 2009 Kawasaki Ninja 650R
– #3 2002 Suzuki GSX750Y
– #2 2006 Kawasaki Z750S
Magazine Reviews (Also includes manuals & brochures):
---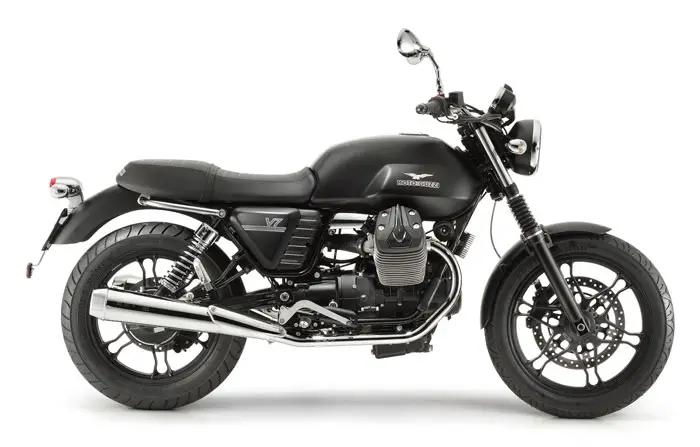 Can you tell I love naked bikes? 🙂
I finally found a bike after selling my 2001 Kawasaki ZR7F in England that I had for 3 years and moving to Houston, Texas. See, in Houston, even though it's the 4th largest city in the USA, there aren't a lot of standard/naked bikes on the used market; and let's be honest, many manufacturers have a massive gaping hole in their product line-ups that do not address this issue as well! So it's been a challenge to find one, to say the least!
I was leaning towards a Harley-Davidson Fat Bob. I like the style a lot, and I really like the sound. In fact, I really like torque too. After riding a 2010 Harley-Davidson Fat Bob CVO (that's the 110 cubic inch Screamin' Eagle one) in 2010 I fell in love with it. So naturally I checked out our local Harley-Davidson dealer and took a 2013 H-D Fat Bob for a test ride. I dunno, it just didn't "do it" for me like the CVO did. And a 2013, even with a good deal, was north of $16k, a little pricey for my blood. So, back to looking again.
I've always loved the UJM and one that has always been on my hit list was the Kawasaki ZRX1100 and ZRX1200R. Wonderful looking retro machines! I could put one in my living room as a piece of art. So a low mileage one (7300 miles) 2003 version in blue/silver came up. The only issue was the 4 hour drive each way to go see it, so one Friday (all Friday) we drove to it and I rode it. Beautiful bike, but again, it just didn't "do it" for me. Sure it had some power, but the engine didn't have soul. In fact, I was a tad disappointed it wasn't nearly as powerful as I thought it would be. One of Andrea's friends said "Never meet your hero" and I guess this applied here as well. But I'm happy to have rode it.
Then, I got an email from Moto Guzzi (I am official press for them) promoting their "Take our new 2013 Moto Guzzi V7 Stone out for a test ride". I know Andrea has been craving a Moto Guzzi V7 since it came out (2009) and I thought, what a great way for her to try it out and I might as well take it for a spin too.
Well, it was the most fun bike I've ever ridden in the city and it had heaps upon heaps of character and soul. Italians seem to know a little about putting that into their machines it seems. And the sound, oh man, the sound is music. The transverse V-Twin sounds like a V8 and has torque in spades. (see my review here: viewtopic.php?f=10&t=46027)
All I could think about for the next two weeks (while waiting to hear back from Moto Guzzi on a media purchase plan) is owing the V7 Stone. Unfortunately all that waiting proved to be a waste as MG doesn't have a plan (sad really), and they were checking what they could offer (I'm still waiting). So I talked to the Moto Guzzi dealer here (MPH Cycles, Houston) and just went ahead and bought it!!
Now, I really couldn't decide between the Flat Black version or the Pure White (glossy) one. I'm not a natural fan of a black bike and not flat paint either, so I was really leaning towards the glossy white one. Just a small issue was they had a Flat Black one in stock, but no white one and with Sandy (the Hurricane) disrupting the distribution chain and Andrea, Bruce, his wife and the dealer saying "it looks best in the black you know", I came around to see that myself and boom, I own a 2013 Moto Guzzi V7 Stone in flat black.

Really looking forward to owning the Guzzi!
---
The Circle is Now Complete. LOL. Well, at least the Honda -> Suzuki -> Yamaha -> Kawasaki ownership one anyways. Funny, looking back that I seem to be a on blue bike colour trend now vs a burgundy one in the past. At least my helment is matching the bike now… haha. I'd like to have a yellow bike in the future to match my Joe Rocket jacket one day too. 🙂
For me; It's the look. I love the look of a great naked bike. Something about minimalism, seeing the engine hang out and the body uncluttered by a fairing or complex bodywork. It's also a lot easier to work on, maintain and see any issues before they come a problem.
For me; It's the feel. I love having the wind blast in my face, it makes me feel alive and energized. You feel like your more free. You can smell things around you better, hear better and you become more part of your surroundings than being behind a fairing.
I always wanted the Kawasaki ZR750 when I first saw it in Canada in 2001. What a bike; naked retro looks, comfortable riding position, 738cc in-line 4 engine, mono shock, big 22l fuel tank and nice looking gauges to boot. I couldn't afford one when it came out but I got one now.
In 2007, my wife Andrea purchased a new 2006 Kawasaki ZR7s and Kawasaki really made the next generation model special! It's too bad that model was smaller in size so I couldn't ride it as comfortably as this one.
Speaking of riding comfort it's very good, but I at 6'4″ tall with a 34″ inseam makes me the maximum size for riding on this bike. If you are 6'3 or under you would find the bike very comfortable. For me I'm sitting more on back part of the curve on the stock seat so if it was just 1″ flatter it would be much better. But to be fair, the majority of bikes are like that to a tall rider.
I look forward to riding this motorcycle while I am here in the UK!
---
2007 Suzuki V-Strom 650 — DL650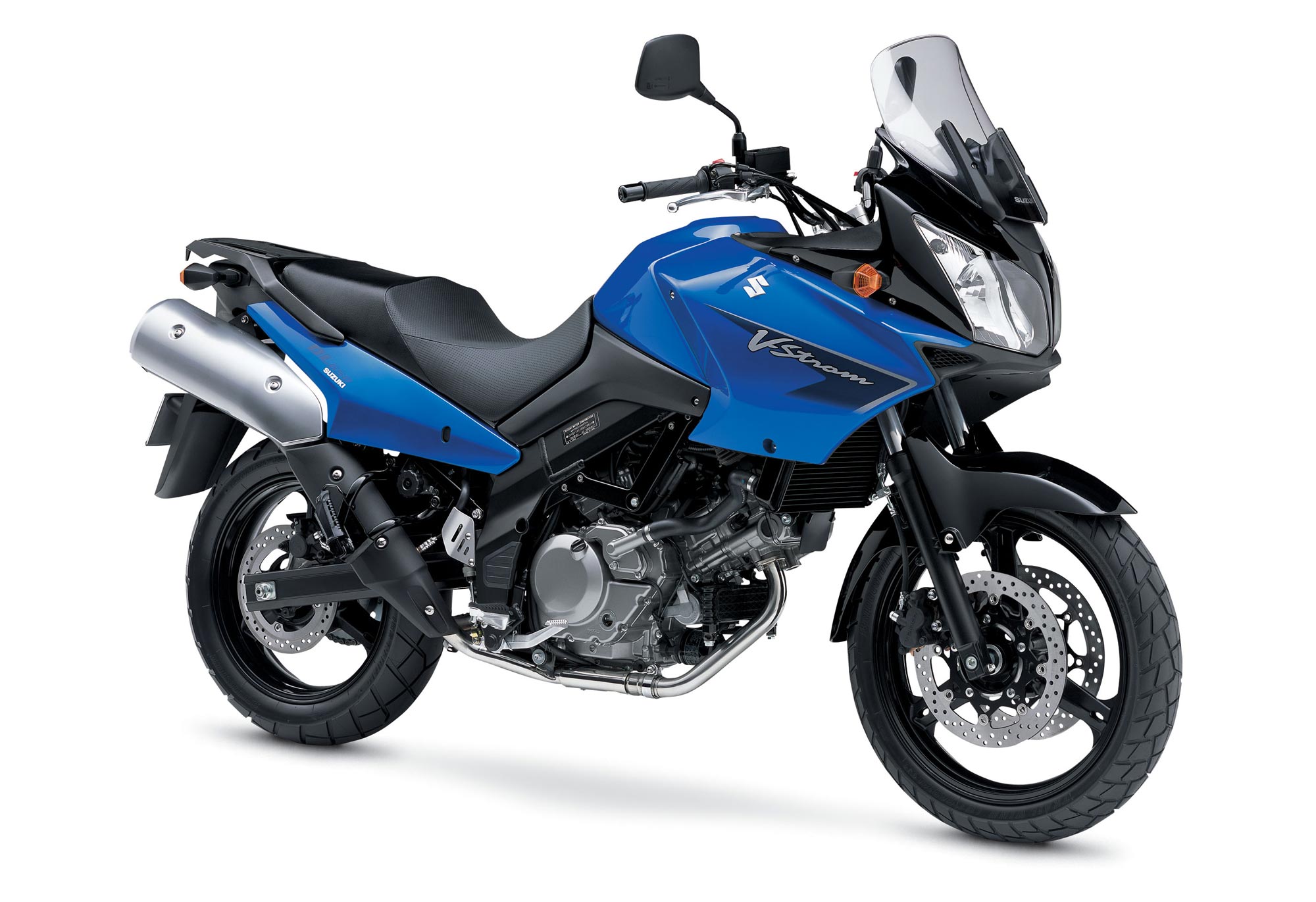 Blasting into the future… 5 years, 10 years, 15 years, 20 years, 25 years later..Wow, what a strange looking bike from 25 years in the FUTURE! Or so it seems that way when I'm going from my last bike, a 1982 Yamaha to a 2007 Suzuki. Does this mean my next bike will be a 2032 model? Will it fly?
I wouldn't have really sold the motorcycle if I wasn't moving at the time. But that gives me a great unbiased review point on the bike. The V-strom 650 has been a great bike now for 1.5 years of owning it. I've enjoyed cruising the highways, taking it off-road (even at 110km/h once) and plowing through loose gravel roads at 50-60km/h. I purchased a Suzuki Gel Touring seat ($189USD) for Chesterfield (the bikes nick name due to it's comfort and size), and the Gel seat make the bike ever more comfortable on long rides. I put on over 3,000kms in 3 days of mountain riding. Using regular gas, I always achieved a mileage of 550-700km per tank (22l). Power was fine, only 5% of the time did I want more, but 95% of the time I was happy with the 650cc V-twin engine. Not 1 problem AT ALL owning the bike, 100% rock solid reliable.
Many owners mention about the wind buffeting, but I rarely noticed it on the highways myself. I'm 6'4″ tall with a 34″ inseam and the bike fit me really well (with the Gel Seat, the stock seat was really bad for my size). I even kept the windshield on the lowest position 99% of the time as I tried the middle and upper and didn't like it as much.
The only issues I had with the bike was the lack of canter stand and as it is a tall bike the motorcycle did get blown around a bit on the highways if it was a windy day. Not sure if it was because of the height of the bike or it's lighter weight.
I did and oil and filter change every 1500km's and kept it maintained very well. Both the 1,000 and 6,000km services were done as well on her.
The stock tires I never had a issue with, on gravel, mud, dirt, rough or smooth pavement, in the rain or wind, they worked great. The brakes were awesome but the best part of the bike was 2 things… comfort and fuel mileage.
I give the stock Suzuki V-Strom 650 (DL650) a B+, which turns into an A if you get the Suzuki Gel Touring seat and an A+ if you get the canter stand for her on top of that as well.
Practicality, Comfort, Performance and amazing Fuel Mileage A great all-round light touring, take it anywhere, do anything, motorcycle.
---
1982 Yamaha Seca XJ650RJ. After restoring the 1978 GS550 and selling it ($1300cdn), I wanted something bigger and a little newer (didn't like points and condensers too much). So I just purchased a 1982 Yamaha XJ650RJ Seca with shaft drive. Nice bike, test rode it and got a professional mechanic to give it a once over before he gave me the "thumbs up". (A HARD lessen I learned after buying the GS550 without a mechanic to check it over first!). Note to self: Next time you buy a used bike/car always have a mechanic look it over before you buy.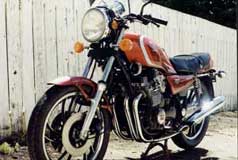 I was in luck, with an asking price of $1300 and $840 in my pocket it was mine (with me and the mechanic negotiating on the price). The bike had been restored too with lots of money in bills to prove ($800 worth) and only needed another hundred and fifty dollars to make it perfect (rear tire, oil & filter, spark plugs & caps, fuse hold & fuses). So $1000 and I still had $300 to spare for extras this winter (fork springs, valve adjustment, carb sync, stainless steel brake hoses, new pads) and why not because as I write this I'm gone 3,000km in 1.5 months and only 2 oil changes a front signal light and $0 else in cost!! I have a review of my bike so far on my .pdf files page here. Also check out the XJ650 page too.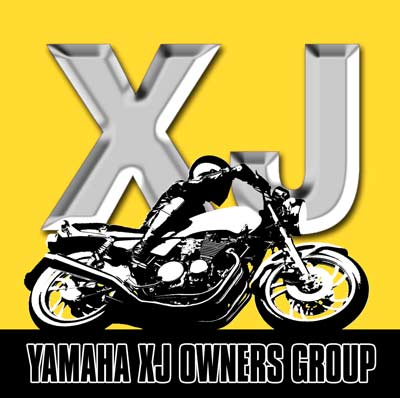 I find it interesting to note that I've now owned motorcycles from 3 of the 4 major Japanese manufacturers (Honda, Suzuki, Yamaha). I guess that means one day I'll own a Kawasaki too, but first I'll enjoy the Yamaha. 🙂 Hummm, that Kawasaki ZRX-1200 looks mighty fine or the Kawasaki ZR-S7, the Honda Hornet CB900, even the Suzuki Bandit….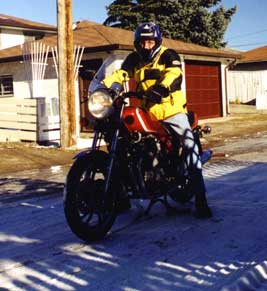 One of the most interesting feats I did on the XJ650R when I owned it was to participate in the 2000 XJ World Relay in 2005. I was responsible for the leg between Calgary, Alberta and Golden, British Columbia wearing a 75lb backpack containing stuff from around the world.
---
1978 Suzuki GS550. 550cc, Inline 4 cylinder, 50bph and lots of torque, all mine for $350CDN with 28,800km on the clock and it runs too. (TLC needed).
I wanted another standard, I love the riding position and did research on the top bikes in terms of mechanical reliability and rider happiness. I decided to look for the following bikes and whatever one came up first with the best price I'd get: Yamaha XJ Seca/Maxim, Suzuki GS, Honda Nighthawk and the Kawasaki Zephyr and the GPz550. I was looking for a 650-750cc but I think the 4cyl Suzuki GS550 will do fine. It has quite a legendary reputation for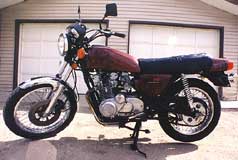 going past 100,000km+ and a very rock solid engine that "outlasts many Japanese bikes by double".
Update: Well, I did indeed finished the GS550 project, I did 95% of the work myself, spent near $800 to do it all and took a bike from junk yard status to
something you would be proud to ride around. I was still never very happy with the bike and its reliability. I'd always be fixing something on it I felt and it did die on me a few times. While others may of had better luck with this model than I, I figured I'd sell it and get something more suited to me. Update
---
Bike #3 – The 1980 Honda Hawk CM400T
The 1980
Honda CB400T Hawk was pretty damaged so I purchased a $150 1980 Honda CM400T parts
bike and will be
using as much as I can from the CB (such as the complete engine) and fit it into the CM400T. The CM400T is the "cruiser" looking version of the Hawk. Thus, CBM400T. The above picture is not my bike, just an example. Update: Unfortunately this project never really worked out as fast as I wanted it to so I purchased a GS550 and sold ($500) the CM400T and the CB400T to buy it. Update
---
Bike #2 – The 1980 Honda Hawk CB400T

First photo of me on a motorcycle! Seems like ages ago…
The 1980 Honda Hawk CB400T is a wonderful bike and I'd highly recommend it to anyone! After almost a full season on the 400cc Hawk I felt the need to move on to a bigger bike. Not that there was anything wrong with the Hawk, its a very fun bike that is perfect for in town riding, 5.5 hour rides and gets excellent gas mileage, so why the decision to move on?
Well I joined the Southern Cruisers Riding Club and they tour (a lot). I found traveling at up to a constant 80mph (120km/h) on the 400cc wasn't really that fun. At 120km/h its at 7,000 rpm and you can you can feel the buzz in your hands, the longer you ride at that speed the longer it stays. So I really just wanted a bike that didn't buzz in the handlebars as much as the Hawk. The Hawk is happiest at 100km/h and that's about 6,000 rpm and it also gets it best gas mileage (up to 57mpg) at that speed to, I just wish we did that speed all the time! The roads here are 100km/h for secondary highways and 110km/h for main highways and the club has a policy of doing 10km/h over so we aren't passed as much as its "safer".
---
Bike #1 – The 1984 Honda Magna V30
I'm sorry I don't have a picture of me on this bike. Not much history to share with it. I purchased it a couple of months after my MSF course in Toronto, Ontario, Canada. I wanted a good starter bike, something with power but had style. I remember reading a review for it saying "faster than a corvette", wow! It was the rear fender that made me fall in love with this bike… ah, what a gorgeous tail end. 😉 I owned the Candy Maroon version… seems I liked Maroon as I also owned too many bikes in that colour!
At the time I found it a top heavy bike that was too torquey for my liking. Dropped it once on a rural gravel road and cracked the windshield it had. My parents were not hot on the idea of me owning a bike, especially since I didn't tell them when I bought it. OPS!
1/4 mile=12.79 @103.03 mph, 64hp, top speed 140mph.
The 1982 Honda V45 Magna was sold in 1982 and was available in either Candy Maroon or Candy Imperial Blue, for the gas tank and side covers. The headlight, instruments, and fenders were chrome. The front disc brakes have straight grooves, double piston calipers, and TRAC anti-dive. The speedometers read 150 mph, and the red line is 10,000. The engine is a 748 cc DOHC 16-valve liquid-cooled 90 degree V-4 linked to a 6-speed transmission with hydraulic clutch and a shaft drive. Compression is high, and thnm m me stroke is short.
A milestone in the evolution of motorcycles, the V45's performance is comparable to that of Valkyries and Honda's 1800cc V-twin cruisers. However, its mix of performance, reliability, and refinement was overshadowed by the more powerful 1098cc "V65" Magna in 1983. Honda notoriously emphasized the speed of this bike. In failing to stress the total package, the engineering and design triumph was foiled by a feeble marketing approach. This era produced the aesthetically dubious, but fast, V-Max by Yamaha. Suzuki also joined in on the v-four cruiser trend with the Madura, mostly noted for having hydraulic valve lifters, as opposed to Honda's DOHC setup, which was prone to premature wear of the cams.
The 1983 V45 Magna was available in one of two colors and the headlight, instruments, and fenders were chrome. The gas tank and side covers were the basic color (maroon or black). The front disc brake grooves were curved. The speedometer had a 150 mph (240 km/h) limit. The engine was a 748 cc DOHC 4-valve liquid-cooled V-4 linked to a 6-speed transmission and a shaft drive. (1983 starting SN JH2RC071*DM100011)
The US government imposed tariff rate hikes for foreign-built motorcycles in order to combat their rise in sales in North America, and to aid the domestic motorcycle manufacturers, namely Harley-Davidson. So for 1984 Honda responded by reducing the engine size for the 750s, and the Magna became the VF700C in the USA. Colours available for 1984 were either black or Candy Andromeda red.
Specifications:
Engine: DOHC 4 valve 90 degree V-four
Displacement: 748 cc
Transmission: 6 speed
Seat height: 29.9 in (759mm)
Final Drive: Shaft
Cooling: Liquid
Brakes: Dual Disc-Front, Drum-Back