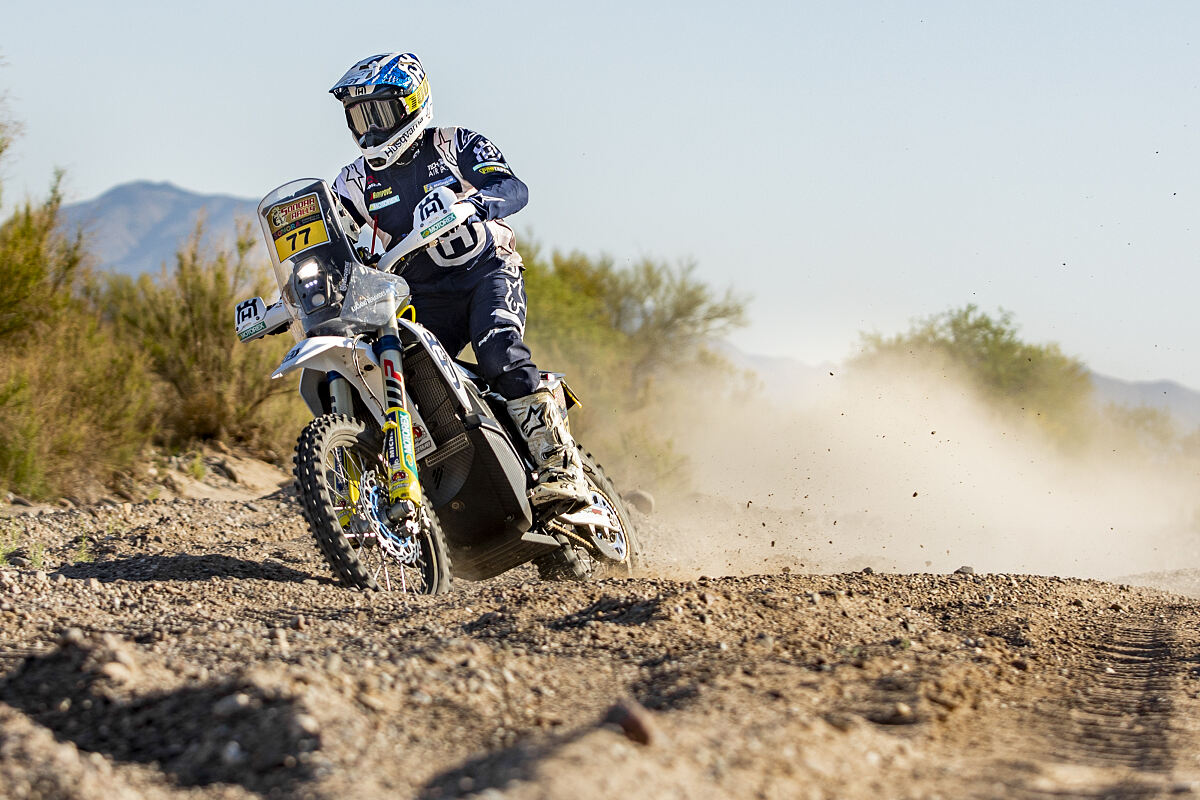 Husqvarna Factory Racing's Luciano Benavides has placed third overall at the 2023 Sonora Rally – round three of the FIM World Rally-Raid Championship. The result elevates the Argentinian to second in the championship standings, where he trails the leader by just seven points.
After a solid but steady start to his 2023 Sonora Rally campaign, Luciano Benavides slowly increased his pace as the race progressed. Two eighth-place results were then followed by a fifth place on day three before the Argentinian delivered his first top-three of the event on Thursday. Going into the final day, Benavides was third overall, holding a narrow 39-second advantage over fourth-placed Toby Price.
With Price leading out on Friday, Luciano put all his focus on closing down the gap to the Australian ahead and securing a podium result, and that's exactly what he did. Putting in a super-strong ride on the sandy tracks of the 139-kilometre timed special and without making any mistakes, Benavides secured another top-three stage result to finish the rally in an impressive third place overall.
Now lying second in the FIM World Rally-Raid Championship standings, Luciano looks ahead to his home race, round four's Desafio Ruta 40 held in Argentina from August 26.
2022 Sonora Rally Champion Skyler Howes made an impressive start to his title defence only for it to come to a halt when a crash early on stage two resulted in him suffering shoulder injuries. The American star is still waiting on further tests to understand whether surgery is needed and the possible recovery time.
Luciano Benavides: "The last stage has gone really well for me, it was another battle with Toby, right to the end. I knew I would have to push all day, so I gave 100 percent and thankfully it all paid off and I've finished on the podium. Toby made a small mistake there at the end, which was tough, but it worked out for me and means I get some really important points for the championship, where I think I've moved up to second now. We have a break of a few months before the next round, which will be my home race. The team won't stop working so hopefully we can improve things even more and carry this momentum into Argentina in August."
Norbert Stadlbauer – Rally Team Manager: "The Sonora Rally has been a tough and challenging addition to the W2RC calendar with some fast stages with lots of tricky terrain. It's been a mixed event for Husqvarna Factory Racing – on one hand, Skyler crashed out on day two, injuring his shoulder. We wish him well for a fast recovery. On the positive side, Luciano has ridden an amazing race, delivering day after day of strong results to ultimately finish on the podium. He also moves up to second in the championship standings, which is hugely encouraging ahead of his home event in Argentina."
2023 Sonora Rally – Stage 5 Provisional Classification
1. Daniel Sanders (GASGAS) 1:14:01
2. Tosha Schareina (Honda) 1:16:42 +2:41
3. Luciano Benavides (Husqvarna) 1:16:54 +2:53
4. Ricky Brabec (Honda) 1:17:03 +3:02
5. Matthias Walkner (KTM) 1:18:07 +4:06
6. Toby Price (KTM) 1:18:42 +4:41
2023 Sonora Rally – Provisional Overall Classification [After Stage 5]
1. Daniel Sanders (GASGAS) 11:01:09
2. Tosha Schareina (Honda) 11:09:32 +8:23
3. Luciano Benavides (Husqvarna) 11:18:25 +17:16
4. Toby Price (KTM) 11:20:52 +19:43
5. Matthias Walkner (KTM) 11:24:09 +23:00
6. Adrien Van Beveren (Honda) 11:28:23 +27:14
2023 FIM World Rally-Raid Championship Standings [After Round 3]
1. Toby Price (KTM) 62 points
2. Luciano Benavides (Husqvarna) 55 pts
3. Adrien Van Beveren (Honda) 53 pts
4. Kevin Benavides (KTM) 43 pts
5. Daniel Sanders (GASGAS) 39 pts
6. Skyler Howes (Husqvarna) 34 pts