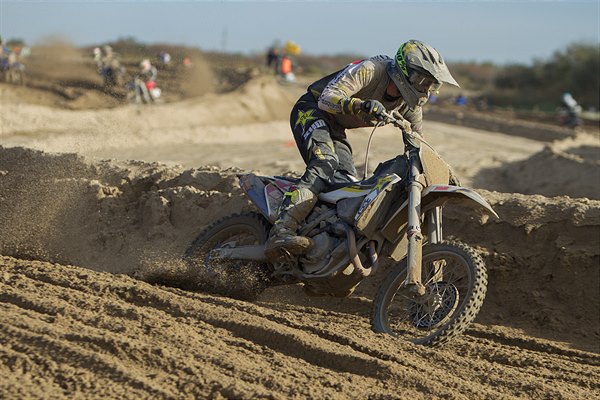 ANOTHER STRONG PERFORMANCE FROM ROCKSTAR ENERGY HUSQVARNA FACTORY RACING'S SAND RACE SPECIALIST
Rockstar Energy Husqvarna Factory Racing's Yentel Martens has finished third at the second round of the 2018/19 French Beach Race Series, the Moto Club du Littoral organised event held at Loon-Plage in northern France.
Series leader entering the Loon-Plage event following his winning performance at the opening round of the championship, Martens was forced to push hard during the opening laps of the race following a disappointing start. Completing the first lap down in 14th position he made up five places during the second lap to break inside the top 10.
Quickly up to sixth, he moved to third by the end of the fourth lap before hitting the front on lap five. Remaining out front for five consecutive laps, on lap 11 he dropped to third. Although taking back the provisional runner-up spot Yentel completed the two-and-a-half-hour race in third after suffering with stomach issues during the closing laps.
The Championnat de France des Sables continues with round three in St Léger de Balson on December 1/2.
Yentel Martens: "That was a tough race. I didn't get a great start, so I had to work hard to get back to the front. I felt good during the early stages of the race – I was able to push hard and had a good rhythm going. After my pit stop I had some problems with my stomach. It was tough after that, but I'm happy. Apart from my stomach things were good – I'm pleased with third and look forward to the next round of the series."
Download high-res images from Loon-Plage here.
Results – French Beach Racing Championship, Loon-Plage
1. Milko Potisek (Yamaha) 24 laps 2:30:42.7; 2. Jeffrey Dewulf (KTM) 2:31:32.2; 3. Yentel Martens (Husqvarna) 2:33:44.7; 4. Daymond Martens (Yamaha) 2:35:11.8; 5. Camille Chapeliere (KTM) 2:37:49.6…
Photo credit: Xavier Leporchet