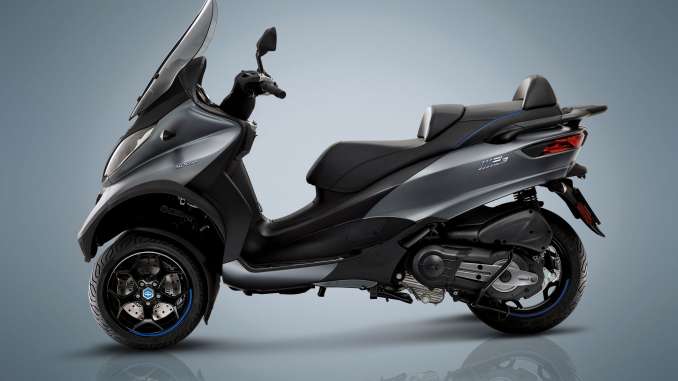 Introducing the new 2018 Piaggio Scooter Guide.
New Bike Reviews, Huge Photos, Full Specifications. Get it all at Total Motorcycle.
Piaggio Scooters
– 2018 Piaggio MP3 500 Sport LT – New model
– 2018 Piaggio MP3 500 Sport LT ABS/ASR
– 2018 Piaggio MP3 500 Business LT ABS/ASR
– 2018 Piaggio MP3 500 Special Edition LT ABS/ASR – New model
– 2018 Piaggio MP3 300 Sport LT – New model
– 2018 Piaggio MP3 300 Sport LT ABS/ASR
– 2018 Piaggio MP3 300 Business LT ABS/ASR
– 2018 Piaggio MP3 300 Yourban LT – New model
– 2018 Piaggio MP3 300 Yourban Sport LT – New model
– 2018 Piaggio Typhoon 50 – New model
– 2018 Piaggio NRG Power DD – New model
– 2018 Piaggio Zip 50 4S – New model
– 2018 Piaggio Beverly 300 by Police – New model (Europe)
– 2018 Piaggio Beverly 350 by Police – New model (Europe)
– 2018 Piaggio Medley 150 Special Edition – New model
– 2018 Piaggio Medley 125 Special Edition – New model
From the Manufacturer:
The new Piaggio MP3 range makes its début
• Piaggio MP3 350 (new)
• Piaggio MP3 500 Sport (new)
• Piaggio MP3 500 Business (new)
The new Piaggio MP3 range is the ultimate expression of technological excellence applied to the scooters of the Piaggio Group. The 350 and 500 cc engines are capable of meeting all the needs of city and rural transport and are now even more enjoyable to ride. As with the previous models the Piaggio MP3 500, the flagship for the range, is available in two different configurations, Sport and Business, set apart by different colours and equipment, now with a greater wealth of standard equipment, while the Piaggio MP3 350 is available in a single configuration with the same range of colours as the Piaggio MP3 500 Sport. All models can only be driven with a car driver's licence. The shared objective of the restyling wasn't just to increase performance and make for a more enjoyable ride but also to ensure that the models would be more comfortable, better equipped and more pleasant to see and own.
Beverly by Police is born out of the collaboration between two excellent "Made in Italy" brands: Police, a globally recognised lifestyle brand and the Piaggio Group, the largest European manufacturer and international leader in the scooter sector.
Out of the combination of these two icons of style and technology a scooter is born, available with a 300cc engine and now with a new and brilliant 350cc powerplant that combines the bold and gritty spirit of Police that has always been characterised by a metropolitan and rough verve, and the technology of Beverly, the high wheel scooter which provides uncompromising performance in its sector.
Beverly 300 and 350 by Police Euro4 is available on the European markets in the tough Nero Mat Carbon colour scheme with polished chrome details and blue tinted mirrors, just like the lenses of the Police sunglasses that have represented an entire generation. To complete the 'street look', Beverly by Police comes with a dedicated helmet that matches the scooter's style perfectly.
IMPROVED PRACTICALITY, CONSTRUCTION QUALITY AND TECHNICAL CONTENT
A key player in the crowded 50 cc scooter category from the start, the Piaggio Group continues to invest in this segment, offering a brand new range of two and four-stroke Euro 4 powerplants that make the Piaggio 50 cc scooter range dedicated to the youngest riders absolutely unique.
On one hand there is the Piaggio Typhoon, an authentic icon in the scooter world, and the ultra sporty NRG Power DD, equipped with a new two-stroke unit, respectively air and liquid cooled; on the other hand is the Piaggio Zip, another name reminiscent of Piaggio's greatest commercial successes, on which the four-stroke 50 i-get engine with three-valve timing makes its début.
These are modern, ecological and quick engines and new, important content is introduced in parallel with them for all three models which lead to overall improvements in terms of practicality, comfort and construction quality.
PIAGGIO MEDLEY IS THE EASY SCOOTER, PACKED WITH EQUIPMENT AND ADVANCED TECHNOLOGY THAT COMBINES THE BENEFITS OF A HIGH LIGHT WHEEL WITH THE COMFORT AND THE WEALTH OF EQUIPMENT OF A HIGHER CLASS SCOOTER
The agility of a city vehicle combined with the dynamism of a high wheel and the convenience and cargo capacity of a large GT scooter resulted in the Medley, the Piaggio scooter that combines the ultra-modern values of rationality, technology and style. Medley combines practicality, technical innovation and beauty in the purest Italian style, understanding the continuously evolving needs of a public in search of mobility solutions that go beyond the usual scooter formula. With Medley nothing is sacrificed.
Piaggio Medley skilfully combines the benefits of a chassis with large diameter wheels, which provide superior rideability and road holding than smaller wheeled scooters, and the rationality of a classic scooter, its protection, its cargo capacity, the comfort of its large saddle when riding two-up.
The high wheel scooter has been very successful, offering lightweight and manoeuvrable vehicles characterised by an easy ride and low operating costs, and bigger vehicles with qualities such as sturdiness and performance. Piaggio, a European leader and one of the world's major global scooter manufacturers, a company with a unique heritage as the creator of new forms of light mobility, has been active in the high wheel segment with both easy and lightweight scooters such as the Liberty, as well as with scooters offering spectacular performance and exclusive technical features such as the Beverly range.
Medley achieves the aim of creating a new class of Piaggio high wheel scooter that combines the benefits of an agile and lightweight scooter with those of a larger and higher performance high wheel.
Manufacturer Websites
Piaggio