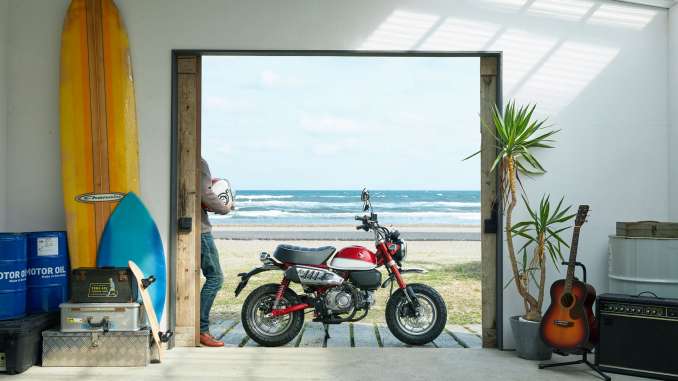 MORE FUN THAN A BARREL FULL OF MONKEYS.
2019 Honda Monkey: 
Let's take a look back at our family tree: One of the best-loved Hondas of all time, the original Monkey was a 1960's hit, and it's easy to see why. That little two-wheeled rascal was built to generate ear-to-ear smiles. Now, fast-forward to the present. For 2019, we're introducing an all-new Honda Monkey. Peel the banana and you'll see while it may look retro, the new Monkey is built for the way we ride today. Available in two color choices (Pearl Nebula Red and Banana Yellow), the new 2019 Honda Monkey is a 125cc bundle of practical urban transport, a great back-of-the-motorhome bike, and just plain too much fun to pass by. So climb down out of your tree, head over to your Honda Dealer, and check out the two-wheeler the whole jungle is howling about.
Honda to Bring Monkey and Super Cub C125 to U.S. Market
Fun, retro-styled models appeal to broad array of customers
During a special welcome dinner at the popular Smoky Mountain Crawl rally, American Honda announced this evening that the Monkey and Super Cub C125 ABS models will be made available to U.S. customers for the 2019 model year. First unveiled in concept form last September at the Tokyo Motor Show, the models are both closely based on iconic motorcycles from Honda's past, and are the latest examples of the company's aptitude for developing pocket-sized motorcycles that capture the fancy of enthusiastic subcultures. Preceded by cherished models like the Mini Trail, the Z50, and more recently the Grom, the Monkey and Super Cub C125 are set to honor Honda's heritage and define new lifestyles while appealing to a broad spectrum of riders.
"Since our 'You Meet the Nicest People' campaign of the '60s, Honda has produced fun, confidence-inspiring models that attract new customers to the joy of motorcycling, while introducing new ways for existing enthusiasts to express themselves and interact," said Lee Edmunds, American Honda's Manager of Motorcycle Marketing Communications. "With the 2019 Monkey and Super Cub C125, 'The Power of Nice' returns. We're continuing the tradition of offering American customers machines that are simultaneously nostalgic and up-to-date, and that beg to be ridden and personalized. We're eager to see how our customers use these bikes to extend 'The Power of Nice' to the next generation."
MONKEY
Beginning with a Japanese amusement-park ride, Honda's 58-year history with the "Monkey" has seen the Z series capture the hearts of generations the world over, offering enjoyable, accessible mobility through a likable design, tiny dimensions, and low weight. Today, the desire for an easy-to-handle motorcycle that puts smiles on faces is alive and well. A master of fun, the 2019 Monkey builds on that passion, while opening the door to the next generation of enthusiasts. The classic Monkey style provides the cues: simple, curved surfaces, and a trapezoid silhouette highlighting the compact length. The glossy fuel tank, finished in the same color as the frame, swingarm, and shocks, crowns the machine, and proudly wears a historical 3-D "Old Wing"-design Honda logo. Chrome steel high-mount fenders—plus the evocatively stamped exhaust shield, circular mirrors, and high-rise handlebar—all pay homage to the original. The Monkey is powered by a modern, reliable 125cc single-cylinder four-stroke engine, and is available with ABS brakes.
HISTORY
It all started in 1961, at Tama Tech, a Honda-owned amusement park founded on the same philosophy that drives Honda today: mobility through fun, two-wheel vehicles. There, Honda's 49cc-powered Z100 was featured as part of an attraction designed to help park goers experience the joys of riding. So popular amongst guests of all ages and sizes that the bikes quickly earned the nickname of "Monkey," a term originating from how the larger riders looked while riding around. So popular was the attraction that, in 1964, Honda began producing a street-legal version called the CZ100, for European and Asian countries. The craze had started, and it wasn't long until America would get its first taste of Honda miniMOTO fun.
Waiting is the hardest part, but America's delay for a true Honda miniMOTO machine ended in 1968, when the first Z50A was made available in the U.S., complete with 8-inch wheels, knobby tires, adjustable seat, and loveable styling. The best part? A folding handlebar meant parents could stow the bike in the trunk of a car and drive their children to the local riding spot—and probably even go for a ride themselves. Memories were being made, one ride at a time.
Outfitted with a headlight and taillight, the 1969-1970 Z50A served as Honda's quick adjustment to the widespread popularity of the model and opened the door to a wider range of riding. The trend continued, each Z50A being tweaked to fit the needs of its growing fanbase, and in the process, capturing the hearts of Americans. Fun, accessible mobility, through a likable design, tiny dimensions, and low weight, had caught on.
The Z50A's design continued to evolve with features such as dual rear shocks, introduced in 1972.
From there, Honda's North America-bound Z50A models evolved into machines bred for off-road riding, while Europe's Z50J carried the torch as a fun machine for getting around town. But already, the Z50 and its Monkey namesake, had been cemented in millions of hearts by giving countless riders their first experience of twisting the throttle on a powered two-wheeler.
Today, the desire for an easy-to-handle motorcycle that puts a smile on not only the person riding it, but even those who aren't, is alive and well, as evidenced by the success of Honda's Grom. A master of fun, the 2019 Honda Monkey builds on that passion, while celebrating the Z50A models that paved the way for so many riders through the 1960s and '70s, and opening the door to the next generation of enthusiasts.
MODEL OVERVIEW
The classic Monkey style provides the cues for the new model. A trapezoid silhouette highlights the compact length, while simple, curved surfaces harken back to the loveable design of the original Monkey models. Because each part is individually available, Monkey fans can easily express themselves by customizing their bikes.
The glossy 1.47-gallon fuel tank, finished in the same paint color as the frame, swingarm, and shocks, crowns the machine, and proudly wears a historical 3-D Old Wing design Honda logo. Chrome steel high-mount front and rear fenders—plus the evocatively stamped exhaust shield, circular mirrors, and high-rise handlebar—all pay homage to the original.
Modern technology is fully present within the reincarnation of the classic look: a digital full-LCD circular meter features speedometer, odometer with two trip meters, and six-segment fuel-level indicator. All lighting is LED, while the "wave" pattern key (which also wears the Old Wing motif) features an "answer back" system that makes the lights flash at the push of a button to allow easy location in crowded parking lots; the single-channel ABS system operates with an IMU to mitigate rear lift under strong braking.
True to its origins, the Monkey's horizontal SOHC 125cc single-cylinder engine is simple, robust, and tuned to deliver useful around-town performance. Air-cooled, with bore and stroke of 52.4 x 57.9mm and compression ratio of 9.3:1, fed by PGM-FI, it produces strong, enjoyable power all the way through the rev range. An air cleaner, intake tract, and muffler, are specially designed for this model.
The Monkey's steel backbone frame has been tuned for a suitable balance between rigidity and supple feel – perfect for the wide variety of conditions the machine is sure to be ridden in. Oval in cross-section, the swingarm echoes the circular design theme that runs through the bike.
Wheelbase is set at 1,155mm (45.3 in.), while rake and trail are set at 25°/82mm for confidence-inspiring handling. Wet weight is a mere 234 pounds, with a seat height of 30.6 inches. The plush seat is made of high-density urethane for maximum comfort.
The inverted fork is matched by dual shocks for a compliant-yet-sporty ride. A single 220mm front disc and a 190mm rear provide secure stopping performance and are managed by the optional IMU-based ABS. Fat, 12-inch block-pattern tires make for a smooth ride and are sized 120/80-12 65J front and 130/80-12 69J rear.
The 2018 Monkey 125 will be available in two colors:
Banana Yellow
Pearl Nebula Red
BANANAS NOT INCLUDED.
Key Features
Components in round shapes contribute to charming appearance
Head pipe, main frame, and engine hanger plate offer optimal strength for stable handling
High-density urethane seat with 70mm cushion contributes to comfortable ride and iconic looks
125cc single-cylinder engine with dedicated air cleaner, intake tract, and muffler, designed to offer smooth power, with strong power and torque performance between 4,500 and 6,000 rpm for strong performance in around-town riding situations
LED lighting adds modern touch, durability, and energy efficiency to a classic design
Optional one-channel ABS
Monkey Milestones
*Not all of these models were imported by American Honda Motor Co.
1961
First model—made for use at amusement parks, with 5-inch wheels, rigid suspension, foldable handlebars, and 4.2 hp 49cc engine.
1963
First road-going model
1967
First model sold in Japan—fold-down seat
1970
Quick-detach front suspension made it possible to fit in the trunk of a small car
1978
First model with custom-bike-style "tear drop" fuel tank
1984
Limited-edition "Gold" model
1987
"R" model with twin-tube frame and hydraulic front disc brake
1991
Off-road styled "Baja" model with twin headlights
2004 Special
In colors based on the CB750F ridden to victory in the Daytona 100 by Freddie Spencer
2009 Monkey Ltd.
First fuel-injected version, with roller rocker arm and offset cylinder
2017
New version commemorates 50th anniversary of sales in Japan
2019 Honda Monkey Totalmotorcycle.com Features and Benefits
Performance
125cc Fuel-Injected Engine
Nobody can match Honda's reputation for engines, and even though the Monkey may be compact, this single-overhead-cam design is a giant in terms of performance and reliability.
Hydraulic Disc Brakes
The Monkey features 220mm front and 190mm rear single disc brakes for excellent stopping power.
Fuel Capacity
Who says being on a budget can't be fun? With its 1.5-gallon fuel tank and awesome fuel efficiency, the Monkey may be small, but it lets you ride far on every fill-up.
Easy to Park
Because of the Monkey's miniature stature, it's easy to park in the city, and to store when you're not riding. There's always room for a Monkey!
Technology
Four-Speed Transmission
Sure, the Monkey is cute, but its four-speed transmission gives you all the durability, control and efficiency of a conventional motorcycle.
LED Taillight
Forget about big, bulky taillights—the Monkey's LED lamp is bright and clear—plus, it's round like a coconut!
Handling
Available ABS
Our Anti-Lock Braking System (on the Monkey ABS model) can be a big help in making controlled stops in less-than-ideal conditions, like on wet pavement or other compromised surfaces. It's a great choice whether you're using your new bike as a commuter or just riding it for fun, since it helps you stop with added confidence.
12-inch Wheels
Tough and strong, these cast wheels and wide tires are just what the urban rider needs.
Twin Rear Shocks
The new Monkey 125 has twin rear shocks. Combined with the fat tires and cushy seat, they smooth out the roughest pavement in the urban jungle.
Inverted Fork Suspension
Here's a huge improvement over the original Monkey bike: Like a top-of-the-line sportbike, the new 2019 Monkey features an inverted hydraulic fork front suspension for control and road feel.
Style
High-Rise Handlebar
Sure, the Monkey may be small, but we sized it to fit adult riders. Case in point—check out the high-rise handlebar, so you can sit up and check out the world as you ride.
Round Chromed LED Headlight
The Monkey's round headlight looks retro, but its performance is totally up to date and provides superior illumination and visibility.
Multi-Function Digital Instruments
Retro meets modern in the Monkey's instrument cluster. The round housing is totally 1960s, while the display features speedometer, odometer, tachometer, A&B trip meters, fuel gauge, and indicator for low/high beam. It even greets you when you first start the bike!
Chunky Tires
The Monkey's high-aspect-ratio tires do more than just look cool. They're extraordinarily practical too, giving you tons of grip and absorbing bumps or rough road surfaces.
Low Seat Height
At just 30.6 inches, the Monkey's super-low seat makes it easy to flat-foot it in parking lots or at stop lights.
2019 Honda Monkey – Totalmotorcycle.com USA Specifications/Technical Details
US MSRP Price: $3,999 – $4,199 USD
Canada MSRP Price: $ CDN
Europe/UK MSRP Price: £ GBP (On The Road inc 20% Vat)
Australia MSRP Price: See Dealer for Pricing in AUS
Model
MONKEY ABS
MONKEY
ENGINE
Type
124.9cc air-cooled single-cylinder four-stroke
Valve Train
SOHC; two-valve
Bore x Stroke
52.4mm x 57.9mm
Compression Ratio
9.3:1
Induction
PGM-FI w/ 24mm bore, automatic enrichment
Ignition
Full transistorized
Starter
Electric
Transmission
Manual; four speeds
Clutch
Multiplate wet
Final Drive
Chain final drive; 15T/34T
SUSPENSION
Front
31mm hydraulic telescopic inverted fork; 4.3 in. travel
Rear
Twin shocks; 3.3 in. travel
BRAKES

Front

Hydraulic; single 220mm disc w/ two-
piston caliper; ABS
Hydraulic; single 220mm disc w/ two-
piston caliper
Rear
Hydraulic; single 190mm disc w/ single-piston caliper
TIRES
Front
120/80-12
Rear
130/80-12
MEASUREMENTS
Rake (Caster Angle)
25º
Trail
82mm (3.2 in.)
Length
67.3 in.
Width
29.7 in.
Height
40.6 in.
Ground Clearance
6.3 in.
Seat Height
30.6 in.
Wheelbase
46.5 in.
Fuel Capacity
1.5 gal.
Colors
Pearl Nebula Red
Pearl Nebula Red, Banana Yellow
Curb Weight*
236 lbs.
232 lbs.
*Includes all standard equipment, required fluids and full tank of fuel—ready to ride Meets current EPA standards
Models sold in California meet current CARB standards and may differ slightly due to emissions equipment
2019 Honda Monkey – Totalmotorcycle.com Canada Specifications/Technical Details
TBA
2019 Honda Monkey – Totalmotorcycle.com European Specifications/Technical Details
TBA
2019 Honda Monkey – Totalmotorcycle.com Australian Specifications/Technical Details
TBA
Manufacturer Specifications and appearance are subject to change without prior notice on Total Motorcycle (TMW).