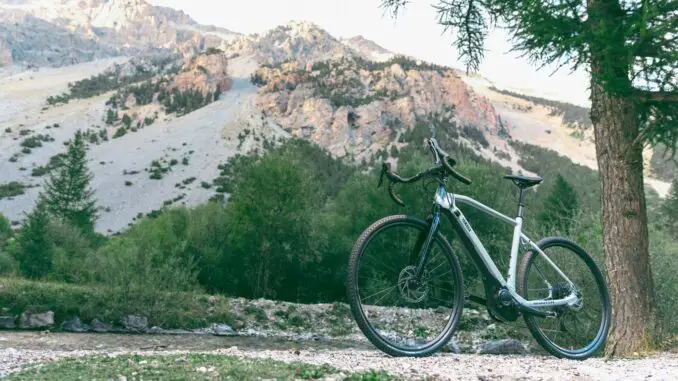 2023 Yamaha Wabash RT: THE WORLD REVOLVES UNDER YOU.
Introducing the new 2023 Yamaha Wabash RT…
With its stylish yet functional design, the Yamaha Wabash RT is a sleek new gravel bike that is aimed at those riders who appreciate the fun, freedom and friendships that are an integral part of the whole riding experience. The real beauty of the Wabash RT is that it offers riders the chance to get out of the city or suburbs and explore new places and enjoy every second of the ride – because it's as much about the journey as it is about getting there.
Wabash RT is a new kind of eBike that gives you excellent performance on the tarmac together with the ability to escape from the city and explore new countryside trails. And with its sophisticated rider-assist electronics, sleek good looks and advanced Yamaha technology, this new gravel bike offers one of the best price/performance packages in its class.
Escape and explore.
Everything about this quality eBike is designed to ensure that you get the most enjoyment out of every journey. The beautifully styled frame features new school geometry that gives a confident and comfortable ride with lightweight handling on the tarmac and gravel. And the dropper post gives between 40mm – 60mm* of suspension for added comfort on the trail. *40mm small frame, 60mm medium and large frames
Producing 70Nm of torque, the ultra-quiet Yamaha PW-ST drive unit is equipped with sophisticated technology that provides the appropriate level of assistance to give you a totally natural ride. Zero cadence technology provides instant power as soon as you start to pedal – and the Display A interface provides easy to understand information.
The world might not revolve around us, but it can revolve under us.
Style with versatility
Ergonomics and geometry for gravel riding
Yamaha PWseries-ST drive unit
Adjustable dropper post
Display A interface
Automatic Support mode
Zero Cadence technology
Three sizes, one colour

 

Beautiful styling with high functionality

 

Fun to ride, easy to use on road and gravel

 

Sleek, elegant and modern frame design

 

New school chassis geometry

 

Best-selling low noise PW-ST drive unit – only 3.4kg

 

Automatic support mode

 

Inclination Sensor

 

Easy to use Display A interface

 

Yamaha Zero Cadence technology

 

Quad Sensor technology

 

70Nm max torque

 

21.4kg at size M

 

Yamaha Lithium Ion 500Wh, 36V, 13.4Ah

 

Display A

 

Shimano GRX

 

Sleek, elegant and modern frame design

 

New-school geometry with rider-friendly character

 

Three sizes available

 

Blue Steel
A new era in zero emission two-wheel personal mobility
As one of the leading brands in personal mobility on land, water and snow, Yamaha has forever changed the face of the motorcycle, scooter, marine and snowmobile worlds with some of the most revolutionary new designs and game-changing concepts.
Yamaha is committed to creating innovative new products that have the power to provide an exciting and inspirational 360-degree lifetime experience for thousands of customers all over the world. With an illustrious history going back almost 70 years, the brand has established a reputation for premium quality, remarkable performance and cutting edge design – and now Yamaha is fully prepared to move into an electric future with next generation designs that offer everyone a special new sense of freedom and joy.
Yamaha: eBike pioneer since 1993
It was nearly 30 years ago that Yamaha launched the world's first production eBike. Initially aimed at commuters and shoppers, the original Yamaha PAS was a revolutionary new concept that will go down in history as the spark that ignited the whole eBike movement. The PA26 experience set Yamaha on the path to becoming a major producer of eBikes for the Japanese market during the past three decades, as well as a key manufacturer of eBike System which are powering many of today's eBikes sold within the European market.
Embracing the age of the two-wheel Electric Vehicle
Announced in early 2022, Yamaha's Switch ON strategy confirmed the company's entry into the world of electric personal mobility and outlined its ambitions to become a leading brand in the two-wheel Electric Vehicle market. Designed to inspire a new generation of customers who are looking for zero emission personal transportation for sport, leisure and commuting, the forthcoming line up of Yamaha eBikes, scooters and pedelecs adds another dimension to personal mobility.
Zero emissions with carbon neutrality
Running parallel with the introduction of a full range of two-wheel EVs from eBikes through to scooters and pedelecs, Yamaha has also accelerated its drive to become a carbon zero manufacturer by 2035, underlining the fact that the brand is ready and able to rise to the challenge and fully embrace the new age of the Electric Vehicle that is reshaping urban mobility, and more.
MORO 07, WABASH RT and CROSSCORE RC: Three new Yamaha eBikes for 2023
One of the most exciting new chapters in Yamaha's history is about to be written with the launch of three eagerly awaited new eBikes for 2022 covering the MTB, gravel and urban sectors.
The company's experience in the production of eBikes and compact drive units is second to none, and the new Yamaha line up has been holistically developed with the PW Series drive units and is imbued with the company's dynamic DNA.
Aimed at a wide variety of riders from existing Yamaha motorcycle and scooter owners who appreciate the strong brand values through to customers looking for a good price/performance ratio combined with trusted technology, the Moro 07, Wabash RT and CrossCore RC will be available exclusively through Yamaha's network of Powered Two Wheel dealers.
2023 Yamaha Wabash RT Totalmotorcycle.com Features and Benefits
Enjoyable ride with lightweight handling
Wabash RT benefits from a sleek and elegant frame design with new school geometry that is designed to give a confident and enjoyable ride with a lightweight feel on the tarmac and gravel.
A maximum of 70Nm of power assistance is provided by Yamaha's best-selling PW-ST drive unit whose Zero Cadence technology delivers smooth torque to the drivetrain as soon as it senses rider pedal input. Wabash RT riders will also appreciate the Automatic Support Mode that uses Quad Sensor and Inclination Sensor technologies to provide additional power when riding uphill or into a headwind.
Sleek style
Chassis ergonomics are designed for a relaxed and comfortable ride, and the adjustable: 60mm (L / M), 40mm (S) + 40mm suspension dropper post enables the rider to achieve the best position to suit their physique and style. Wheels and tyres are ready for tubeless conversion, and the integrated 500Wh battery and compact drive unit blend seamlessly with the chassis to give this new gravel bike an elegant look.
Holistic development with attractive price/performance ratio
The chassis and drive unit on all Yamaha eBikes including the Wabash RT have been developed in unison in order to achieve the best balance between the power output and chassis handling characteristics. This is a key factor in achieving the Wabash RT's extremely natural, enjoyable and lightweight riding experience.
This new gravel bike offers a strong overall specification together with a reasonable price, making it an attractive option for riders who appreciate the real value of Yamaha's proven design and manufacturing capabilities.
Easy to use interface
Yamaha's Display A has been designed to suit the needs of gravel riders and provides easy to read essential information with a simple large format LCD display that includes a speedometer, battery capacity indicator, assist mode setting, trip meter, odometer and range – and for added convenience the support mode can be changed at the press of a button.
Colours and sizes
Wabash RT is offered in three sizes and is available in Blue Steel.
Gravel Specific Handlebar
Super comfortable ergonomics and exceptional strength for stability, our wide-flare handlebar is designed with ample space to fit larger-size handlebar bags for those long-haul rides.
Dual Compound Tires
Puncture protection technology, tightly packed center-knobs and wider spaced side-knobs combine to give you excellent rolling efficiency and cornering control on pavement or hard-packed earth.
Dropper Post
Often noted as one of the best upgrades you can make to your gravel bike, we've included it as a standard accessory to expand your capabilities on or off-road. If you're looking to explore further off the beaten path, this will be a game changer
Fork Rack and Fender Mounts
Suitable for many front rack and fender options, our fork design gives you the ability to customize your load carry capacity for pretty much anything and still has enough space for fenders to protect from harsh riding conditions.
ALL-NEW Modes, Display, and Switch
NEW Automatic Mode with 4 manual modes of smooth and powerful assist. The Display A is designed for a wide range of uses and features a simple and easy to operate display with speed and battery capacity functions.
ALL-NEW PWSeries ST
Our Quad Sensor System with Automatic Mode combines power with stable control. Powerful enough for the steepest climbs and controllable balance and traction for exciting descents.
SHIMANO GRX
Dedicated design for gravel riding with anti-slip brake levers and a rear derailleur originally introduced for aggressive MTB which reduces chain slap, improves chain retention and minimizes the risk of hitting rocks over rough terrain.
Integrated Hub Speed Sensor
Exclusive to Yamaha Power Assist Bicycles is a speed sensor engineered into the rear hub. Our speed sensor recognizes the slightest change in bicycle speed and helps adjust motor input to deliver a smooth and natural power assist feel for the ultimate ride experience.
Yamaha 500Wh Battery
Yamaha's proven 500 Watt-hour Lithium-ion battery pack technology is encased inside the frame with easy access to remove for charging off the bike and provides you with reliable & long-lasting energy to power your rides.
2023 Yamaha Wabash RT – Totalmotorcycle.com USA Specifications/Technical Details
US MSRP Price: $4,199 USD
Canada MSRP Price: $ See Dealer CDN
Europe/UK MSRP Price: £3,449 GBP (On The Road inc 20% Vat)
SUGGESTED USE Gravel, Road, Adventure
COLORS
Blue Steel Blue Steel
SIZE 54cm (S), 57cm (M), 60cm (L)
MSRP $4,199
TOTAL WEIGHT
MOTOR Yamaha PWSeries
ST 3-bolt Mount
Square Taper Spindle
Quad Sensor System with rear hub speed sensor
Weight: 7.71lb
Rated power: 250W (Nominal), 500W (Max.)
Max. torque: 70Nm
Max. cadence support: xxxrpm
Max. speed support: 28mph
Support modes: AUTO, ECO+, ECO, STANDARD, HIGH
CONTROL SWITCH AND MULTI-FUNCTION COMPUTER
Computer control functions include: (4) Power-level control switch, stop watch, distance units, power-level LED on/off, cycling function display items, time adjustment, LED headlamp power on/off, 3-color LED power assist level light indicator
Cycling function display include: speed, average speed, maximum speed, trip distance, odometer, cadence, battery capacity (%)
BATTERY
Yamaha 500Wh with Charge-life indicator and Self-diagnosis display.
Side-exiting dock station with anti-vibration mounting plate
Weight 6.61lb
500Wh 36V
4-hour charge time
FRAME
Yamaha Hydroformed Aluminum
Integrated battery
Water bottle boss
Tapered Headtube
Internal shift/brake hose routing
FORK
Fork One-Piece Aluminum
12x100mm Thru-Axle
Fender and rack compatible
Internal brake hose routing
HEADSET
Integrated bearing with 30mm of spacers
STEM
Yamaha Alloy 4-bolt faceplate
31.8 diameter
80mm length (S)
90mm length (M)
100mm length (L)
HANDLEBAR
Flare drop
31.8mm diameter
44cm width
GRIPS/TAPE Padded cork tape
SEATPOST/SADDLE CLAMP Alloy 30.9 x 340mm (S), 395mm (M), 440mm (L) with 2-bolt adjustable tilt saddle rail clamp
SEATPOST COLLAR Alloy 2-bolt 35.0mm
SADDLE Yamaha Off-Road Cro-Mo Rail
SHIFTERS Shimano GRX 11-speed RX600
REAR DERAILLEUR
Shimano GRX
CRANKARM
Square taper
165mm (S, M)
170mm (L)
CHAIN
KMC e11 Turbo EPT
CASSETTE
Shimano CS-M7000
11-42t
11-Speed
CHAINRING(S)
Shimano GRX 44t
BRAKES/ROTORS
Shimano GRX RX600-rear, RX400-front
180mm Centerlock
RIMS
32-Hole Dual Channel Welded Pin w/ Eyeleted Spoke
SPOKES Spokes SUS304
SPOKE NIPPLES SUS304 w/ brass nipple
HUBS Front: 12x100mm TA
Rear: 12x142mm TA with integrated speed sensor
TIRES/TUBES
Maxxis Rambler 700 x 45c TR EXO 120tpi
ACCESSORIES
Yamaha keys
Yamaha battery charger
Bell
WARRANTY 3-Year on Frame, Drive Unit, Battery
2023 Yamaha Wabash RT – Totalmotorcycle.com Canada Specifications/Technical Details
TBA
2023 Yamaha Wabash RT – Totalmotorcycle.com European Specifications/Technical Details
Total Weight
21.4kg
Wheel Size
700c
E-Bike Class
Pedal Assist
Drive Unit
Yamaha PWSeries ST 3-bolt Mount
Battery
Yamaha Lithium Ion 500Wh, 36V, 13.4Ah
Display/Remote
Display A
Max Speed with Assist
25km/h
Technology
Yamaha Hydroformed Aluminum. Integrated battery. Water bottle boss. Internal shift/brake hose routing
Fork
One-Piece Aluminum. 12x100mm Thru-Axle. Fender and rack compatible. Internal brake hose routing
Rear Shock
N/A
Headset
Integrated bearing with 30mm of spacers
Handlebar
Flare Drop. 31.8 dia. 46cm c-c "width at hood", 58cm c-c "width at drop"
Stem
31.8 clamp dia. 6 deg rise S-80mm, M-90mm, L-100mm
Grips
N/A
Saddle
Yamaha Off-Road Cro-Mo Rail
Seatpost
Limotec, dropper seatpost, dia: 30.9mm length: 295mm Travel: 40mm (S), 60mm (M,L)
Brakes
Shimano GRX RX400 front/rear
Shifters
Shimano GRX 11-speed RX600
Rear Derailleur
Shimano, GRX RX812
Crankarm
Alloy crank 165 mm/S, 170 mm/M&
Chainrings
Shimano GRX 44t
Chain
KMW e11 TURBO EPT
Cassette
Shimano CS-M7000 11-42t 11-Speed
Wheels
Dual Channel Welded Pin w/ Eyeleted Spoke, External Rim Width=25mmFront: 12x100mm Quick-Release Thru-Axle (QRTA) Rear: 12x142mm QRTA
Tires
Maxxis Rambler 700 x 45c TR EXO 120tpi
Manufacturer Specifications and appearance are subject to change without prior notice on Total Motorcycle (TMW).