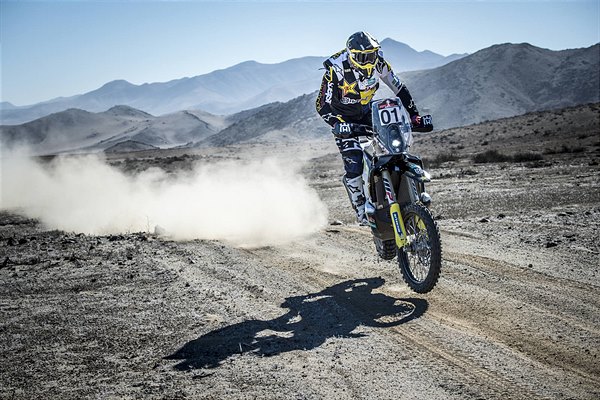 ROCKSTAR ENERGY HUSQVARNA FACTORY RACING RALLY STAR REGAINS PROVISIONAL OVERALL LEAD WITH TWO STAGES STILL TO BE CONTESTED IN CHILE
Making short work of a demanding stage three at the 2018 Atacama Rally, Pablo Quintanilla has secured stage victory and regained the lead in the event's provisional overall standings. With two stages still be to run in the Chilean desert, the Rockstar Energy Husqvarna Factory Racing rider enjoys a lead of four minutes and 56 seconds in the provisional overall.
Featuring a mixture of sandy terrain and fast dusty roads, stage three of this year's Atacama Rally was challenging for all competitors. Making use of his vast experience in tricky stages, Pablo rode a faultless stage and was the only rider to post an overall time below the three-hour mark. Over than three minutes faster than his rivals, the Chilean rally star has taken control of the race with two more stages to go.
Pablo's Rockstar Energy Husqvarna Factory Racing teammate Andrew Short put in another consistent performance in the Chilean countryside. Taking his FR 450 Rally machine safely to the finish line in 12th place, Andrew remains 12th in the Atacama Rally's provisional overall standings.
Heading north, stage four of the rally will take competitors to the city of Chañaral next to the Pacific Ocean, before heading back south. With a total distance of 371km, the day's timed special is 253km long.
Pablo Quintanilla: "It was a really good day for me. Every day that goes by I feel more and more confident to push hard on my bike. Today I had a really good start position and took advantage of it. I tried to remain focused on my navigation and it paid off. I am happy with this stage victory. We're making great progress despite this being a physically demanding rally. Fortunately, the pain on my injured back is not so bad and I can ride the way I know how to. Everything has been going according to plan and I will try to keep this momentum going until the end of the event."
Andrew Short: "Stage three was much of the same like the ones before. There were lots of fast sections, some sand riding and tricky navigation. What made things even harder was the fact that we had to cross sections with many different traces from previous days. It was difficult to find the right way in some places but I did my best to remain focused on the GPS. I am still learning a lot and this is what matters the most. I've been impressed by the speed of the first few riders at this event and the goal is to keep working to match their pace."
2018 Atacama Rally – Stage 3 Provisional Classification
1. Pablo Quintanilla (Husqvarna) 02:57:40
2. Sam Sunderland (KTM) 03:01:26
3. Kevin Benavides (Honda) 03:04:29
4. Paulo Goncalves (Honda) 03:05:27
5. Toby Price (KTM) 03:05:35
6. Ignacio Cornejo (Honda) 03:07:17
…
12. Andrew Short (Husqvarna) 03:16:18
2018 Atacama Rally – Provisional Overall Classification [After Stage 3]
1. Pablo Quintanilla (Husqvarna) 09:39:12
2. Kevin Benavides (Honda) 09:44:08
3. Toby Price (KTM) 09:51:38
4. Sam Sunderland (KTM) 10:00:57
5. Matthias Walkner (KTM) 10:02:32
6. Franco Caimi (Yamaha) 10:01:14
…
12. Andrew Short (Husqvarna) 10:32:34